No one has to skip these Gluten Free Dairy Free Funfetti Martinis because of allergies. A sweet and creamy cake batter inspired cocktail with lots of sprinkles!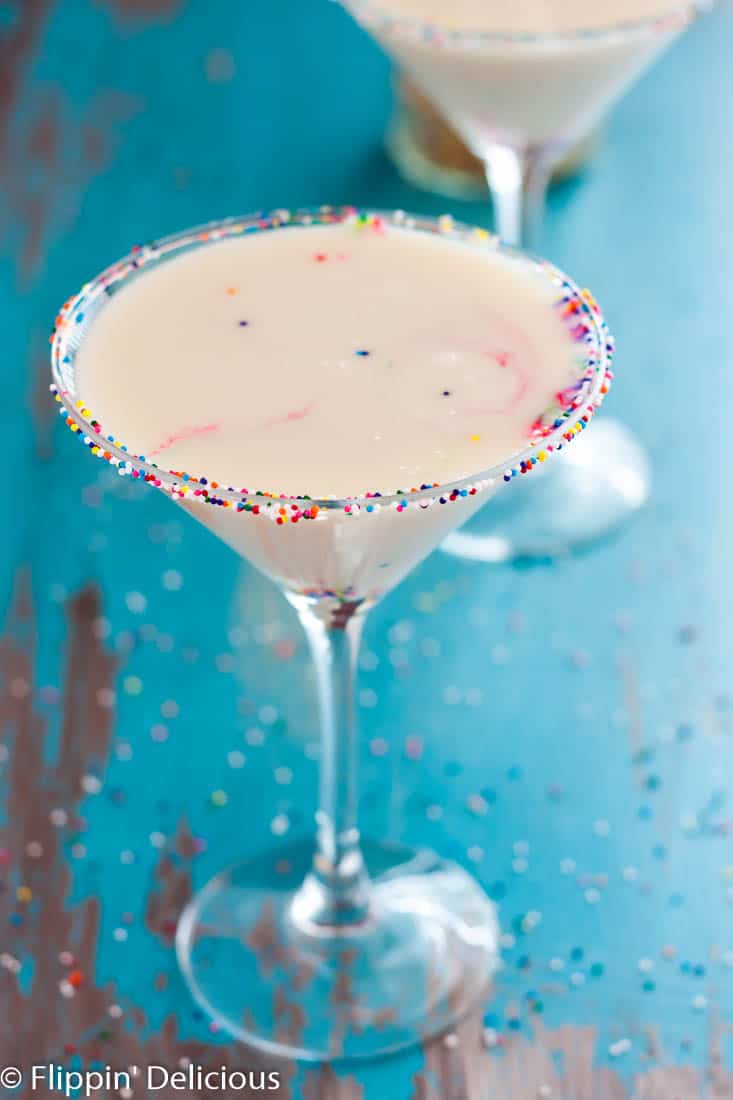 Anyone who is a regular reader of Flippin' Delicious probably has figured out that I love sprinkles. I really love sprinkles!
I have an entire drawer devoted to sprinkles in my kitchen!
Yes, it might be a little bit of an obsession, but sprinkles bring a fun spirit to whatever they adorn.
Like these Dairy Free Funfetti Martinis...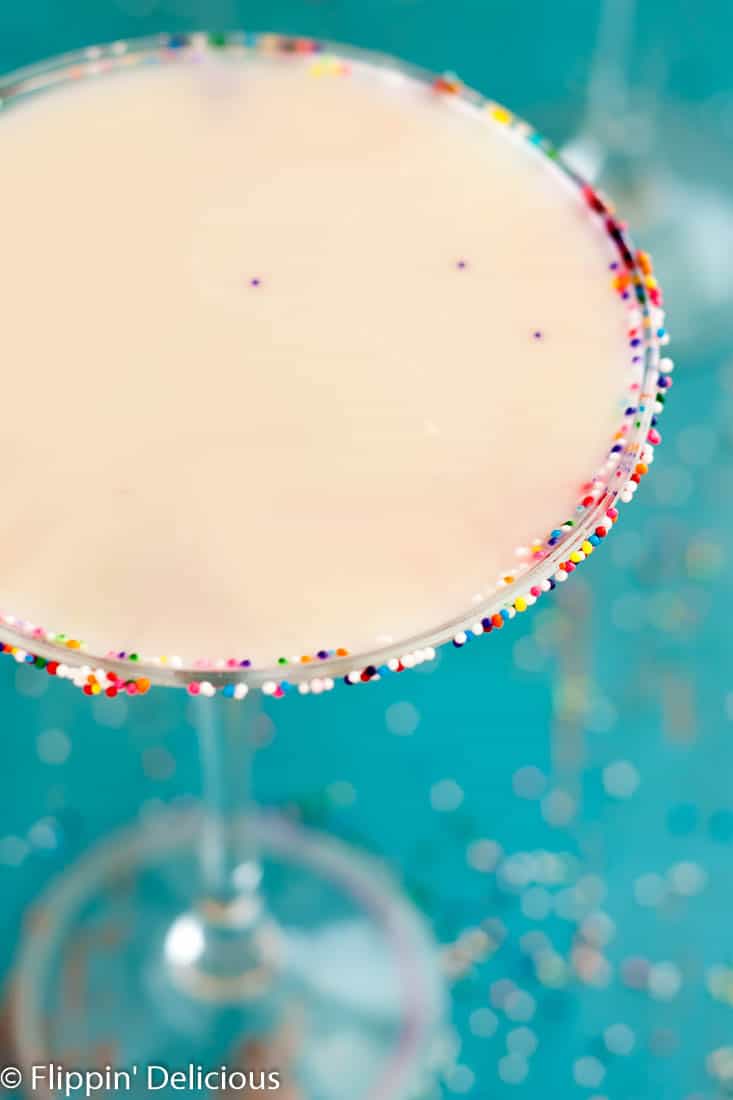 All of the flavor of your favorite be-sprinkled gluten free funfetti cupcakes but in a sweet and creamy cocktail.
The ingredients in these dairy free funfetti martinis are simple. A little simple syrup for sweetness, dairy free coconut or almond milk vanilla creamer, some booze, a little bit of vanilla and almond extract for that cake batter flavor, and of course lot of sprinkles! I used rainbow nonpareil sprinkles, but you can use whatever your favorite is.
Of course these cake batter inspired confetti martinis are gluten free too...thanks to Stoli's new gluten free vodka!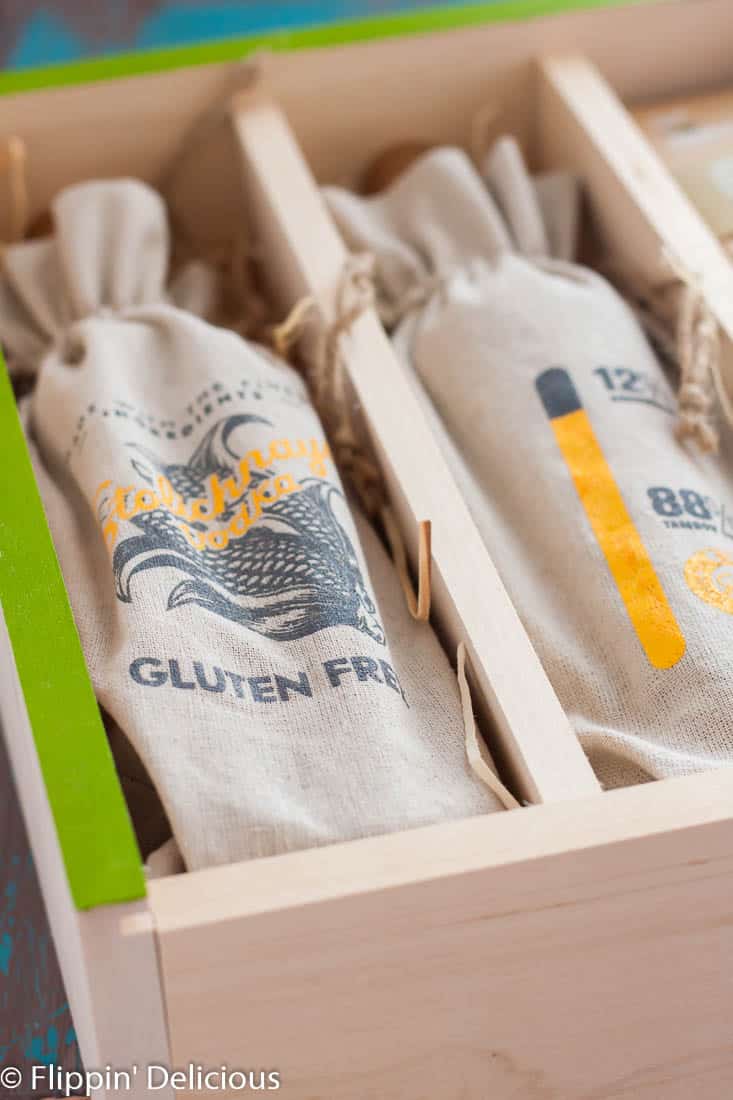 Wait...aren't all distilled spirits gluten free? Distillation removes most of the gluten and many celiacs don't have problems with distilled alcohols but it is hard to know for SURE if a distilled spirit is gluten free. It is tricky to measure how much/if any gluten proteins snuck their way back in and you have to call manufacturers to make sure no mash has been added back into the spirit after distillation. It can be quite a hassle!
Anytime I buy a new bottle of booze I am googling on my phone trying to determine if the brand I am purchasing is safe, not only for me but for YOU.
Stoli Gluten Free is gluten free to begin with because it is made with 88 percent corn and 12 percent buckwheat, both of which are naturally gluten-free ingredients. (Buckwheat is not wheat and doesn't have gluten...just in case you were wondering.) Stoli Gluten Free is clearly labeled 'Gluten Free' on the front label so you know that you are safe sipping it (and so that you don't accidentally buy a bottle that isn't gluten free.) It is also the perfect libation for those who have allergies to wheat since it is wheat free too!
Stoli sent me a bottle filled with corn and buckwheat so that you can "see" just what goes into making your bottle of vodka.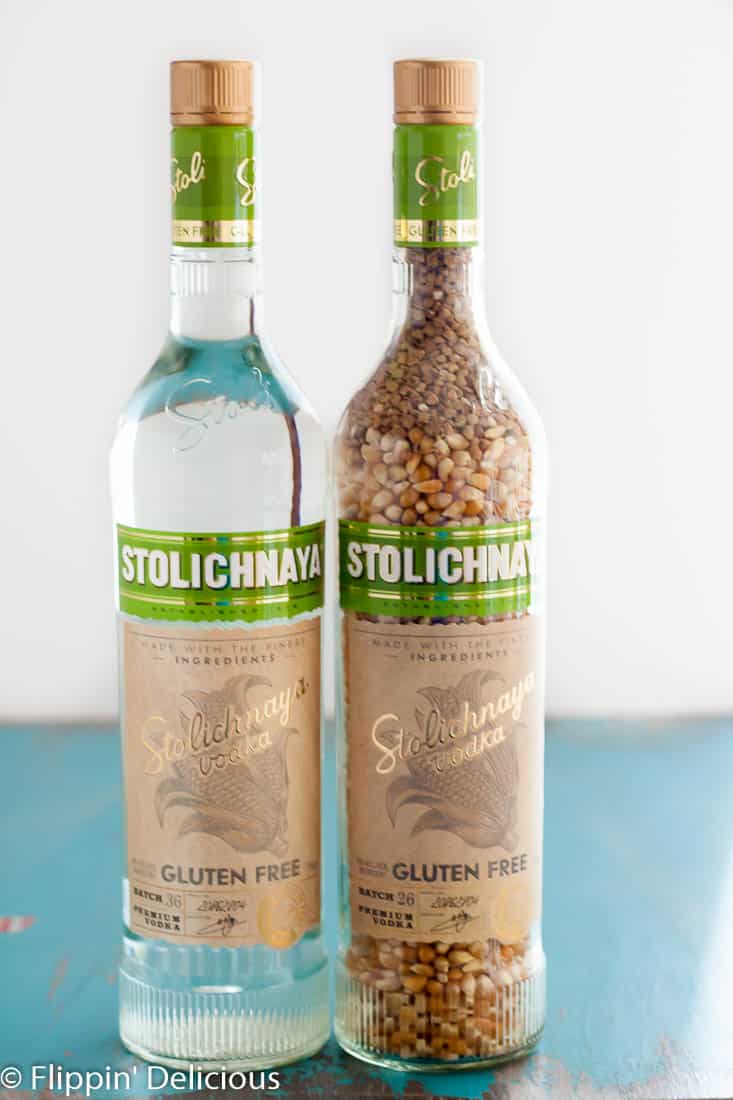 Stoli Gluten Free is a smooth vodka with a clean finish and it was rated an exceptional 92 points by BTI (Beverage Tasting Institute) the leading authority in independent spirits reviews.
It made the perfect addition to my funfetti martini!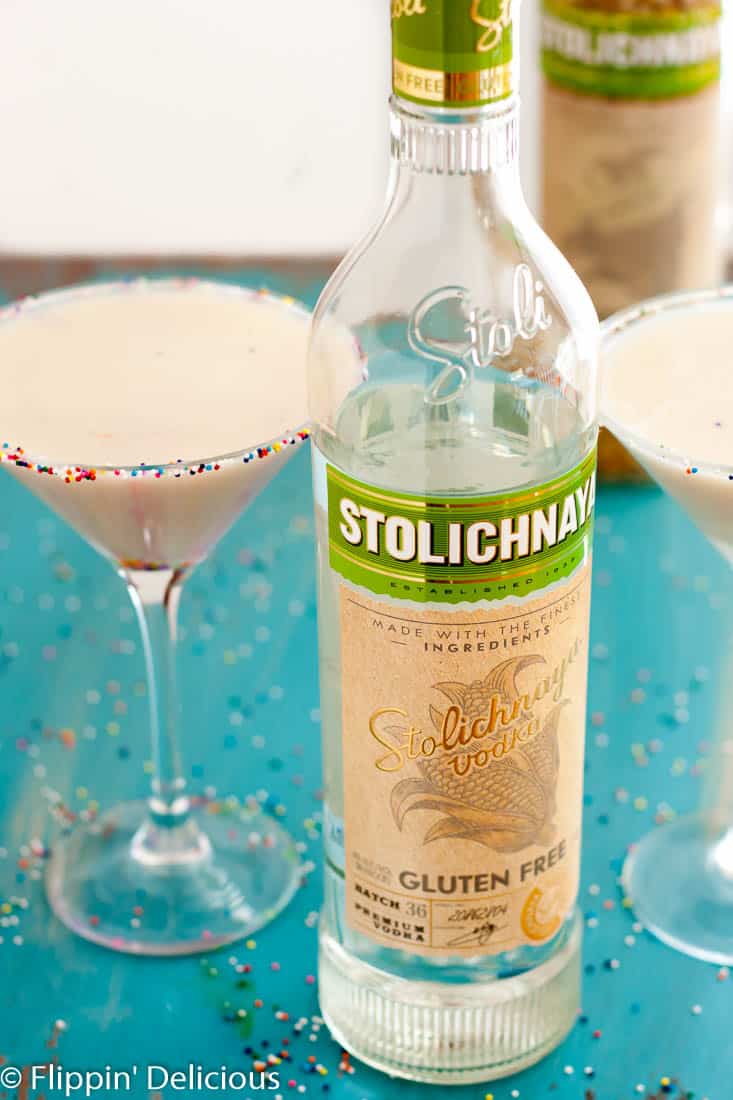 Needless to say... I enjoyed sipping these sprinkle spotted beverages! I can have dairy, but my sweet hubby can't anymore so I love that we could enjoy this recipe together after we put our kiddos to bed. (I made it with him in mind.) Serve them with some gluten free funfetti brookies or a scoop of no churn gluten free cake batter ice cream.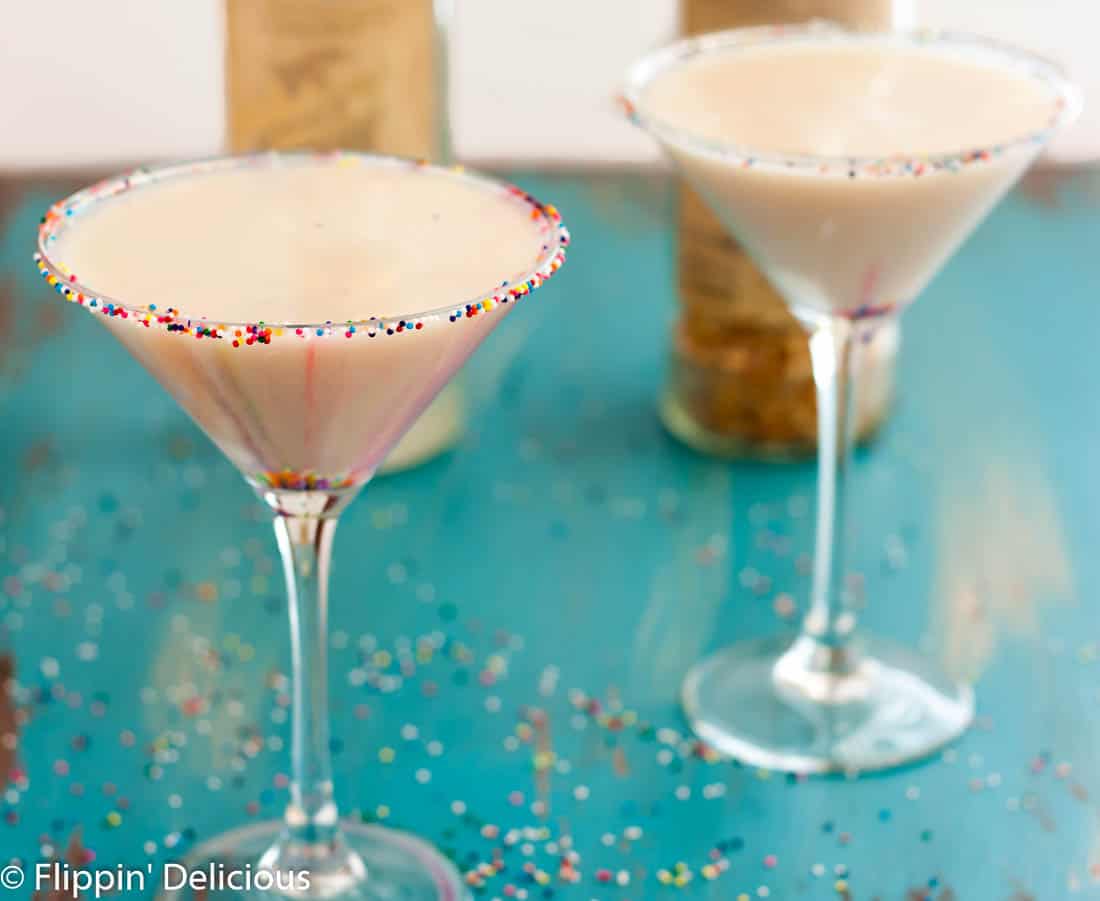 Just one not about the ingredients in this cocktail...many other cake batter martini recipes have amaretto in them. I opted to not use amaretto for several reasons...like I mentioned before calling manufacturers and frantic googling is a drag. Also I already had almond extract in my pantry to give my martini that nutty hint. Not using amaretto meant one less thing I had to remember when I went grocery shopping (and I'm the crazy lady who thought it was a good idea to take 2 cranky no-nap kips to the store right after getting shots....yeah bad idea. I was also trying to come up with 9 different recipes on the fly...needless to say I came home a frazzled mess. Don't be me!) If you prefer you can skip the almond extract and swap 1-2 oz of vodka out for amaretto if you have a bottle you know is safe.
Follow Stoli on Twitter, Facebook, or Instagram so you don't miss what they are "shaking up." (I'm so punny!)

📖 Recipe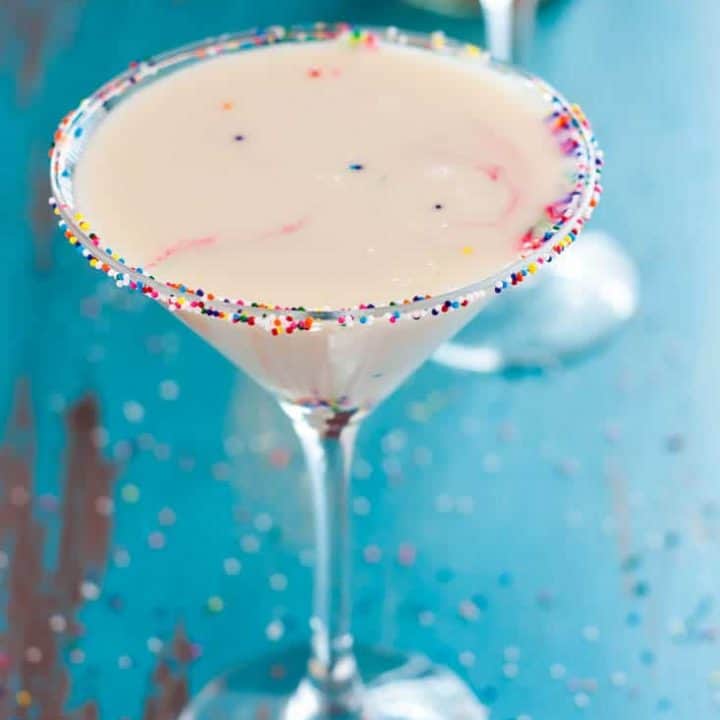 Dairy Free Funfetti Martini Recipe
Dairy Free Funfetti Martinis... no one has to skip these because of allergies. A sweet and creamy cake batter inspired cocktail with lots of sprinkles!
Ingredients
5 oz Stoli Gluten Free Vodka
4 oz almond or coconut creamer
1 oz simple syrup (see note)
¼ teaspoon almond extract
½ teaspoon vanilla extract
ice to shake
Instructions
Prepare your glasses by rubbing the rims with a wet paper towel and then dipping them in sprinkles. (smaller sprinkles like the ones I used will stick better.)
Combine the cocktail ingredients in a shaker or jar and stir or shake with ice to combine.
Pour into the rimmed glasses, straining out the ice.
Notes
You can make your own simple syrup by mixing equal parts water and sugar (¼ cup of each will make plenty) and heating it in a microwave safe bowl until the sugar is completely dissolved.
You can adjust the proportions of the ingredients in this recipe to your liking. A little more cream(or less), less simple syrup(or more), or more vodka! I wouldn't add more of the almond or vanilla extract.
If you can do dairy, feel free to use half and half instead of the dairy free creamer and increase the simple syrup to taste.
Nutrition Information
Yield

2
Serving Size

1
Amount Per Serving
Calories

806
Total Fat

36g
Saturated Fat

6g
Trans Fat

0g
Unsaturated Fat

28g
Cholesterol

25mg
Sodium

536mg
Carbohydrates

67g
Fiber

7g
Sugar

58g
Protein

19g
All nutrition info is a guestimate and will vary depending on the ingredients you use.
This is a sponsored conversation written by me on behalf of Stoli. The opinions and text are all mine.