Indulgent Vegan Mexican Hot Chocolate; sweet and spicy hot chocolate topped with vegan whipped topping!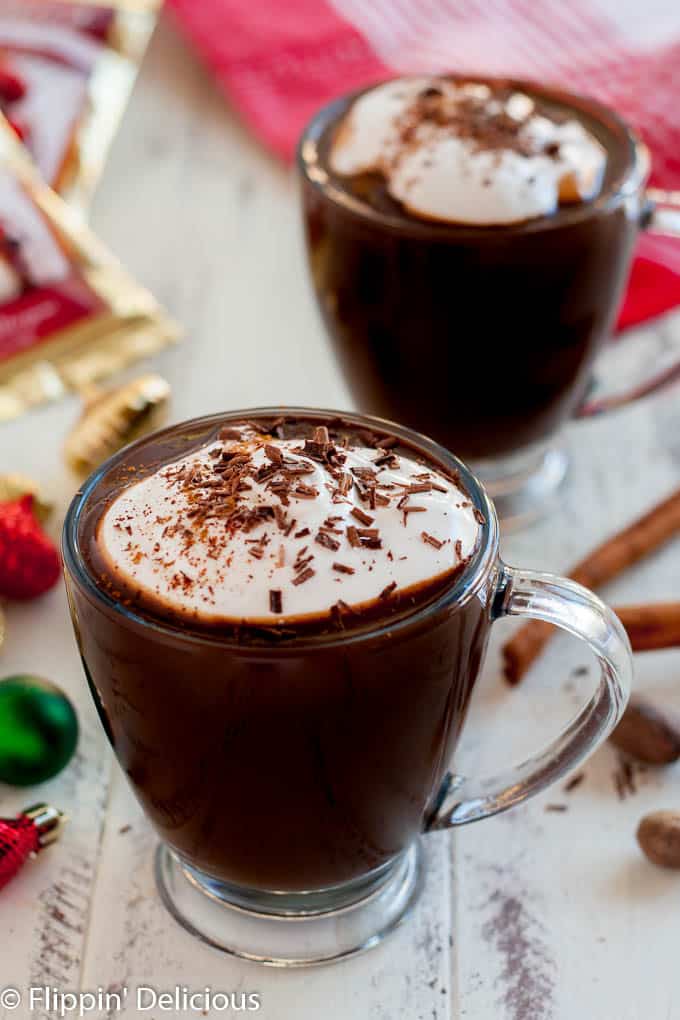 This post is sponsored by Vivian's Live Again. As always, all opinions are entirely my own. Thanks for supporting Flippin' Delicious™ and the companies that I work with!
I am a huge fan of sweet and spicy treats, if you hadn't guessed from the gluten free dairy free Mexican hot chocolate donuts and gluten free red chile pecan pie.
There is something that is so enticing about a hint of heat cutting through the cloying sweetness in a dessert. Or in this case, vegan hot chocolate.
The contrast of the sweet vs. heat is enchanting! Especially when combined with chocolate. The flavor of the chocolate deepens with the addition of spicy ground chipotle powder.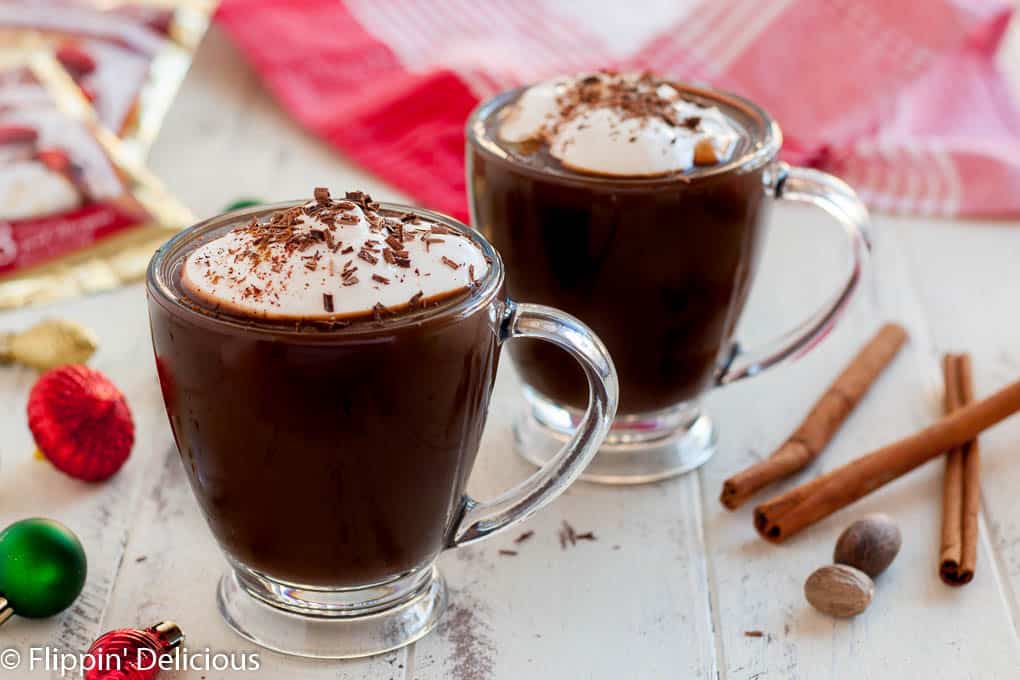 Mexican hot chocolate doesn't taste spicy. Instead you get a little bit of a delightful slow burn at the back of your tongue after your first sip.
I made the flavor in this vegan hot chocolate recipe even more complex with the addition of vanilla paste, freshly grated nutmeg, cinnamon, and honey (which makes it refined-sugar-free too!)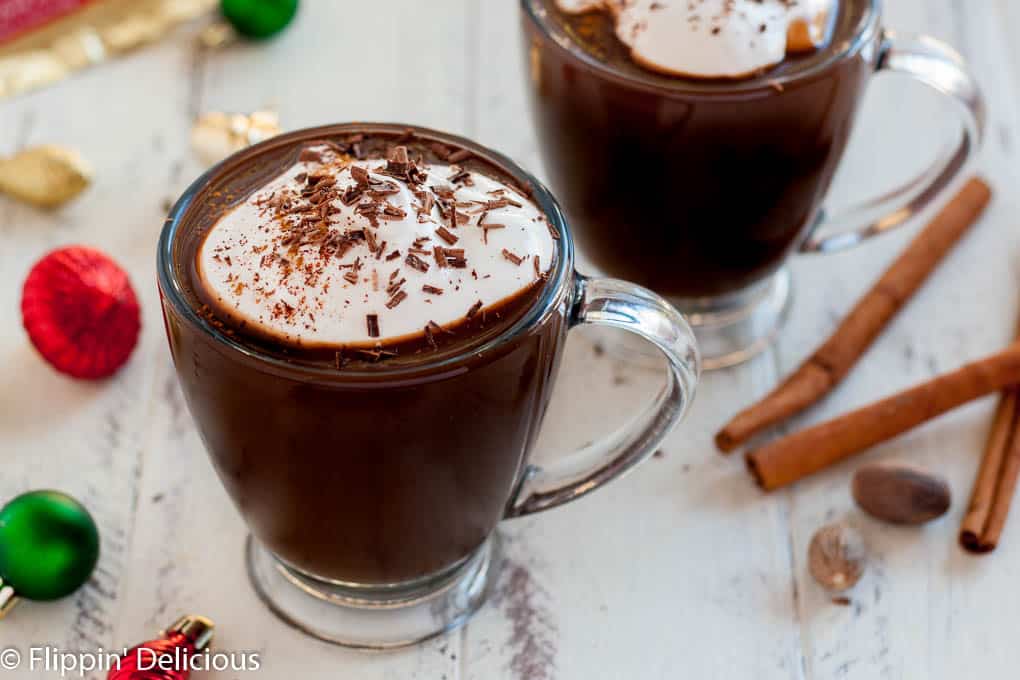 I like to make my vegan Mexican hot chocolate extra spicy, which is where the Vegan Whipped Topping Mix from Vivian's Live Again becomes essential. It helps to lighten up the hot chocolate and keep it from being too spicy, just like a dollop of sour cream on your green chile white bean chili.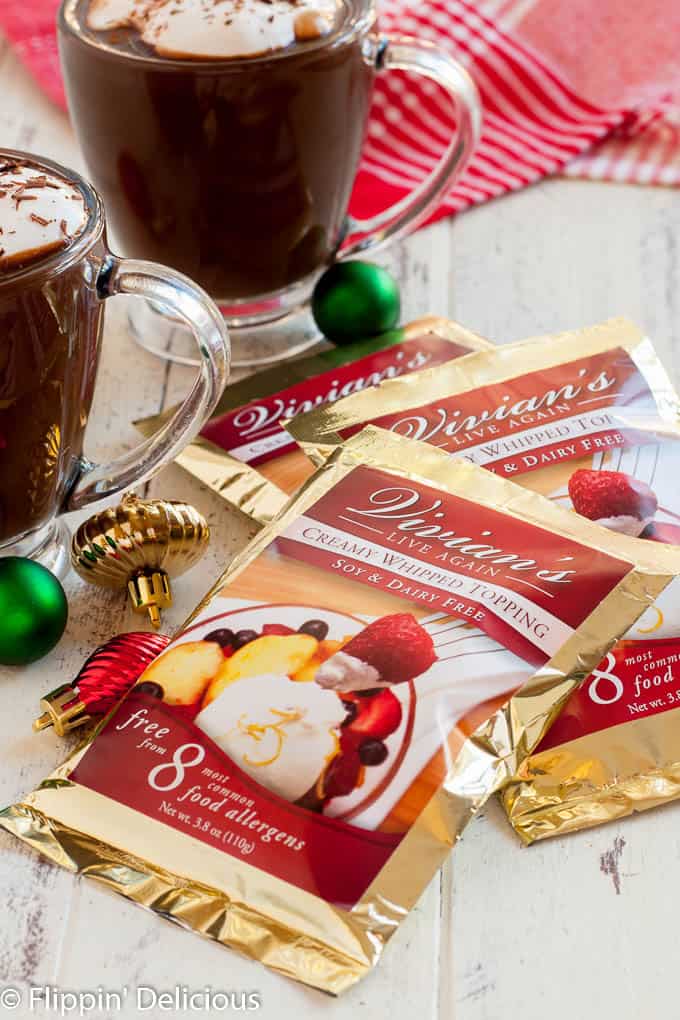 I am a big fan of Vivian's Live Again products, including the vegan whipped topping mix, because they are shelf-stable and are all free of the top 8 allergens, including wheat/gluten, milk and soy!
I think I am going to tuck a few packets of the vegan whipped topping mix into my hubby's stocking on Christmas Eve. He loved this dairy free Mexican hot chocolate, so it will be the perfect thing to sip while we open presents on Christmas morning.
I like my hot chocolate to be thick and creamy, which can be tricky to do vegan. My all time favorite way to make hot chocolate is used to be to melt chocolate in milk. There are many vegan chocolates available, but they aren't always easy to find and you may want to save them for your favorite gluten free chocolate chip cookies.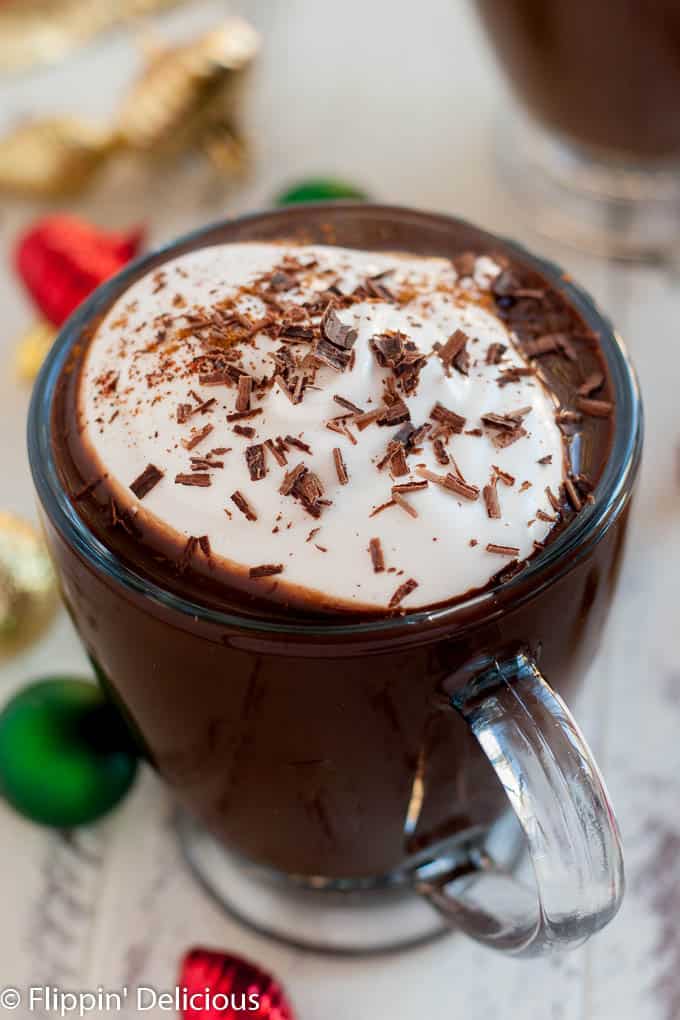 I wanted to create the same unctuous creamy hot chocolate, but without using melted chocolate. My solution is to use a rich dutch-processed cocoa powder and just a touch of cornstarch to slightly thicken my vegan Mexican hot chocolate.
Just a touch, mind you. You don't want to end up with dairy free Mexican hot chocolate pudding (at least not today!) You won't know that the cornstarch is there. It is makes the hot chocolate richer and creamier so that you would never guess that it is vegan, dairy free, and made with cocoa!
I have a new favorite dairy free hot chocolate now! I hope that you love it just as much as we did.

📖 Recipe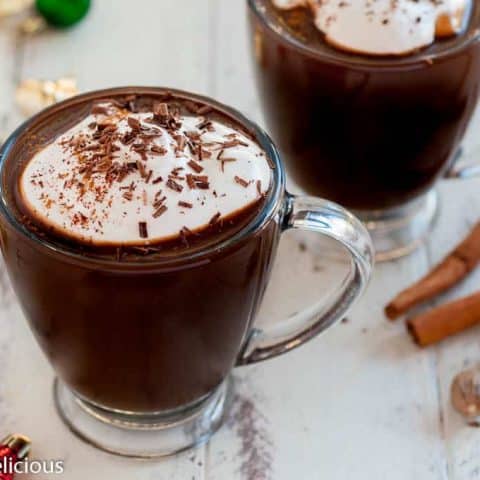 Vegan Mexican Hot Chocolate
Yield:
4 cups hot chocolate
Indulgent Vegan Mexican Hot Chocolate, sweet and spicy hot chocolate topped with vegan whipped topping!
Ingredients
4 cups dairy-free milk of choice (I used flax milk)
½-3/4 teaspoon ground cinnamon
1 teaspoon vanilla paste or vanilla extract
¼ teaspoon ground chipotle powder
½ cup dutch processed cocoa powder
¼ cup honey (or more to taste) (use sugar, agave, or maple syrup to make it fully vegan)
2 teaspoons cornstarch
vegan chocolate curls, to garnish (optional)
Instructions
Prepare Vivian's Live Again Vegan Whipped Topping Mix according to the package directions.
In a saucepan whisk together all of the hot chocolate ingredients.
Heat over medium-low heat until it begins to simmer. Allow to simmer for 2-3 minutes for the cornstarch to lose its starchy taste and texture.
Cool slightly and ladle into your favorite mug. Top with the vegan whipped topping and a sprinkle of cinnamon, nutmeg, and/or chipotle powder or some vegan chocolate curls
Notes
To make traditional vegan hot chocolate instead of Mexican hot chocolate just omit the cinnamon, nutmeg, and chipotle.
Nutrition Information
Yield

4
Serving Size

1
Amount Per Serving
Calories

295
Total Fat

8g
Saturated Fat

4g
Trans Fat

0g
Unsaturated Fat

3g
Cholesterol

20mg
Sodium

132mg
Carbohydrates

46g
Fiber

3g
Sugar

24g
Protein

11g
All nutrition info is a guestimate and will vary depending on the ingredients you use.