Sweet and crunchy gluten-free chamomile-vanilla-almond biscotti are light and crisp. Chamomile vanilla glaze drizzled over the top adds just a touch of sweetness. Perfect with a hot cup of herbal tea!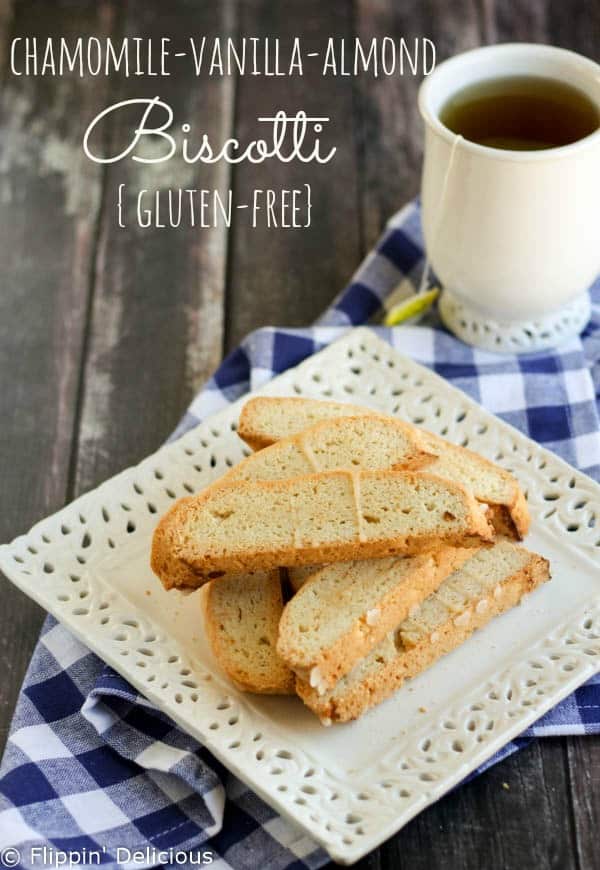 This shop has been compensated by Collective Bias, Inc. and its advertiser. All opinions are mine alone. #SweetWarmUp #CollectiveBias
The holidays are over, and if you are like me you are trying to get back into the swing of things. Back to everyday schedules and life. I don't know about you, but I'm exhausted from the holidays. So much traveling back and forth to see family and friends. My girls NEVER getting to bed on time. We are all worn out!
We went to Target last week to use some of the gift cards that we'd received for Christmas. The Target that we were at had a full grocery section so I stocked up on a few baking supplies while we were there, including Truvia Baking Blend and Bigelow Cozy Chamomile Tea. They were conveniently on the same aisle!
With a brand new baby in the house it has been harder to take care of myself. I need a break! Even if just 5 minutes (or more realistically 2 minutes) a little break makes a huge difference. On Saturday I sat down with a steaming cup of Bigelow Tea and one of these sweet and crunchy Chamomile-Vanilla-Almond Biscotti that I made with Truvia.
There is something soothing about a warm cup of herbal tea. I am going to make a habit of sitting down with cup of tea every morning. I need the relaxing break it gives me!
These biscotti are lightly sweet, with great crunch. Pure vanilla extract and some almond flour give the cookies a sweet floral/nutty taste. The flavors in the biscotti are subtle because I wanted them to compliment the light taste of chamomile tea and not completely overwhelm it's gentle flavor. I also used some chamomile tea in the cookie dough and in the glaze. The chamomile flavor in the cookies is very subtle but I loved it.
I actually hadn't done much sugar-free baking before trying Truvia and I was really impressed. I love that it is a natural sweetener and doesn't have any yucky chemicals in it. Be sure to only lightly drizzle or brush on the glaze. The stevia in Truvia makes it very sweet (you only need half as much Truvia in a recipe as you would need sugar) so if you put on too much glaze your biscotti the sweetness will be over powering.
📖 Recipe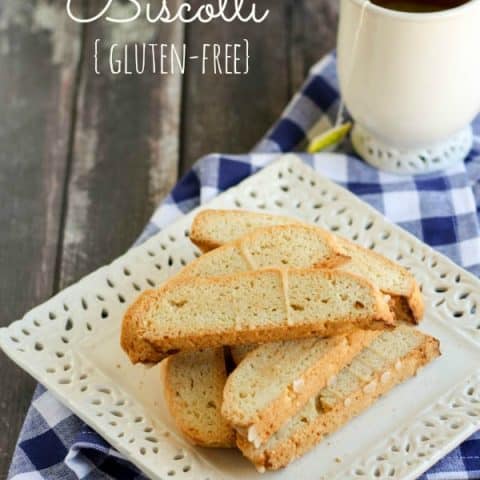 Gluten free Chamomile Vanilla Almond Biscotti
Sweet and crunchy gluten-free chamomile-vanilla-almond biscotti are light and crisp. Chamomile vanilla glaze drizzled over the top adds just a touch of sweetness. Perfect with a hot cup of herbal tea!
Ingredients
½ cup butter, softened
½ cup Truvia Baking Blend
2 eggs
1 teaspoon vanilla extract
1 ½ teaspoons baking powder
1 cup almond flour
1 teaspoon xanthan gum (omit if your blend already has it)
2 cups my gluten-free rice flour blend (or your favorite gf ap blend)
2 Chamomile Tea Bags
2 tablespoons milk
For the glaze (optional)
½ cup Truvia Baking Blend
½ teaspoon tapioca starch
½ teaspoon vanilla extract
Instructions
Preheat the oven to 350F. Line your baking sheet with a silicone baking mat or parchment paper.
Place the Bigelow tea bags in a heat-proof mug or bowl and cover with ½ cup of boiling water. Let steep for at least 20 minutes and be sure to squeeze out all of the liquid from the tea bags before throwing them away.
Cream the butter and the Truvia. Add the eggs. Add the vanilla, xanthan gum, baking powder, and almond flour and mix until smooth. (because you only need half as much Truvia as sugar the eggs didn't emulsify until I added the almond flour.)
Add the my gluten-free rice flour blend and ¼ cup of the brewed chamomile tea and mix until a you have a smooth soft dough.
Directly on the prepared baking sheet form the dough into 2 loaves that are about 1 ½ inches thick (approx 10"x6".) If the dough is sticky lightly wet your hands to handle it more easily.
Brush both loaves with milk using a pastry brush and bake for 25-30 minutes.
Let cool for at least 30 minutes. Slice into ½ inch thick slices and bake for an additional 5-8 minutes on each side.
Make the glaze by first blending the Truvia and the tapioca starch in a food processor or blender until it is soft and powdery like confectioners sugar (about 5 minutes.)
In a microwave safe bowl combine the powdered Truvia, the vanilla extract, and 2 ½ teaspoons of the brewed chamomile tea. Mix until smooth, it will still be very thick.
When the cookies are cooled and ready to glaze microwave the glaze for 30 seconds or until it begins to bubble and it is smooth and thin.
Immediately lightly drizzle or brush the glaze on the top of each cookie. If the glaze starts to thicken before you are finished heat it in the microwave for another 15 seconds.
Notes
To make using regular sugar (without Truvia Baking Blend) use ½ cup 0f sugar in the dough and use ½ cup powdered sugar for the glaze.
Nutrition Information
Yield

18
Serving Size

1
Amount Per Serving
Calories

163
Total Fat

9g
Saturated Fat

4g
Trans Fat

0g
Unsaturated Fat

5g
Cholesterol

34mg
Sodium

91mg
Carbohydrates

30g
Fiber

1g
Sugar

2g
Protein

3g
All nutrition info is a guestimate and will vary depending on the ingredients you use.
For more ideas on how to use Truvia check them out on Pinterest and
Instagram
.
What is your favorite way to take some time for yourself?