Celebrate with these easy Gluten Free Funfetti Cupcakes with GF Cake Batter Frosting!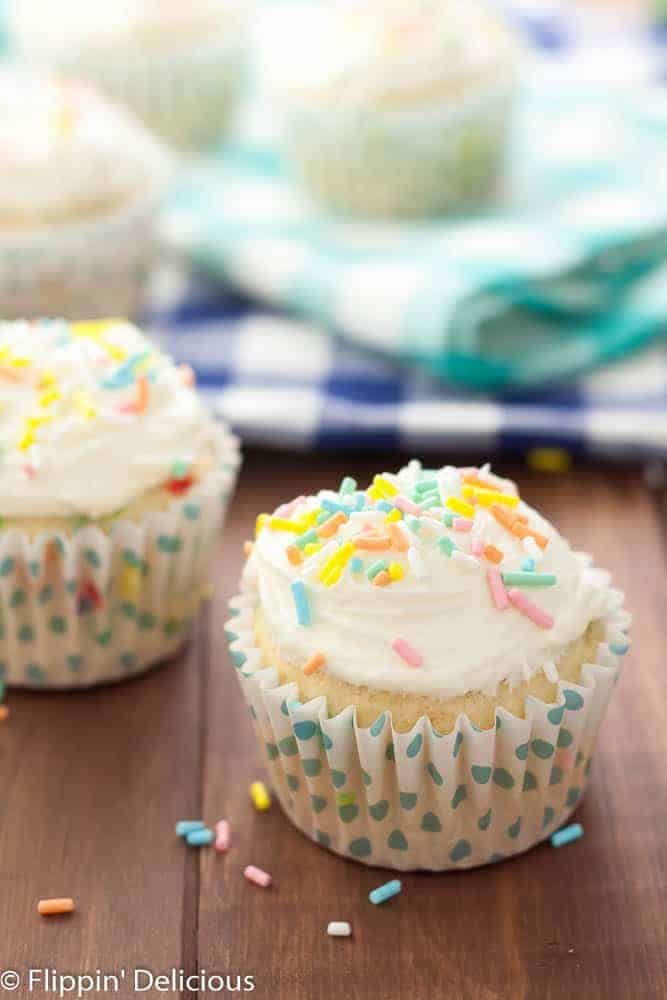 There are many reasons to love cake, but one of my favorites is family celebrations! It really isn't a party unless there is cake, right?
And sprinkles. Gotta have sprinkles.
There is no shortage of sprinkles in these gluten free funfetti cupcakes with gluten free cake batter frosting. These cupcakes take funfetti to the next level of awesome (and they are easy to bake too!)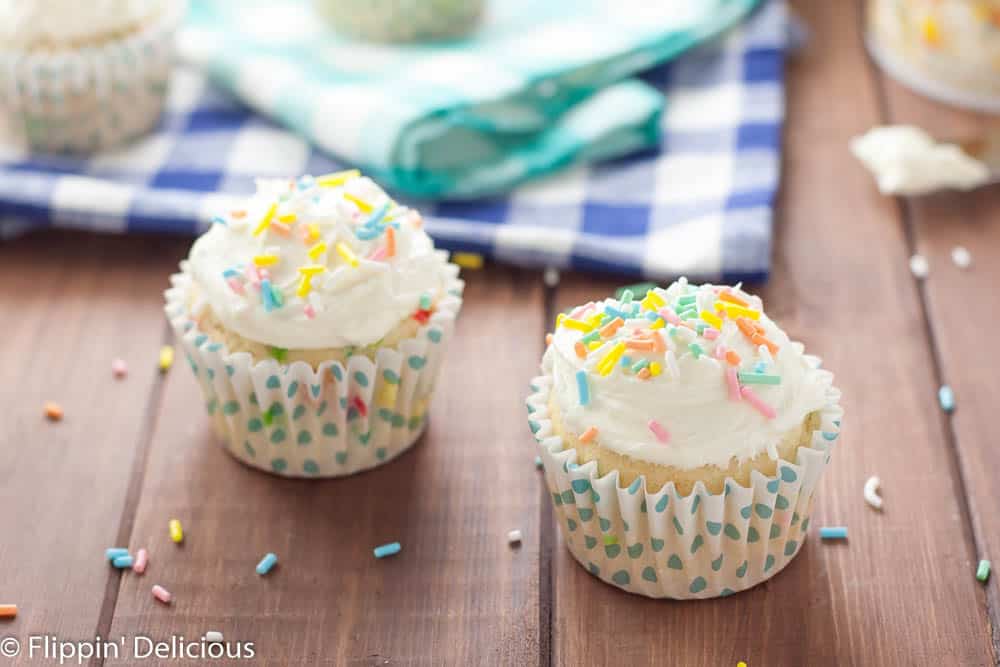 Until more recently the only gluten free cake option was to bake from scratch. Don't get me wrong, I will love baking from scratch. There is something almost therapeutic about measuring out sugar, (gluten-free) flour, and whisking it all together. That being said, I don't bake from scratch as much as I used to (which you may have noticed.)
Why?
Kids.
I have 2 little girls now and boy do they keep my hands full! They both LOVE helping me in the kitchen. They fight over who gets to add each ingredient and anxiously (with yelling and pulling) wait for the other to finish their turn stirring.
I have a hard enough time preventing the entire bowl of cake batter from spilling on the table, let alone trying to remember if I added 1 cup of sugar or 2.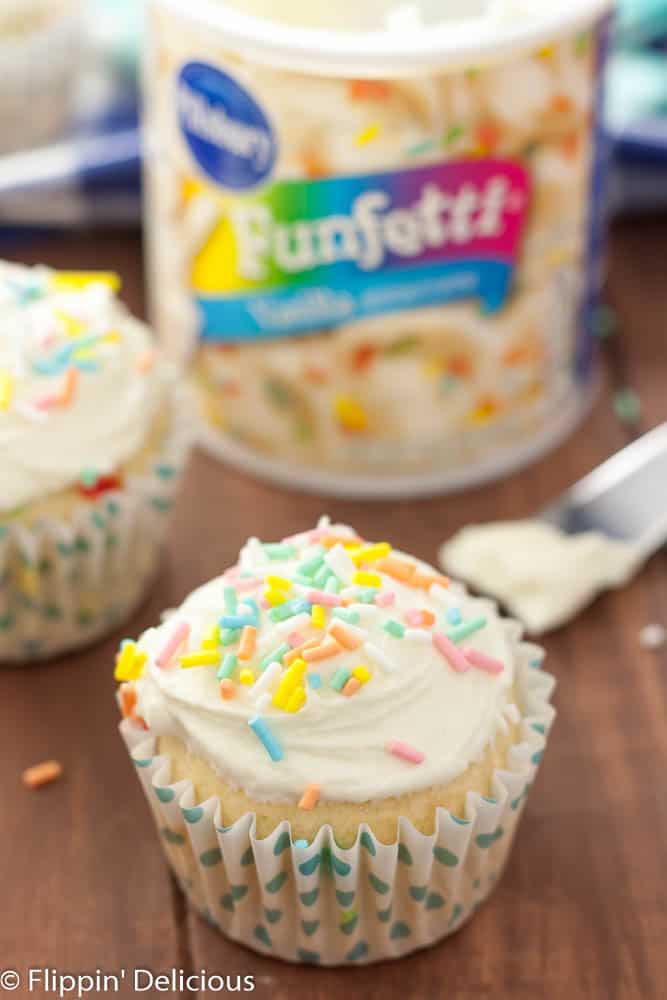 Because of my helpers I am so thankful that gluten-free cake mixes are so much more readily available now! Not only is it easier to bake and #MixUpAMoment with my kids, I also have more time to enjoy with them after our baking project is done. Using gluten free mixes makes baking with my girls enjoyable instead of stressful.
That is especially awesome when we are getting ready to celebrate! Whether it is a barbecue with family, my daughter's birthday, or just because it is Saturday, there are lots of spring occasions to celebrate. I do a little happy dance every time I use a cake mix!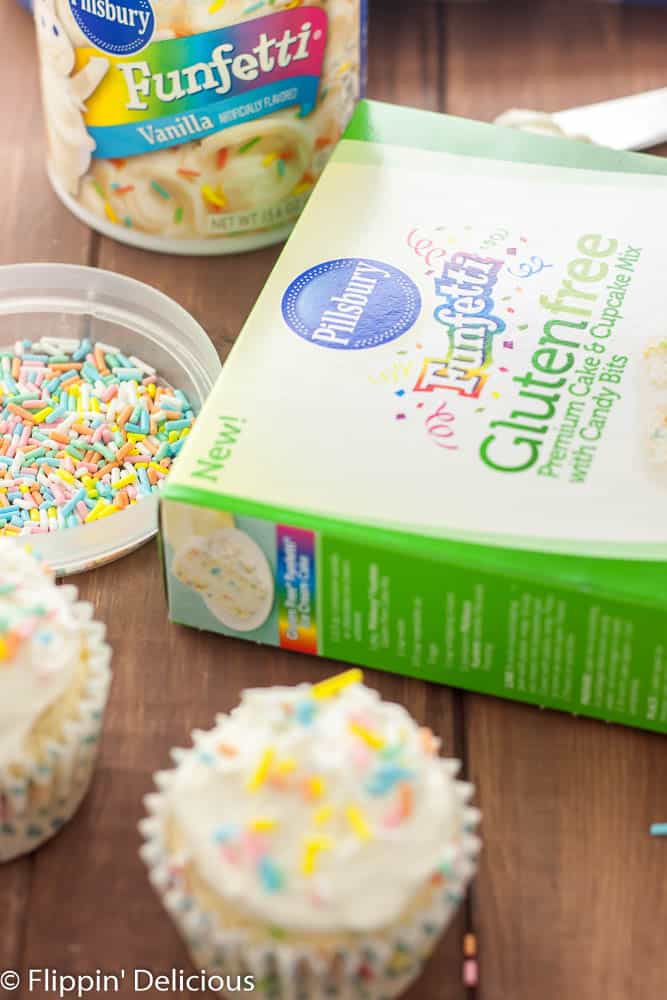 I first discovered that Pillsbury had a gluten-free cake mix last year when I was buying ingredients for my daughter's 3rd birthday cake. Pillsbury has a gluten free Funfetti Cake mix (who doesn't love Funfetti!?!?), gluten free yellow cake mix, and a gluten free devil's food cake mix PLUS a line of cookie and brownie mixes. They are right on the baking aisle at my local Walmart with all the other cake mixes, Easy to find and inexpensive too!
Also, just an FYI, all of Pillsbury's frostings are gluten free too!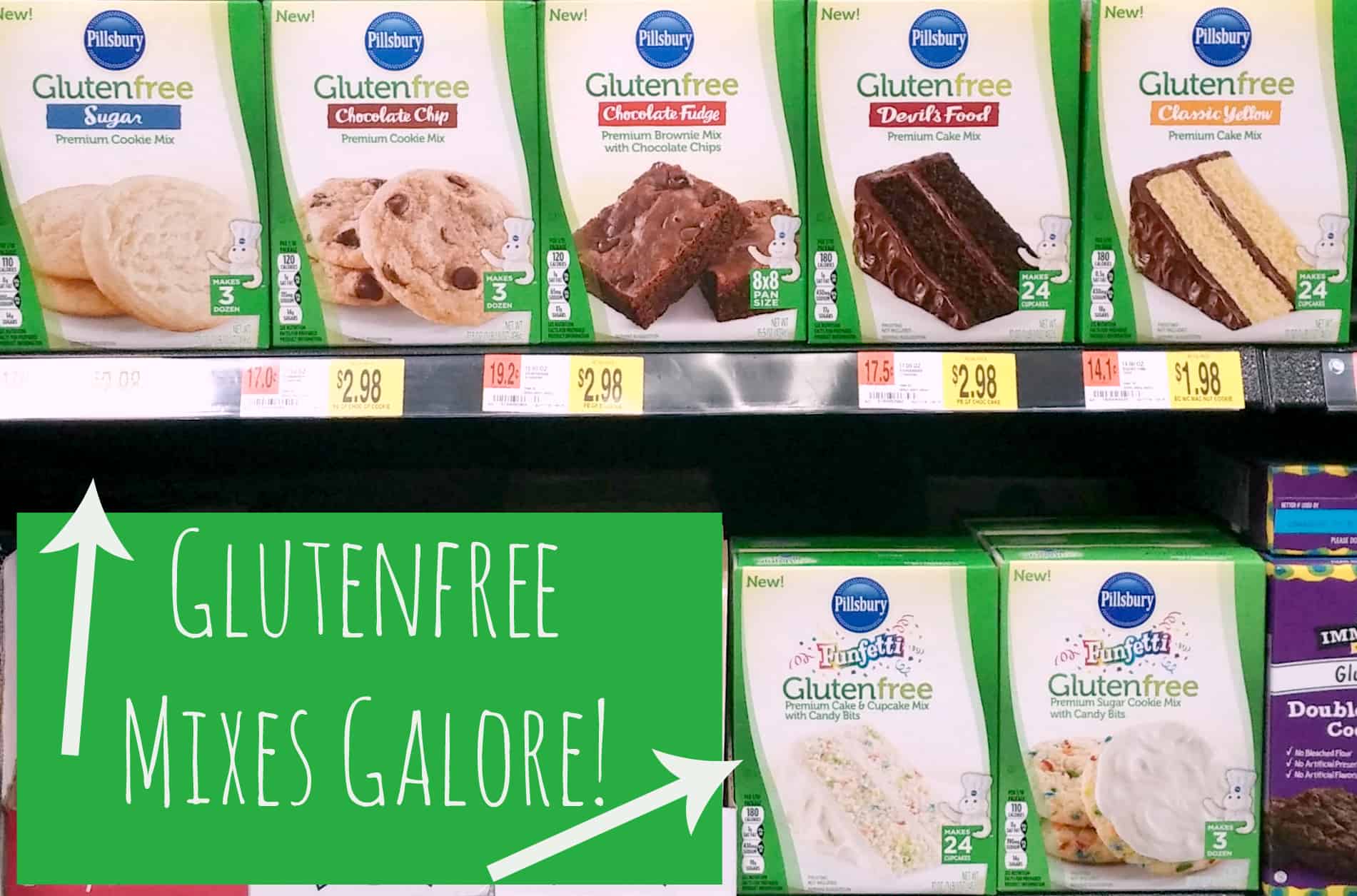 You might also like my recipe for Gluten-Free Raspberry Lime Mojito Cupcakes.
Even when I bake from a mix, I always add my own little twist which is exactly what I did when I baked these gluten free funfetti cupcakes with cake batter frosting for a spring bake sale. I saw a recipe for cake batter frosting from Sprinkles Bakes and I just had to make some myself! It is super simple, and I got rave reviews.
Basically, you add some gluten free cake mix into your frosting and whip it up. I like adding more cake mix for a more cake-battery (that is a thing, right?) taste, but you can use less (OR MORE) to make it just how you like it. I baked up the rest of the cake mix to make more cupcakes, but you could also save it to make a quick gluten free funfetti mug cake whenever a craving hits you.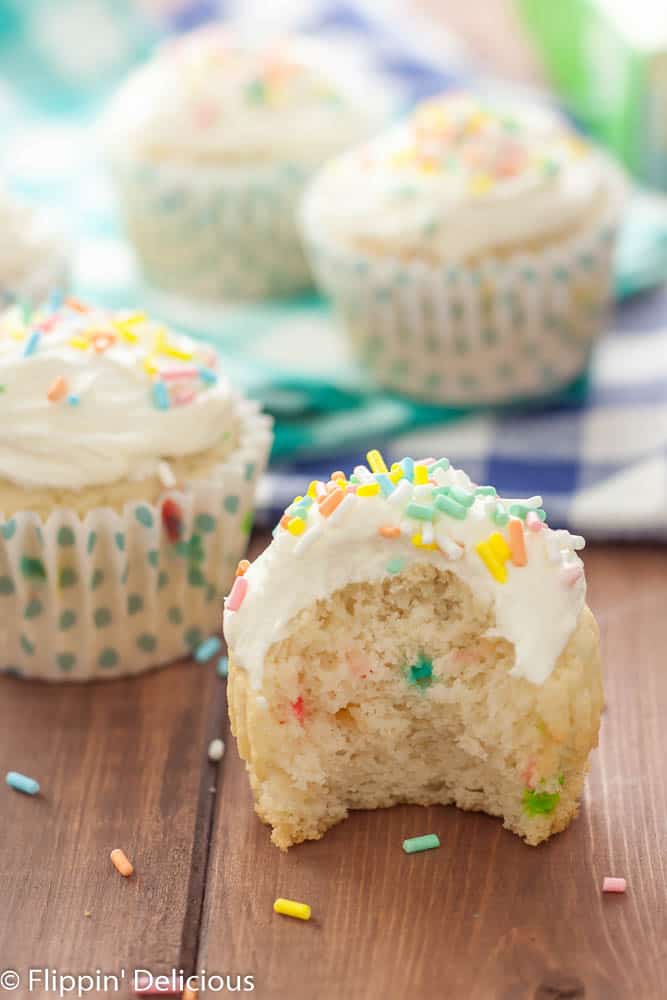 + sprinkles and you are done!

📖 Recipe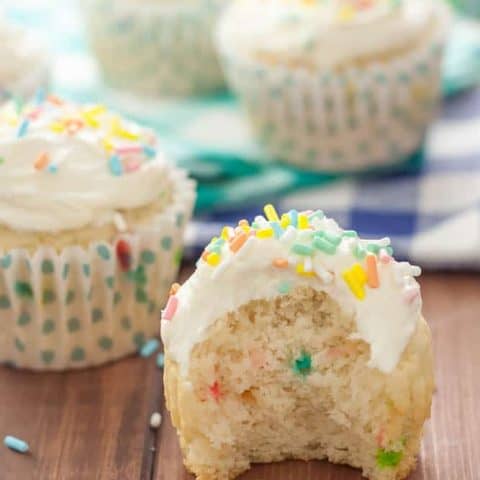 Gluten Free Funfetti Cupcakes with Cake Batter Frosting
Gluten Free Funfetti Cupcakes with gluten free cake batter frosting. Easy to make with gluten free cake mix!
Ingredients
2 boxes Pillsbury Gluten Free Funfetti Cake Mix
additional ingredients to prepare 1 cake mix per the package directions
1 container Pillsbury Funfetti Frosting
Instructions
Prepare one Pillsbury cake mix according to the package instructions and bake into cupcakes and cool.
Scoop the Pillsbury Funfetti Frosting into a bowl, add ¼- ½ cup of Pillsbury Gluten Free Funfetti Cake Mix from the second box and whip with electric beaters until smooth.
Frost the cupcakes with the cake batter frosting and decorate with the sprinkles that came with the Funfetti Frosting.
Notes
You can save the remaining cake mix for making mug cakes whenever your sweet tooth has a craving, or you can bake it up. I removed approx ¾ cup of the mix (I made 2 containers of frosting to cover the extra cupcakes that I baked)
I used 2 eggs (instead of 3) and about ⅔ cup water and just less than ¼ cup oil with the remaining gluten free cake mix. They baked up great!
Nutrition Information
Yield

20
Serving Size

1
Amount Per Serving
Calories

204
Total Fat

2g
Saturated Fat

1g
Trans Fat

0g
Unsaturated Fat

1g
Cholesterol

0mg
Sodium

385mg
Carbohydrates

44g
Fiber

1g
Sugar

24g
Protein

2g
All nutrition info is a guestimate and will vary depending on the ingredients you use.
This is a sponsored conversation written by me on behalf of The J.M. Smucker Company. The opinions and text are all mine.