Gluten Free Pineapple Upside Down Cake is a classic dessert with gooey brown sugar, pineapple rings, and cherries. Dairy free option!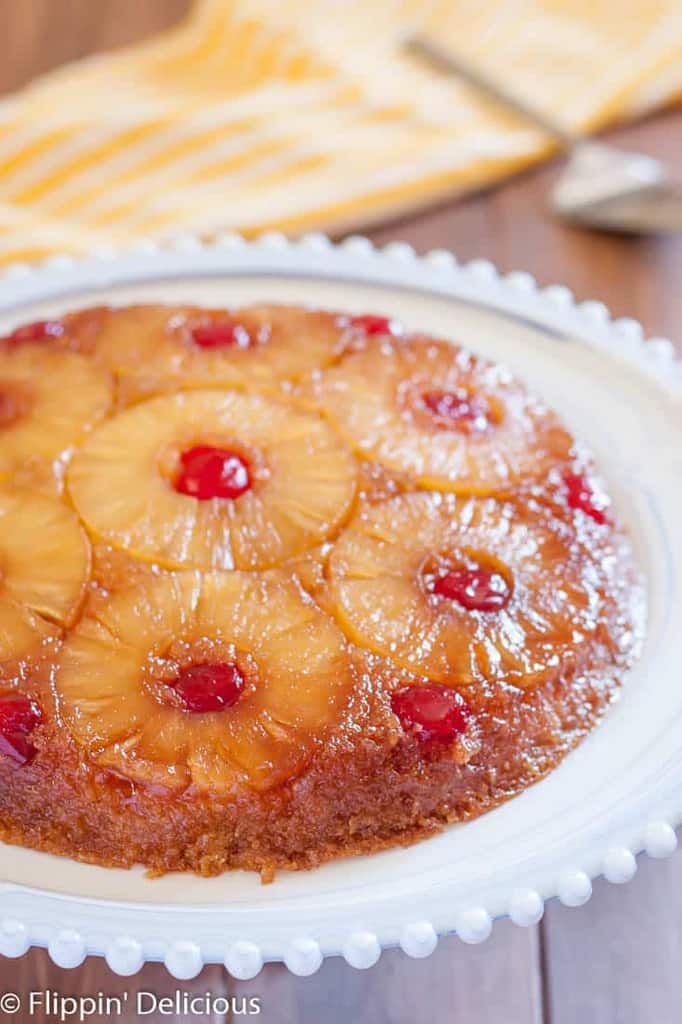 I still remember the first pineapple upside down cake I made. I had gotten a gluten free dessert cookbook from the book store and it was the first recipe that I made!
My mom is a huge fan of pineapple upside down cake, so I made it for her. I think I actually made it for her birthday? I can't remember, it was when I was a teenager.
One thing that I loved, is that the recipe in the cookbook used a cast iron skillet to bake the pineapple upside down cake. It made the recipe so easy because you just melted the butter on the stove top and then mixed in brown sugar and vanilla. The cast iron also heats very evenly and helps to get beautiful golden edges!
For my batter I made some changes to my gluten free homemade white cake mix, subbing in brown sugar for a deeper flavor and using whole eggs. The results is a perfectly moist cake with the sweet brown sugar "caramel" coating the sweet pineapple and cherries.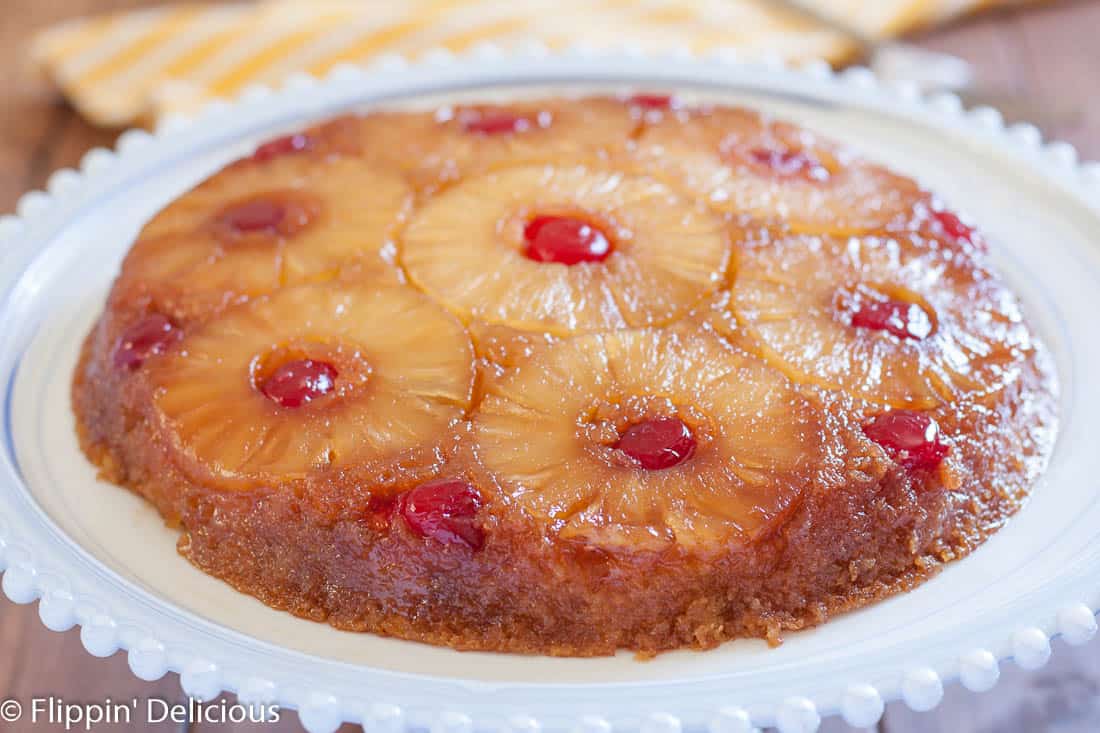 The cake came out perfectly the first time I made it! We were on our way out the door to a potluck so I didn't take pictures before we left. I brought the cake still hot! When we got to the potluck
I cut a slice for myself first thing, just in case the cake got cross contaminated.
I am so glad that I did!
Someone opened a bottle of beer and it spurted everywhere in a foamy fountain of gluten-death…all over my cake. Normally when I bring a gluten free treat to a potluck I almost hope that gluten-eating-people don't eat any of it so that I can bring it all home and hoard it in my freezer (or my stomach.) After the beer fountain I was not tempted to bring the leftovers home, and my waistline thanked me.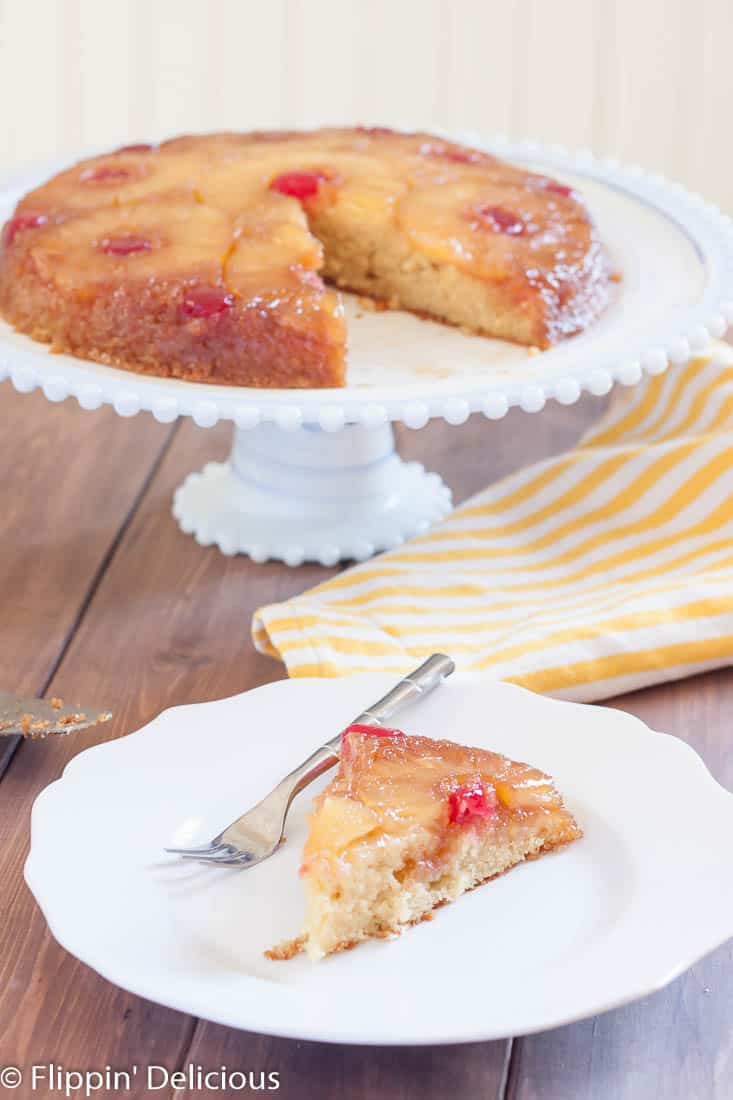 So whether you share your gluten free pineapple upside down  cake, or hide it away for yourself, it is sure to bring smiles and happy tummies.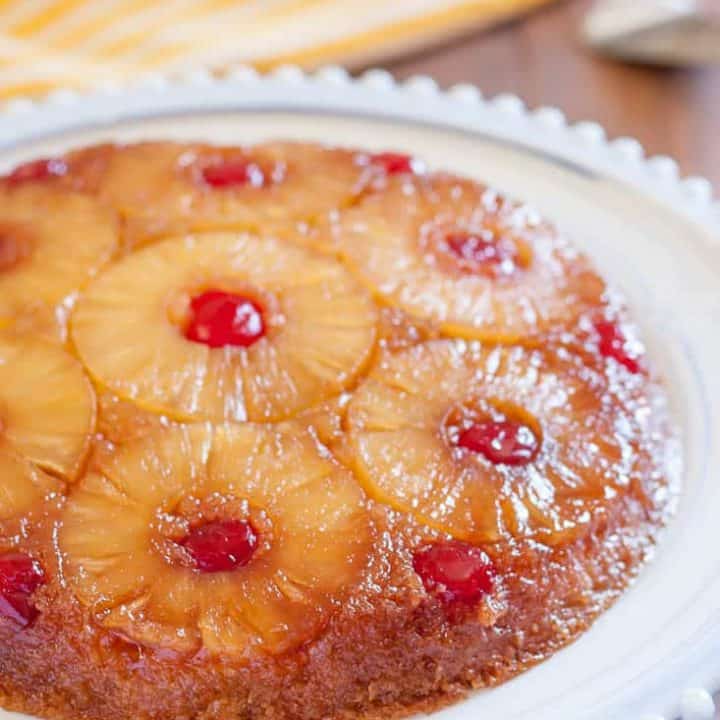 Gluten Free Pineapple Upside Down Cake
Gluten Free Pineapple Upside Down Cake is a classic dessert with gooey brown sugar, pineapple rings, and cherries. Dairy free option!
Ingredients
For the Bottom
1/4 cup vegan or dairy butter (I used Earth Balance)
1/2 cup brown sugar
7 pineapple rings (I used canned)
13 maraschino cherries
For the Gluten Free Cake Batter
1 1/4 cups gluten free flour
1/2 cup brown sugar
1/4 cup white sugar
3/4 teaspoon xanthan gum (omit if your flour already has it)
1 teaspoon baking powder
1/2 teaspoon salt
1/4 cup milk of choice (I used almond)
1/4 cup pineapple juice from the can of pineapple rings (can sub another 1/4 cup of milk)
1 teaspoon vanilla extract
2 eggs
6 Tablespoons oil
Instructions
Preheat your oven to 350F.
In a 10 inch cast iron skilletmelt your butter over medium heat. Remove from head and stir in the brown sugar and vanilla and spread evenly.
Arrange the pineapple rings and cherries on top of the brown sugar mixture.
Whisk together the gluten free flour, sugar, xanthan gum, baking powder, and salt.
In a small bowl whisk together the pineapple juice, milk, vanilla, eggs and oil.
Add the wet ingredients to the dry ingredients and whisk until combined.
Carefully pour the batter over the pineapple in the skillet (so you don't disturb the beautiful design) and bake for 40-45 minutes or until a toothpick inserted near the center comes out clean.
Let the cake cool for 10-15 minutes. Run a butter knife or spatula around the edge of the pan to loosen it, and then invert the cake onto its serving plate.
Notes
I used my 10 inch cast iron skillet. If you don't have a skillet, or don't want to use it, you can use a 9 inch cake pan and bake it for a few minutes extra. You can also bake it in a 9 x 13 pan and cook for a few minutes less.
Recommended Products
As an Amazon Associate and member of other affiliate programs, I earn from qualifying purchases.
Nutrition Information
Yield

12
Serving Size

1
Amount Per Serving
Calories

510
Total Fat

27g
Saturated Fat

12g
Trans Fat

1g
Unsaturated Fat

14g
Cholesterol

86mg
Sodium

404mg
Carbohydrates

60g
Fiber

2g
Sugar

33g
Protein

9g
All nutrition info is a guestimate and will vary depending on the ingredients you use.