Sweet gluten free rainbow layer cake with buttery frosting, perfect for a kid's birthday or any fun celebration. What is more fun than a bright colored cake that everyone can eat? 
Photos updated February 2016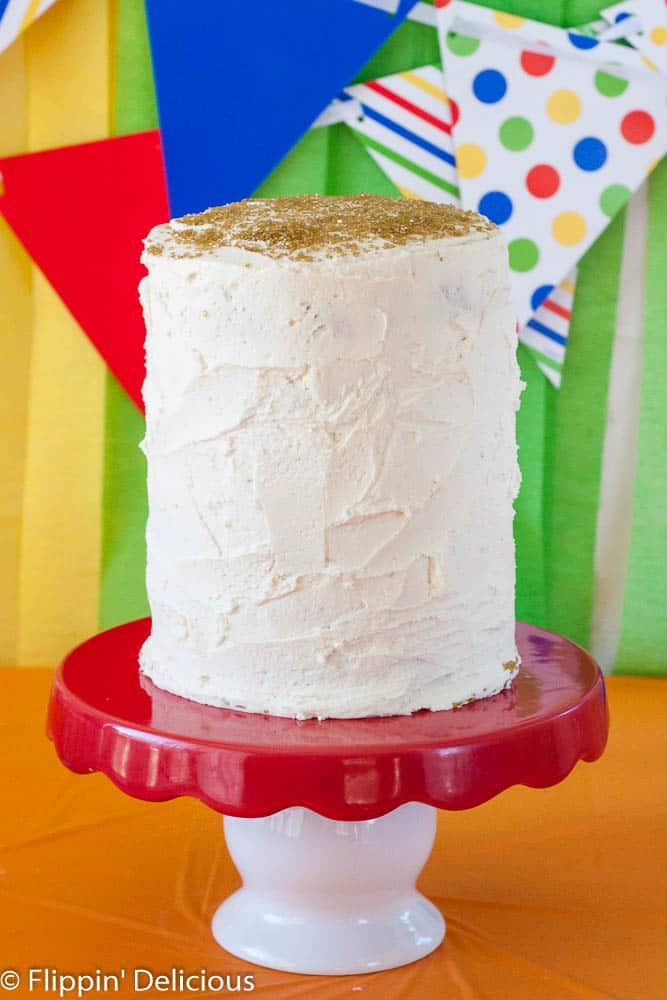 I love baking cakes for birthdays and other occasions. Gorgeous layer cakes like this gluten free rainbow layer cake don't need to be daunting or scary. It just takes a few extra steps from a single layer cake, and as long as you aren't doing tiers it is a cinch to stack them. If you want a tutorial to see my tips for stacking cake check out my Gluten Free Red Velvet Recipe. As long as your layers are cool you really just stack them on top of each other with a generous layer of frosting in between.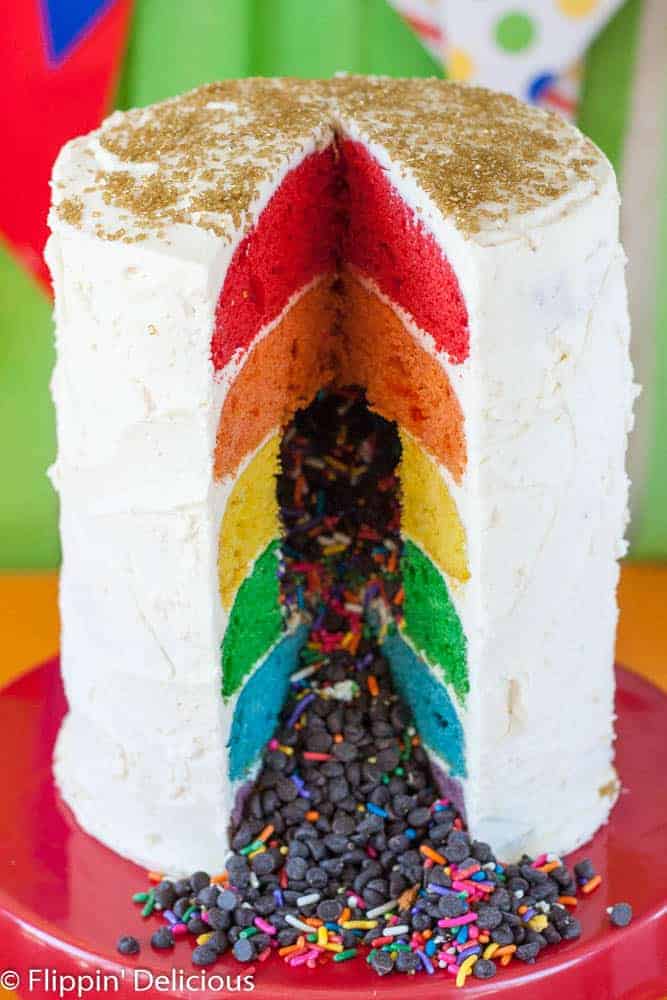 Turning your cake into a pinata cake is a cinch! Just use a round cookie cutter to cut a hole out of the middle 2 layers of the cake. As you layer up the cake, fill the hole with chocolate chips, sprinkles, candy, or whatever you want to explode out of your cake. Cutting into it is a blast, especially if your guests aren't expecting it.
I made this gluten free rainbow layer cake for my daughter's birthday last year. I let her pick the colors which actually coordinated with her favorite My Little Pony, Applejack. We love My Little Pony at our house. All of us are big fans!  We put an  Applejack toy on the top of her cake, and she absolutely loved it. Everyone at her party thought that all of the colors were so fun!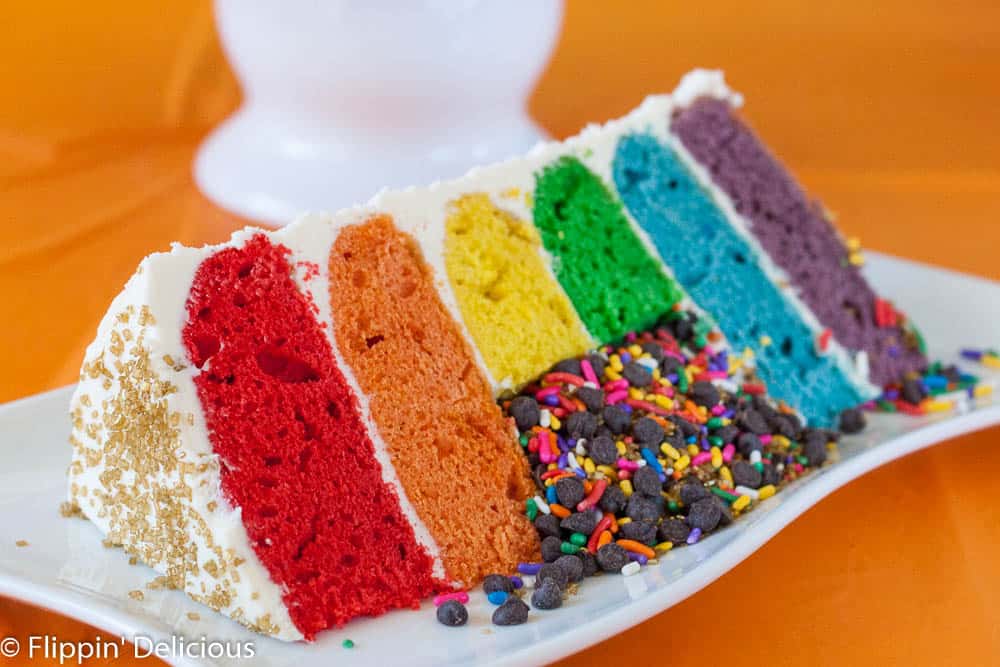 I saw the idea for making a rainbow cake in The Food Network Magazine. You can make any color that you want! Do ombre, all the same color, alternate two colors, or do a rainbow like I did. Whatever floats your boat.
This gluten free rainbow layer cake would also be a colorful treat to celebrate St. Patrick's Day. Every year I see so many bright rainbow desserts. All you need is the pot of gold!
If you are looking for another colorful cake recipe, I think you'll love this Gluten Free Funfetti Cake from my friend Sharon (she blogs at What the Fork Food Blog.) It is almost too pretty to eat!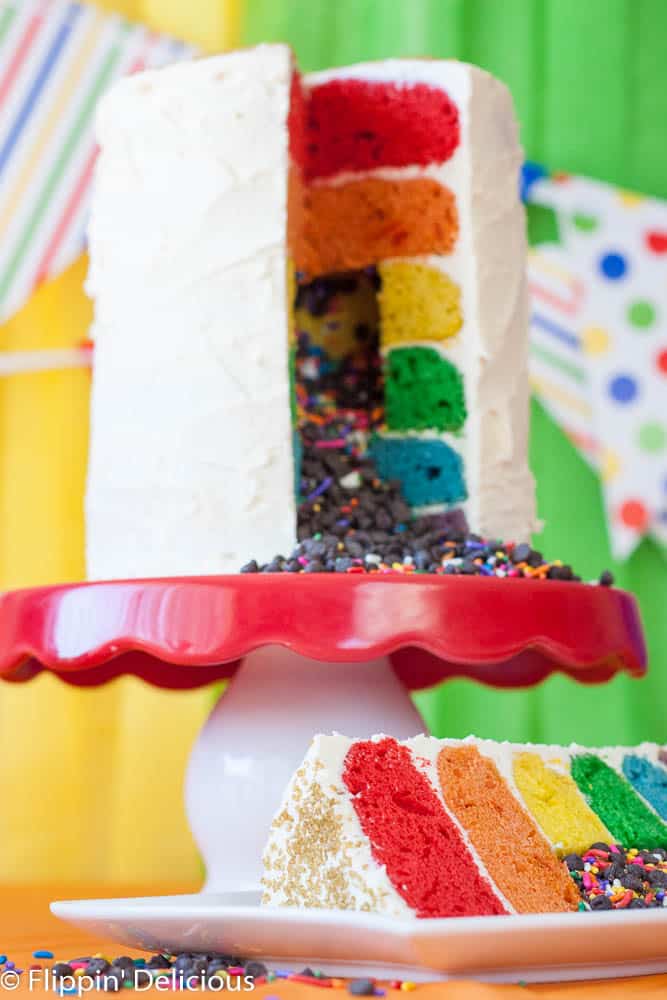 You could also try a green ombre for St. Patty's Day.
I baked the dairy free version of this gluten free rainbow layer cake for a dairy free chocolate and sprinkles themed party. With the gold sugar sprinkles on top it was perfect for St. Patrick's Day.
I LOVE buttercream frosting, and so I love that this cake has such a generous schmear of it. If frosting isn't your thing just use less of it.
With all the frosting, not to mention the 4 layers of cake, the finished cake was very rich. Even us grown-ups only needed a tiny slice!
Gluten-Free Rainbow Layer Cake
What is more fun than a bright colored cake that everyone can eat? Sweet gluten-free rainbow layer cake with buttery frosting, perfect for a kid's birthday or any fun celebration.
Ingredients
For the Cake
2 cups granulated sugar
1 cup vegetable oil
4 eggs
2 teaspoons vanilla extract
3¾ cups gluten-free (my favorite blend for cakes is Gluten Free Mama's Almond Blend. I also get good results withmy cake and cookie blend.
1 teaspoon xanthan gum (omit if your blend already has it)
¾ teaspoon baking soda
½ teaspoon salt
1½ cups buttermilk (I used 1½ cups milk with about 2 teaspoons of white or apple cider vinegar. Use your favorite dairy-free milk to make the cake dairy-free.)
Food coloring
1 recipe American Buttercream (dairy or dairy-free version)
Instructions
Preheat the oven to 350F. Lightly grease 4 9inch round baking pans (or 6, 6 inch round baking pans) and line the bottom with a circle of parchment paper. (I baked my cakes in batches, 2 at a time since that is how many cake pans I have.)
In a stand mixer, or a large bowl with heavy-duty electric beaters, beat the sugar and oil until creamy.
Add the eggs one at a time, and then add the vanilla and beat until light and fluffy.
In a separate bowl whisk together the gluten-free flour, xanthan gum, baking soda, and salt. Add Add the flour mixture to the sugar mixture in 3 additions, alternating with the buttermilk, beginning and ending with the flour mixture. Mix until the batter is smooth.
Divide the batter evenly between 4 (or 6) bowls and color each bowl of batter the desired color using the food coloring.
Pour the batter into the prepared pans and bake 2 at a time for about 15-17 minutes or until a toothpick comes out clean.
Spread about 1½ cups of frosting between each layer and frost the outside with the remaining frosting.
Notes
To make the cake dairy-free use non-dairy milk (I have used soy, and almond) and mix with vinegar to make buttermilk.
Be sure to frost with dairy-free buttercream frosting too.
I used my
gluten-free cake flour/rice flour blend
 originally but I have since fallen in love with
Gluten Free Mama's Almond Flour
. It gives cakes the perfect (almost springy) texture and my gluten-eating extended family has given rave reviews of the cakes I have made with GF Mama's Flour.
Original recipe that my gluten-free version is adapted from: Four Layer Birthday Cake
Linked up at Gluten-Free Wednesday,
Linked up at Try a New Recipe Tuesday
Linked up at Allergy Free Wednesday