Gluten Free Lavender Lemon Bars combine real dried lavender with the classic bar cookie into one trendy and delicious lavender dessert.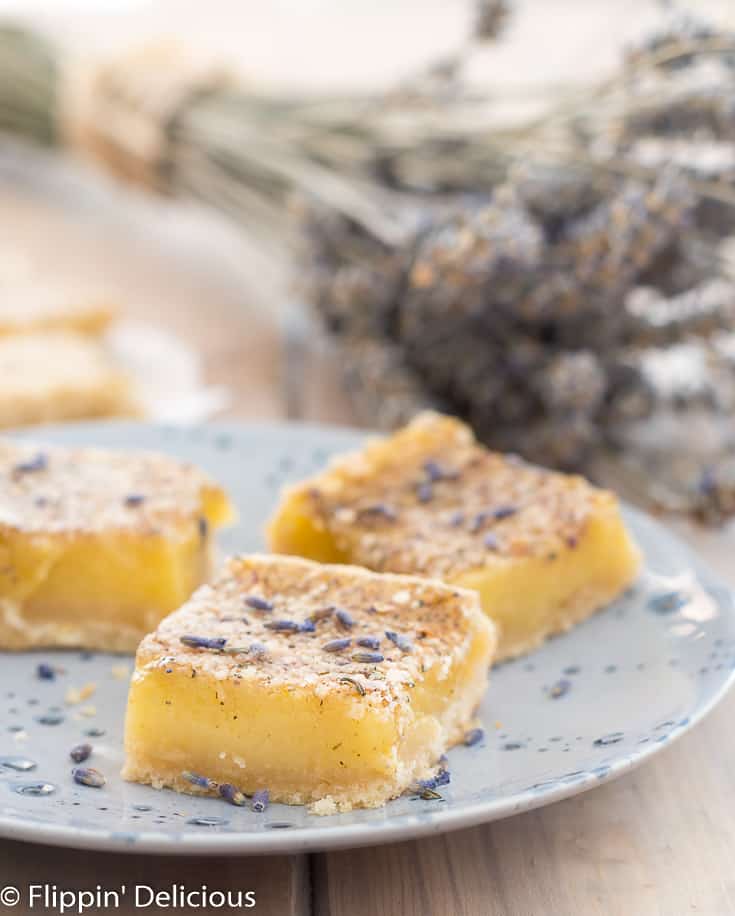 Gluten Free Lavender Lemon Bars Recipe
Have you been sucked into the lavender craze?
I am proud to say I was quick to jump onto the lavender bandwagon. I am a huge fan of all food lavender. I've been playing with lavender in my kitchen, and I love it!
Lavender Dessert Recipes
Have you ever had a lavender dessert?
It is about time I add a real lavender dessert to Flippin' Delicious. I suppose the only lavender dessert I have on the site right now is the amazing Lavender Margarita from the Hyatt Tamaya.
I've been working on this lavender lemon bar recipe all summer, and am so happy it turned out! You guys are going to love these!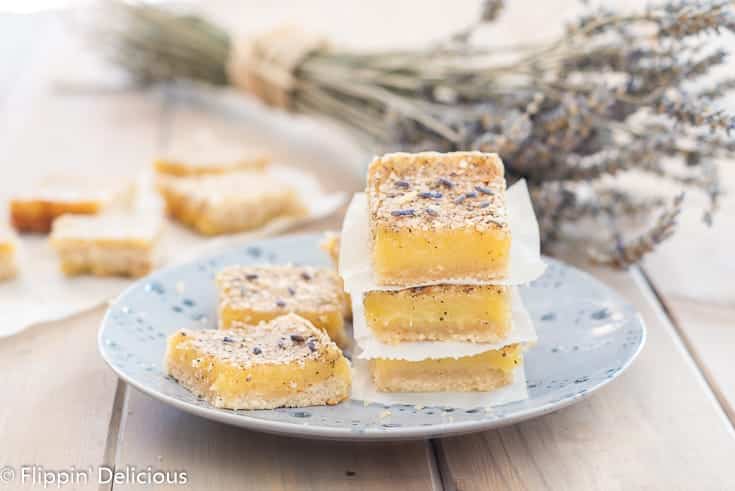 IRL you won't want to sprinkle them with lavender buds, they'll taste far too strong. They make for pretty pictures though! I wanted you to be able to see that they had lavender in them right away!
I'm a big lavender fan. I start each morning with a homemade lavender latte, made with a homemade lavender simple syrup. (The syrup I make is similar to the syrup I use in my Lavender Margaritas, minus the lime
You haven't lived until you have a lavender latte! They are my thing right now. Several local coffee shops, like Humble Coffee and Whispering Bean Coffee make a great lavender latte, but I really like being able to enjoy one in the comfort of my own kitchen ever single day.
How to use lavender in cooking and baking
Lavender compliments citrus flavors, like lemon or lime, and more floral flavors like honey. It also goes well with some fruits and berries, like blueberries.
Lavender can be a bit tricky to add to foods because the flavor is so subtle, and it also can taste soapy if you aren't careful. Lots of trial and error, but it is worth it, let me tell you!
Lavender and lemon compliment each other so well! The lemon is bright and the lavender is floral. Balancing them in a single dessert so that the lemon doesn't overpower the lavender can be tricky.
I finally shared my favorite gluten free lemon bars recipe with you (and it is a winner) and took the opportunity to create this floral lavender lemon bar cookie recipe.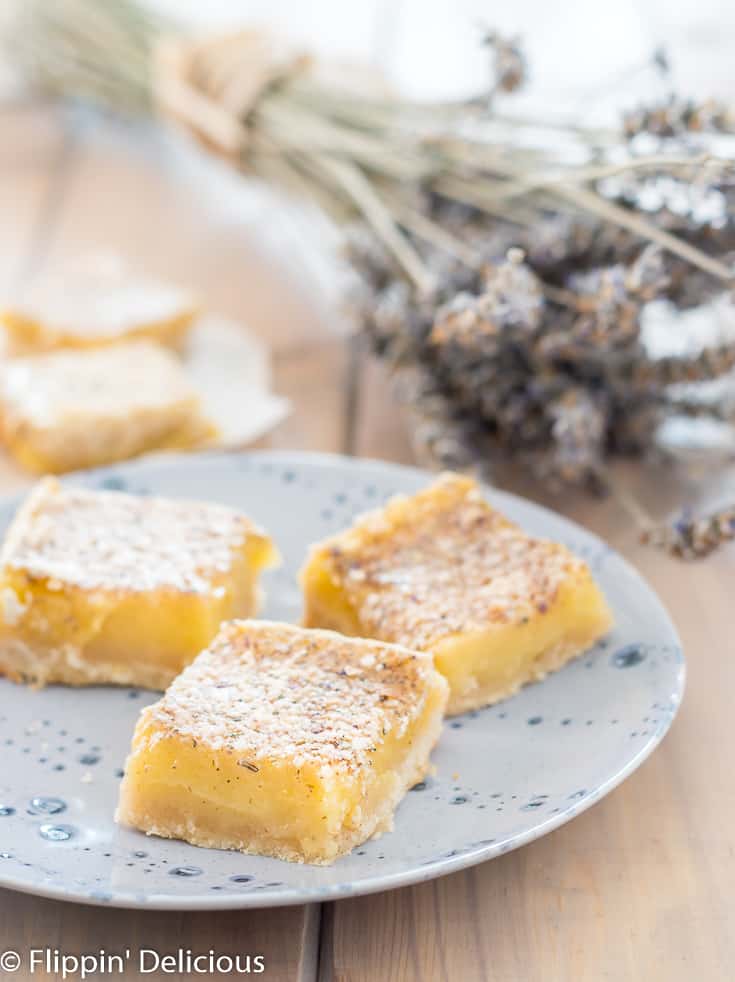 Everything you love about a good gluten-free lemon square with just a hint of lavender. (No food coloring added, those hints of purple are completely natural.)
How do you add culinary lavender to a dessert?
First, be sure you are using culinary lavender. A culinary lavender includes several species of lavender that are particularly tasty (not all lavender plants will taste the same.) I think using culinary lavender helps you to avoid having a soapy taste that can come with lavender, and also makes sure your lavender was treated in a food safe way (like a fruit or vegetable you eat).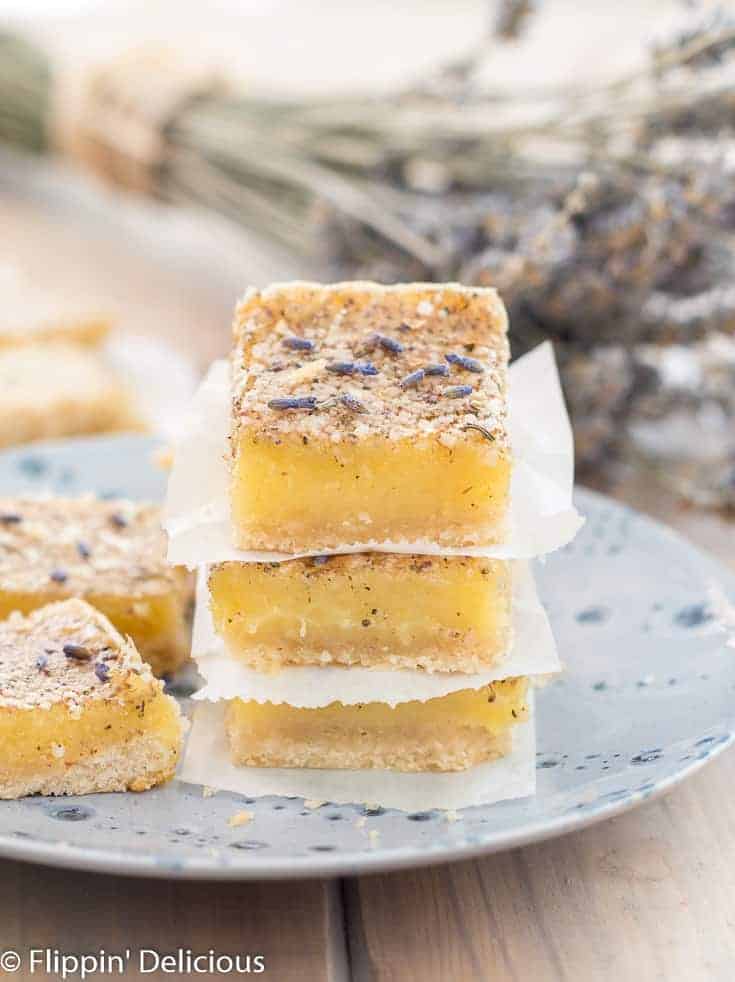 When adding lavender to my lemon bar recipe, my priorities were:
Balancing the Lavender and Lemon flavors, so you can enjoy both without one overwhelming the other.
Infusing lavender flavor without compromising texture (I couldn't really add a cup of lavender tea or something like that)
Nobody likes biting down on a full lavender bud. It kills your taste buds and you'll taste nothing else. I wanted to use real lavender, but I couldn't just add a spoonful.
How to extract flavor from culinary lavender
There are a few ways to add lavender flavor. You have to extract the flavor, or infuse it into something. I wanted to stay away from any method that would add water, like making a lavender simple syrup or lavender tea, because it would change the texture.
Lavender extract could work, but it can take several days to a week for distilled alcohol to extract the lavender flavors. I'm impatient. I was also afraid that lavender extract would be too subtle of a flavor. I wanted the lavender flavor to be present in my lavender lemon bars, and not just an undertone you can barely detect.
My solution was to make lavender sugar to use in my lavender lemon bar filling! Before starting the filling, I added the sugar to my food processor (you could also use a blender) and added a tablespoon of culinary grade lavender. I pulsed until the lavender buds were completely blended.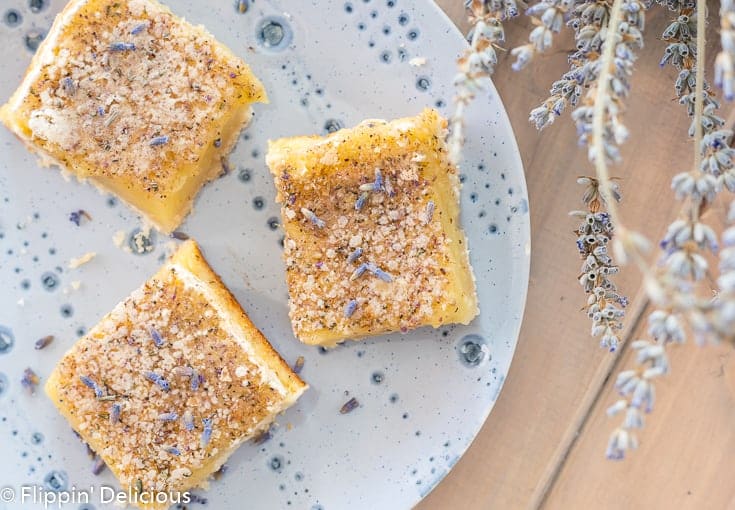 To make things even easier, I just added the other filling ingredients to my food processor and ta da, the filling was ready!
I didn't want to mess with the gluten free shortbread crust, though you certainly could add some lavender to it if you wanted. (I'll probably tinker with it next time I make these gluten free lavender lemon bars.) If you want to try it, I would pulse some culinary grade lavender in the powdered sugar and continue making the gluten free shortbread crust.
Living in the Lavender Capital of the USA
I live in Albuquerque, New Mexico, which has a thriving lavender culture (in my opinion, second only to Provence, France).
The nearby village of Los Ranchos is home to the well-known lavender farm, Los Poblanos. Los Poblanos sells is lavender and lavender products world-wide. (Apparently it is somewhat popular in Japan?)
Each July the village of Los Ranchos has a week long Lavender Festival, spanning from one Saturday morning to the Sunday of the next.
During the lavender festival many local businesses across the Albuquerque Area celebrate by featuring lavender menu items or products.
I was so sad, I missed the lavender festival this year because we were out of town for a family reunion. I'm not letting that happen next year!
The local gluten-free bakery is always at the Los Ranchos Market during the lavender festival, and the rest of the market season. Last year I purchased a lemon lavender cookie from them. It was a lightly sweet shortbread cookie, covered in powdered sugar. It was delightful!
If you are ever passing through New Mexico, please stop and enjoy the rich culture we have here. Especially if it is in July, during the height of the lavender season.
Gluten free Lemon Lavender Bar Recipe:
📖 Recipe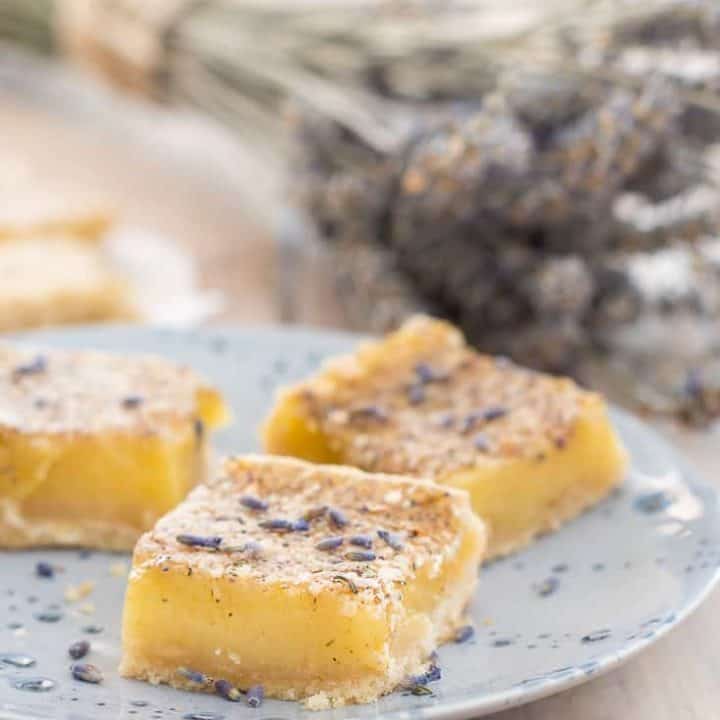 Lavender Lemon Bars Recipe
Yield:
20 2" lavender lemon bars
Total Time:
1 hour
5 minutes
Gluten Free Lavender Lemon Bars combine real dried lavender with the classic bar cookie into one trendy and delicious lavender dessert.
Ingredients
For the dairy free gluten free shortbread crust
½ cup powdered sugar'
½ cup butter, or vegan butter (I used half palm shortening and half Earth Balance this time)
1 egg white (just the white, save the yolk for later, or just add it into the filling)
¼ teaspoon xanthan gum
¼ teaspoon salt
1 ½ cups[url undefined]gluten free flour blend[/url] (I used my flour blend, if you try another, let me know how it worked in the comments)
for the lemon curd filling
2 cups white sugar
1-2 tablespoons dried culinary lavender
6 eggs
¼ cup [url undefined]gluten free flour blend[/url] (I recommend mine, or a similar blend that contains only rice and starches, no gums)
Zest from 2-3 lemons
½ cup lemon juice (2-3 lemons)
additional powdered sugar for dusting
Instructions
Preheat the oven to 350°f and line a 9" x 13" baking pan with parchment paper or lightly grease.
To start the gluten free shortbread crust
Cream the powdered sugar and butter together.
Add the egg white and mix until smooth.
Add the xanthan gum, salt, and gluten free flour and mix until you have a crumbly dough.
Press into the bottom of the prepared baking pan and bake for 15-20 mins, until set and golden brown.
Prepare the lemon curd filling
While the crust is baking, prepare the filling by placing the sugar and culinary lavender in a food processor or blender. Pulse until the lavender is completely broken down, with no large lavender buds. Add the remaining filling ingredients and process until smooth.
Gently pour the filling into the crust once it has finished par-baking. Bake the lemon bars for 20-25 mins until the center of the pan has a slight jiggle, but the rest of the pan is set.
Let your lemon bars cool completely before cutting dusting with powdered sugar and cutting into squares
Nutrition Information
Yield

20
Serving Size

1
Amount Per Serving
Calories

230
Total Fat

7g
Saturated Fat

4g
Trans Fat

0g
Unsaturated Fat

2g
Cholesterol

70mg
Sodium

94mg
Carbohydrates

40g
Fiber

1g
Sugar

29g
Protein

4g
All nutrition info is a guestimate and will vary depending on the ingredients you use.