Gluten free peanut butter cookies that taste just like the ones you had when you were a kid. Nothing is quite as iconic as a classic peanut butter cookie, with the crosshatch pattern, with a cold glass of milk,and now it is gluten free.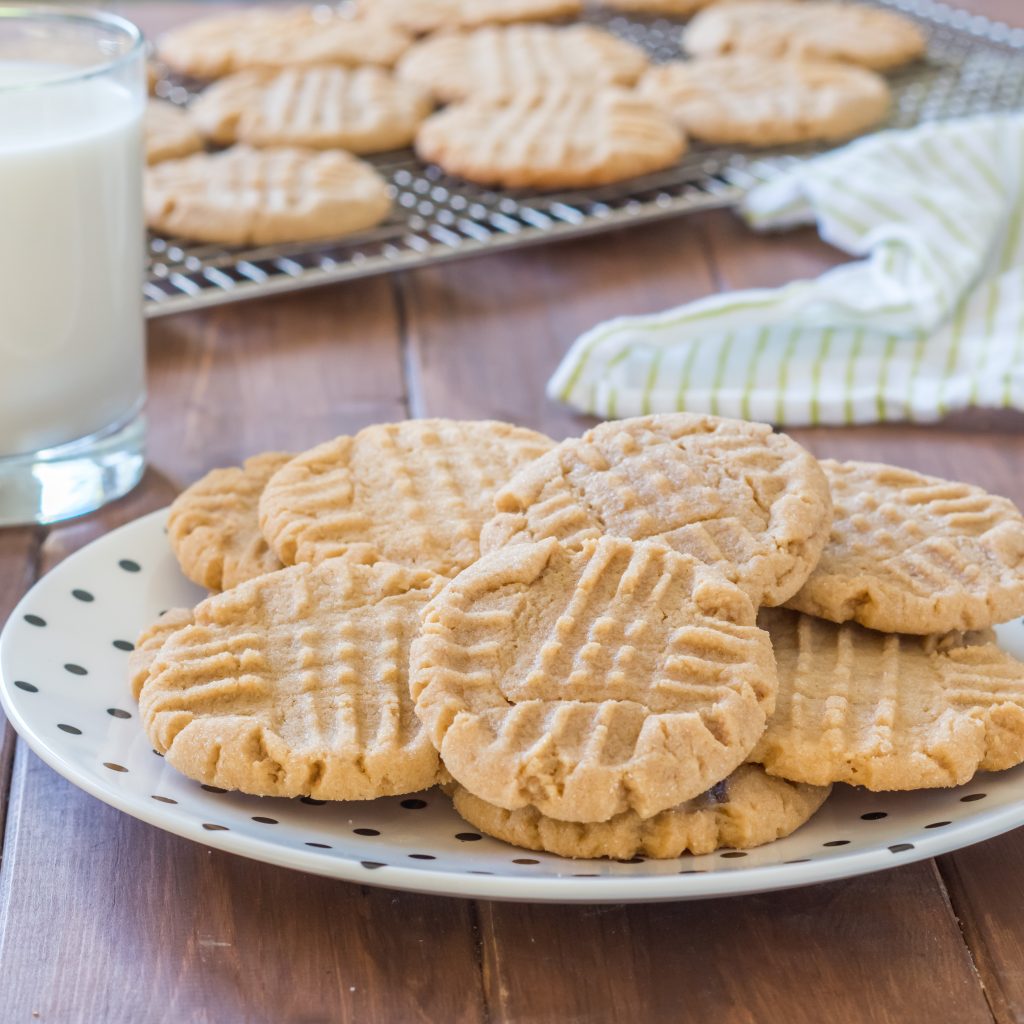 There are hundreds of flourless peanut butter cookies online, and they are basically all the same. A cup of peanut butter, a cup of sugar, and an egg. Maybe a little salt. And that is it.
When I had my first flourless peanut butter cookie I thought it was amazing!
And then, later I missed the classic peanut butter cookie. With crisp edges, and the perfect chewy texture, these gluten free peanut butter cookies are everything you remember from your after-school snack in grade school.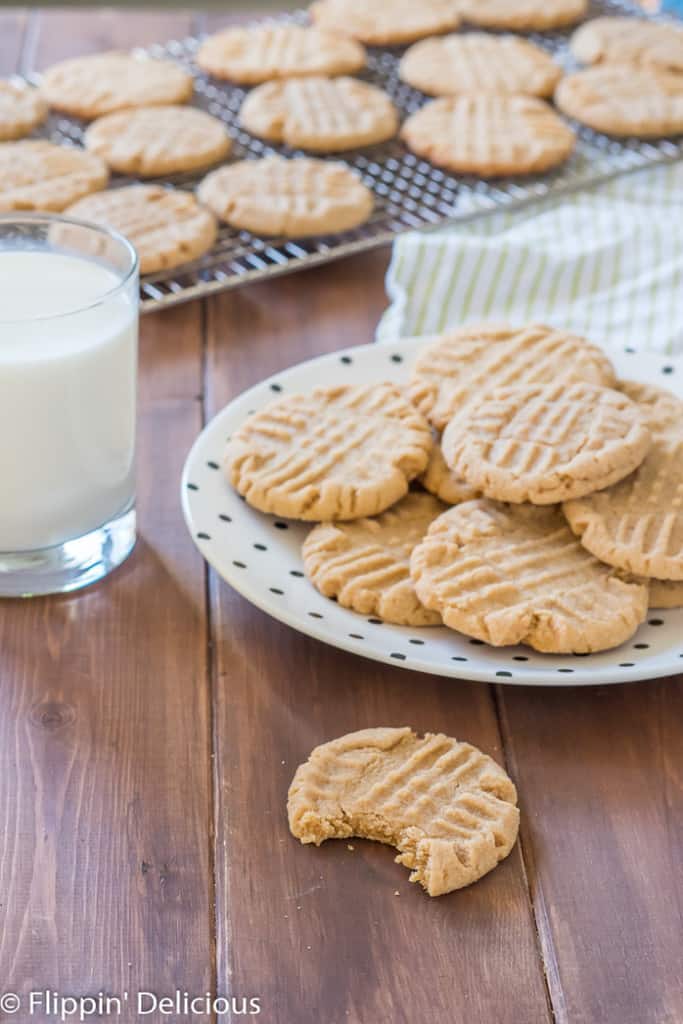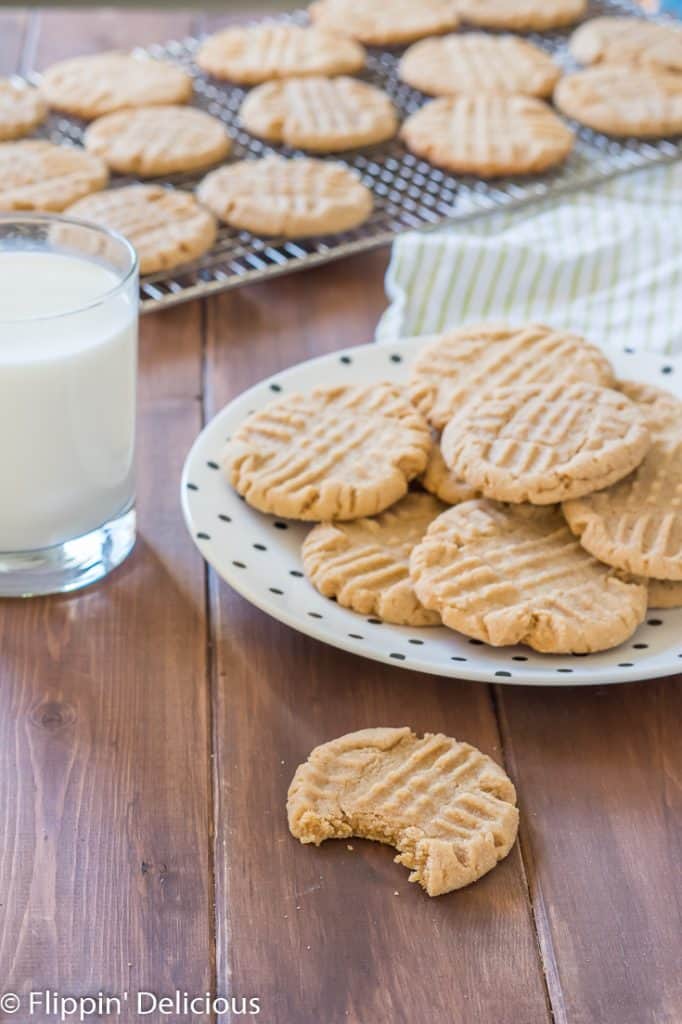 The whole reason you press them down with the tines of a fork is because they don't spread fully on their own.
The perfect gluten free peanut butter cookies, in my opinion, need to not be too puffy or fluffy, they need to spread a little, and hold their shape so you can see the cross-hatch pattern from the fork.
How to make gluten free peanut butter cookies?
To make gluten free peanut butter cookies you'll need:
Softened Butter (vegan and dairy free butter work great, I usually use Earth Balance, Melt, or the new Country Crock Plant Butter Sticks).
Creamy peanut butter (not the all-natural kind you have to stir, you can use a crunchy peanut butter if you'd like as long as it doesn't have to be stirred and stored in the fridge).
Packed brown sugar (makes it chewy).
White brown sugar (makes the edges crisp). And yes, you need both white and brown sugar together.
An egg, or egg substitute. My go-to egg-substitute to make vegan peanut butter cookies is Bob's Red Mill's Egg Replacer, it worked great in this recipe).
Vanilla extract (you can skip it, but you don't want to. It really makes them taste great).
Baking soda helps the cookies to spread just a little bit. Be careful not to add too much, your cookies will spread too much and lose their shape.
Salt. Just a touch, but you may not need it if your peanut butter is salted.
Xanthan Gum is necessary to give your peanut butter cookies some structure and keeps it from crumbling too much. You can omit the xanthan gum if you are using a gluten free flour that already has xanthan or guar gum in it, or if you are using a a flour like Ryze that doesn't need gum. To avoid xanthan gum, you can use Pamela's Not Xanthan Guar Gum, it is made with starches and psyllium hunk instead.
Gluten free flour, I use my gluten free flour blend recipe which has rice flour, tapioca starch, and potato starch. You can use another gluten free flour, but you may need to use a little bit less
What flour do you need to make gluten free peanut butter cookies?
I use my own gluten free flour blend recipe to make these peanut butter cookies. You can use a different gluten free flour if you'd like, but you may need to use less gluten-free flour.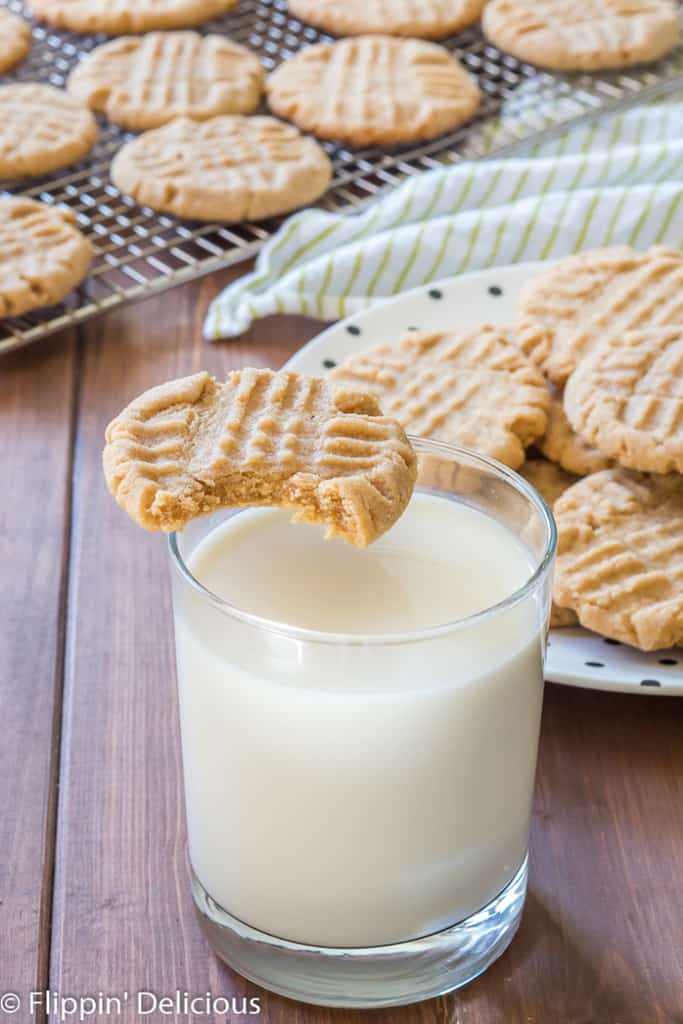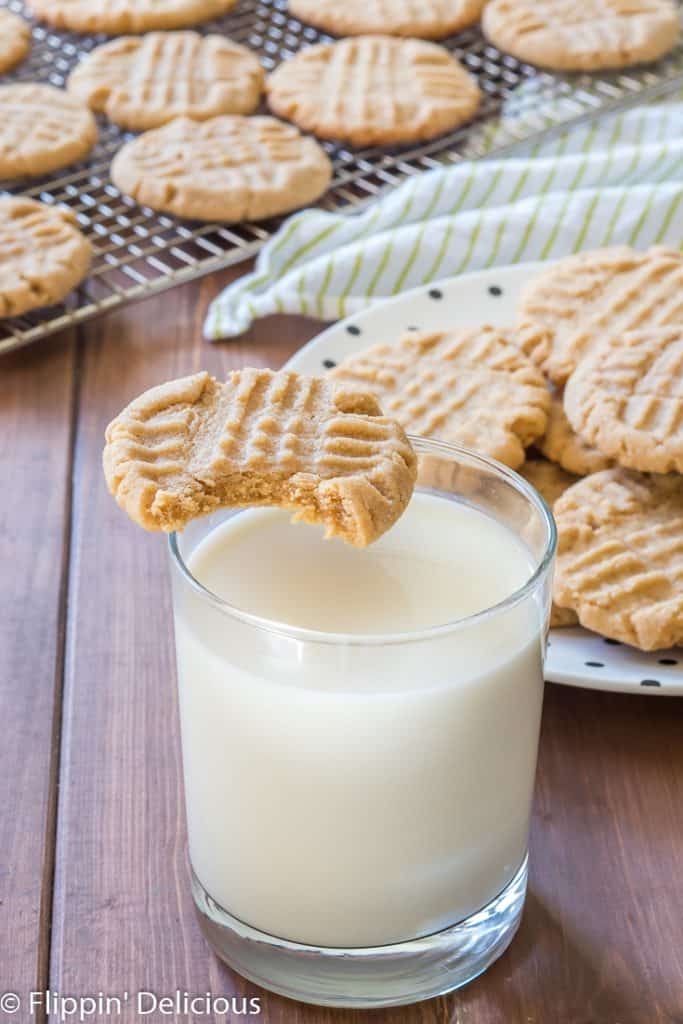 Different gluten-free flours absorb moisture differently. If you use a different gluten free flour, this is how to test how much gluten free flour you should use.
I always use ¼ cup less gluten free flour when I make my cookie dough, and then bake a single test cookie. If it spreads too much (it probably will) add 2 more tablespoons of gluten free flour and bake another test cookie. If it still spreads too much, add the remaining 2 tablespoons of gluten free flour.
For gluten free cookies, I usually have to use less gluten free flour when I use some brands of gluten free flour, like Bob's Red Mill's 1 to 1 gluten free flour or Ryze's Blue Bag. Others, like Jovial's gluten free pastry flour, you can use a similar amount.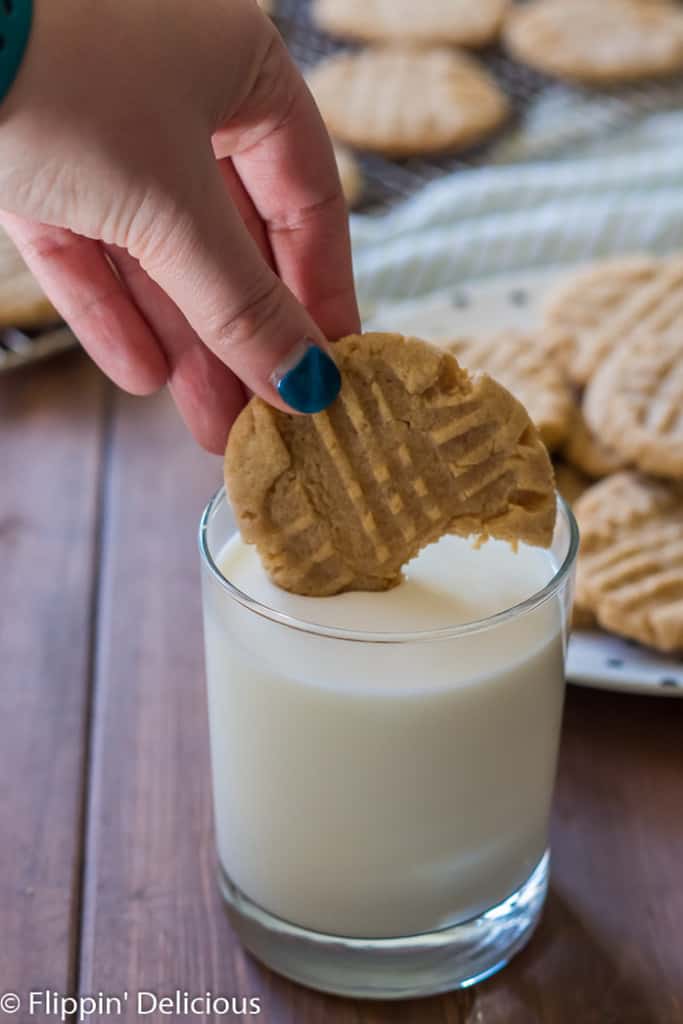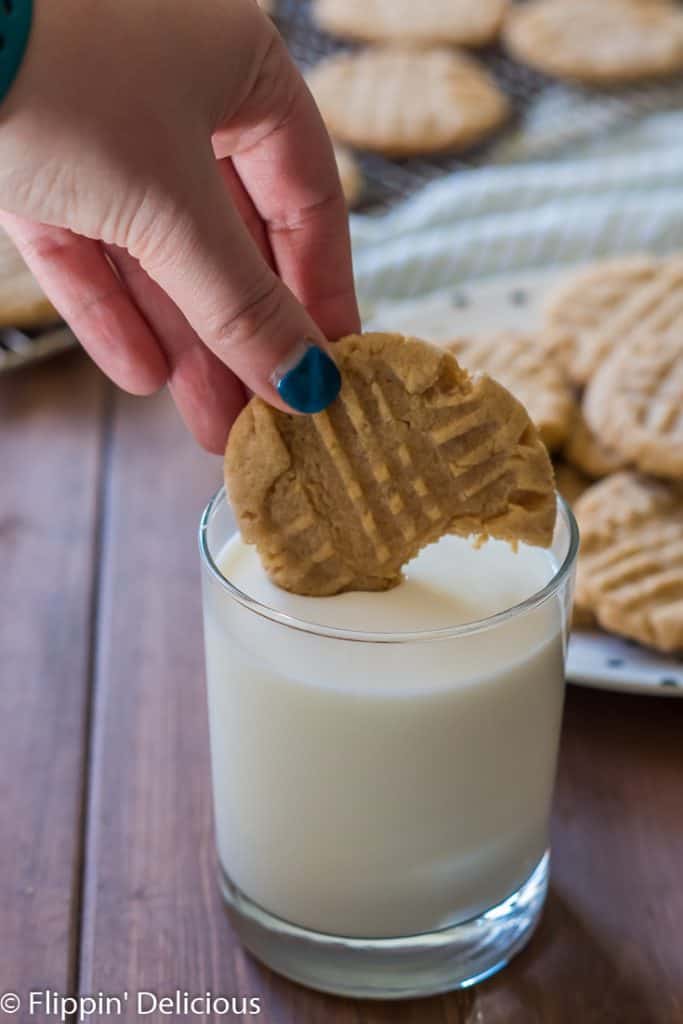 Good Cookie Food Blogger's Valentine's Event to raise money for Cookies for Kid's Cancer
I'm so excited to participate in this Valentine's event (again). This is the fourth year for our event and we want to continue to make a difference in the fight against pediatric cancer.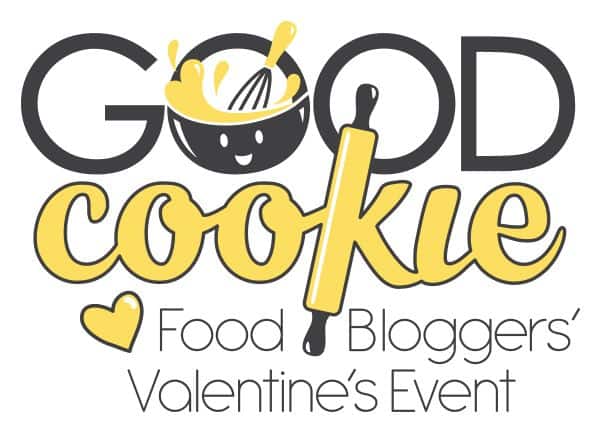 Cancer is the #1 cause of death of children by disease in the U.S. There are 40,000 U.S. children actively battling cancer right now. The National Cancer Institute's budget for childhood cancer is less than 4%. It's such a small number and that's why I got involved.
Help us make a difference by donating to Cookies for Kids' Cancer!
I am bringing these Gluten Free Peanut Butter Cookies to the party because they are one of my childhood favorites.
When I think of peanut butter cookies I'll always think of making them with my mom. Rolling balls of peanut butter cookie dough in sugar, and my mom holding my hand, helping me press the classic cross-hatch design into the peanut butter cookies using the back of the fork.
Those are the kinds of memories any child should be able to make with their parents, and what Valentine's day is all about to me. Sharing something you love with the people in your life that you love.
You can find my recipes from our past Good Cookie Valentine's Day food blogger events:
Our goal is to raise at least $3000. Because these three companies: OXO, Mediavine amd Dixie Crystals have each pledged to match our donations raised through this campaign up to $3000! That means when we raise $1, it turns into $4!
Thank you to so many of you who have already donated, please help us reach our goal so we can get the full matching donations and help us make an even huge difference!
Donate here today.
You can donate until March 6th!
Want more cookie recipes like this one?
Check out my cookbook, Gluten-Free Cookies All Year Round, for more than 60 gluten-free & allergy friendly cookie recipes for every occasion.
📖 Recipe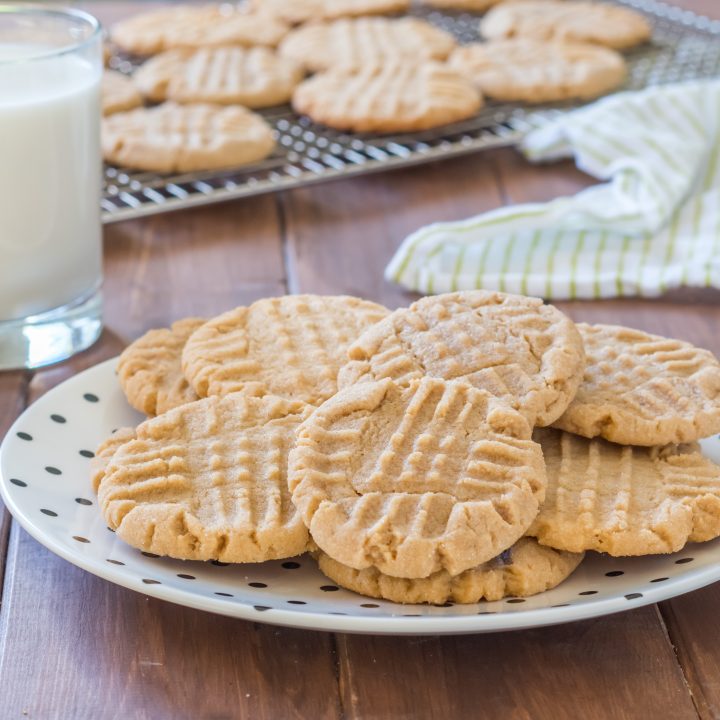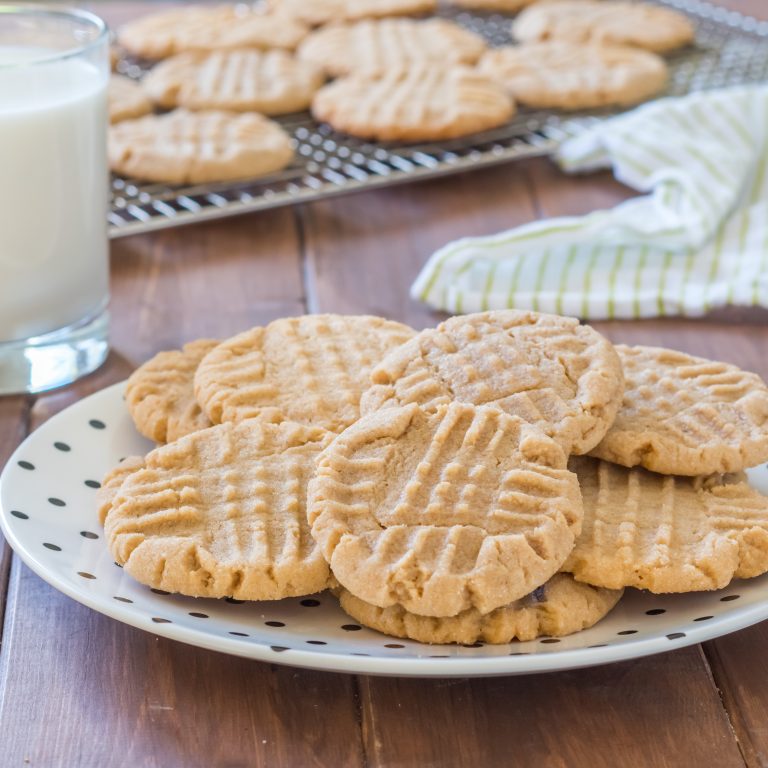 Gluten Free Peanut Butter Cookies
Yield:
24 gluten free peanut butter cookies
Easy gluten free peanut butter cookies that are NOT flourless, they taste just like Grandma's pb cookies!
Ingredients
½ cup butter (or vegan butter)
¾ cup creamy peanut butter (NOT all natural)
½ cup packed brown sugar
½ cup white sugar
1 egg (or egg substitute)
1 teaspoon vanilla extract
½ teaspoon baking soda
¼ teaspoon salt
½ teaspoon xanthan gum
1½ cups gluten-free flour
Additional sugar, to roll cookie dough
Instructions
Preheat oven to 350°f. Line 2 baking sheets with silicone baking mats or parchment paper.
Cream the butter, peanut butter, brown sugar, and white sugar together.
Add the egg and mix until combined.
Mix in the vanilla extract, baking soda, salt, and xanthan gum.
Add the gluten-free flour and mix until you have a smooth dough.
Scoop the cookie dough using a 1 ½ tablespoon balls (I used a medium cookie scoop) and place in a small bowl of sugar. Roll to coat into the sugar, and then place 3-4 inches apart on the prepared baking sheet.
Gently press each cookie dough ball down using a fork to create the classic cross-hatch pattern.
Bake for 10-12 minutes. The cookies will spread and lose their doughy shine on top and be golden on the bottom, but will still be soft. They will set as they cool. Allow to cool on the baking sheet until set before moving to a cooling rack.
Nutrition Information
Yield

24
Serving Size

1 peanut butter cookie
Amount Per Serving
Calories

154
Total Fat

8g
Saturated Fat

3g
Trans Fat

0g
Unsaturated Fat

4g
Cholesterol

18mg
Sodium

132mg
Carbohydrates

17g
Fiber

1g
Sugar

9g
Protein

3g
All nutrition info is a guestimate and will vary depending on the ingredients you use.
Be sure to visit the other bloggers participating in the Valentine's Day event and check out their recipes!
Brownie Cups from Julie of The Little Kitchen
Valentine's Day Delight Recipe from Jennifer of The Rebel Chick
Strawberry Cake Rolls from Coleen of The Redhead Baker
Perfect M&M Cookies from Carlee of Cooking With Carlee
Paleo Almond Butter Cookies from Taryn of Hot Pan Kitchen
Black Tahini Truffles from Camilla of Culinary Adventures with Camilla
Pink Glitter Drink fo Valentine's Day from Jenn of Ever After in the Woods
Vegan Matcha Rose Shortbread from Carolann of Apron Warrior
Star Wars Kylo Ren Emoji Cookies from Jenn of justJENN recipes
Double Chocolate Chip Cookies from Faith of An Edible Mosaic
Andes Mint Cookies from Rebekah of Kitchen Gidget
Chocolate Pots from Kristin of On the Home Front
Red Velvet Cake Mix Cookie Bars from Melissa of Persnickety Plates
Dark Chocolate and Smokey Blue Cheese Gougères from Lisa of Taste Cook Sip
Nutella Cookies from Raquel of Organized Island
Strawberry Sandwich Cookies from Heather of Delicious Not Gorgeous
Mini Chocolate Lava Kiss Cakes from Sue of It's Okay to Eat the Cupcake
Strawberry Cheesecake Cookies with White Chocolate from Lisa of Blogghetti
Chewy Dark Chocolate Coconut Cookies from Jessica of A Kitchen Addiction
Butterscotch Cookies from Marlynn of Urban Bliss Life
Gluten Free Hot Cocoa Cookies from Elaine of Small Farm Big Life
Cherry and Chocolate Chip Cookie Cutter Cookies from Brenda of Meal Planning Magic
Cherry Cheesecake Bars from Laura of Untwisted Vintage
Grapefruit Gin Spritz from Sarah of Chef Sarah Elizabeth
Gluten Free Peanut Butter Cookies from Flippin' Delicious
chocolate heart cookies from Meaghan of the decorated cookie
Red Velvet Cheesecake Brownies from Gwynn of Swirls of Flavor
Salted Caramel Bars from Marybeth of Baby Savers
Cotton Candy Buttercream Cupcakes from Nina of Crazy for Cookies and More
Valentine's Day Cookie Cake from Bree of Baked Bree
Red Velvet White Chocolate Chips Cookies from Maria of The Cookware Geek
Valentine's Blondie Bars from Becca of The Salted Cookie
Confetti Cookies from Amy of The Nifty Foodie
Heart of Gold Chocolate Sprinkle Blossoms from Erin of The Spiffy Cookie
Ancho Chili Brownies from Dee of Meatloaf and Melodrama
Heart Shaped Spritz Cookies from Holly of A Baker's House
Strawberry Macarons from April of April Erhard
Sweetheart Chocolate Pretzel Bites from Nicole of For the Love of Food
Gluten-free Peanut Butter M&M Cookies from Michelle of My Gluten-free Kitchen
Raspberry Cinnamon Rolls from Rose of Rose Bakes
Cherry Chocolate Chip Cookies from Courtney of Know Your Produce
Nutella Chocolate Cupcakes for Two from Sara of Confectionary Tales
Butter Almond Mushroom Cookies from Jamie of Southern Revivals