Gluten Free Pumpkin Cinnamon Swirl Bread with cinnamon streusel topping is surprisingly easy to make. Wow your family at brunch! (dairy free option)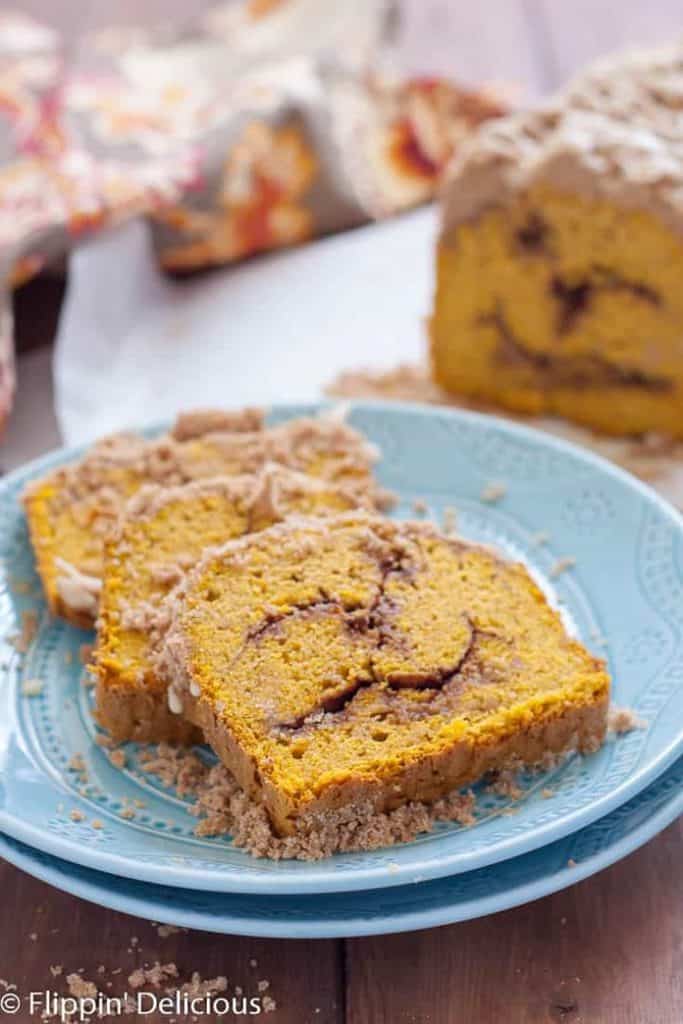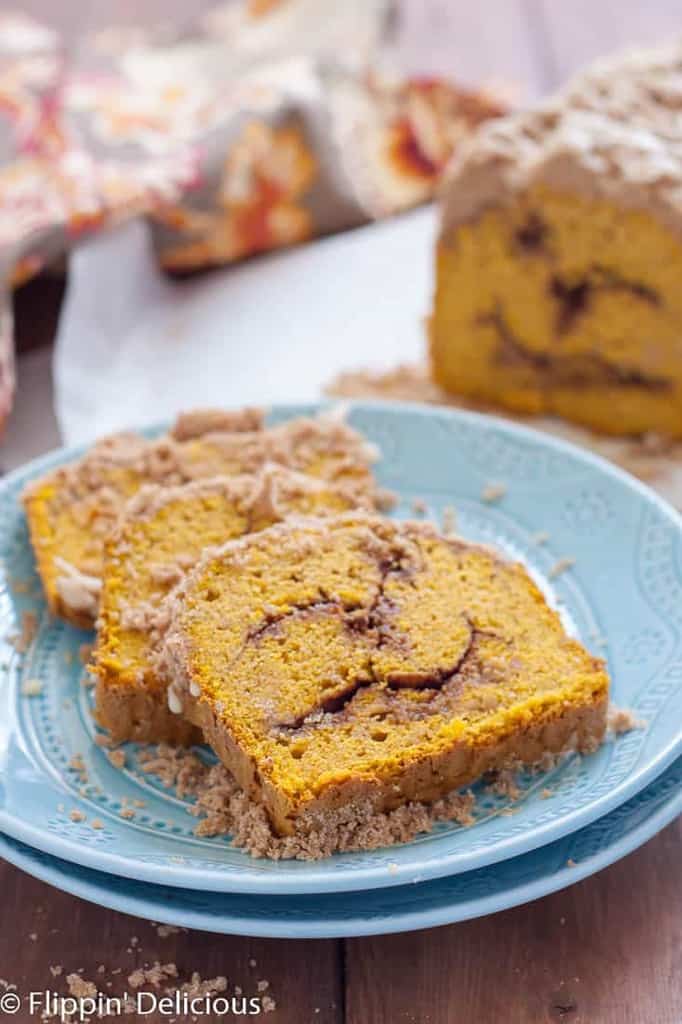 This post was written in partnership with and sponsored by Vivian's Live Again. As always, all opinions are my own. Thanks for supporting the companies that support Flippin' Delicious ™.
Ever since I saw a cinnamon swirl quick bread recipe I have been dying to make a gluten free (and now dairy free version.)
(Be sure to check out the yeast-raised gluten free cinnamon bread I made, also using Vivian's Live Again's muffin mix.)
With it being the season of #pumpkineverything, and me whole-heartedly embracing it, I knew now was the time to make it happen!
I'm a busy person, just as you probably are. Whenever there is an easier way to get the same results I like to pick that option.
It gives me more time to watch tv play with my kids and pretend to clean the house.
I definitely don't stay on top of all of the things that I "should" do. It is an impossible goal! But I do my best.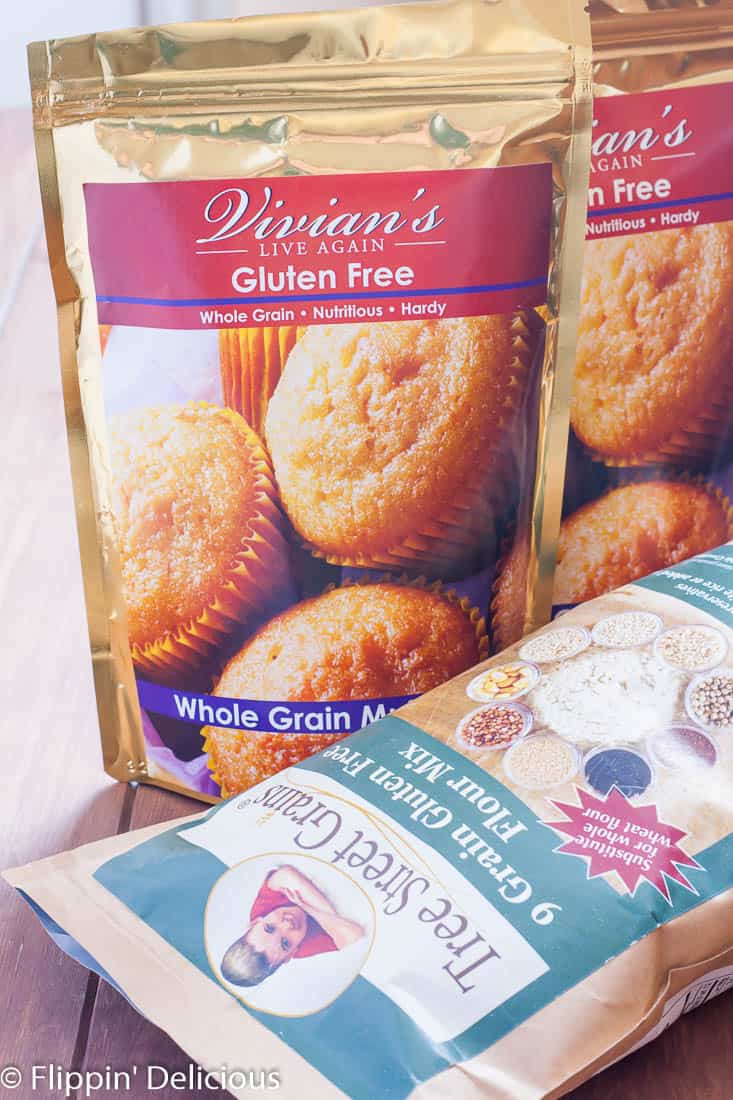 So when Vivian's Live Again sent me their Gluten Free Whole Grain Muffin Mix a little lightbulb went off in my brain and I knew exactly what I was going to do...
...THIS!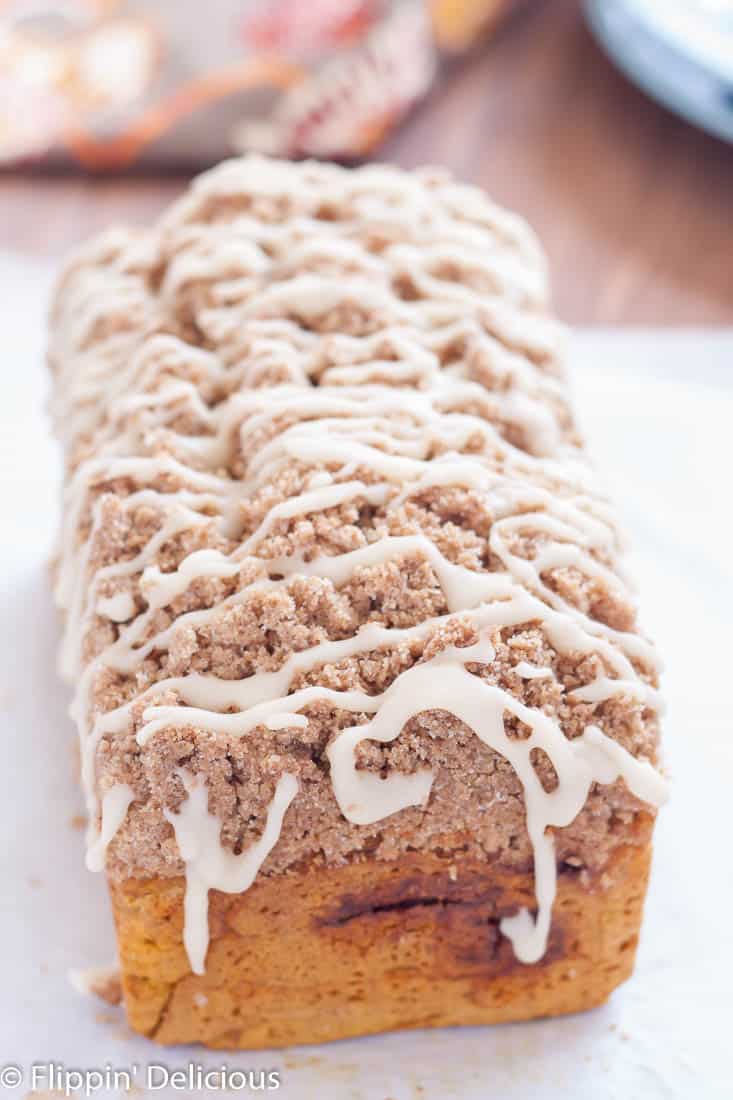 I used the Gluten Free Whole Grain Muffin Mix, adjusting the directions on the back of the box to add some pureed pumpkin, some pumpkin pie spices, and a dash of good vanilla.
Then I dressed it up (because I saved so much time using a mix for the batter 😉 ) with a cinnamon sugar swirl AND cinnamon streusel AND a vanilla icing drizzle.
(If you are an icing fan like me, you'll probably also love my friend Chrystal's gluten free cinnamon roll cake. It is so easy to make, perfect for brunch. Make it with my gluten free pumpkin cinnamon bread for double the cinnamon-swirled goodness!)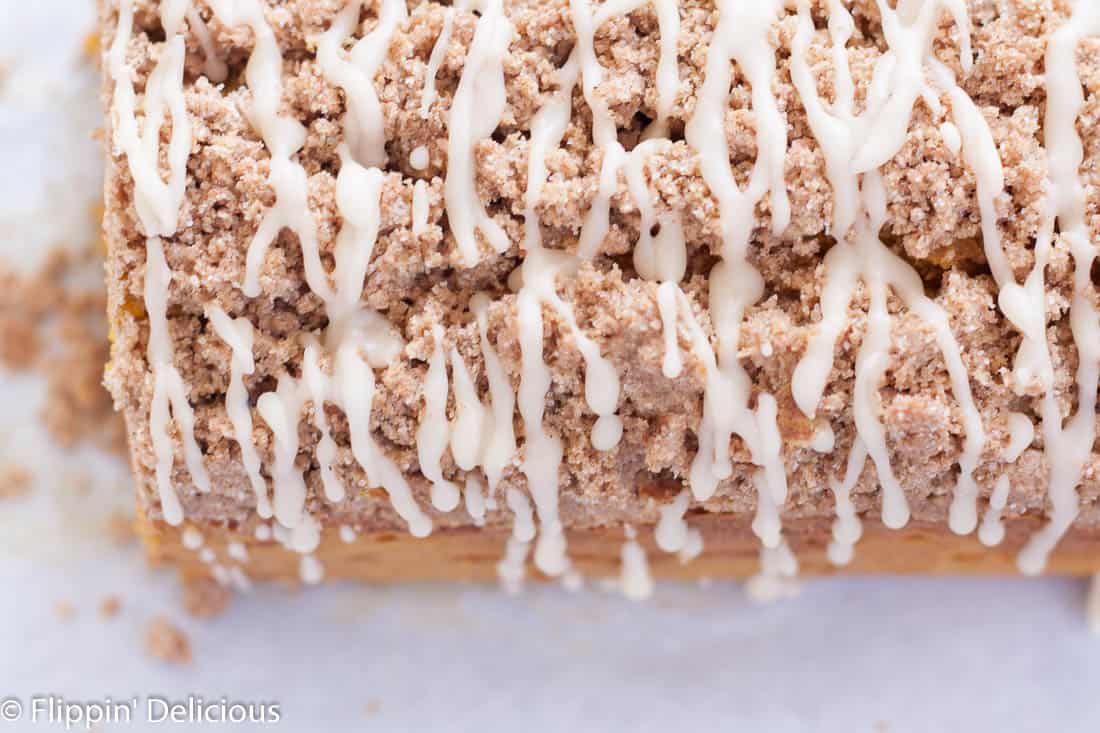 Each addition takes just a few minutes, but don't feel obligated to do all 3! Pick your favorites. Swirl and icing. Streusel and swirl, or streusel and icing. Or just pick 1!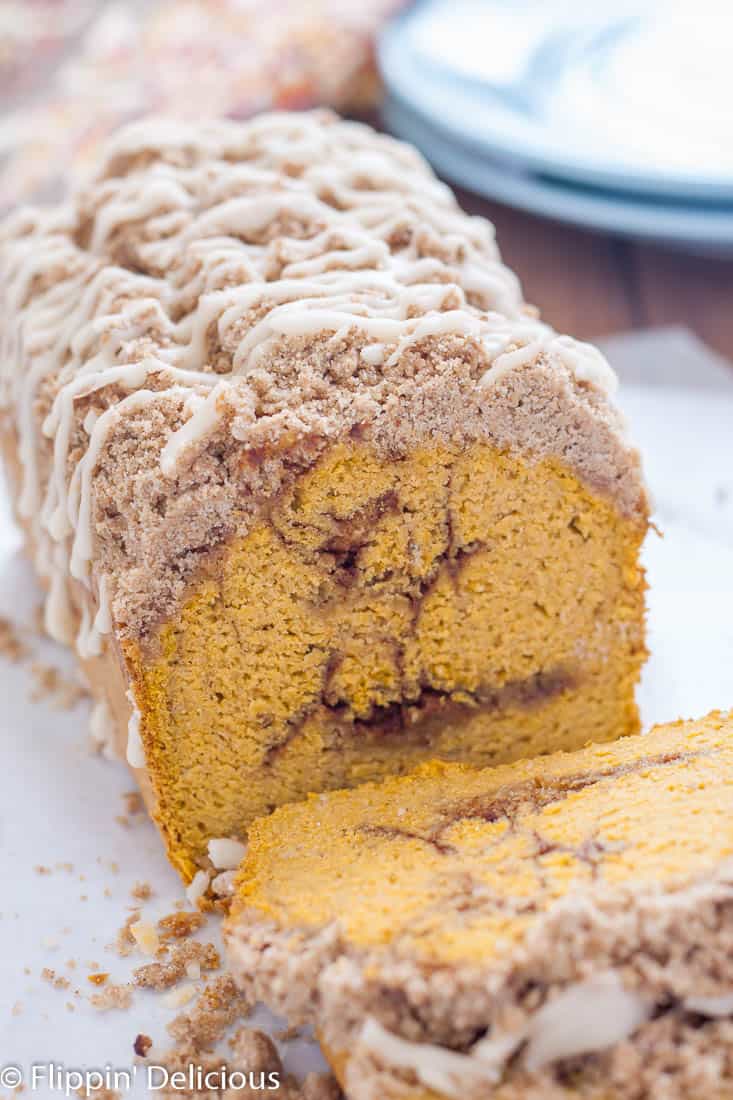 Just picking 1 or 2 would reduce the sugar in the bread too. You could also use coconut sugar for the streusel and cinnamon sugar swirl if you want.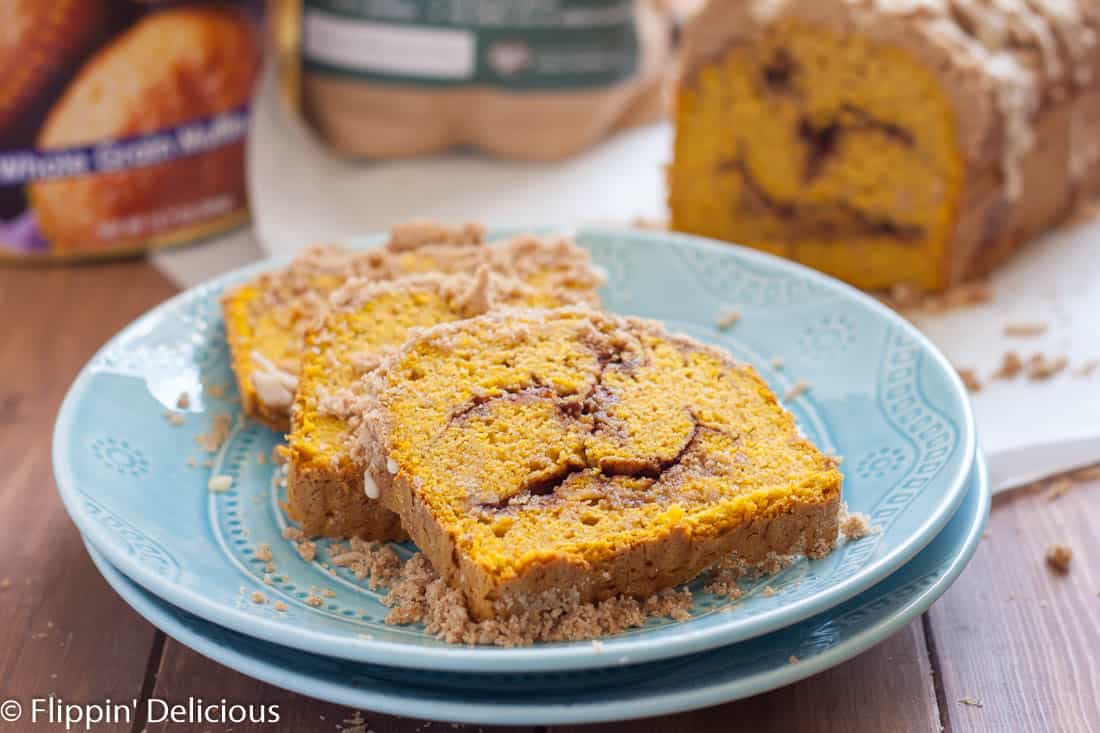 I'm partial to the streusel. It gets everywhere but every sweet and buttery bite is worth it!
I used the same gluten free whole grain flour for the streusel that Vivian's Live Again uses in the muffin mix, Tree Street Grains Flour, so there is a blend of 9 gluten free whole grains and no added starches.
Every bite is packed with whole grain nutrients so you feel good about feeding it to your family. It has no preservatives and is freshly stone ground so it is best to keep this flour cool for increased shelf life.
The next pumpkin-filled treat I want to try is this Gluten-Free Pumpkin Pie Cheesecake from Dishing Delish. Two of my favorite desserts combined into one!

📖 Recipe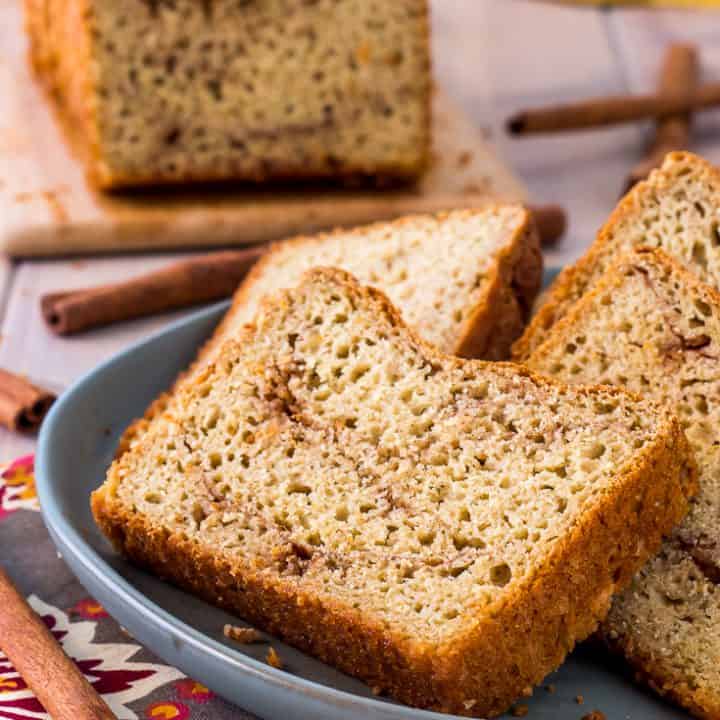 Gluten Free Pumpkin Cinnamon Swirl Quick Bread
Cook Time:
1 hour
10 minutes
Additional Time:
40 minutes
Total Time:
2 hours
5 minutes
Gluten Free Pumpkin Cinnamon Swirl Bread with cinnamon streusel topping is surprisingly easy to make. Wow your family at brunch! (dairy free option)
Ingredients
1 Vivian's Live Again Whole Grain Muffin Mix (*see note)
1 teaspoon ground cinnamon
¾ cup pumpkin puree (NOT pie filling!)
1 ¼ cup milk of choice (I used almond)
2 teaspoons vanilla extract
¼ cup oil
1 egg
For the cinnamon swirl
½ cup sugar
2 teaspoons ground cinnamon
For the cinnamon streusel
½ cup Tree Street Whole Grains gluten free flour
¼ cup sugar
1 teaspoons cinnamon
¼ cup palm shortening (vegan butter, or dairy butter would work too)
For the Icing
½ cup powdered sugar
1 teaspoon vanilla extract
1-2 teaspoons milk of choice (I used almond)
Instructions
for the pumpkin bread batter
Preheat your oven to 375F. Lightly grease a 9x4 inch loaf pan, or line with parchment paper.
In a mixing bowl whisk together the muffin mix and cinnamon.
Create a "well" in the center of the dry ingredients. Add the wet ingredients to the "well", whisk the wet ingredients together, then whisk all of the ingredients together.
If adding the cinnamon swirl: Pour ⅓ of the batter into the prepared pan, sprinkle with half of the cinnamon sugar (leaving a ½ inch border around the edge of the batter to keep the cinnamon sugar contained). Spoon on and gently spread another ⅓ of the batter and sprinkle the remaining cinnamon sugar leaving a ½ inch border. Spoon on the remaining batter and gently spread smooth.
Using a butter knife, chopstick, or straw gently marble the batter. Hold the chopstick perpendicular to the pan and pull it through the batter in a zig-zag the long way of the pan. Then repeat a zig zag the short way. Gently smooth out the top of the batter.
If you aren't doing the cinnamon swirl simply pour the batter into the pan and smooth out the top.
Top with streusel, if desired.
Bake for 60-70 minutes, or until a toothpick inserted near the center of the loaf comes out clean.
Once cooled, ice if desired and then slice to serve.
For the cinnamon swirl
Mix together the cinnamon and sugar. Use as directed above.
for the streusel
Whisk together the flour, sugar, and cinnamon. Add the shortening and cut into the flour using a fork, 2 knives, a pastry cutter, or your finger tips until it resembles very coarse bread crumbs.
for the icing
In a small microwave safe bowl whisk together the powdered sugar, vanilla, and 1 teaspoon of milk until smooth. Add additional milk until you get a smooth and thick consistency. Heat in the microwave for 15-30 seconds or until it just starts to bubble and is thin and easily drizzles off of a spoon. Drizzle onto the cooled bread immediately. (you can also add a little more milk and skip the microwave, it will just take the icing a little while to set up.)
Notes
If you don't have a 9x4 loaf pan you can use a standard 9x5 loaf pan, but will probably need to decrease the bake time and will have a shorter, flatter rectangle slice instead of a square.
You can make your own Whole Grain Muffin Mix to use in this recipe, if you want. Simple whisk together:
2 cups of Tree Street Grain Flour
⅓ cup sugar
2 teaspoons of baking powder
¾ teaspoons salt

Use as directed in the recipe above or make plain muffins by adding:
2 teaspoons vanilla
1 ½ cup milk or substitute
1 egg
¼ cup oil
Bake at 400 degrees for 12-15 minutes or until a toothpick comes out clean.
Nutrition Information
Yield

16
Serving Size

1
Amount Per Serving
Calories

219
Total Fat

11g
Saturated Fat

4g
Trans Fat

0g
Unsaturated Fat

6g
Cholesterol

19mg
Sodium

67mg
Carbohydrates

28g
Fiber

1g
Sugar

17g
Protein

3g
All nutrition info is a guestimate and will vary depending on the ingredients you use.