This Homemade Chocolate Syrup is so easy to make, and way better than anything from a bottle! Naturally Gluten free and dairy free.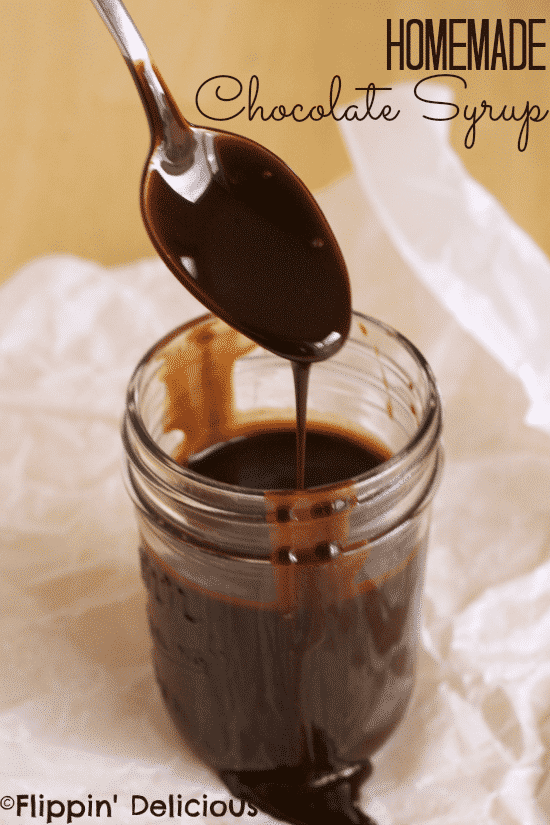 Sometimes chocolate makes everything better.
Chocolate on ice cream… better!
Chocolate in milk… better!
Chocolate at the end of (or multiple times throughout) a long day of potty training… definitely better!
Chocolate all over my 2 year old and kitchen floor… probably not better but you get the idea.
His birthday was a few weeks ago and we had his sisters and their families over for karaoke. He really wanted to get Yoo-hoo to drink, but I veto-ed that because I knew he would end up drinking the entire case by himself. Our compromise was making chocolate milk, with homemade chocolate syrup of course. One of his sisters sweetly brought some Yoo-hoo for him, so he ended up getting what he wanted anyways, but I did too. Sweet and creamy chocolate milk.
And then I put some chocolate syrup on my cookies and cream ice cream.
And I may or may not have just squirted it straight into my mouth.
This recipe is so easy, it only has a few ingredients and comes together in just minutes. I know I'll be making it over-and-over again.
Linked up at
Real Food Recipe Round up