Gluten Free Cheesy Garlic Pull Apart Bread, also known as crack bread. Cheesy, buttery, garlicky pull apart gluten free bread so good you just can't stop eating it!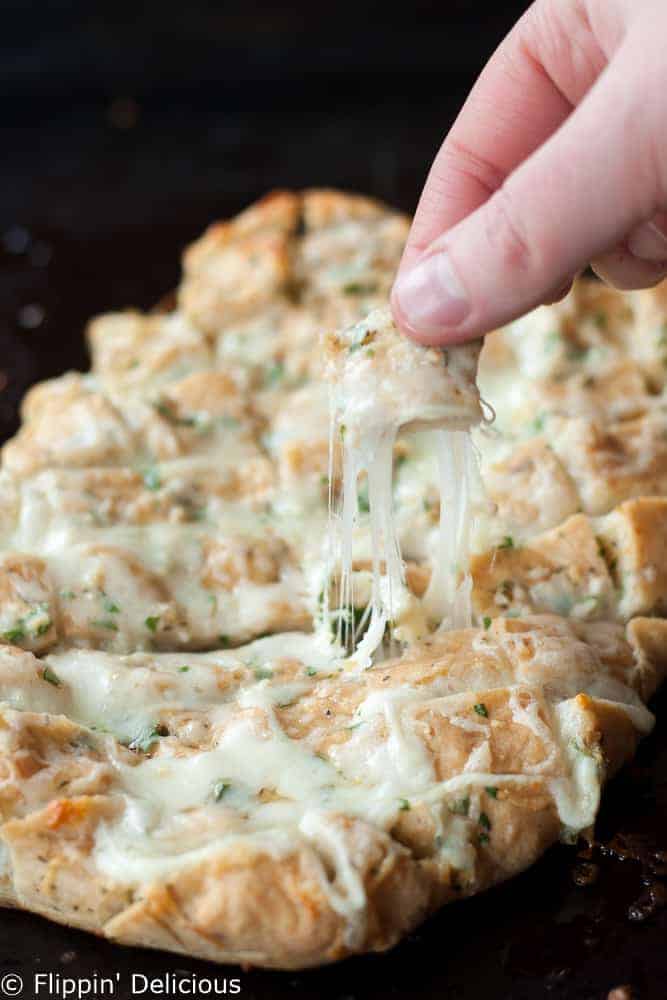 This post is sponsored by Canyon Bakehouse. As always, all opinions are entirely my own.
You probably have seen recipes for cheesy garlic pull apart bread online or on Pinterest. It is a pretty easy concept, you just cut slots into bread and fill it with softened butter, garlic, fresh parsley, and lots of cheese.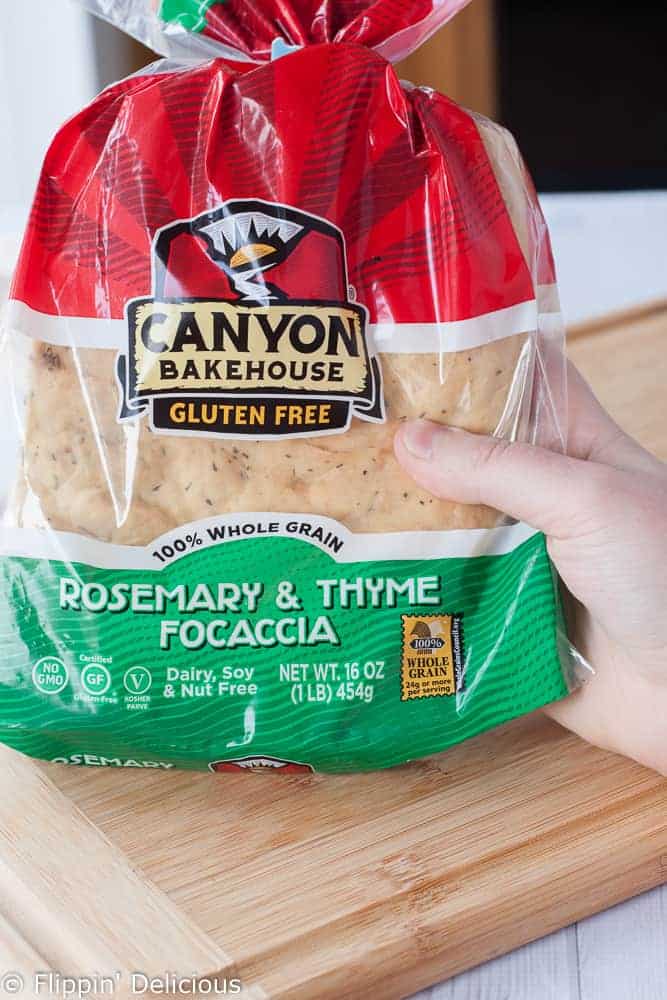 It is so easy, and it is stupid good!
That is why pull apart cheese bread has earned the nickname "crack bread." It is so good, it is near impossible to stop eating once you start. That is why I recommend making your gluten free cheesy garlic pull apart bread for a group of people, for a party or something. That way you aren't tempted to eat it all by yourself. Because you will be tempted.
I had just passed over all of the cheesy photos on Pinterest because I just didn't see how I would make it without gluten bread. But then I tried Canyon Bakehouse's Rosemary Thyme Foccacia and I knew that I had to use it to make some gluten free cheesy garlic pull apart bread. The Foccacia is very herby and fragrant and it has a great crumb. I almost forgot that I was eating gluten free bread!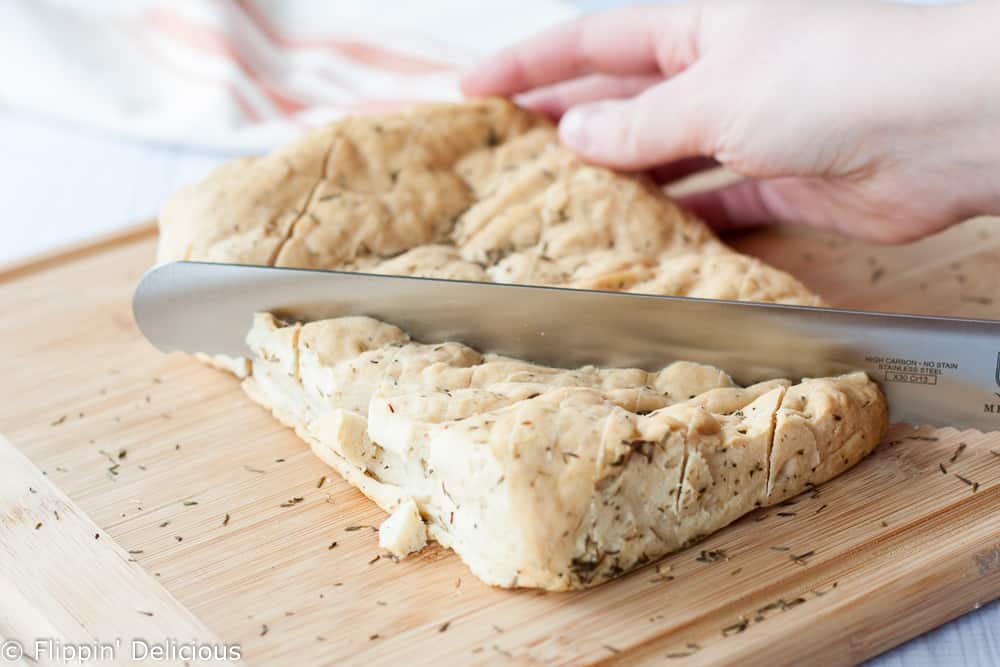 The first thing to do is to cut the the bread. You only want to cut the bread part-way through, like you are making french bread, to create little diamond-shaped pieces. That creates the pull-apart part of the bread.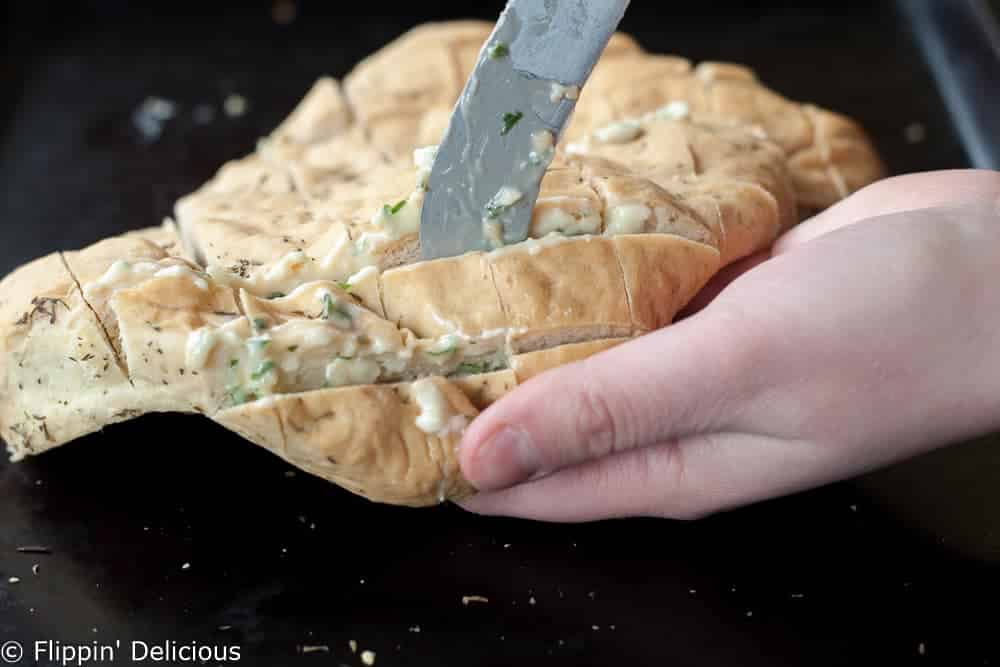 I used butter and olive oil mixed with some garlic and parsley. You could use all butter, but I ran out. All of the holiday baking depleted my butter supply! Just mix it up and spread it down into all of the crevices and all over everywhere else. Then just stuff the crevices full of cheese! I used a mix of provolone and mozzarella, but you can use whatever your favorite is. Just pick something the gets good and melty.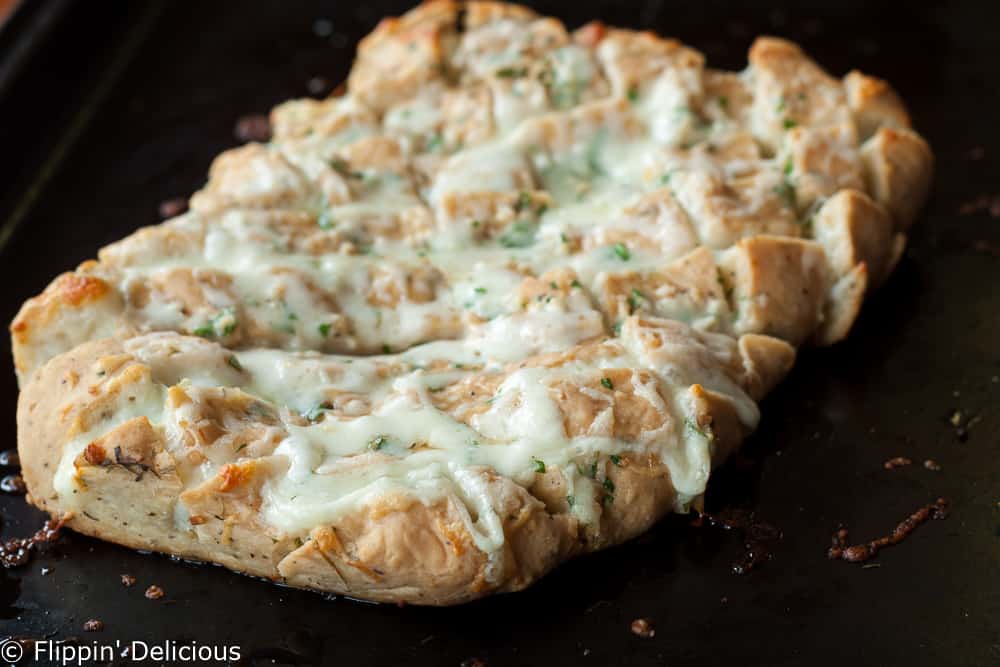 The last thing is to bake it until the cheese gets and melty. Then try to not eat it all.

Gluten Free Cheesy Garlic Pull Apart Bread (Crack Bread)
Ingredients
4 tablespoons butter, softened
2 tablespoons olive oil
2 teaspoons minced garlic
1 tablespoon chopped fresh parsley
1 cup shredded cheese (I used half provolone, half full fat mozzarella)
Instructions
Preheat the oven to 350F.
Cut half-way through the bread creating little diamonds with crevices in the loaf of bread.
Mix the butter, olive oil, garlic, and parsley together and spread it into the crevice of the bread.
Insert pinches of cheese into the crevices.
Place the bread on a baking sheet and bake for 12-15 minutes, or until the cheese is melted.