An easy gluten free crackers recipe, with all the flavors of your favorite slice of pizza. All you need are gluten free pantry staples like gluten free flour, shortening, baking powder, tomato paste, salt, garlic powder, sugar, and oregano.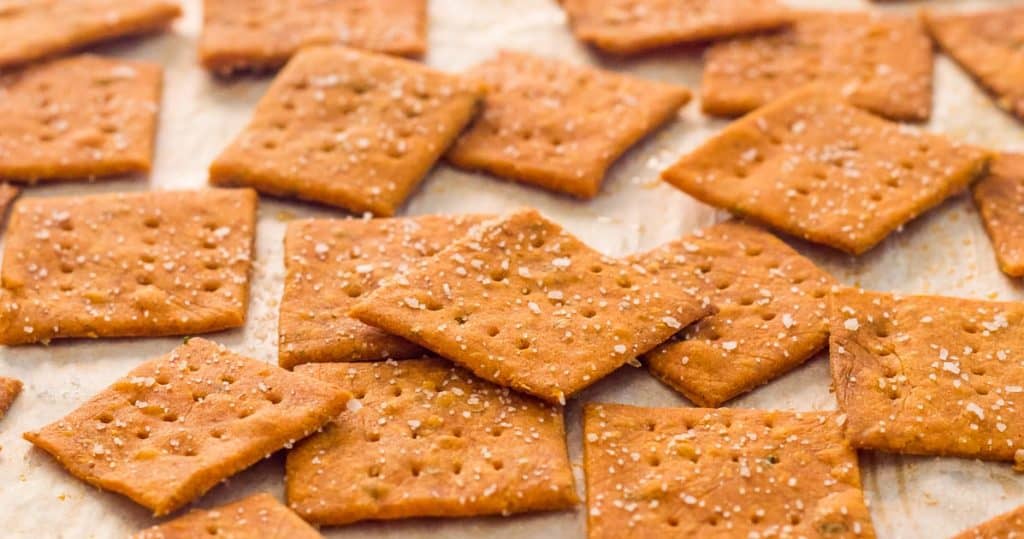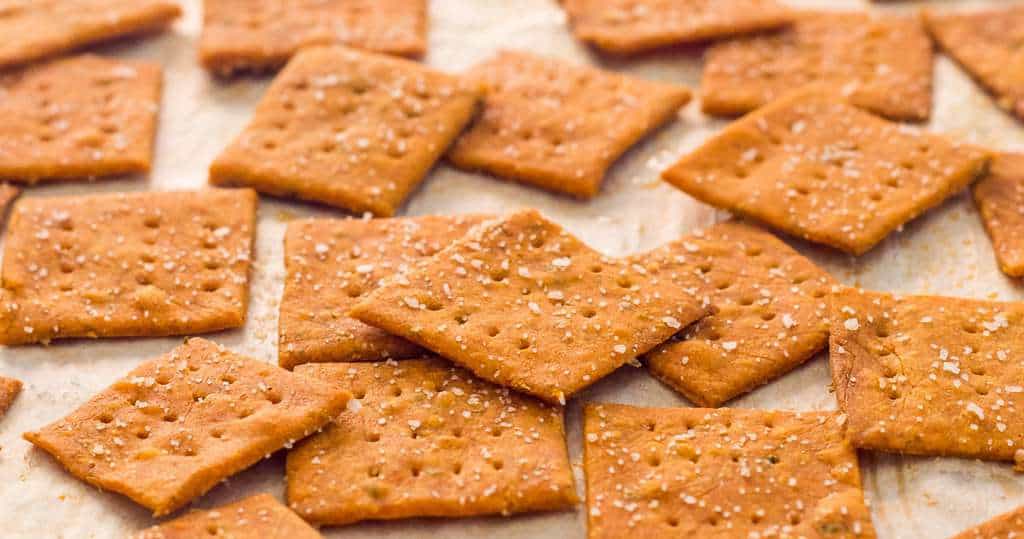 This post is sponsored by Vivian's Live Again. As always, all opinions are my own.
Making your own homemade crackers with a gluten free recipe may seem daunting!
I usually am not the mom who has time for that sort of thing.
But let me tell you, these gluten free pizza crackers are definitely worth the effort, and they are actually easy!
Easier than making gluten free cookies!
what do you need to make gluten free pizza flavored crackers?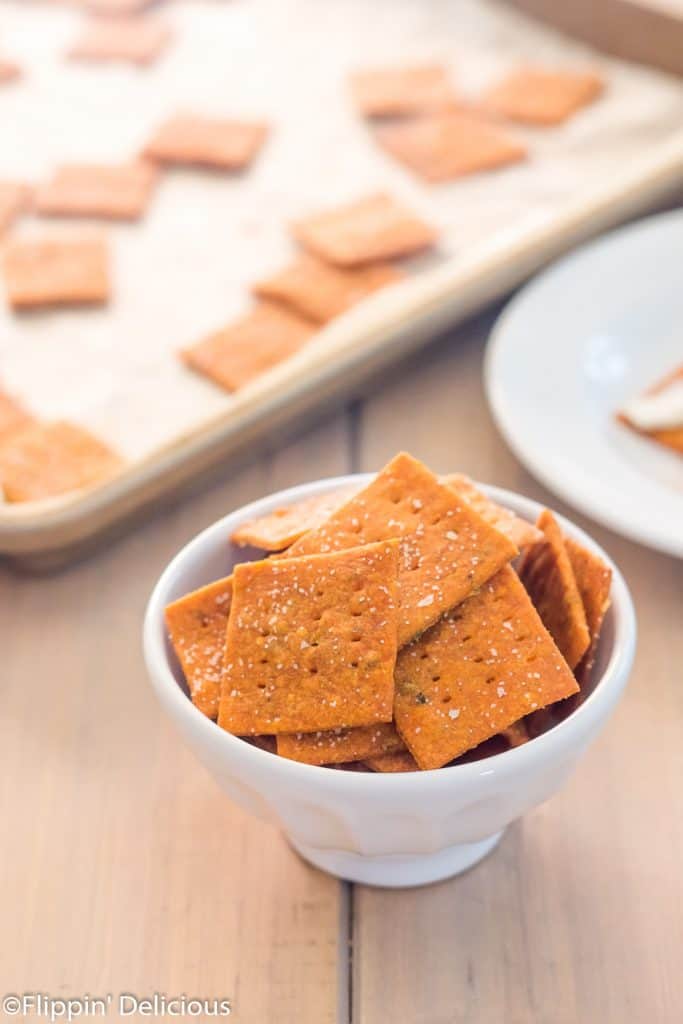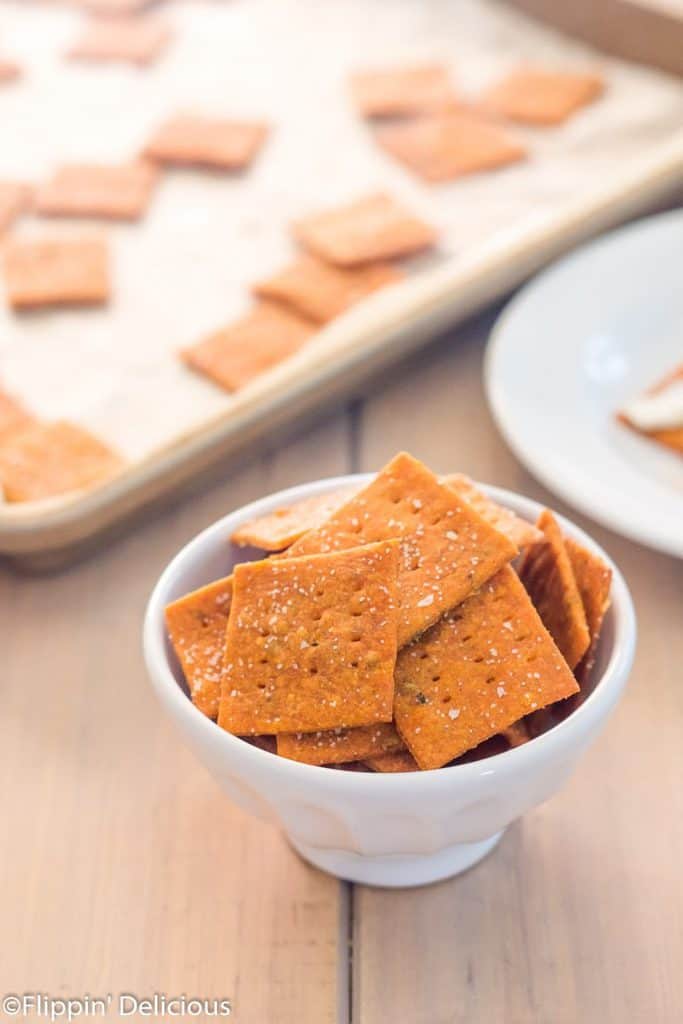 To make your on homemade gluten free crackers, you'll need:
Gluten-Free Flour (more on that in a moment, I used Tree Street Grains 9 Grain Gluten-Free Flour)
Sugar (any brown or white sugar will work, you could also try coconut sugar or sucanot)
Gluten Free baking powder
Garlic Salt (or garlic powder and salt)
dried oregano
palm shortening (or vegetable shortening, I like sustainable-sourced palm shortening best)
tomato paste (I like to freeze my leftover tomato paste in an ice cube old, so I can quickly defrost it when I need some)
Hot water
what flour do you need to make gluten free pizza crackers?
I find that a higher protein/lower starch gluten free flour blend makes much better gluten free crackers. I used Vivian's Live Again's Tree Street Grain's Gluten-Free 9 Grain Flour in this recipe.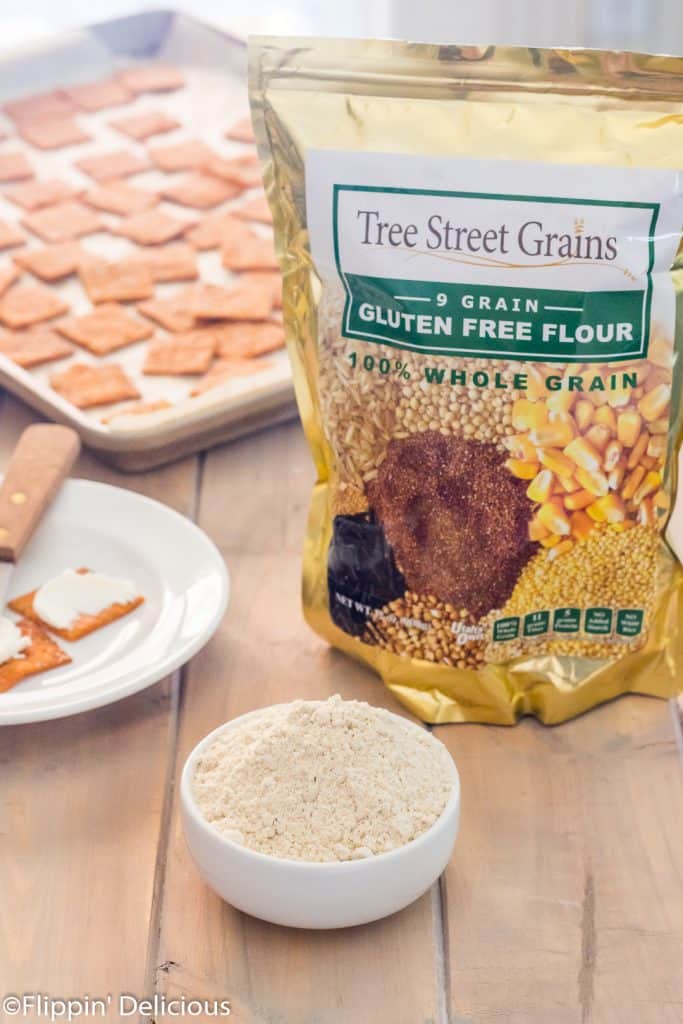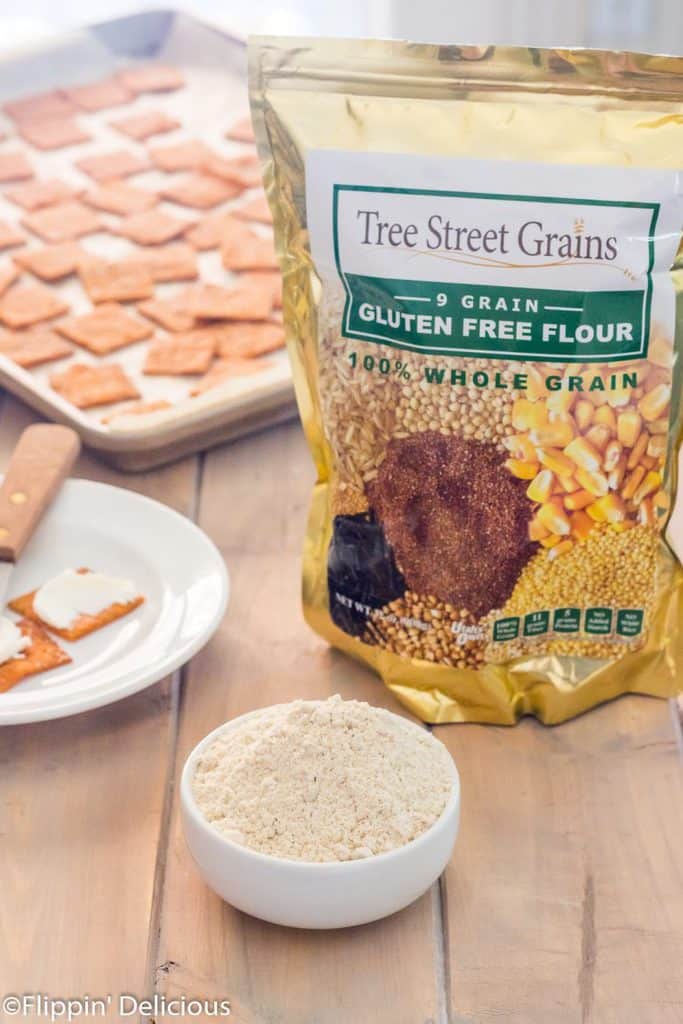 Not only do I really like the texture of Tree Street Grains's 9 Grain Flour, I also love the whole grain taste. Next on my list is using it to make gluten free "wheat thins"!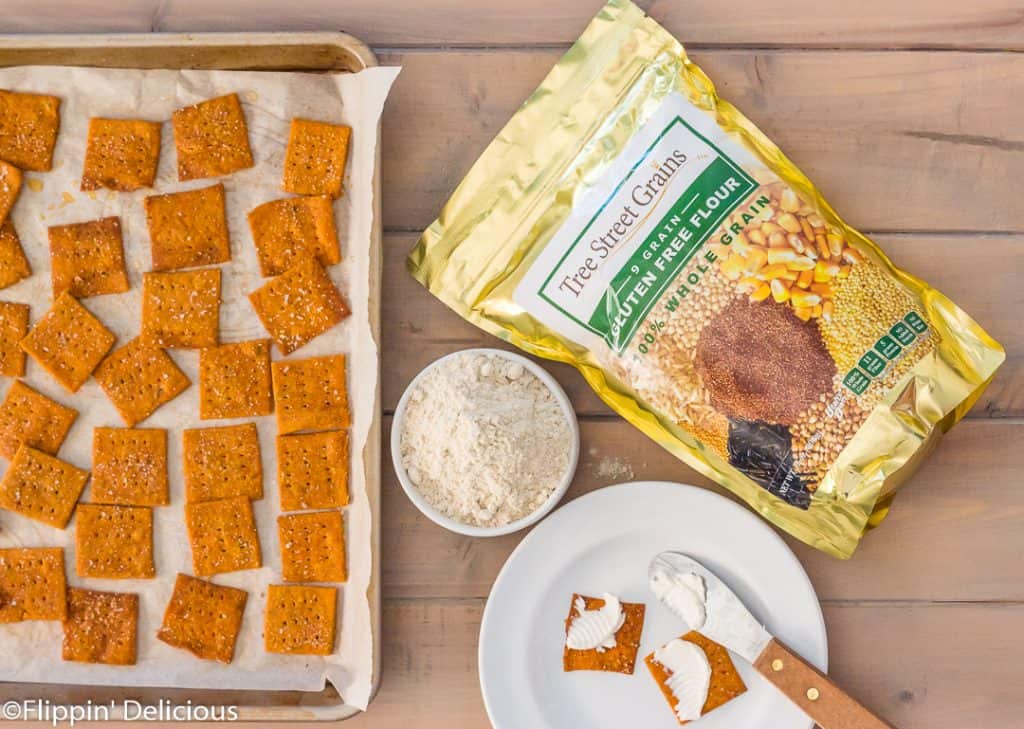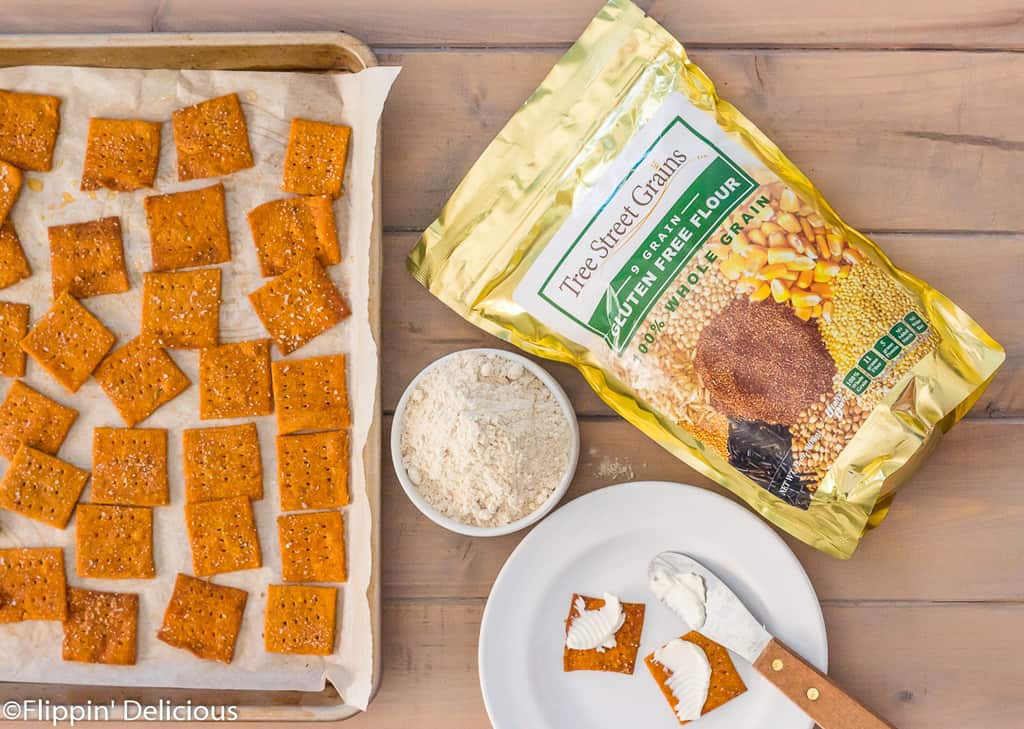 Check out my other recipes using this gluten free flour.
How do you make gluten free crackers that are pizza flavored?
Making gluten free crackers uses the "biscuit method" of whisking together the dry ingredients, cutting in the fat, and then adding liquid to make a dough.
First you whisk your gluten free flour, garlic salt (or garlic powder and salt), sugar, baking powder, and oregano together.
Then mix in your shortening. You don't need to worry about keeping big pieces of fat intact, the way you do when you make gluten free pie crust. Because of that, you can use a food processor or mixer to mix the fat in quickly.
Then, add the tomato paste and mix until it is well combined.
Finally, add hot water to bring everything together into a smooth dough. The amount of water will vary slightly depending on your humidity.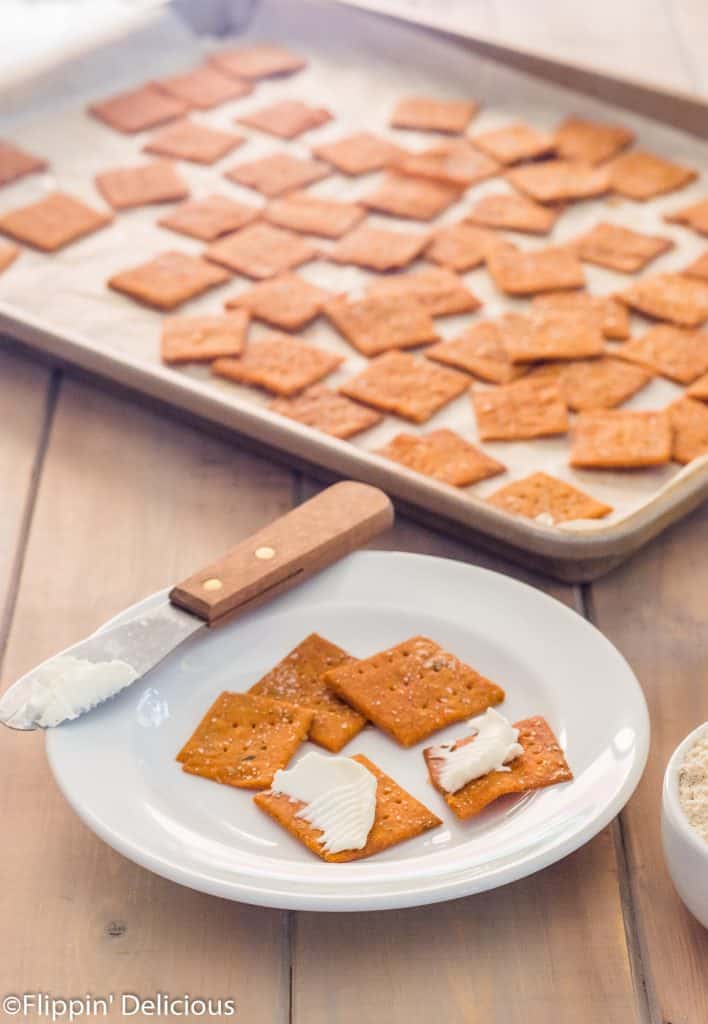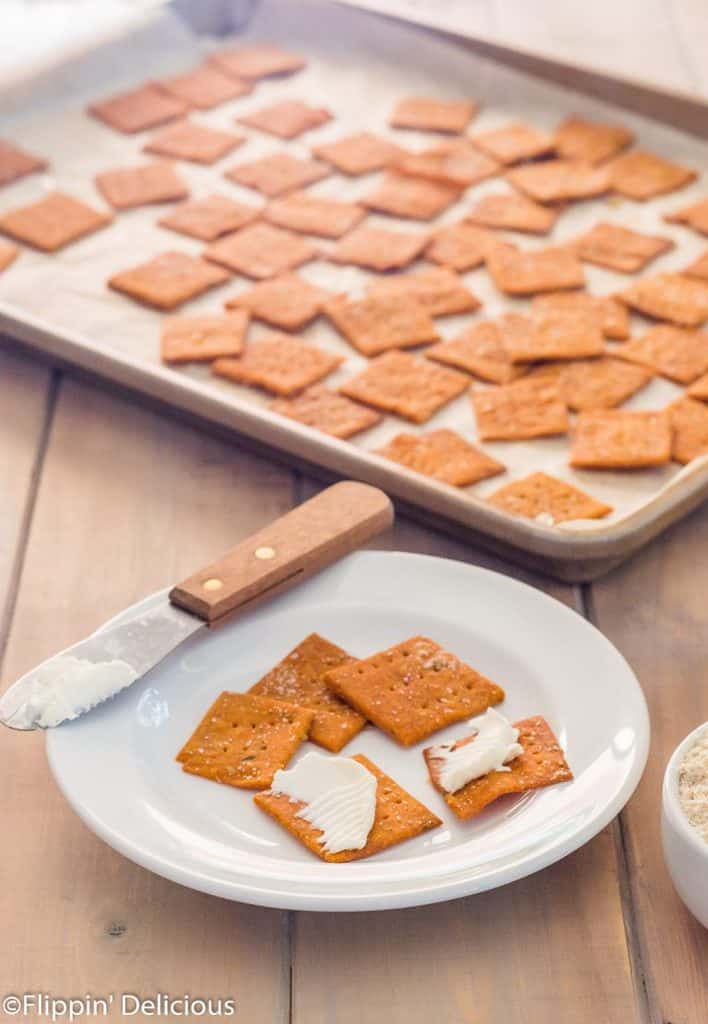 How do you bake gluten free pizza crackers?
The secret to crisp homemade gluten free crackers is to roll out your dough thinly and evenly. Then you need to cut it into crackers that are the same size, so that they bake evenly.
First, divide your gluten free cracker dough in half. Place one half of the gluten free pizza cracker dough onto a piece of parchment paper, and top it with a piece of plastic wrap, and then roll it out to about ⅛ of an inch.
To easily cut your crackers evenly, use something about 1 ½ inches wide (I used a flat icing spatula, you could also use a ruler) and a rolling pizza cutter. Using the ruler or spatula as a straight line guide and also as a width guide, cut the dough with the pizza cutter.
You could also use a 1 ½ inch square cookie cutter.
Place the crackers on a parchment paper-lined baking sheet with a little space in between them. They won't spread, but you want the hot air to get around all of the edges of each cracker.
You can use the same parchment paper you rolled them out on, just move the crackers to space them out.
Bake in a preheated 325°F oven for 10-15 minutes. You want all of your crackers to turn golden and be crisp, but you don't want them to burn.
Basically, pull them out when just a few crackers are starting to get a little bit too brown.
How do you store gluten free crackers?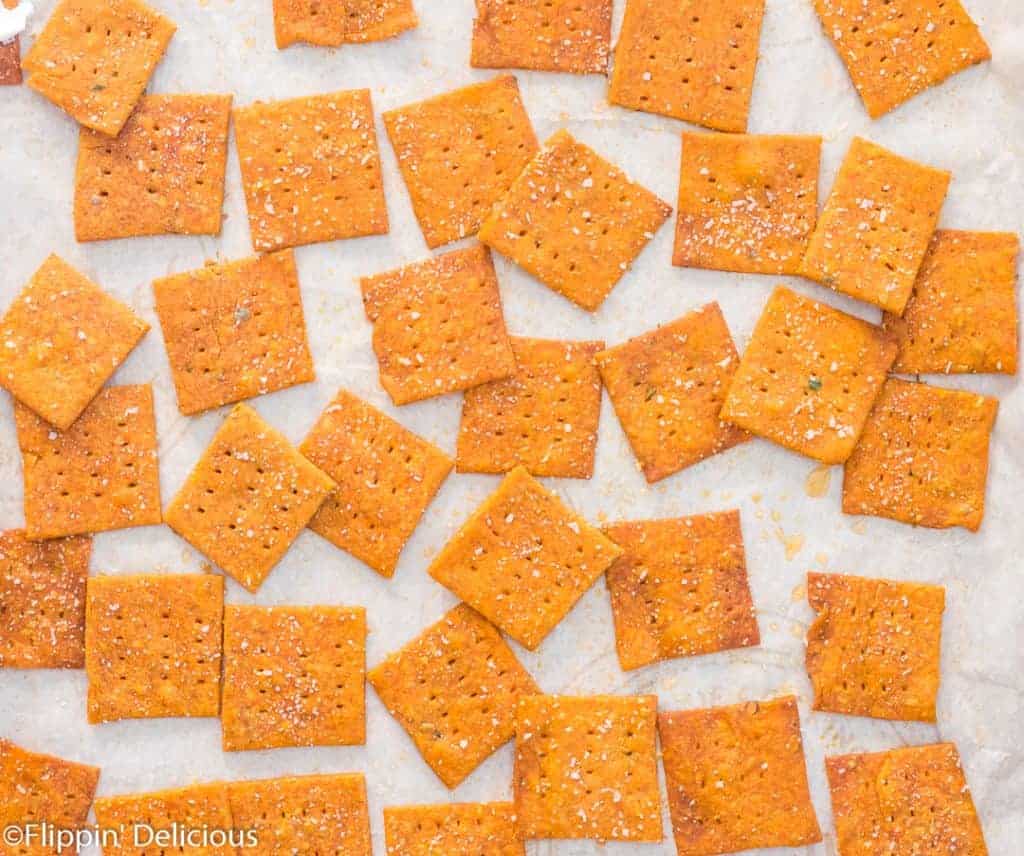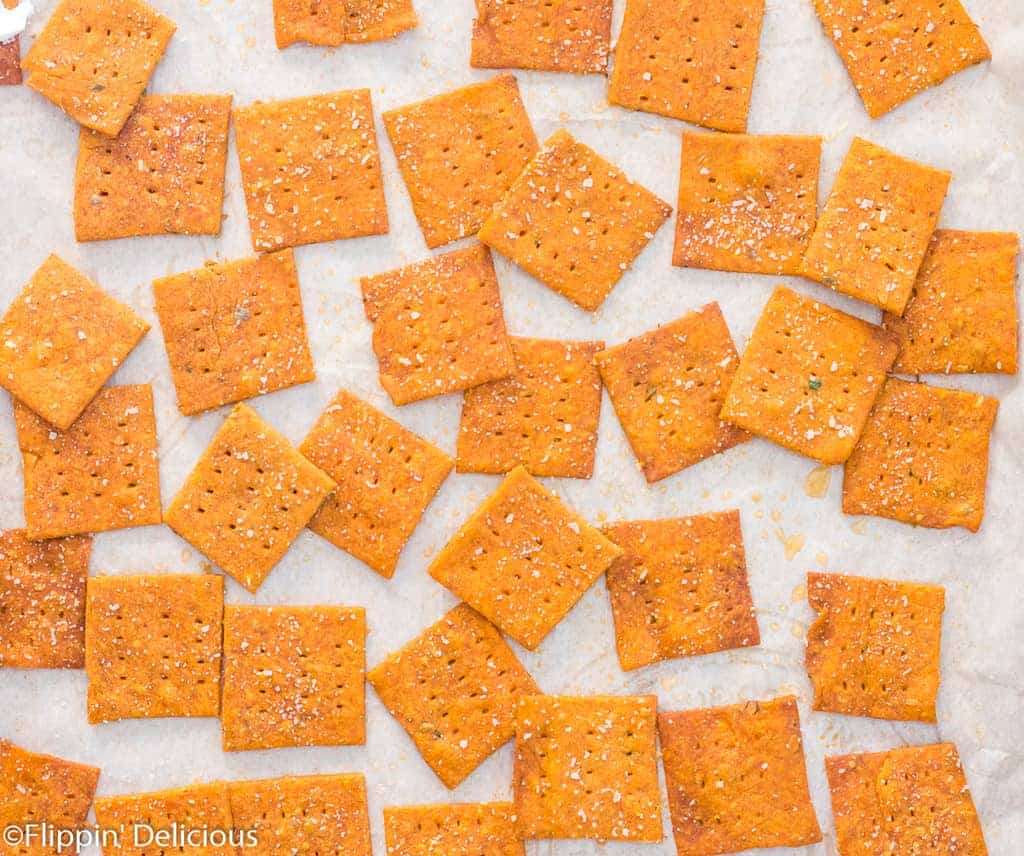 Store in a container at room temp for up to three weeks. But I'll bet you they won't last that long!
📖 Recipe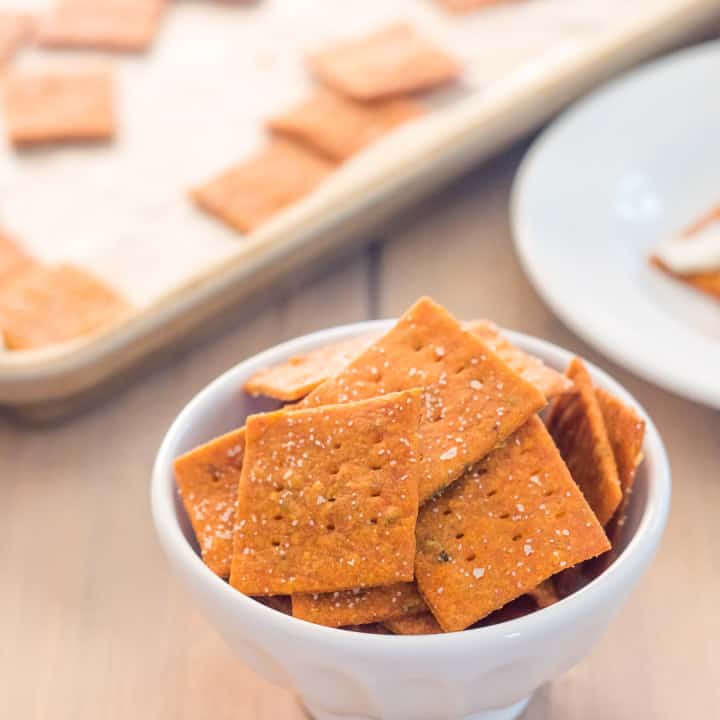 Gluten Free Pizza Crackers Recipe
Yield:
approx 125 gluten free Crackers
Easy vegan gluten free crackers recipe that tastes like pizza!
Ingredients
4 teaspoons sugar
1 teaspoon garlic salt
½ teaspoon dried oregano
½ teaspoon baking powder
3 tablespoons palm shortening
2 tablespoons tomato paste
3-4 tablespoon hot water
Cooking spray or 1 tablespoon of oil (olive or vegetable)
Kosher or coarse salt, to sprinkle on top
Instructions
whisk together the dry ingredients.
Add the palm shortening and mix until evenly combined.
Add the tomato paste and mix until combined.
Add the hot water, and mix until you have a smooth dough.
Divide your gluten free cracker dough in half. Roll out one half out between parchment paper and plastic wrap until ⅛ inch thick. Cut into 1 ½ inch squares using a ruler or long metal spatula as a straight edge, cutting with either a knife or a pizza cutter.
Place the crackers on a piece of parchment paper with a little space in between each cracker, lightly spritz ith gluten free cooking spray, or brush the tops with a little bit of oil using a pastry brush. Sprinkle with kosher or coarse salt.
Bake in the preheated oven for 10-15 minutes, or until they are crisp and golden. Keep a close eye on them, they'll go from golden to burnt quickly.
Notes
If you use a different gluten free flour, you'll need to add ½ teaspoon of xanthan gum.
Recommended Products
This recipe is sponsored by Vivian's Live Again and uses their Tree Street Grains Flour. As always, all opinions are entirely my own. Some links may be affiliate links. If you purchase through these links I may make a small commission.
Nutrition Information
Yield

12.5
Serving Size

10 crackers
Amount Per Serving
Calories

390
Total Fat

6g
Saturated Fat

2g
Trans Fat

0g
Unsaturated Fat

3g
Cholesterol

0mg
Sodium

205mg
Carbohydrates

74g
Fiber

3g
Sugar

2g
Protein

10g
All nutrition info is a guestimate and will vary depending on the ingredients you use.