This easy gluten free eggnog bread pudding with bourbon caramel sauce is perfect for the holidays. It makes a custardy holiday dessert, or an indulgent Christmas morning breakfast.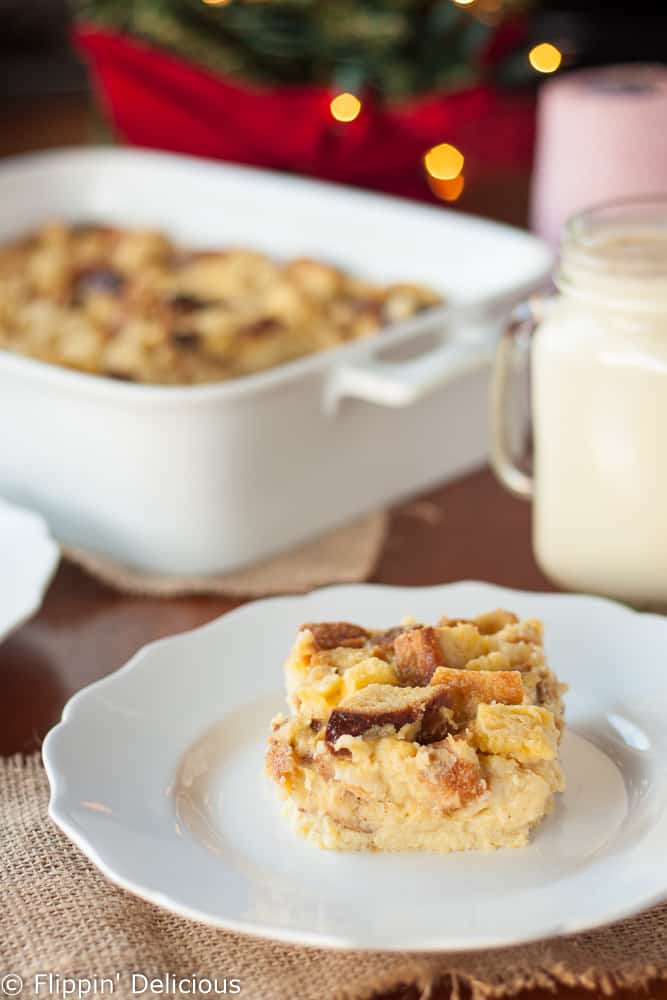 This post is Sponsored by Canyon Bakehouse. As always, all opinions are mine, and mine alone. I only work for companies whose products I like and use. And I big puffy heart Canyon Bakehouse!
I love eggnog! I remember sipping eggnog from my favorite mug and reading Christmas stories with my family every December when I was a little girl. Even though I love drinking it just by itself, I love putting it into my holiday recipes even more.
Last year on Christmas Eve I made some gluten free eggnog sugar cookies, and even though it was Christmas Eve I put everything on hold until I got the recipe posted. I don't think anyone enjoyed them for Christmas besides my family because I got the recipe up so late. Which is a shame, they were good.
This year I'm more on top of things, partly because I don't have a newborn. You have plenty of notice to gather your ingredients and bake this gluten free eggnog bread pudding over the holidays.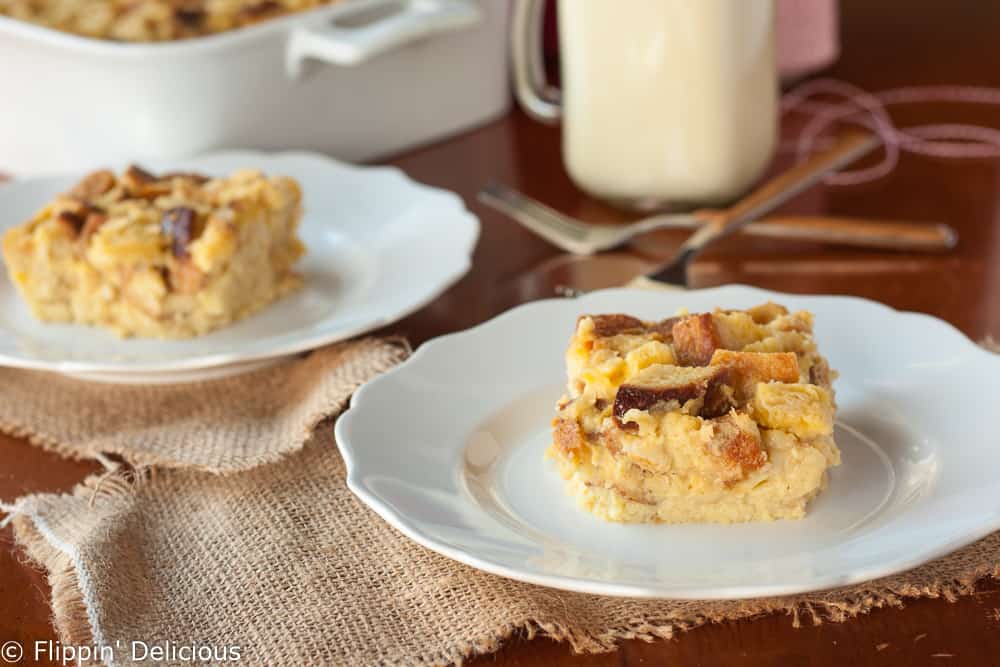 The eggnog bread pudding is super easy, it only has 4 ingredients! I also made a little bourbon caramel sauce to drizzle pour over the top. The caramel sauce is also really easy to make, with just 4 ingredients too! There is some controversy about whether or not bourbon is safe for those with celiac. I used a brand from a list of gluten free alcohol, but make the decision for yourself whether or not to use bourbon in your caramel. I think some spiced rum would be awesome in the caramel instead of the bourbon, so if you are concerned that might be a good substitute. I really wanted to try bourbon because traditionally it is one of the ingredients in eggnog so I thought that the flavors would go really well together.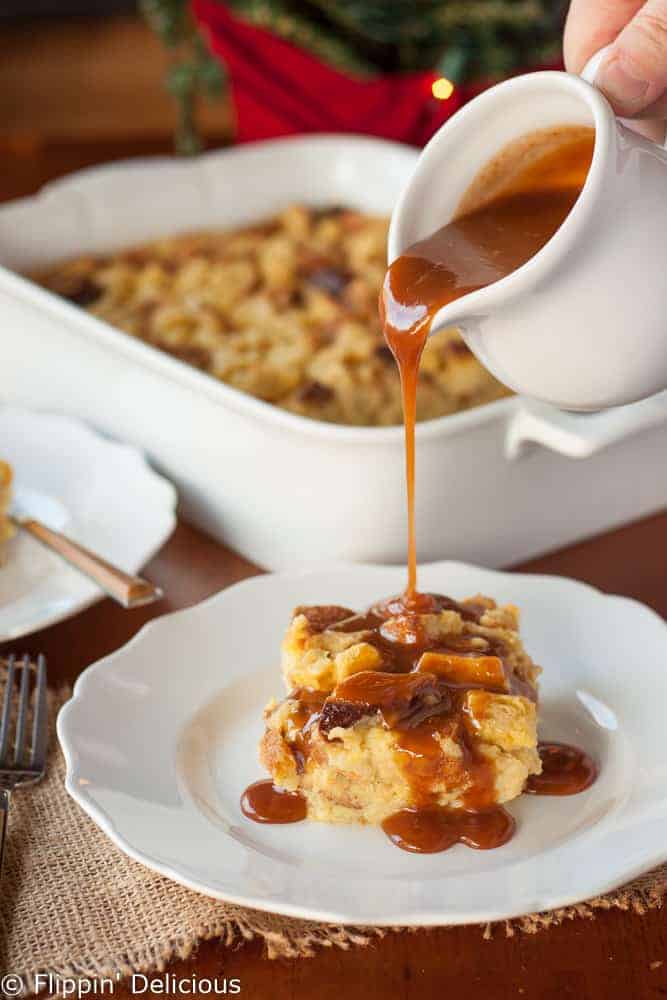 The gluten free eggnog bread pudding is great alone too! It is is lightly sweet and custardy. Maybe a sprinkle of powdered sugar on top? It really doesn't need more than that. I just really love caramel sauce and look for any excuse that I can to pour it all over things.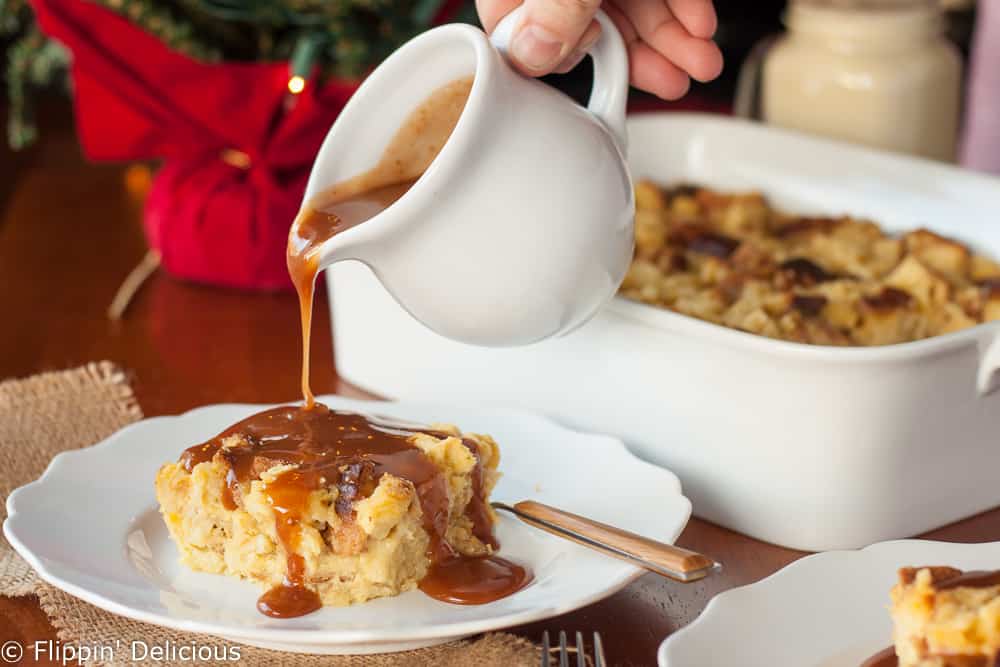 When you have to eat gluten free bread is often a big challenge. A really big challenge. Over the years I had almost eliminated bread from my diet because I wasn't happy with the options that were available. I didn't have the time or patience to make my own bread. I enjoyed baking bread, but just was not able to keep up with it.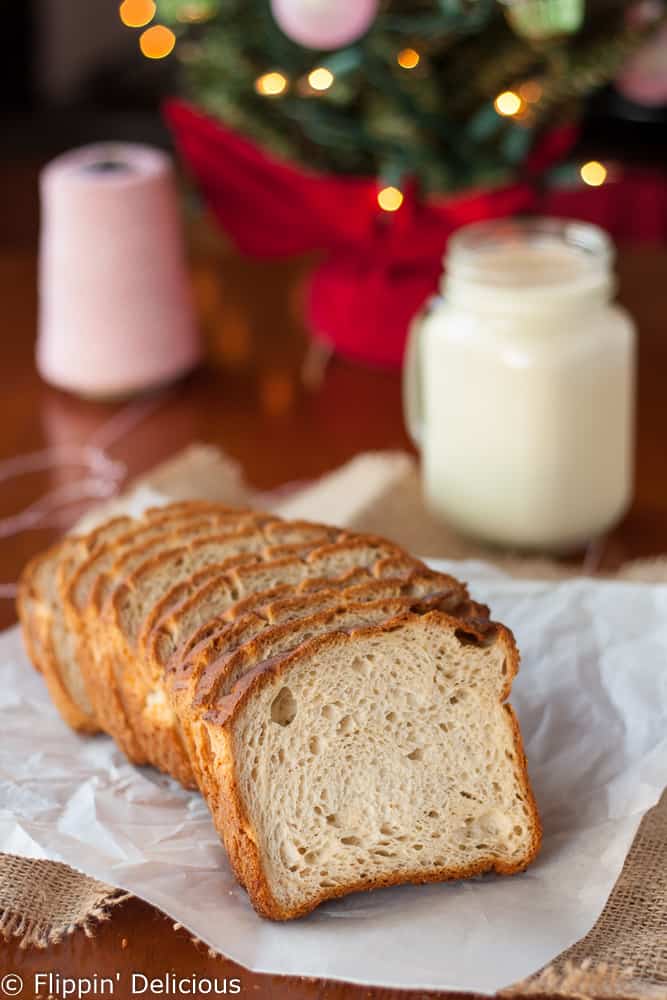 I am happy to report that there are more gluten free bread options than ever before, and a lot of them are actually quite good!
I first heard about Canyon Bakehouse from one of my friends on Instagram, Marlow at @glutenhatesme. I think I had shared a picture of my bunless hamburger or something like that. She raved about Canyon Bakehouse's hamburger buns and told me I should try them. I have tried many of Canyon Bakehouse's products since then, and I have fallen in love. Their slogan, love bread again, has totally been the case for me. I have been making bagels with lox, hiding their brownie bites from my kids, and using their Mountain White bread in this gluten free eggnog bread pudding with bourbon caramel sauce, of course.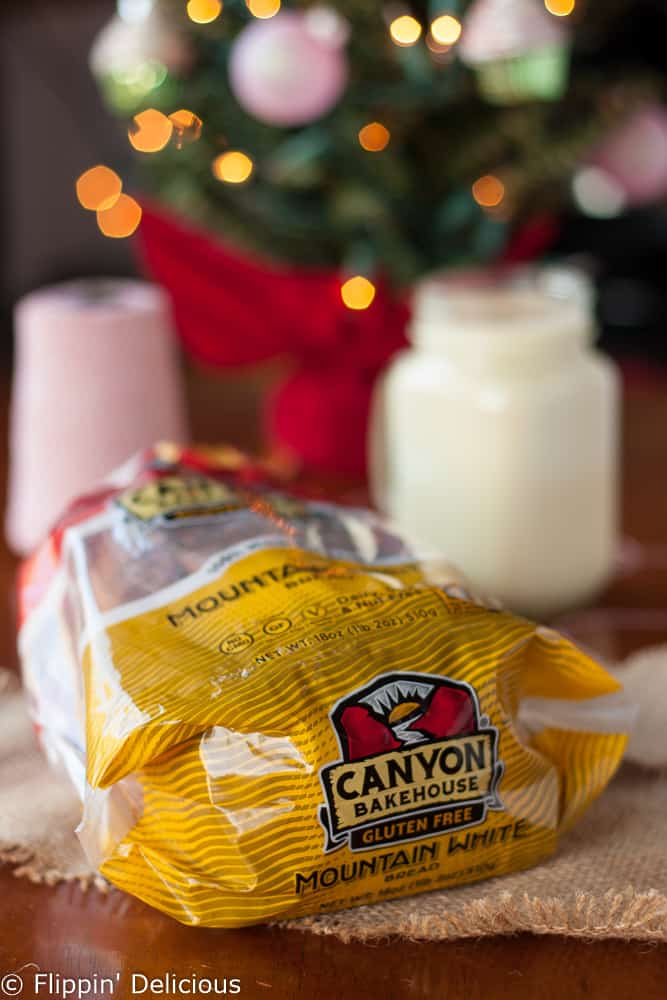 I'm one of Canyon Bakehouse's newest blog partners, so you'll be seeing more of them around Flippin' Delicious for the next few months. I have some really awesome gluten free recipes lined up!

Gluten Free Eggnog Bread Pudding with Bourbon Caramel Sauce
This easy gluten free eggnog bread pudding with bourbon caramel sauce is perfect for the holidays. It makes a custardy holiday dessert, or an indulgent Christmas morning breakfast.
Instructions
Preheat your oven to 325F and lightly grease a 9x13 casserole dish
In a large bowl whisk the eggs, sugar, and eggnog.
Add the cubed Mountain White Sandwich bread and let sit for 10-15 minutes to absorb some of the custard.
Pour the bread pudding into the prepared casserole dish and bake for 45 minutes, or until the bread pudding springs back when lightly touched. It will not be completely set, but will set as it cools. Don't over bake it! It will be dry instead of creamy and custardy.
Bourbon Caramel Sauce
Simple Bourbon Caramel Sauce , perfect for pouring over bread pudding, ice cream, or your favorite dessert.
Ingredients
1 cup white sugar
1 tablespoon honey
¼ cup bourbon (not all bourbon is gluten free, see the note above)
¾ cup cream (or canned full-fat coconut milk to make it dairy free)
Instructions
In a saucepan over medium-high heat mix the sugar, honey, and bourbon.
Heat, not stirring- just swirling the pan, until the sugar is melted and it has turned a light brown color.
Remove from the heat and add the cream all at once. It will bubble and spit, but just stir and the caramel should melt into the cream.
Serve warm. It will solidify when it cools, just warm it up again and it will become pour able.

Linked up at Gluten-Free Recipe Fix: Holiday Edition