Now you can make your own safe Gluten Free Bang Bang Shrimp (copycat Bonefish Grill recipe) with a crispy golden breading and creamy chili sauce!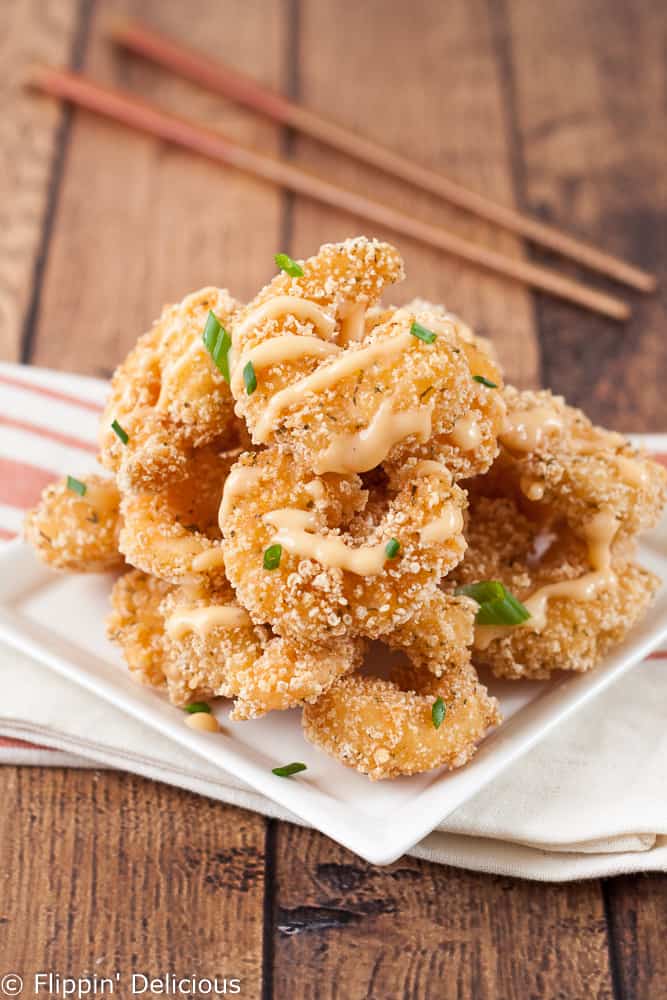 When I was pregnant with Baby T I had the opportunity to go to a preview of an opening of a brand new Bonefish Grill.
There hadn't been one in my area before, so I was very excited to attend. As we entered everyone got to sample Bonefish Grill's signature dish, Bang Bang Shrimp.
Of course I couldn't eat the bang bang shrimp, because they were breaded with panko. Instead they made me some blackened shrimp that were mighty tasty!
Before going, I didn't think that I liked seafood. I like sushi, but that was the exception. Or so I thought.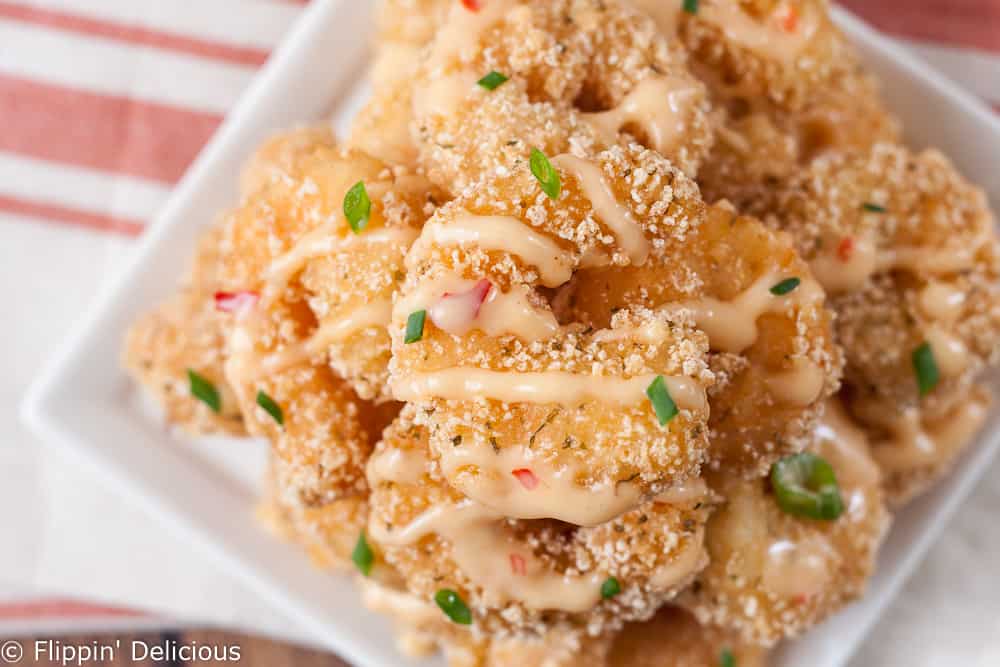 Everything I tried at Bonefish Grill was amazing! I fell in love with seafood and fish during the course of my tasting lunch. They use a woodfired grill at Bonefish. Everything was perfectly cooked with a beautiful crisp skin.
They were also very careful about helping me to stay away from gluten. They had a gluten free menu (and gluten free drink menu!) Of course I wasn't drinking, being 7 months pregnant and all that.
From time to time I have thought about those Bang Bang Shrimp that I missed out on, so of course the natural thing to do was to make some gluten free bang bang shrimp (copycat bonefish grill recipe.)
I was definitely missing out at that Bonefish Grill preview lunch because these gluten free bang bang shrimp are amaze-balls!
The shrimp themselves are tender with a crunchy golden breading.
Then they are tossed in a creamy chili sauce and topped with some green onions. All the textures and flavors just POP!
They are pretty simple and easy to make. I just tossed my raw shrimp and then had them take a quick bath in some diary-free milk (I used coconut milk, but you could use dairy milk, buttermilk, almond milk, or whatever you have on hand.)
Then give them a dip in some seasoned bread crumbs. You can make your own gluten free bread crumbs, or use some storebought gluten free bread crumbs.
Your gluten free bang bang shrimp take just a few minutes to fry to a beautiful golden brown.
I used my dutch oven with a splatter screen and a thermometer to deep fry them, but I know some of my blogging friends have little deep fryers so that they can easily make their favorite fried gluten-free goodies. (Just be sure that you aren't re-using any oil that had anything with gluten fried in it. Be safe!)
The signature sauce for these copycat gluten free bang bang shrimp is easy to make.
Just whisk the ingredients together and drizzle it on top of/ toss the finished shrimp in it. I had a little trouble hunting down the sweet chili sauce, but you can for sure get it at amazon (my favorite brand it Thai Kitchen, but always check that whatever brand you use is gluten free.)
I found some sweet chili sauce at my local Trader Joes. I couldn't wait even the 2 days for prime shipping. I wanted my bang bang shrimp right away!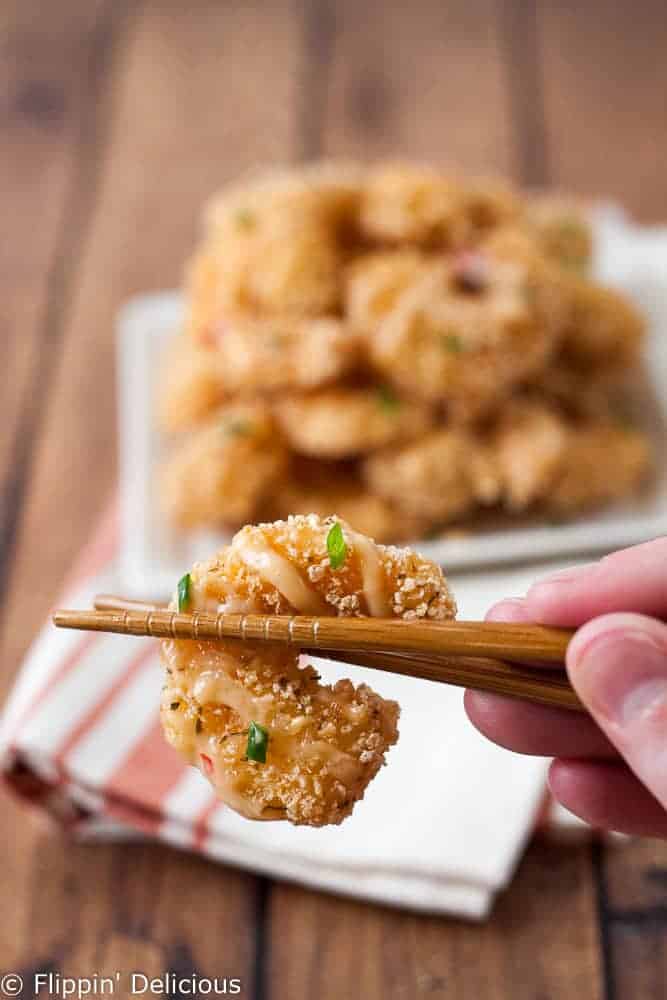 Top your finished gluten free bang bang shrimp with some green onions for garnish, and then enjoy!
Do you have a favorite restaurant dish that you have been searching for a copycat recipe for?
If you are a seafood fan, you might also really like these whole30 Gluten Free Crab Cakes from my friend Chandice.
If you haven't already tried it, put my Copycat Panda Express Orange Chicken on your menu. It is one of my favorite copycat recipes!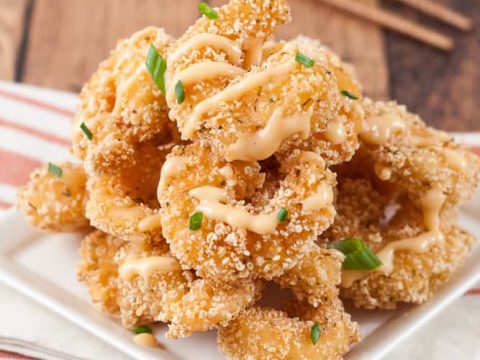 Yield:

serves 4-6 as an appetizer
Gluten Free Bang Bang Shrimp (Copycat Bonefish Grill recipe)
Now you can make your own safe Gluten Free Bang Bang Shrimp (copycat Bonefish Grill recipe) with a crispy golden breading and creamy chili sauce!
Ingredients
For the Shrimp
1 lb medium sized shrimp, de-veined and tails removed
3 Tablespoons cornstarch
1/4 cup coconut milk (or other dairy free milk, or dairy milk)
1 teaspoon dried parsley
1/4 teaspoon cayenne pepper
For the Bang Bang Sauce
1/4 cup mayo
2 Tablespoons sweet chili sauce
pinch cayenne pepper
1 1/2 teaspoon rice vinegar
green onions, for garnish
Instructions
For the shrimp
Mix the gluten free bread crumbs, parsley, and cayenne together and season generously with salt and pepper.
Generously season the cornstarch with salt and pepper and toss the shrimp in it.
Dip each shrimp into the coconut (or other) milk and then immediately dip in the breadcrumbs to coat.
Set aside on a clean surface (I used a baking sheet lined with parchment paper) until ready to fry.
Heat several inches of oil to 350F, while monitoring it closely.
Fry the shrimp until golden brown, working in small batches. Remove to a plate lined with paper towels to cool.
Approx 5 minutes for each batch. I put 3-5 shrimp in each batch to be careful to not overcrowd my dutch oven.
For best results let the oil regain a little heat for a moment in between batches.
To serve toss the finished shrimp with the sauce, or drizzle it over the top of them. Garnish with green onions.
For the bang bang sauce
Mix all the ingredients together.
Nutrition Information
Yield
6
Serving Size
1
Amount Per Serving
Calories

291
Total Fat

12g
Saturated Fat

4g
Trans Fat

0g
Unsaturated Fat

7g
Cholesterol

167mg
Sodium

931mg
Carbohydrates

23g
Fiber

1g
Sugar

4g
Protein

21g