If you need a easy gluten free sugar cookie, look no further! This chewy gluten free sugar cookie recipe requires no rolling cookie dough, and no chilling. Ultra chewy gluten free drop sugar cookies will quickly become your go-to recipe!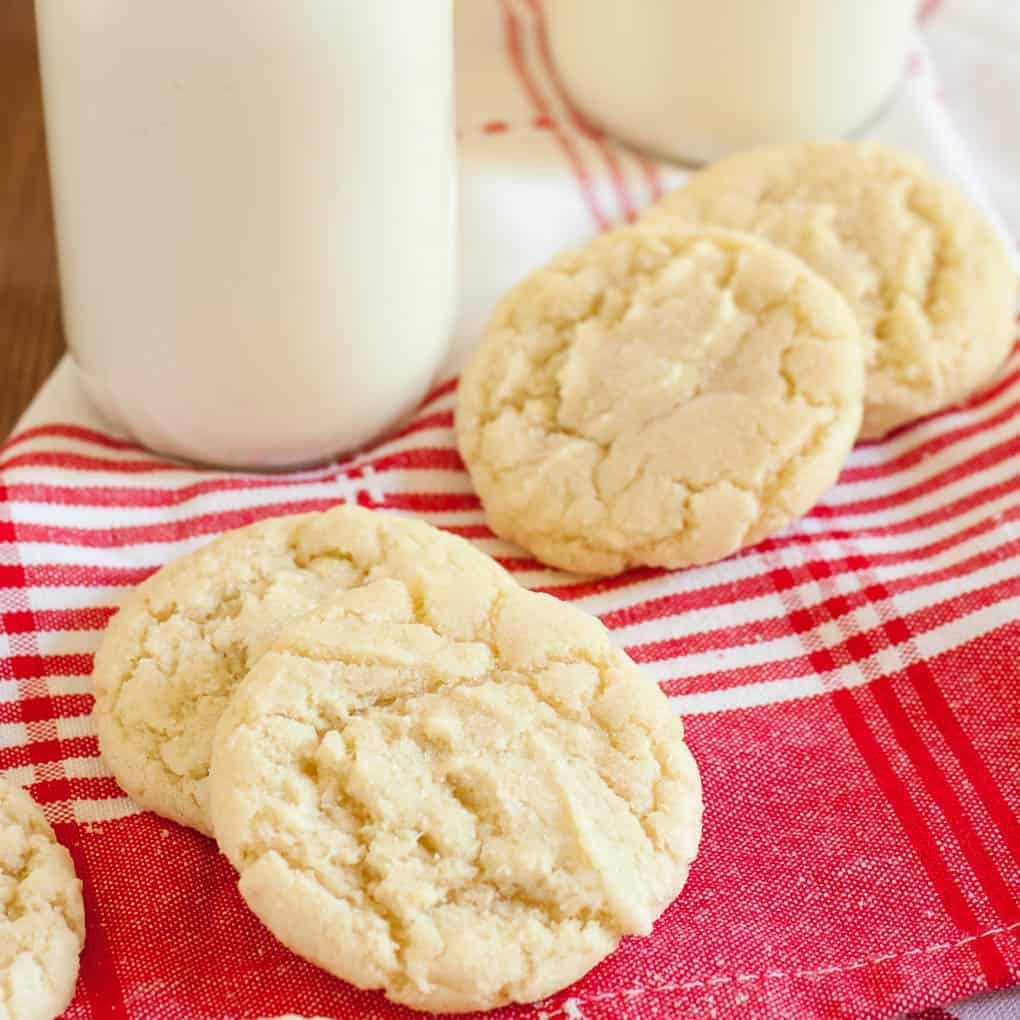 Easy Gluten Free Sugar Cookie Recipe
I'm famous for my gluten free soft frosted sugar cookies. They are cakey and lightly sweet (just like those Lofthouse cookies in the plastic clam-shells at the grocery store.)
These super easy, chewy cookies are like my frosted sugar cookies sparkly cousin. (Sparkly because of all the sugar they are rolled in.)
They have all of the same ingredients, but the ratios have changed slightly so that your gluten free sugar cookies will gently spread in the oven into chewy, sparkly rounds.
More sugar to butter equals a chewy gluten free sugar cookie with crisp edges.
Less flour equals an easy gluten free drop sugar cookie that will spread on its own (which means no rolling pin or chilling required. Hurrah!)
Perfect with a glass of milk, or get fancy and add some frosting on top.
How do you make gluten free sugar cookies from scratch?
This gluten free sugar drop cookie dough couldn't be easier! It requires no chilling. Simply mix the dough together, scoop into a small bowl of sugar, roll to coat, and place on your baking sheet.
To mix the dough, first you'll need butter and sugar.
Cream them together until fluffy and then beat in the egg. (I like using my stand mixer or my electric handheld mixer, however you can make this dough using just a bowl, spoon, and a lot of elbow grease.)
Next, add the baking soda, xanthan gum, and vanilla and mix until combined. I add these ingredients before the gluten free flour to ensure they get evenly distributed.
Last but not least, add the gluten free flour. (Keep reading, I've got some important gluten free flour notes below that are crucial to your gluten free chewy sugar cookie success!)
Here come the sparkles!
Scoop your gluten free sugar cookie dough using a cookie scoop, and give it a quick dip in granulated sugar.
Or you can be super lazy, like I normally am. Scoop your gluten free sugar cookie dough and drop it directly onto your cookie sheet, then sprinkle the top liberally with granulated sugar.
These easy gluten free drop sugar cookies are also super easy to dress up for holidays or parties. Instead of using white granulated sugar, give them a dip or sprinkle in a bright colored sanding sugar.
You can also dip your gluten free drop sugar cookies in melted chocolate and top with sprinkles or candies.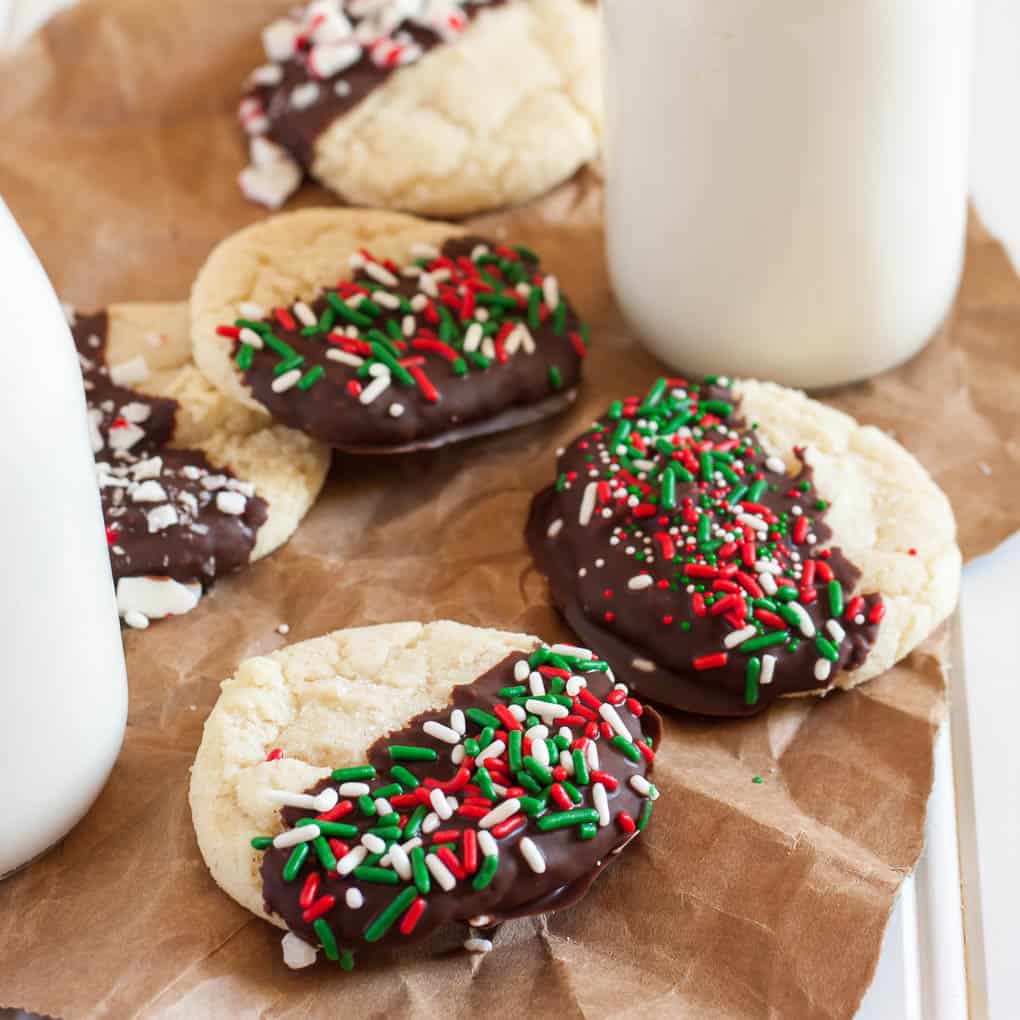 How do you measure gluten free flour?
When baking with gluten free flour is it essential to measure your gluten free flour very carefully.
Whisking your gluten free flour (or if it is in a container, give it a good shake.) This ensures the flour is well combined and it is aerated.
Carefully scoop your gluten free flour into a measuring cup USING A SPOON. Don't scoop the flour directly with the cup. You'll inadvertently get too much gluten free flour.
Level your measuring cup off with a knife, or using the handle of the spoon. I have some self-leveling measuring cups that I love. If I'm using them, I never forget to level off my gluten free flour.
What gluten free flour do you use for sugar cookies?
I tested this recipe with my gluten free flour blend. You can certainly use another gluten free flour, but you may need a little less flour depending on the absorption rate.
I've discovered that both Bob's Red Mill's 1 to 1 gluten free flour and Ryze's Blue Bag Gluten Free Flour need a little less gluten free flour than what I use in my recipes.
You can always add more flour but you can't take it away. So do yourself a favor and if you are using any gluten free flour than mine, start with 1 cup of gluten free flour. Bake a single cookie to test how it spreads.If it comes out too thin and crispy, add more flour to get a thicker cookie.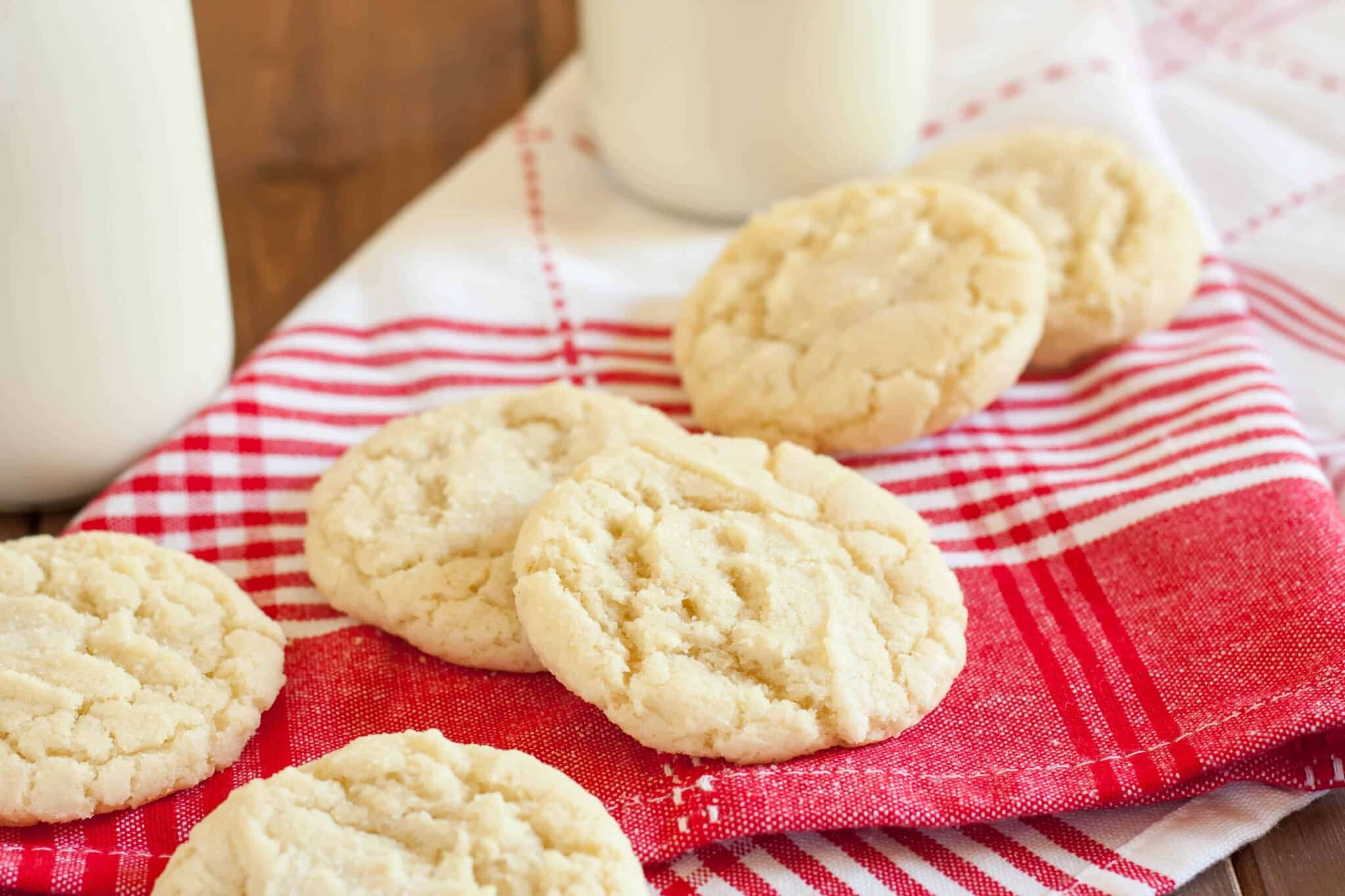 How do you make gluten free sugar cookies vegan?
I've made this easy gluten free sugar cookie recipe vegan many times! All you need are a few easy substitutions and you'll be set.
What do you use instead of butter to make gluten free sugar cookies vegan?
Instead of the butter, use your favorite vegan butter or palm shortening.
I've found best results when I use half vegan butter and half palm shorting (take the total amount of butter and divide it in half and use that measurement for each).
The reason I like using half vegan butter and half palm shortening is that sometimes vegan butter can make the cookies have a "fake butter" taste.
The vegan butter can also melt too quickly, resulting in oily cookies. The palm shortening melts slower, helping the cookie to spread not to much and not too little, but just the right amount.
The palm shortening is also unflavored, and when combined with the vegan butter I feel like I get the perfect taste.
What do you use instead of eggs to make gluten free sugar cookies vegan?
Now that the dairy is out of the way, you just need an egg substitute.
My go-to is a flax egg (for each egg, 1 tablespoon flax meal mixed with 3 tablespoons hot water and let sit for 5 minutes to gel) and I also really love Bob's Red Mill's Egg Replacer.
I haven't tested, but have heard great things about Ener-G Egg Replacer, and aquafaba (the liquid from a can of chickpeas). 
Can I make sugar cookies ithout sugar?
Great question! This recipe may work with a sugar substitute, but I haven't tested any. If you are looking for a low-sugar recipe, I'd recommend my friend Taylor's Low Sugar Healthy Sugar Cookies .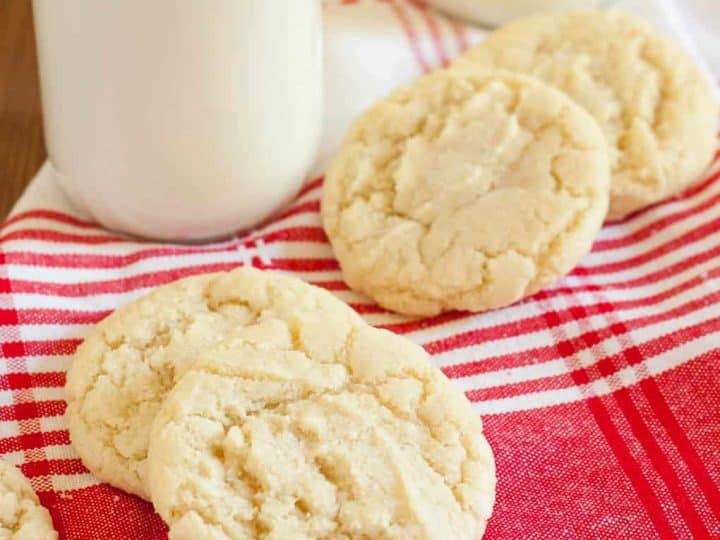 Yield:

1 1/2 dozen gluten free sugar cookies
Gluten Free Drop Sugar Cookies Recipe
Easy gluten free sugar cookies with no chilling or rolling required! Easy drop cookies that make perfectly chewy gluten free sugar cookies.
Instructions
Preheat the oven to 350F. Line 2 baking sheets with parchment paper or a silicone baking mat.
Cream together the butter and sugar. Add the egg and mix until smooth.
Add the vanilla extract, salt, baking powder, baking soda, xanthan gum, and gluten-free flour and mix until combined.
Scoop the dough using a 1 1/2 tablespoon cookie scoop, roll in additional sugar or colored sanding sugar, and place on the prepared baking sheet. You may also sprinkle each cookie with a little sugar instead of dipping or rolling each cookie dough ball.
Bake for 8-10 minutes.
Notes
If you like your sugar cookies thinner with golden crispy edges and a chewy center, decrease the flour to 1 cup.
I used Earth Balance as my vegan butter in this recipe. I have the best dairy free results using 4 tablespoons vegan butter with 2 tablespoons palm shortening. Or you can use 6 tablespoons of softened butter if you can do dairy.
Nutrition Information
Yield
18
Serving Size
1 cookie
Amount Per Serving
Calories

149
Total Fat

5g
Saturated Fat

3g
Trans Fat

0g
Unsaturated Fat

2g
Cholesterol

21mg
Sodium

126mg
Carbohydrates

24g
Fiber

1g
Sugar

10g
Protein

2g