Gluten free sugar cookies with frosting and sprinkles are a classic! My gluten free sugar cookie recipe is easy to make, and the dough doesn't need to chill! These gluten free frosted sugar cookies are soft and cakey, just like a Lofthouse Cookie.
Gluten Free Sugar Cookies -Lofthouse Copy Cat Recipe
These are the perfect gluten free soft frosted sugar cookies cutout recipe!
These gluten free sugar cookies are a dead ringer for Lofthouse soft frosted sugar cookies!
You are going to love this gluten free Lofthouse Copy Cat recipe.
For years I have tried to re-create those soft, cakey, sugar cookies with frosting and sprinkles that come in a clear plastic clamshell at the grocery store.
I tried to create those soft frosted sugar cookies using normal wheat flour and still wasn't able to get it right.
A few years back I finally created the perfect gluten free soft frosted sugar cookie recipe, and I'm so excited t0 share it with you!
I've baked these gluten free soft frosted sugar cookies hundreds of times, it is one of my most popular recipes and I'm always asked to bake them.
It has been included in 3 of my 4 gluten free cookbooks, and I've even baked them on TV (when I was 8 months pregnant too.)
I'm known for my gluten free soft frosted sugar cookies, and am semi-famous for showing up with a bag full of mini soft frosted sugar cookies at blogging conferences.
I used to have an older version of this recipe on my blog (if you printed it, you might have that gluten free sugar cookie recipe), and another version in my cookbook, The Essential Gluten-Free Cookie Guide.
I'm always making adjustments and improvements so this version of the recipe is the best yet!
I've been very excited to share my new and improved recipe with you!
The dough is easier to work with, there is no chill time, and I've mastered the techniques for making these sugar cookies much easier to frost and cut out.
If you are looking for more gluten free cookie recipes, check out my newest cookbook, Gluten-Free Holiday Cookies.
How to make gluten free sugar cookies?
What ingredients do you need to make sugar cookies gluten free?
Softened Butter (you can use vegan butter, or half vegan butter half palm shortening, see my notes below).
Granulated Sugar (you can substitute brown sugar for another taste and texture, see my notes on sugar substitutes below).
Room Temperature Eggs (or egg substitute to make vegan sugar cookies, see my notes below).
Vanilla Extract.
Gluten Free Baking Powder (most baking powders are gluten free, but not all are so double check).
Xanthan Gum (if you are using a gluten free flour that already has xanthan gum added to it, please omit. More information on different gluten free flour blends and xanthan gum is below, keep reading).
Gluten Free Flour (not all gluten free flours are the same, I have tons of info, keep reading below).
Salt. Because salt = flavor!
What gluten free flour is best for sugar cookies?
For best results use my gluten-free cookie/cake flour blend.
Another gluten-free flour may work as well, but I haven't tested them all.
My recommendation when using any flour other than my blend (which I've tested extensively) is to:
First, a

dd about 2 ¾ cup flour

.

Add the remaining flour until it makes a soft dough (watch the video to see the texture), first adding ¼ cup of gluten free flour

.

Finally, add the remaining gluten free flour 1 tablespoon at a time until your sugar cookie dough resembles the texture in the video for this post.
It is very important you have a soft dough or our cookies won't be soft and cakey, instead they will be more dry.
If you use Bob's Red Mill's 1 to 1 gluten free flour, please only use 3 cups instead of 3 ¼ cups.
It absorbs more liquid than my blend and if you use more than 3 cups you'll have a very dry and crumbly sugar cookie dough.
On some days, I've had a dry dough even when using 3 cups, so you may need to add even less.
Other blends that should work well (based on my other experiences with them in other recipes) are
Ryze's Yellow Bag (omit xanthan gum in recipe)

King Arthur's Flour blend (I haven't used their Measure by Measure flour, only their original blend)

Gluten Free Mama's Almond Blend

Cup for Cup (Thomas Keller- Omit the xanthan gum called for in the recipe)
If you try a different flour, please comment and let me know.
I have heard from those who have tried to use regular wheat flour that is doesn't work.
How to measure flour
No matter which gluten free flour you choose, be very careful measuring your flour. Don't scoop using the measuring cup, or pack it in!
To correctly measure your gluten free flour carefully spoon the flour into the measuring cup and then level it with a knife.
The most accurate way to measure flour is by weight, and that used to be what I recommended.
Over the years I've discovered that I get the same results if I accurately measure my gluten free flour, without keeping a scale in my kitchen.
I know most of you don't have a scale, and I wanted you to be able to make these gluten free cookies without buying another kitchen gadget.
I have provided ingredient weights, if you prefer to measure with a scale.
Here are my best-kept secrets for making the perfect gluten free soft sugar cookies with frosting.
This recipe is easiest to make with a stand or heavy-duty electric hand mixer. You can make the dough by hand, but it will require a lot of elbow grease.

The secret to soft and cakey gluten free soft frosted sugar cookies is roll it out pretty thick. Try to avoid handling it too much, and do NOT over bake. It is much better to under bake your gluten free soft frosted sugar cookies. It will not look done when you take it out of the oven, but that is what carryover cooking is for.
You can make these sugar cookies dairy free or vegan!
Keep reading, I share my tips for making gluten free vegan sugar cookies in great detail later in this post.
How to make sugar cookies without a rolling pin?
Here is my lazy no-roll method for making sugar cookies with this recipe:
Drop the dough onto prepared baking sheet using a 1 ½ tablespoon cookie scoop.

Dip the bottom of a drinking glass in white sugar and gently press the gluten free sugar cookie out so it is about 3 inches across.

Bake as directed.
The extra sugar adds a pleasant crunch! If you were to use colored sugar no added decorations would be needed.
If you want the ultimate lazy gluten free chewy sugar cookie, they are even easier.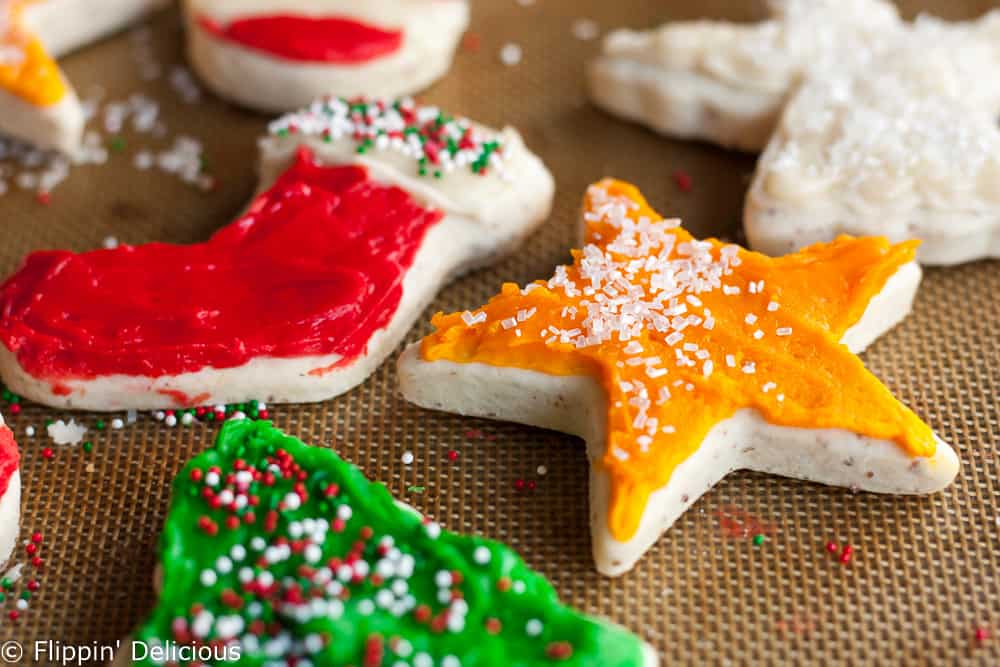 How to make perfect gluten free sugar cookie cut outs?
I've found the best way to make perfect gluten free sugar cookie cut outs is to roll the gluten free sugar cookie dough out directly on top of the silicone baking mat or parchment paper you will bake them on. '
I created a video tutorial in my gluten free cutout sugar cookies for Christmas post.
Lay your silicone baking mat or a sheet of parchment paper on the counter top.

Place the dough on top, and then place a sheet of plastic wrap on top.

Roll the gluten free sugar cookie dough out approx ½ inch thick. Peel off plastic wrap and cut the gluten free cookies out using your favorite shaped cookie cutters, leaving at least 2 inches between the sugar cookies. DO NOT take the sugar cookies off of the baking mat or bottom piece of parchment.
Not taking them off prevents the dough from stretching out of shape.
Peel the excess dough off and re-roll the same way, onto a new baking mat or sheet of parchment.
If you are only cutting out rounds, you roll can roll the dough out between 2 sheets of plastic wrap (½ inch thick) and then move the cut outs to the silicone baking mat or parchment lined baking sheet.
They may stretch slightly, but I've found that the extra effort isn't worth it when making plain round gluten free sugar cookies.
How to make mini sugar cookies?
I love to make mini gluten free sugar cookies using a 1 ½ - 2 inch round cutter.
I'll also use mini holiday cookie cutters like hearts and stars, but I've found that any protruding edges (like the points on the stars) tend to over-bake a bit and become more crunchy.
Still delicious, just not as soft all the way through.
If you cut out shapes just be more careful to not let the sugar cookies over-bake.
They soften more as you let them sit, frosted, in an air-tight container and then the crunchy star points soften.
How to make gluten free orange sugar cookies?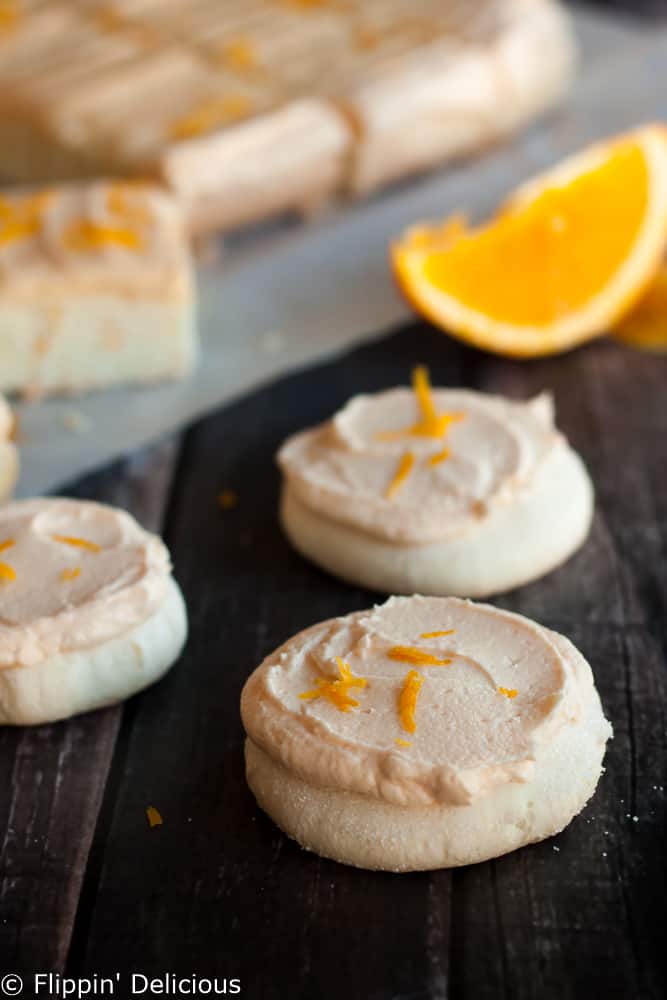 To make orange sugar cookies, add 1 tablespoon of orange zest in with the sugar.
Make the rest of the sugar cookie dough as directed.
when making the frosting, omit the milk, instead using orange juice and add an additional 1 tablespoon of orange zest.
How to make eggnog sugar cookies?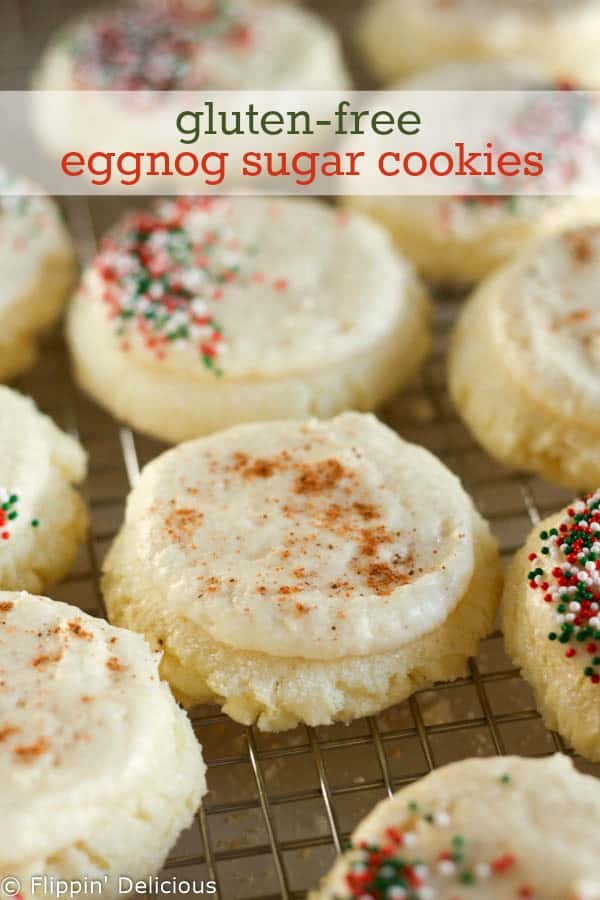 To make gluten free eggnog cookies, add ½ teaspoon of nutmeg to the sugar cookie dough.
when you make the frosting, swap eggnog for the milk or cream.
Add additional nutmeg to the frosting, to taste.
How to frost gluten free sugar cookies?
First, pick your frosting!
The easiest way to frost your gluten free sugar cookies is by using a piping bag.
I've found it is less messy than just using a butter knife.
I still use a knife, but I wanted to share my tips for using a piping bag or ziploc bag because it will change the way you decorate your sugar cookies for the rest of your life!
(And I guarantee that will be happening more often now that you have my gluten free sugar cookie recipe!)
Using a rubber scraper/spatula load the fluffy buttercream frosting into a piping bag fitted with a large round tip. The easiest way to load the frosting into the bag is to put the piping bag into a cup, that way it doesn't move around while you scoop the frosting into it. (You can also use a ziploc bag and just snip the corner.)

Hold the piping tip perpendicular to the gluten free sugar cookie and pipe a layer of frosting, starting at the edge and going around in a circular pattern without overlapping until you are in the center. If desired smooth out the frosting with a small offset spatula and top with some sprinkles. Because SPRINKLES!
You can also frost your sugar cookies with an egg-free royal icing and follow any sugar cookie decorating tutorial you find on Facebook or Youtube.
For a fun twist, try using my vegan chocolate frosting.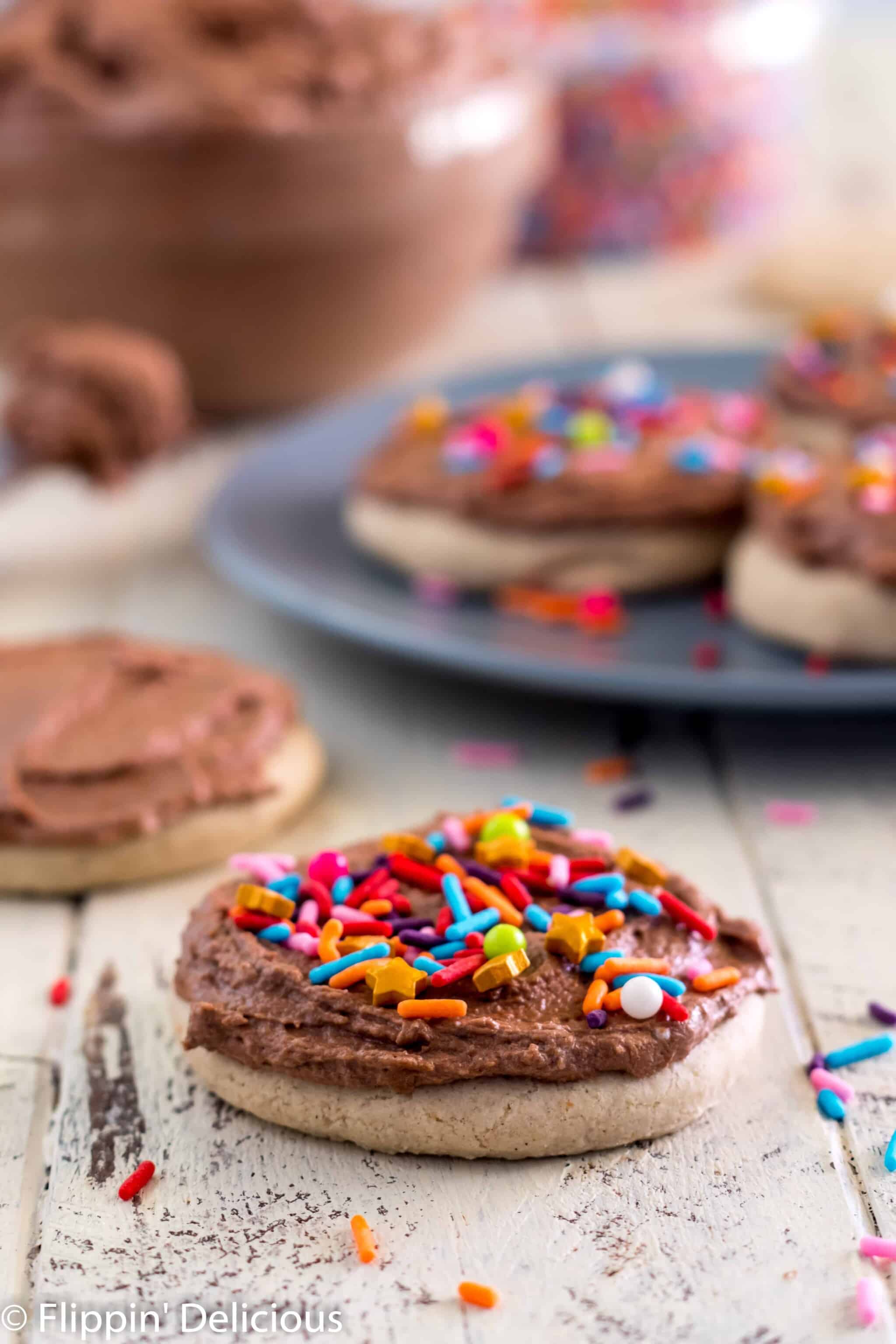 The chocolate frosting made these sugar cookies really special. The flavor is on point, because the frosting has melted chocolate and cocoa poder in it.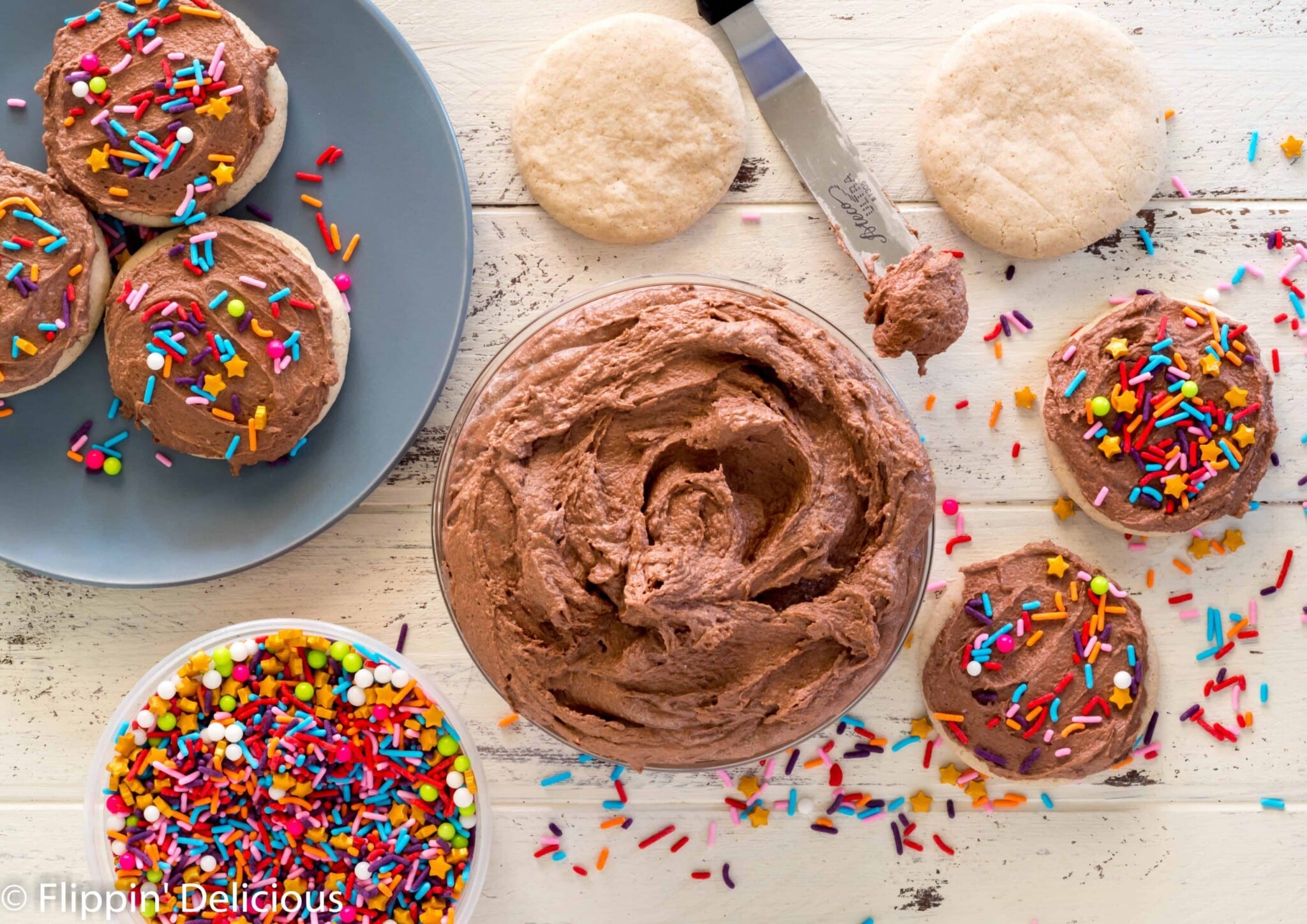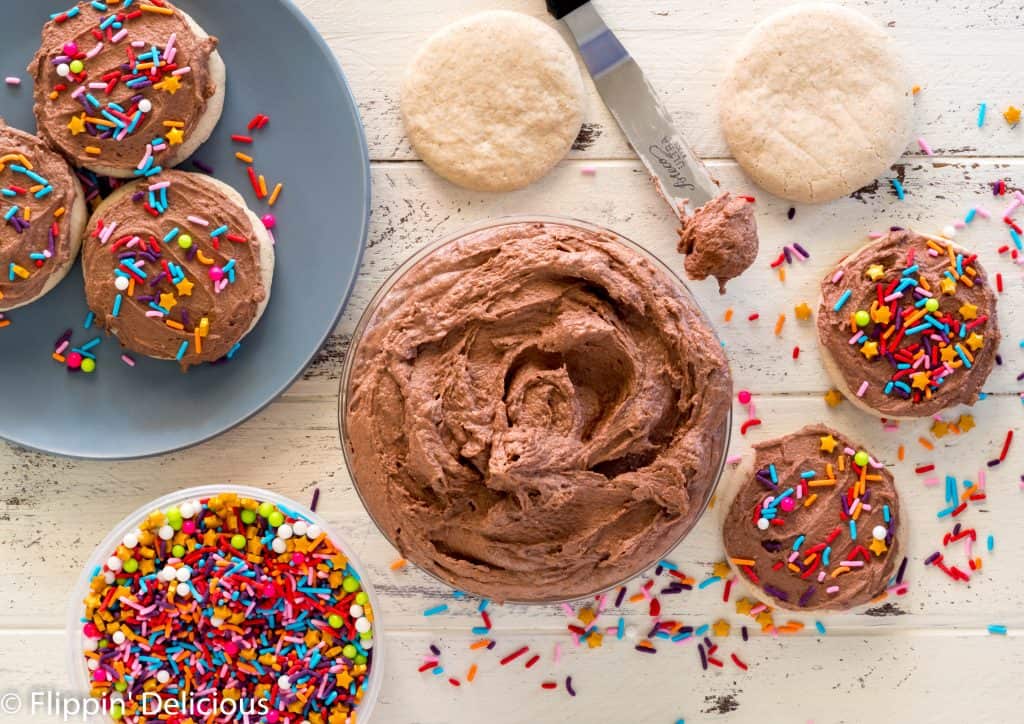 A tip I was reminded of by CottonStem (when she made my gluten free sugar cookies during the Christmas holidays) is to melt store-bought canned frosting that works with your allergens.
You can quickly pour the frosting over your cookies, or dip them into the melted frosting before adding sprinkles.
How to store gluten free sugar cookies?
These gluten free sugar cookies are even softer the next day!
After frosting them, seal in an airtight container or ziploc bag.
The extra moisture from the frosting softens any crunchy edges and you have the perfect gluten free soft frosted sugar cookies.
I still love eating my gluten free soft sugar cookies freshly frosted, but I think they are even better on day 2 or 3.
Store them in an airtight container at room temperature for 2-3 days, or in the fridge for up to a week.
If you want to freeze them, or prep them ahead of time, I recommend frosting them and then freezing them.
Frosted gluten free sugar cookies will stay fresh in the freezer for up to a month! (though mine never last that long.)
How to make Gluten Free Vegan Sugar Cookies?
Use a non-dairy butter substitute instead of the butter. My secret is to use half palm shortening, and half Earth Balance, or another vegan butter.

I have also used butter flavored shortening (like crisco) but my secret combo of palm shortening/Earth Balance makes dairy free sugar cookies with the best texture and flavor.
Use a "flax egg" for every egg in the recipe. You can also use another egg substitute, if you prefer. To make 1 flax egg mix 1 tablespoon ground flax seed with 3 tablespoons hot water and let it sit for at least 5 minutes before using. The recipe calls for 2 eggs so I mixed 2 tablespoons of ground flax seed with 6 tablespoons of hot water.

Use my vegan buttercream frosting instead of my american buttercream frosting.
The rest of the instructions and ingredients are the same.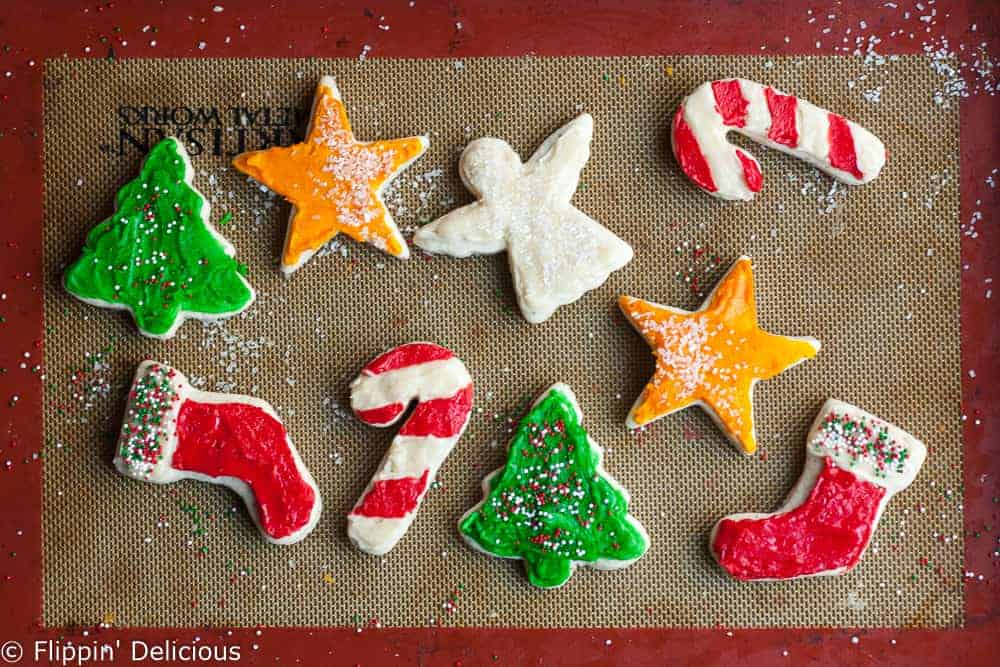 I've tested these substitutions DOZENS of times, and make my gluten free sugar cookies vegan more than half the time I bake them.
No one ever knows the difference!
With these 3 substitutions your gluten free soft frosted sugar cookies are now vegan and free of the top 8 allergens.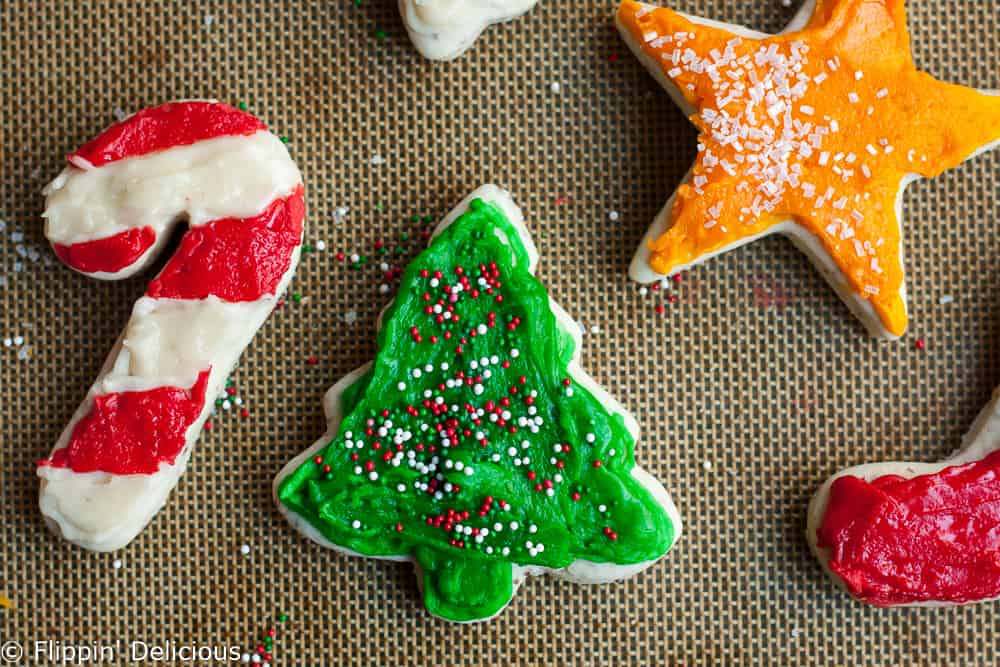 Can I use a sugar substitute or stevia for sugar cookies?
I haven't tried any sugar substitutes in this recipe.
I think you'd have best results trying a cup-for-cup sugar substitute because the sugar is creamed with the butter and plays an important role in the texture of the final cookies.
If you try a sugar substitute, please comment or email me and let me know your results.
Gluten Free Sugar Cookies for holidays
Gluten free sugar cookies are perfect for so many holidays! Here are some of my favorite ways to decorate sugar cookies for the holidays.
Need more gluten free cookie recipes?