This Bruschetta Chicken Skillet combines all of the flavors of fresh roma tomatoes, sweet red onions, and syrupy balsamic vinegar in an easy naturally gluten free and dairy free weeknight meal.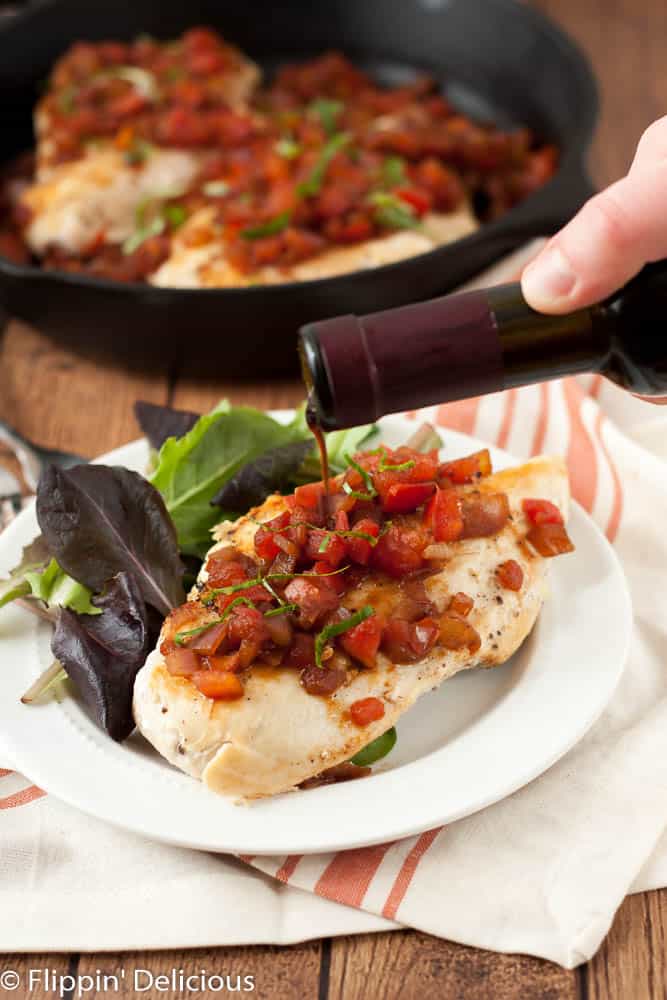 I am most definitely a balsamic lovin' gal. One of the best surprise gifts my hubby gave me last year was a bottle of GOOD balsamic vinegar. There was a local mac n cheese festival and competition last year. I couldn't go, because obviously there would be nothing gluten free.
So my husband went with his sister and stuffed his face with
mac n cheese
. When he came home he surprised me with a bottle of good aged balsamic vinegar he had bought from a vendor at the festival.
I pulled a loaf of gluten free bread out of the freezer and soaked it in the balsamic and it was amazing! So good that I almost forgot about all of the mac n cheese that I missed out on. (There was a blueberry cheesecake mac n cheese that won 1st place, I still think about that one.)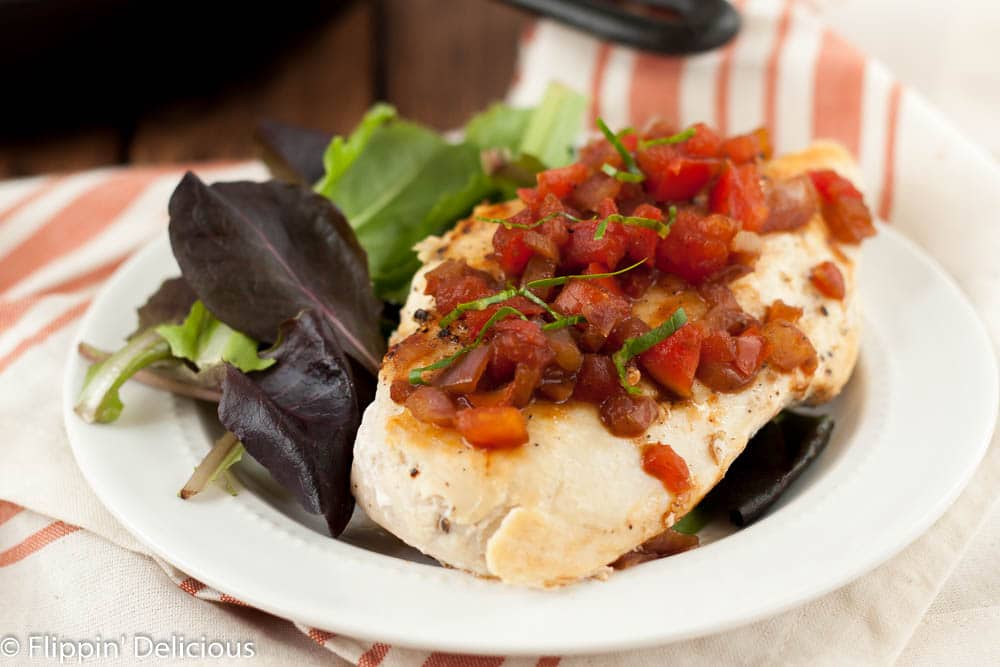 The vinegar that my hubby bought me is pretty good, but a few months later I stumbled into a small tea shop that also sells syrupy aged vinegar and flavored olive oils. I used their fig balsamic in this Bruschetta Chicken Skillet recipe and OMG is it good. You can use a syrupy sweet aged balsamic vinegar or one that is not as thick. That being said, nothing is better than a syrupy aged balsamic. It is definitely worth the extra money for me.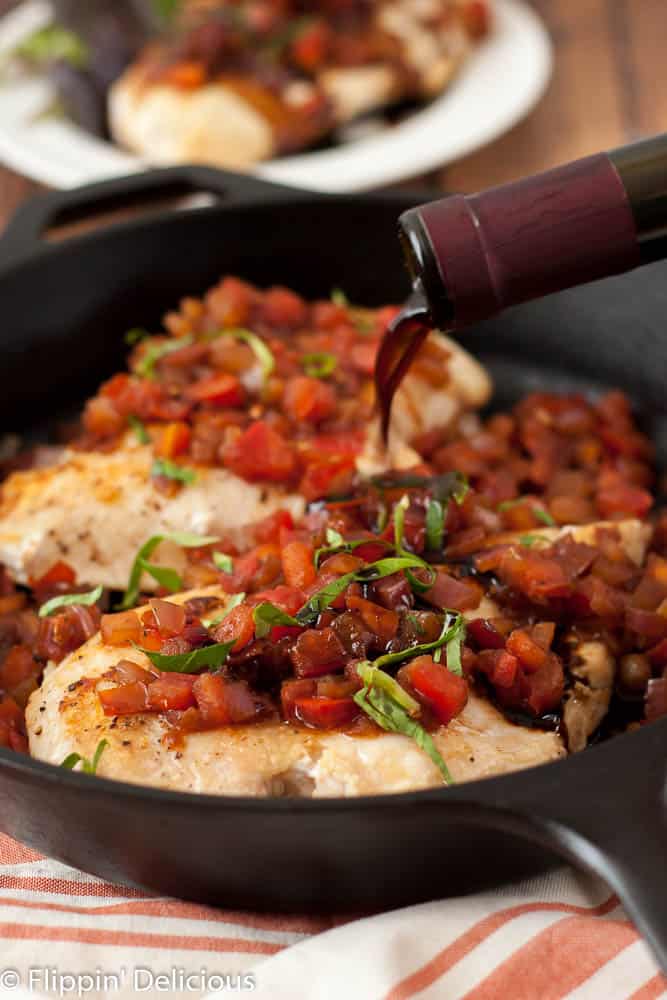 Any who… I am a big fan of balsamic vinegar. Which is one of the reasons why I bug puffy heart this Bruschetta Chicken Skillet. It makes an easy weeknight dinner AND it is naturally gluten and dairy free
You might also like my Dairy Free Gluten Free Baked Ziti Recipe. I just love any excuse to drizzle balsamic vinegar all over things.
I love cooking in my cast iron skillet. It is perfect for "grilling" the chicken without using a grill. After your chicken is cooked through I sautéed onions and tomatoes in my cast iron skillet and then deglazed the pan with… you got it: balsamic vinegar.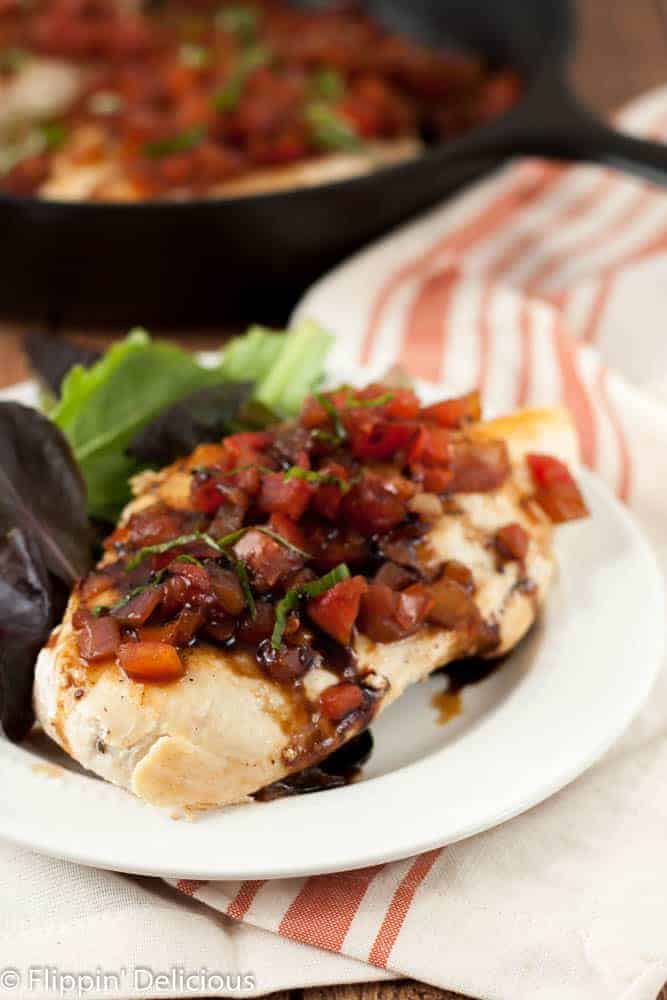 Serve your Bruschetta Chicken with a salad or over pasta for a complete meal.