Step-by-step photos make stacking three layers of gluten free red velvet cake piped with fluffy rosettes a "piece of cake". This gluten free red velvet layer cake will impress! The gluten free red velvet cake is moist, with the traditional hints of cocoa and vanilla. Piped with cream cheese frosting roses, it is absolutely stunning.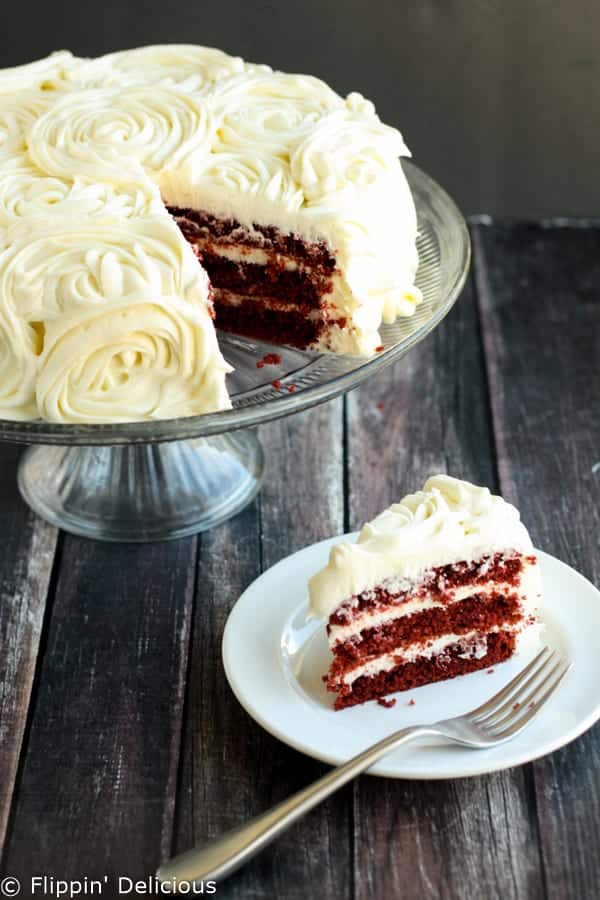 Gluten Free Red Velvet Cake
I've been super excited to share this with you! Layer cakes may seem scary or hard, but they really aren't. There are a few tricks to success but once you try it, it isn't that tricky. It isn't as hard as you'd think to make a stunning layer cake like this, and I'm going to show you how.
I'm a big fan of red velvet cake. I made gluten-free red velvet cupcakes the first Valentine's day that I was married. In my tiny itty bitty apartment. Then I found out my new husband wasn't a fan of cream cheese frosting…
First you start with the cake. Moist gluten-free red velvet cake batter is made with the traditional vinegar and cocoa which lends a reddish-brown hue to the cake. Of course we help the red along with some food coloring to make it more vibrant, but the chemical reaction between the vinegar, baking soda, and cocoa is how the cake got its name.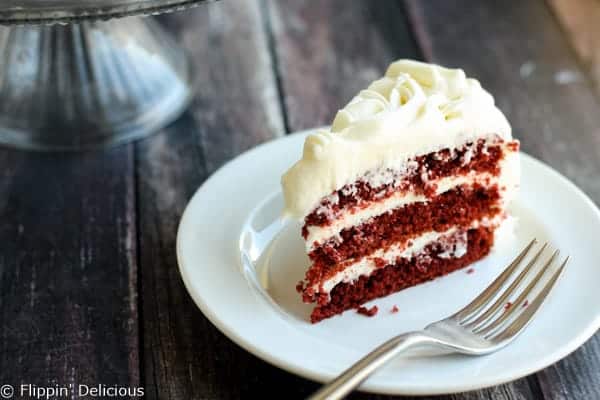 Don't Be Scared of the Layers
I like to bake the gluten-free red velvet cake layers the day before I assemble the cake. That gives them plenty of time to cool. The batter is super easy to make, just measure all the ingredients and mix! I baked it into 3 layers, but you could do 2 if you want.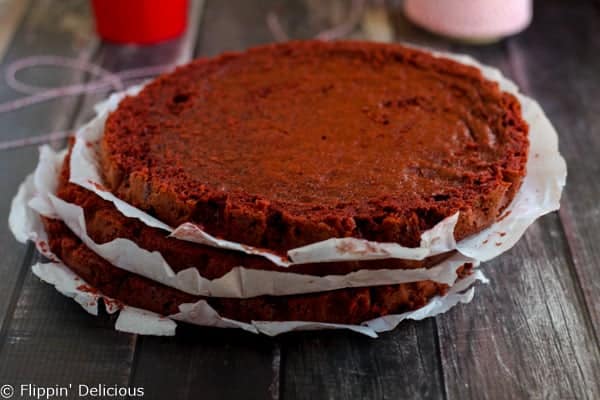 Once they are baked pop them in the freezer to chill, and then trim them to make the top level and even. It is so much easier and less messy to do this if the cake is frozen.
On to the Cream Cheese Frosting
The cream cheese frosting only has 4 ingredients (5 if you count the vanilla.) Super easy to make, you just have to whip all the ingredients together. Whipping the butter and cream cheese first helps to incorporate more air into the frosting, making it creamy and easier to spread.
This cream cheese frosting gave me plenty to frost the cake very liberally and I still had a extra. Better to have extra frosting than not enough! You can use the extra on a few Gluten-Free Red Velvet Mug Cakes. Or if you aren't planning on doing the rose swirls and want a more moderately frosted cake (more cake than frosting) then make the frosting with 8oz of cream cheese, 4 oz of butter, and 24 oz of powdered sugar.
I loaded the frosting into a piping bag with a large round tip to make it easier to apply it to the cake. Place the bottom cake layer on your serving plate and put a big swirl of frosting on the top of the layer.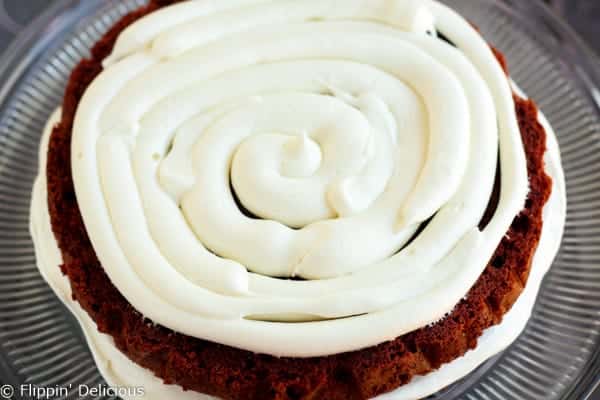 Use a spatula to spread the frosting evenly over the the layer, and out over the edge slightly.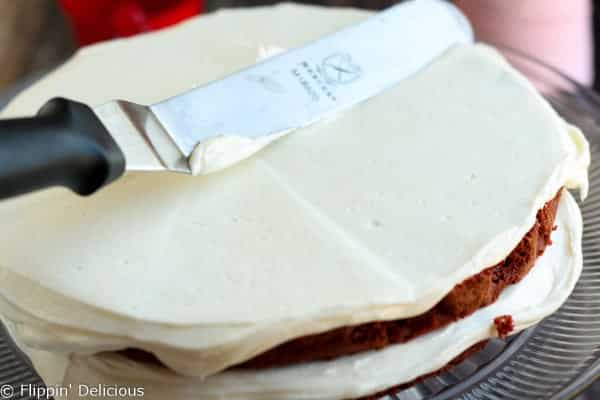 Top with the next layer and repeat. Then repeat again.
Cover the sides using the frosting that you pushed out over the edge. You just need a thin layer, this is your "crumb coat" which prevents crumbs from getting into the finished cake, and helps you to just have a smooth cake canvas to start with. Once your crumb coat is on put your cake in the fridge or freezer for the frosting to set.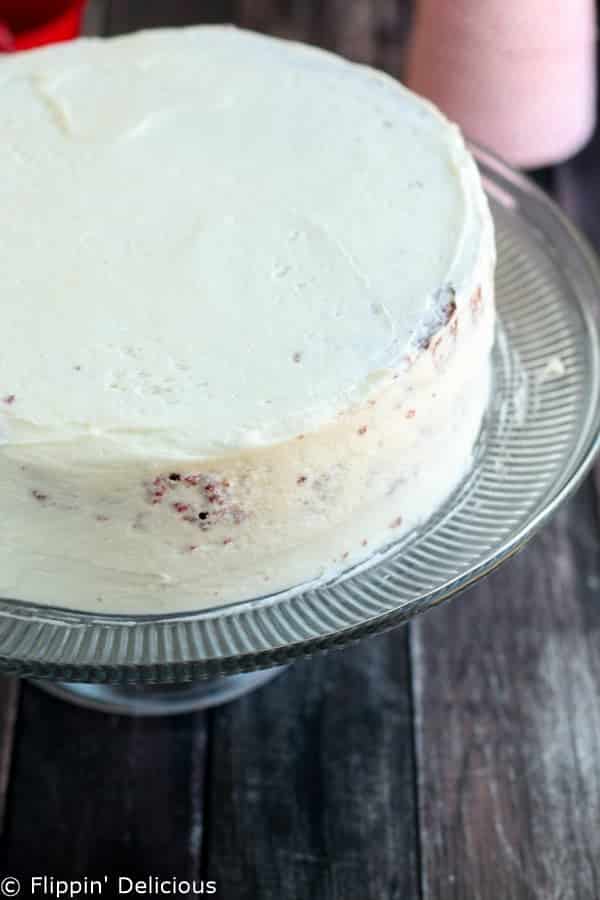 I loaded some more of the frosting into a piping bag with a large drop flower tip. You could also use a star tip.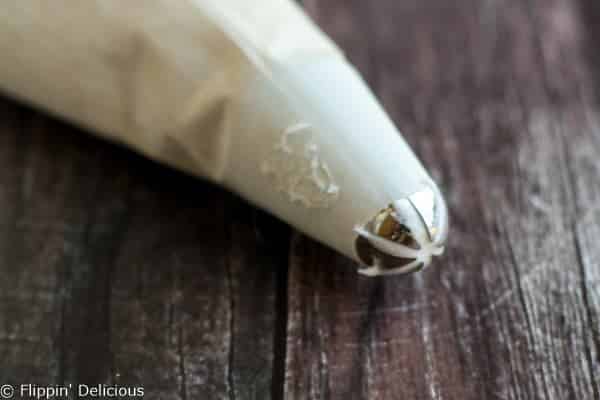 Starting in the center of the cake make the rose swirls. Hold the bag perpendicular to the cake and starting in the center swirl outwards. Continue to make frosting swirls working from the center of the cake….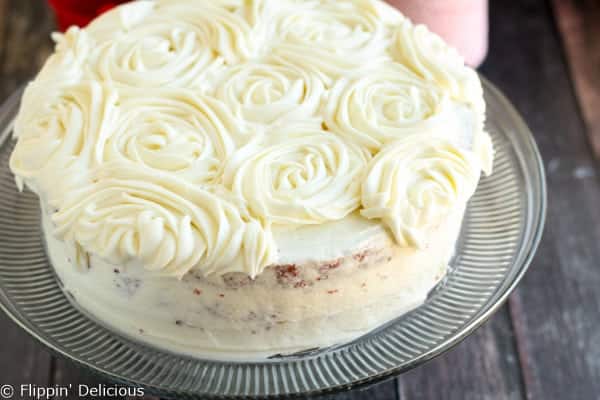 working out down the sides of the cake.
It doesn't have to be perfect! It will taste good no matter what.
The sides of my cake were a mess, but you can't tell. It just looks yum!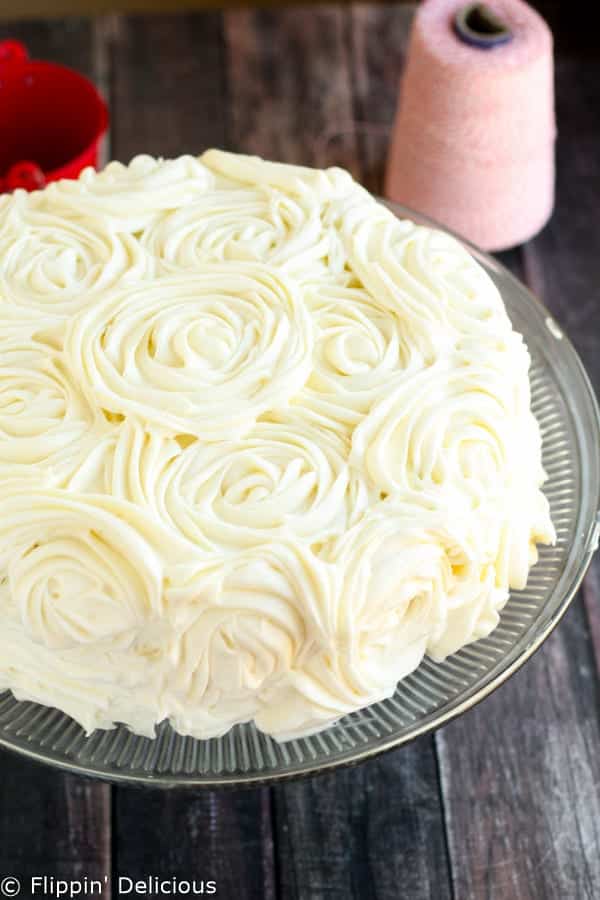 Now Bake your Gluten Free Red Velvet Cake!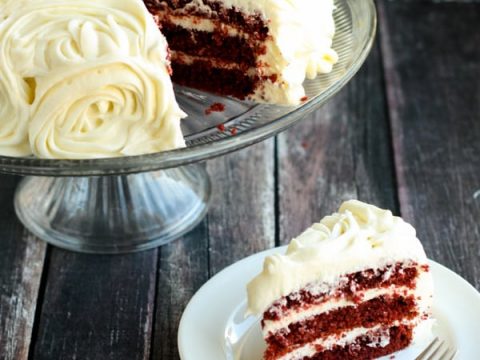 Yield:

Serves 8-10
Gluten Free Red Velvet Cake
Total Time:
1 hour
30 minutes
Moist gluten-free red velvet cake with cream cheese frosting is absolutely stunning! 3 gluten-free red velvet cake layers, filled and frosted with creamy frosting in a romantic rose pattern. The traditional gluten-free red velvet cake is moist with hints of cocoa and vanilla. The perfect "WOW!" dessert for Valentine's Day, or any day.
Ingredients
For the Gluten-Free Red Velvet Cake
3 Tablespoons cocoa powder (0.75 ounces by weight)
1 1/4 cups white sugar (9.5 ounces by weight)
1/2 tsp salt
1/2 tsp xanthan gum (omit if you are using a different flour blend that already includes xanthan or guar gum)
1/2 tsp baking soda
1/2 cup milk
1/2 cup vegetable oil
2 eggs
1 tsp vanilla
1 tsp vinegar
1/2 – 1 tsp red food coloring
For the Cream Cheese Frosting
(2) 8 ounce packages Cream Cheese, softened
(2) 4 oz sticks butter, softened (1 cup)
3 lbs (48 oz) powdered sugar
2-3 Tablespoons milk or cream
1 teaspoon vanilla extract
Instructions
For the Gluten-Free Red Velvet Cake
Preheat oven to 350°F. Lightly grease 3, 9 inch round cake pans and line them with parchment paper.
Mix together all the dry ingredients in a mixing bowl. In a large liquid measuring cup mix together all the wet ingredients. Add the wet ingredients to the dry ingredients and mix until combined.
Divide the batter evenly between the 3 pans (approx 1 cup per pan) and bake until a toothpick poked near the center of the cake comes out clean, about 25-30 minutes.
Cool before frosting with cream cheese frosting.
For the Cream Cheese Frosting
Using a stand mixer or electric hand beaters beat the butter and cream cheese until light and fluffy (5 minutes) add the milk or cream, powdered sugar and vanilla and beat until smooth (additional 3 minutes.)