Easy gluten free blue corn muffins are sweet, tender, with a golden crust. Made WITHOUT all-purpose gluten free flour, and there is a dairy free option.

Gluten Free Blue Corn Muffins
Last month my husband and I took a trip to Ojo Caliente, New Mexico to soak in the famous mineral hot springs. Ojo Caliente is about two hours north of us, so we made a day of it. Before we left, I reached out to the marketing team who offered us a tour, a sock in a private pool and entrance to the springs along with a certificate to use at their on-site restaurant so I could share our experience.
Gluten Free Travel can be a challenge and can even be a bit scary. I often don't know where I'll be able to get a safe meal and have a habit of packing a multitude of safe snacks before I go anywhere. Not only did we relax, I was pleasantly surprised with how knowledgeable the staff at Ojo Caliente is. As always, I asked lots of questions, and they safely preparing gluten free food for me. At dinner, they served gluten free blue corn muffins. I think I asked our server three times if they were really gluten free! As I'm sure you know, there can be a lot of anxiety that comes when you dine with Celiac disease. He assured me that the muffins were indeed gluten free and were made with blue cornmeal and tapioca flour.
My favorite Gluten-Free Eats at Ojo Caliente
Besides the blue corn muffins at The Artisan Restaurant, we also enjoyed some amazing fish tacos (maybe even the best fish tacos I've ever had), delicious trout, and the Ojo Farm salad.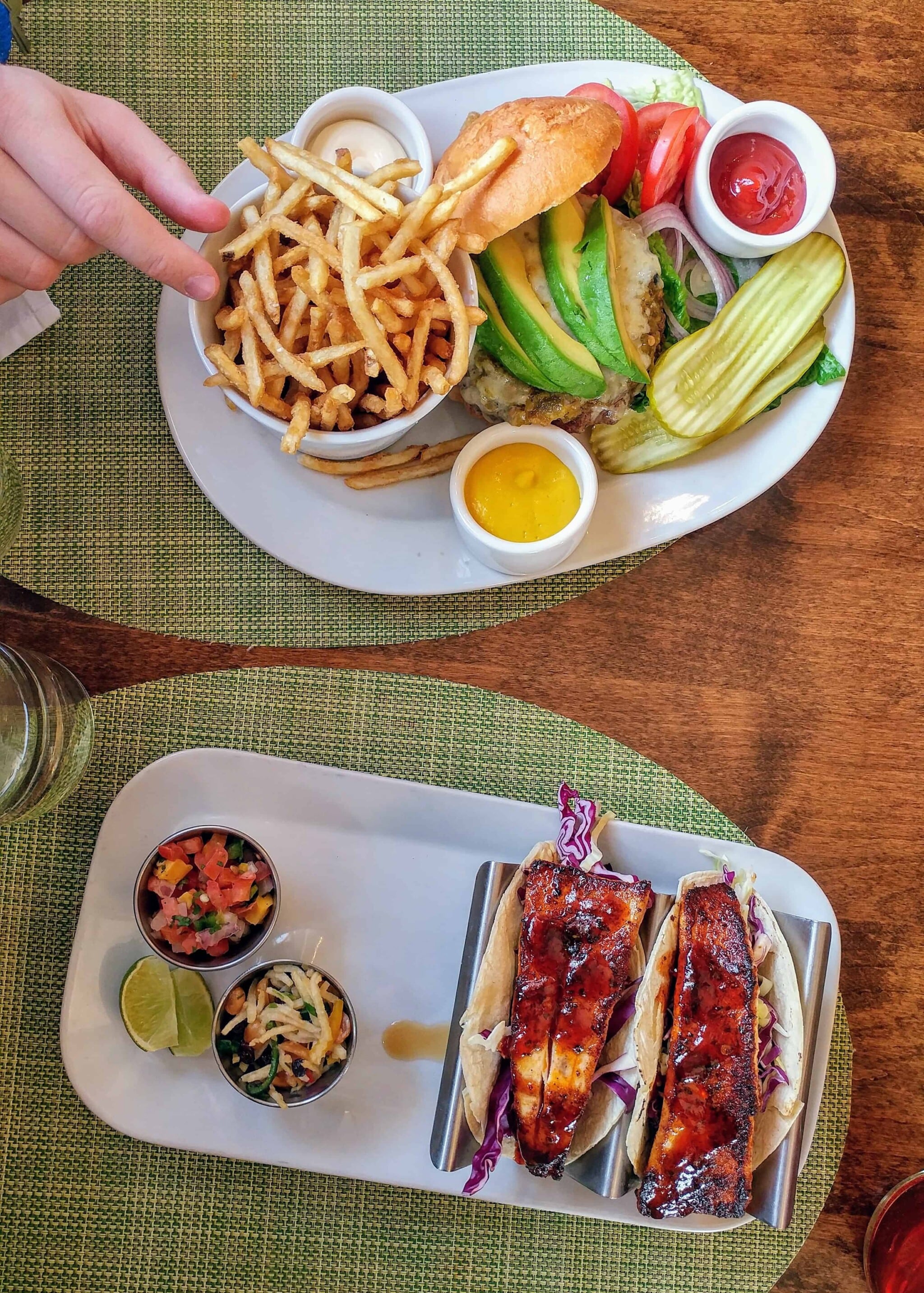 (Those fries go in a shared-fryer, so I didn't eat them. However, the bun on my hubby's burger is gluten-free because if it wasn't, I wouldn't kiss him.)
We visited Ojo Farm
Before dinner, we got to tour the on-site farm where they grow much of their own produce for The Artisan Restaurant. It is still early in the season, but they have lettuce and greens growing in greenhouses. I felt very much like a city girl, oohing and ahhing over the bright green rows of lettuce. They were so pretty!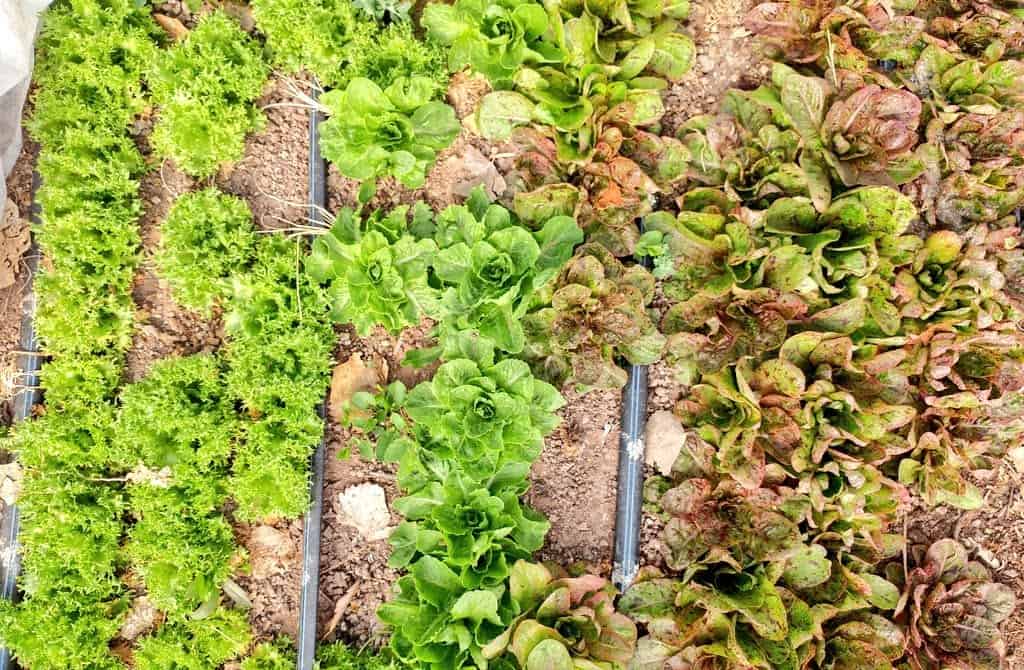 After seeing where the Ojo Farm salad came from, it was a no brainer for me to order it at dinner. Also, the red chile Caesar dressing on the Caesar salad my hubby ordered was delicious.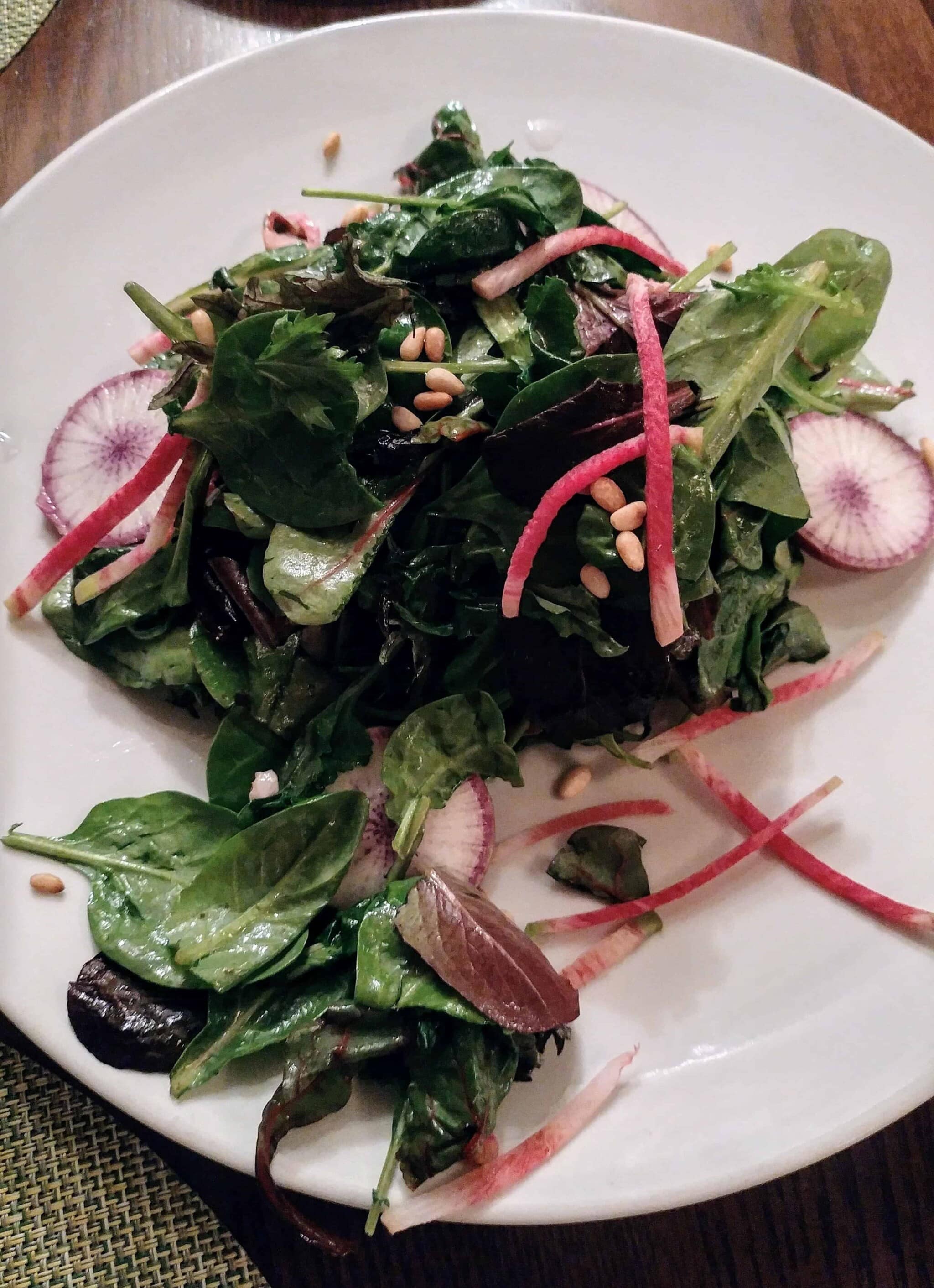 There is a suprising number of gluten free snack options available in the El Mercado gift shop. They even have their own gluten-free granola! (Since I know you'll ask, I confirmed it is made with gluten-free oats but the person I spoke with didn't know if they are purity protocol oats.)
If you want to read more about my gluten-free travel you can read about my family's relaxing gluten free weekend at The Tamaya or about our week eating gluten free on mission beach.
As soon as we got home, I emailed Ojo Caliente and asked if I could get my hands on their gluten free blue corn muffins recipe!
I was ecstatic whenI got an email with a scanned copy of their recipe. Of course, the recipe amounts are scaled for food service, not for a small family kitchen. I didn't need to make a batch of muffins with 16 cups of cornmeal! After a little recipe testing, I scaled back and adapted Ojo Caliente's blue corn muffin recipe so I could make it for my family.
gluten free blue corn muffins success!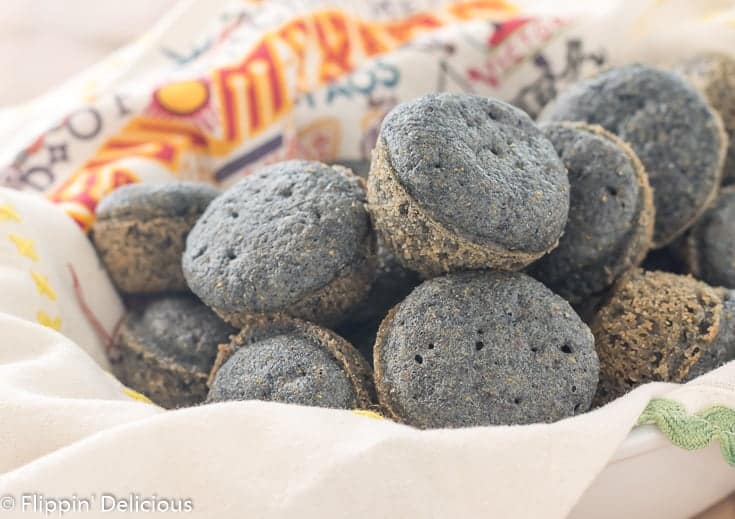 The blue corn muffin batter whisks up quickly, with just a few ingredients. I baked mine in a greased mini muffin tin, just like the muffins that The Artesian Restaurant served.
The batter made better muffins after sitting for a few minutes. The blue cornmeal and tapioca flour soak up moisture the batter thickens slightly.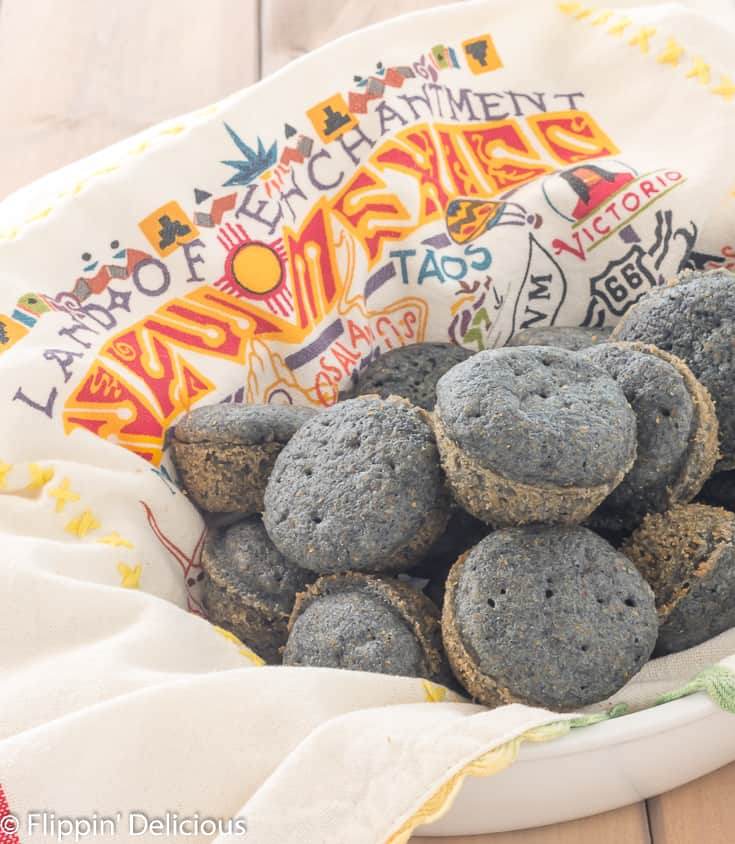 These blue corn muffins were the perfect opportunity to use my New Mexico towel. I only pull it out for special occasions but I just love the way is displays everything awesome in the "Land of Enchantment".
Can you make gluten free blue corn muffins dairy free?
I made my muffins dairy free, but if you can use dairy I would recommend using melted butter instead of the oil. It brings great flavor to the muffins!
Can you freeze gluten free blue corn muffins?
Yes you can freeze gluten free blue corn muffins! A reader commented that they froze extras, and then heated them up before serving and they were just as good!
Where to find blue cornmeal?
I had a little trouble hunting down blue cornmeal locally. If you can't find it in a store near you, you can order it online (I found this blue cornmeal on Amazon) or you can substitute a yellow cornmeal.
I made some chicken noodle soup in my Instant Pot to go with our gluten free blue cornmeal muffins. So yummy! Of course, my kids both ate more corn muffins than soup.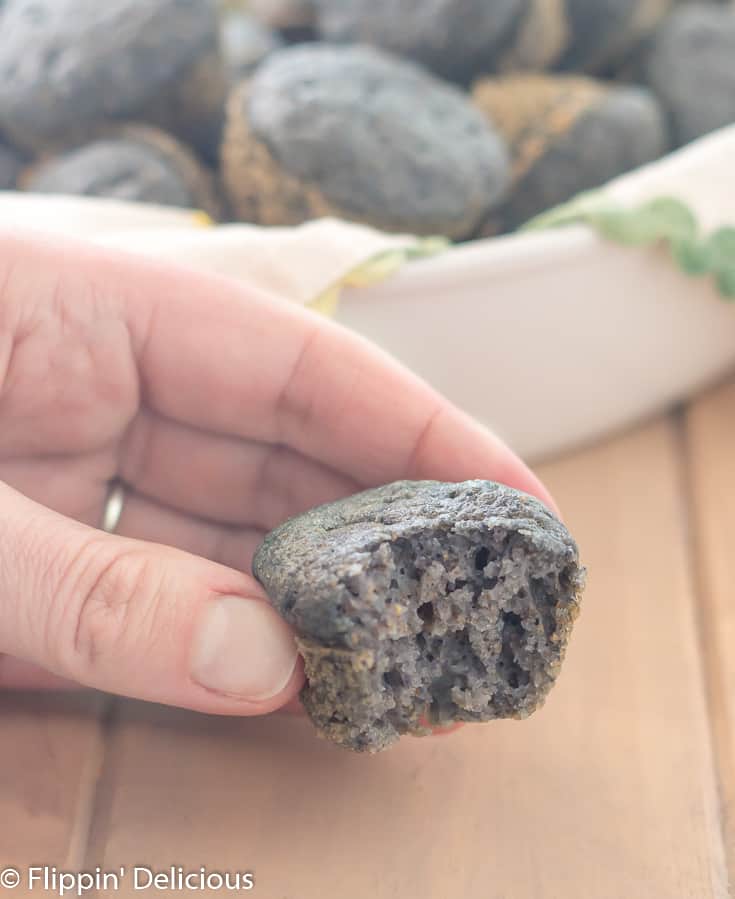 The next time I am daydreaming about our next visit to Ojo Caliente, I'll whip up another batch of these sweet blue corn muffins to tide us over!
Now, bake some Gluten Free Blue Corn Muffins of your own!
📖 Recipe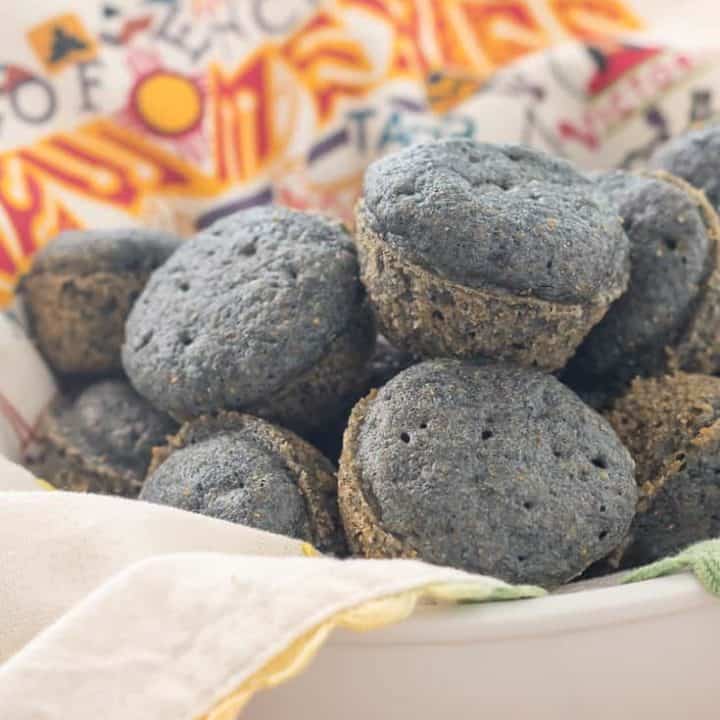 Gluten Free Blue Corn Muffins
Easy gluten free blue corn muffins are sweet, tender, with a golden crust. Made WITHOUT all-purpose gluten free flour , and there is a dairy free option.
Ingredients
½ cup tapioca flour or starch
1 ¼ cup blue corn meal
⅓ cup white sugar
½ teaspoon baking soda
1 teaspoon baking powder
1 teaspoon salt
½ teaspoon xanthan gum
¼ cup oil or melted butter
2 eggs
1 ¼ cup milk (I used almond milk) mixed with 1 teaspoon vinegar to make "buttermilk"
Instructions
Preheat the oven to 400°f and lightly grease a mini muffin pan with cooking spray.
In a mixing bowl, whisk together the tapioca starch, blue corn meal, sugar, baking soda, baking powder, salt, and xanthan gum. Make a "well" in the dry ingredients.
To the "well" add the oil, eggs, and "buttermilk." First whisk the wet ingredients together, and then combine them with the dry ingredients.
Celebrate that you only have one dirty bowl.
Fill each of the mini muffin tins about ¾ full and bake for 10-12 minutes or until a toothpick inserted in the center of a muffin comes out clean.
Let cool briefly before removing from the muffin tin.
Nutrition Information
Yield

36
Serving Size

1
Amount Per Serving
Calories

52
Total Fat

2g
Saturated Fat

0g
Trans Fat

0g
Unsaturated Fat

2g
Cholesterol

11mg
Sodium

111mg
Carbohydrates

7g
Fiber

0g
Sugar

2g
Protein

1g
All nutrition info is a guestimate and will vary depending on the ingredients you use.
Pin it: