Gluten Free Apple Muffins with applesauce and grated apple are perfect for breakfast, an afternoon snack, or tucking into lunch boxes. Quick and easy recipe starting with a gluten free muffin mix!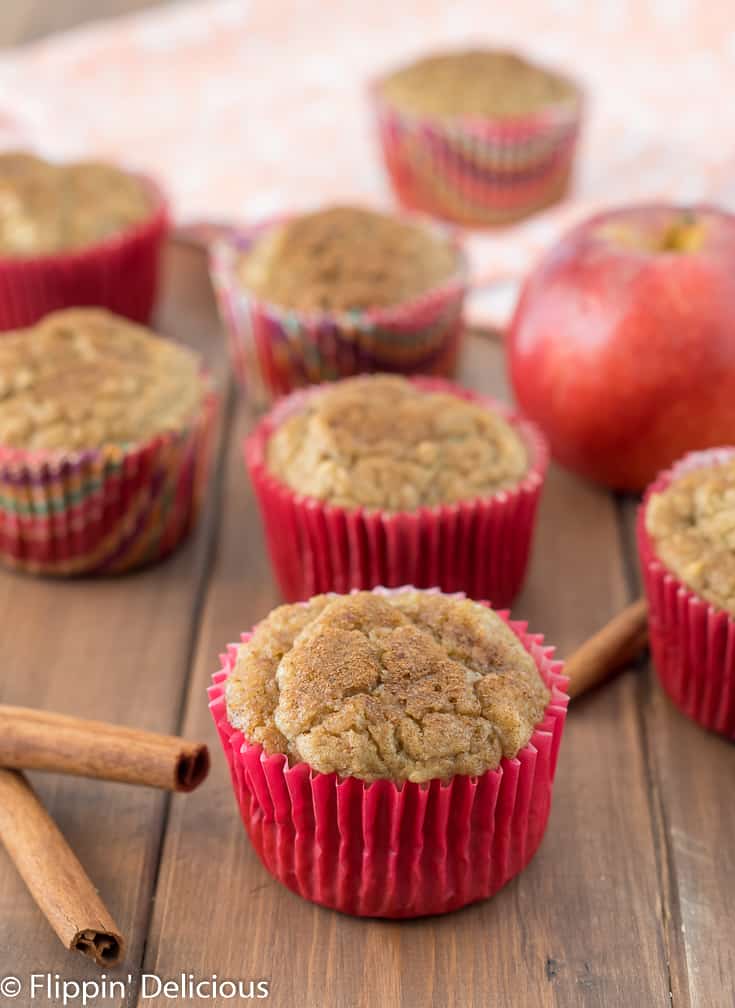 Gluten Free Apple Muffins
Gluten free muffins have become an easy gluten free breakfast solution for our family. I love my almond flour lemon poppy seed muffins and grain free chocolate hazelnut muffins, but they are based on almond flour. While almond flour still works for our family at home, Miss T is in a nut-free preschool!
Since my dad and my sister have tree nut and peanut allergies, I am extra cautious of nut allergies and don't want to feed my kids an almond flour muffin before school. I also can't tuck those muffins in their lunch boxes!
Pro Mom Tip: If you don't already tuck muffins in your kids' lunchbox you should start! It is also a great way to sneak some fruit into your picky eaters!
As school started, I looked for a healthy gluten free muffin to keep on hand for breakfasts (you can also make gluten free waffles ahead of time and store them in the freezer for breakfast on the go.).
Then, I remembered Vivian's Live Again's Ancient Grain Muffin Mix.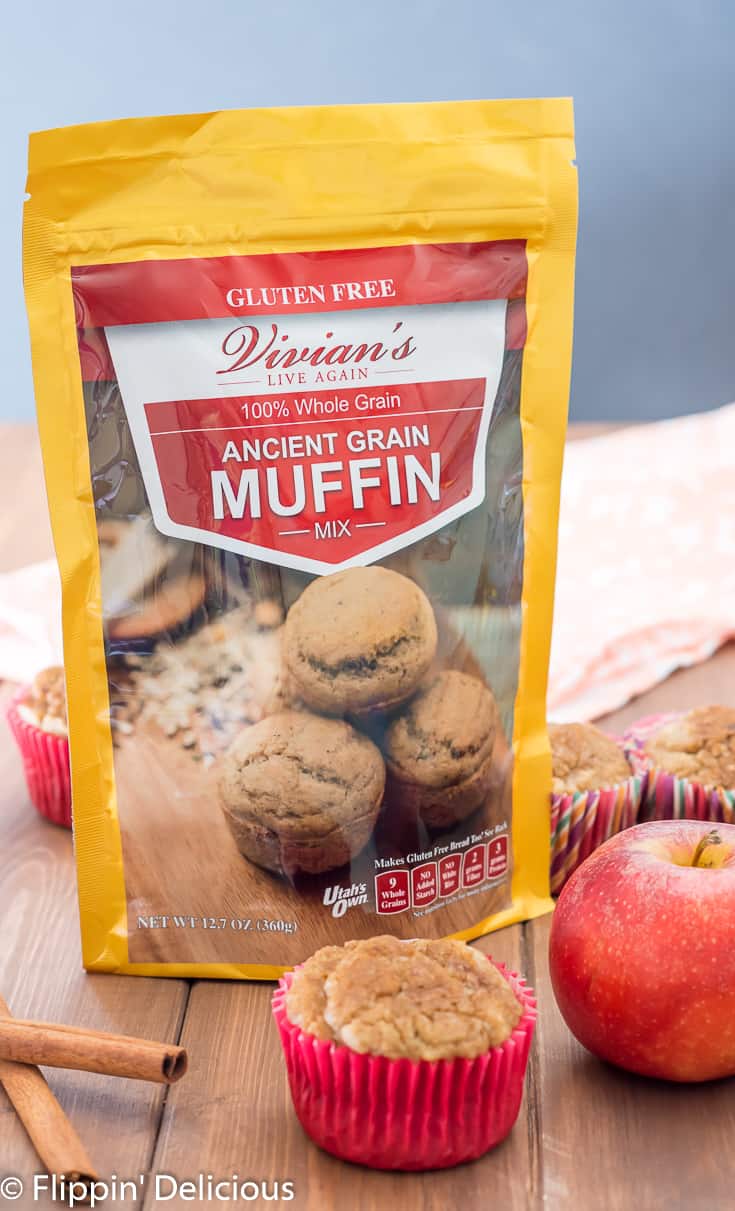 I worked with Vivian's Live Again a few years ago, and created a gluten free pumpkin bread with streusel and a cinnamon swirl. What I loved about their gluten free whole grain muffin mix is that it is really low in sugar for a muffin and their flour is made with 9 ancient gluten free grains.
What inspired these Gluten Free Apple Cinnamon Muffins?
You know me, I always like to add my own twist to things. The crisp breeze of early fall brings memories of picking apples from my piano teacher, Mrs. Losack's, orchard in Corrales NM as a teenager.
Inspired by that memory, I whisked up some muffins that Mrs. Losack would be proud of!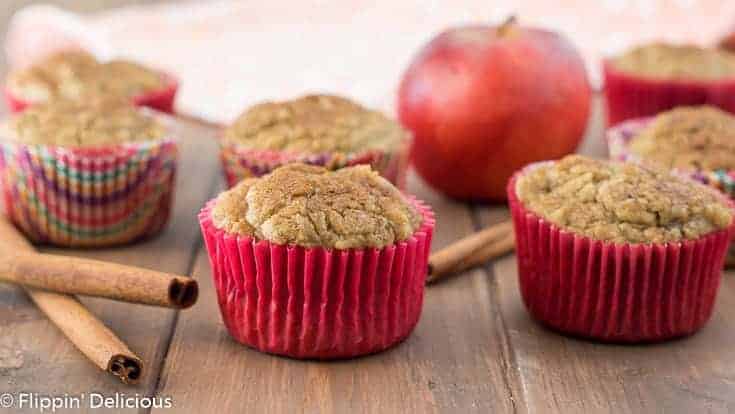 She always thought you should use at least two different kinds of apples or fruit in apple recipes. While I didn't add two different fruits, I did add both apple sauce and a grated apple to Vivian's Live Again muffin mix.
The apple sauce adds great moisture and flavor to the muffins, as does the grated apple. A hint of cinnamon, and they were perfect!
Why should you add grated apple to your gluten free applesauce muffins?
I had just watched an episode of The Great British Baking Show (I'm obsessed!) where the challenge was to make a fruit cake. One issue a lot of bakers had with their fruit cakes was because the cut fruit is so wet, it can greatly change the consistency of the batter and make it hard to tell if your cake (or muffin in this case) is done or now. If your cake tester hits a chunk of fruit it will appear to be underdone, but may not be! By grating the apple, I hoped to have it more evenly distributed and make it easier to tell if the muffins are done.
Grating the apples also made me a sneaky mom! Miss E isn't a fan of anything with fruit, but she happily devoured a toasted gluten free apple muffin because she didn't know it was there!
Because I grated my apple, I left the skin on. More vitamins and fiber for the win! I used the largest shred on my box grater which left just a hint of grated apple. If you use a smaller shred I think it would completely disappear when you baked your gluten free apple muffins!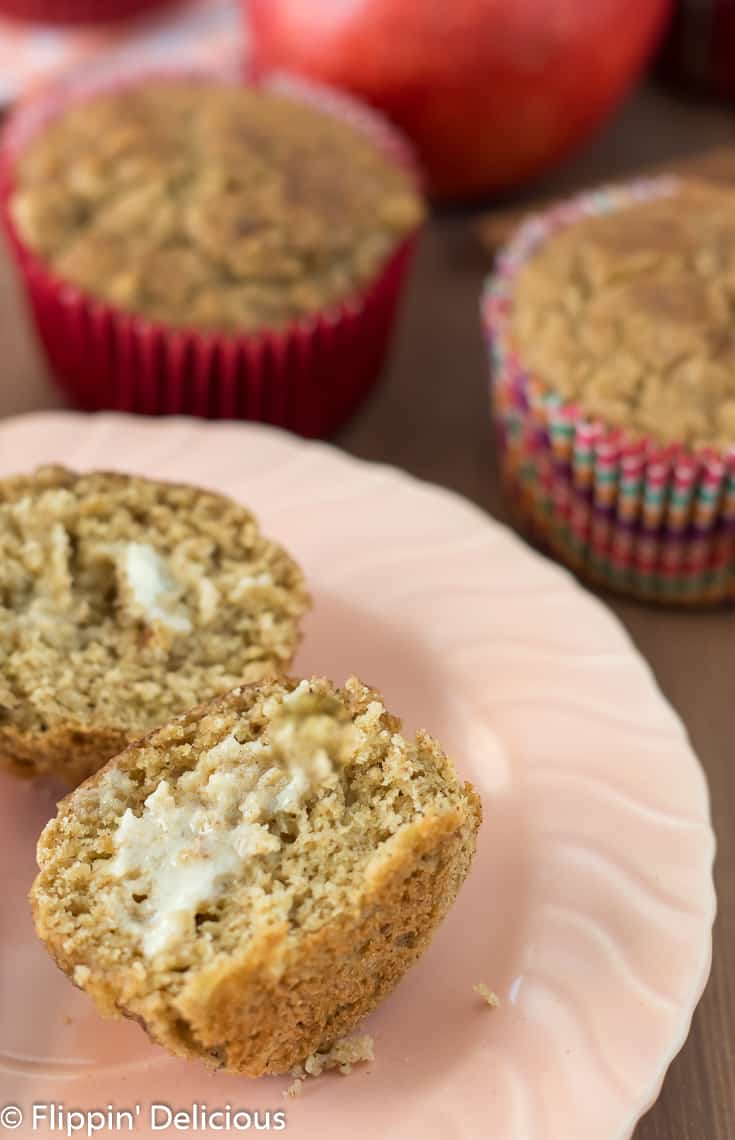 How do you make gluten free apple spice muffins with a muffins mix?
📖 Recipe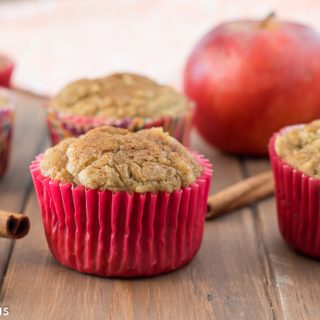 Gluten Free Apple Muffins
Yield:
1 ½ dozen gluten free apple muffins
Gluten Free Apple Muffins with applesauce and grated apple are perfect for breakfast, an afternoon snack, or tucking into lunch boxes. Quick and easy recipe starting with a gluten free muffin mix!
Ingredients
2 tablespoons oil
1 egg
1 ¼ cup water or milk
1 teaspoon vanilla extract
1 teaspoon ground cinnamon
⅓ cup applesauce
1 apple, grated with skin on (I used a Gala apple, because it is my family's favorite apple to eat and I always have one laying around.)
Instructions
Preheat oven to 400°f. Line muffin tin with paper liners, or lightly grease with cooking spray.
Whisk all ingredients together until well combined, about two minutes.
Fill each muffin cup about ⅔-3/4 full.
Bake for 15-18 minutes for mini muffins or 18-22 minutes for regular muffins. When finished baking, a toothpick inserted in the center of a muffin should come out clean AND the muffins should bounce back when lightly touched.
Notes
I grated my apple using the largest shred on my box grater, If you use a smaller shred, I expect it will dissolve completely as it bakes.
You can make your own Whole Grain Muffin Mix to use in this recipe, if you want. Simply whisk together:
2 cups of 9 Grain Gluten Free Flour Blend
⅓ cup sugar
2 teaspoons of baking powder
¾ teaspoons salt
Recommended Products
As an Amazon Associate and member of other affiliate programs, I earn from qualifying purchases.
Nutrition Information
Yield

16
Serving Size

1
Amount Per Serving
Calories

38
Total Fat

2g
Saturated Fat

0g
Trans Fat

0g
Unsaturated Fat

2g
Cholesterol

13mg
Sodium

13mg
Carbohydrates

3g
Fiber

0g
Sugar

2g
Protein

1g
All nutrition info is a guestimate and will vary depending on the ingredients you use.