Almond Flour Lemon Poppy Seed Muffins- bright grain free lemon poppy seed muffins that are low carb, paleo, and keto friendly.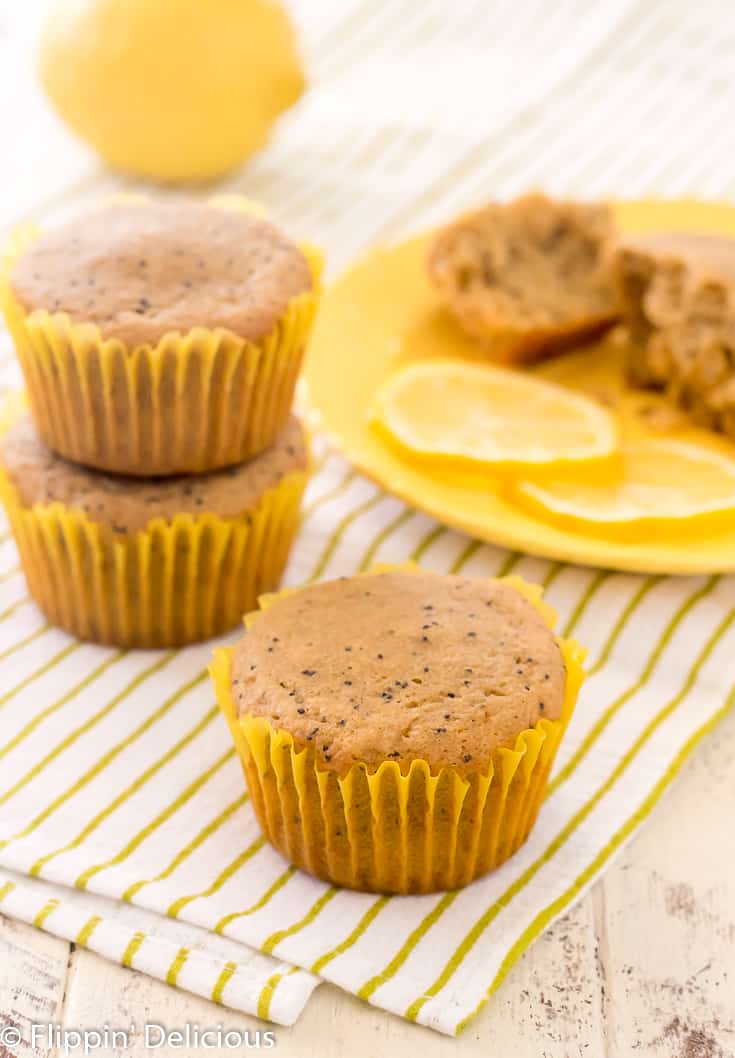 Almond Flour Lemon Poppy Seed Muffins
This spring I've been craving all things lemon. I've already made gluten free lemon crumb muffins and even gluten free chicken piccata. To me, lemon says spring and spring is what I've been craving.
The bright citrus flavors fill my kitchen and waft up to my nose. It makes me feel a warm spring breeze, even when it is cold and blustery outside.
To me, nothing is as quintessential as a lemon poppy seed muffin. The poppy seeds add texture and just look pretty. Like nature's sprinkles!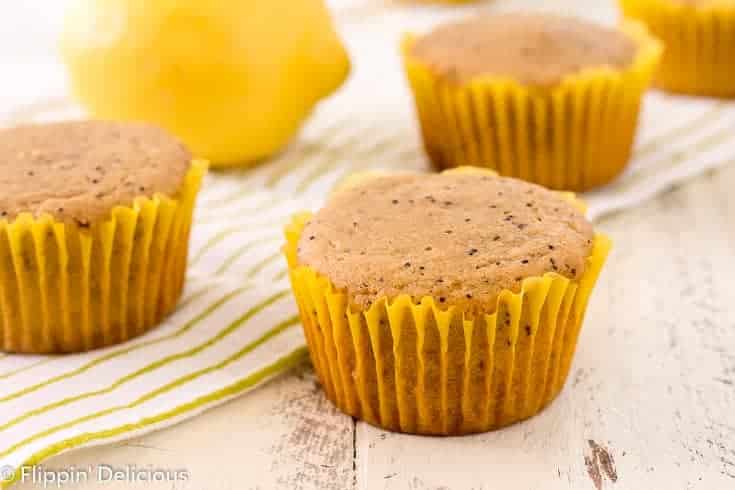 I really amped up the lemon flavor in these grain free lemon poppy seed muffins, because what would the poppy seed muffin be without lemon? I used lemon zest, lemon juice, and a little lemon extract to really bring the lemon flavor home.
I've been looking for lower-carb muffins to eat in the morning. Muffins that won't spike my blood sugar and make me crash just a few hours later.
Plus, muffins go perfectly with my morning latte.
One thing I've been experimenting with is almond flour muffin recipes.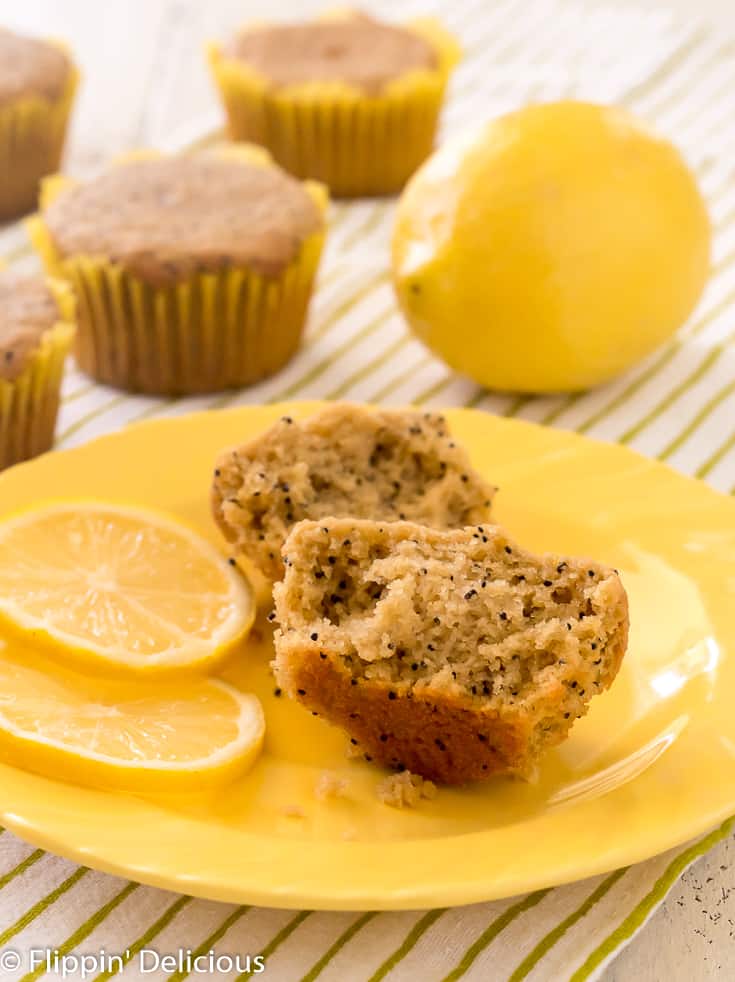 I love that almond flour has more protein and fiber, and a lower glycemic index than many other gluten-free flours.
For this recipe, I would not recommend substituting the almond flour. Substituting a gluten-free flour or coconut flour will not work without making multiple other adjustments, so I do not recommend it unless you want to do some recipe testing and tweaking.
My dear friend Chrystal is the queen of almond flour muffins. She has several versions, but one of my favorites is her paleo blueberry muffins. I'm in love with her grain free double chocolate muffins too, and adapted her recipe to make my own grain free chocolate hazelnut muffins.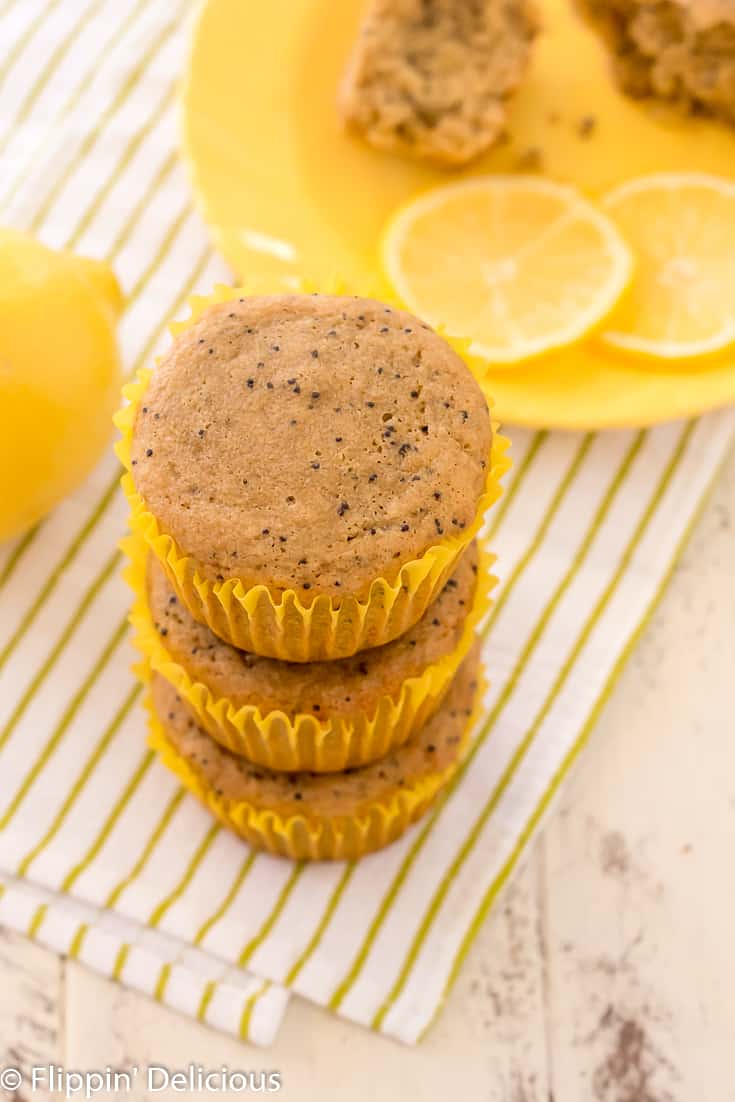 Her recipes usually use maple syrup or honey as the sweetener, which helps to give the almond flour enough moisture so you don't have a dry and crumbly muffin.
I wanted to try and make an almond flour muffin with a granulated sweetener, since that is what most of my readers have on hand.
After a few tries, I nailed the recipe!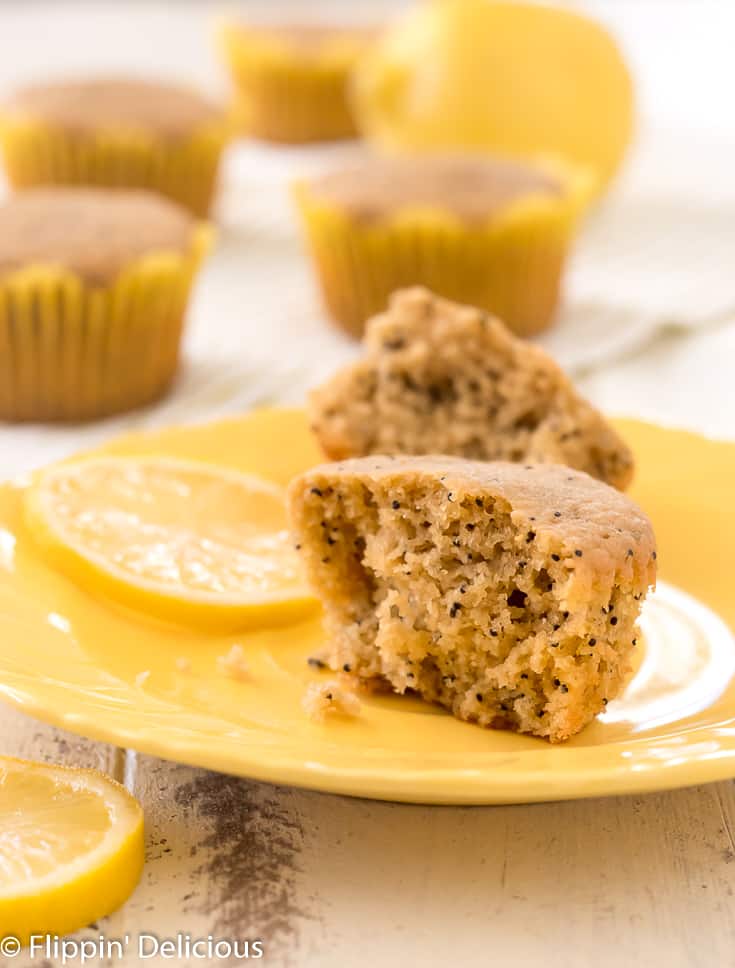 I've sweetened these gluten free lemon poppy seed muffins with a low-carb xylitol sweetener and coconut sugar. Regular white sugar would work too! Depending on the sweetener you choose, these muffins can be paleo, low carb, or keto friendly.
If you are looking for more paleo muffins to switch things up, I think you'll love my friend Erin's Paleo Zucchini Muffins. They are made with almond and coconut flours!
Whether you are eating low carb or not, these paleo lemon poppy seed muffins can be made to fit your diet and to use what is in your pantry (as long as you have almond flour).
Let's bake some grain free lemon poppy seed muffins!
📖 Recipe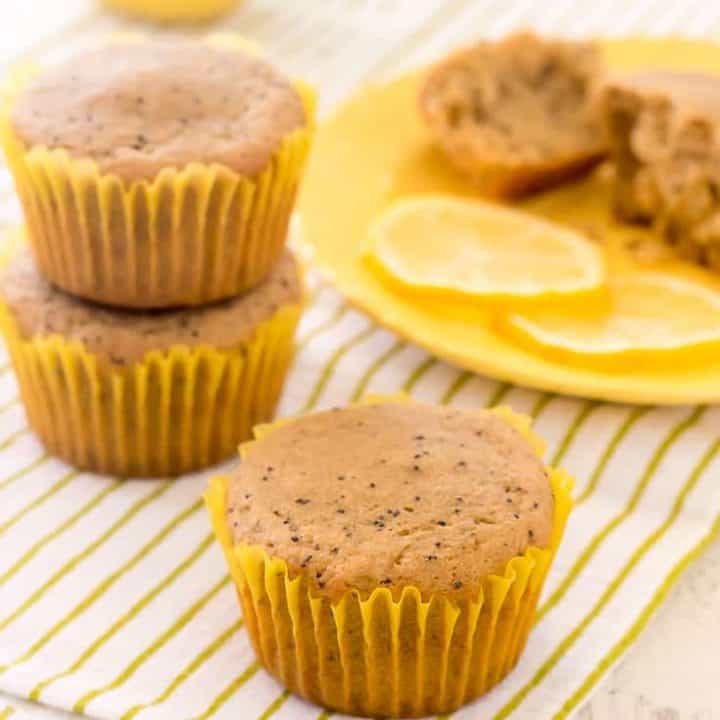 Almond Flour Lemon Poppy Seed Muffins
Almond Flour Lemon Poppy Seed Muffins- bright grain free lemon poppy seed muffins that are low carb, paleo, and keto friendly.
Ingredients
2 cups almond flour
¼ teaspoon salt
½ teaspoon baking soda
⅓ cup coconut sugar (can use a low-carb xylitol based sweetener or regular white sugar)
¼ cup coconut oil, melted and cooled
3 eggs, room temperature
1 teaspoon vanilla extract
½ teaspoon lemon extract (if you have it)
2 tablespoons lemon juice
2 tablespoons dairy-free milk (I used almond milk)
zest from one lemon
1 tablespoon poppy seeds
Instructions
Preheat the oven to 350 °f and line your muffin pan with paper liners, or lightly grease it with cooking spray.
In a medium bowl, whisk together the almond flour, salt, baking soda, and coconut sugar.
In another bowl, whisk together the coconut oil, eggs, vanilla, lemon extract, lemon juice, and milk. Pour into the dry ingredients and whisk until combined. (Alternatively you can make a "well" in the dry ingredients and add the wet ingredients to it. Whisk the wet ingredients together, and then whisk into the dry. One less bowl!)
Add the lemon zest and poppy seeds and stir until combined.
Scoop the batter into the prepared muffin tins and bake for 18-22 minutes.
Nutrition Information
Yield

12
Serving Size

1
Amount Per Serving
Calories

196
Total Fat

15g
Saturated Fat

5g
Trans Fat

0g
Unsaturated Fat

10g
Cholesterol

47mg
Sodium

117mg
Carbohydrates

11g
Fiber

3g
Sugar

6g
Protein

6g
All nutrition info is a guestimate and will vary depending on the ingredients you use.