Gluten Free Blueberry Streusel Muffins are the perfect sweet start to your morning. The streusel crumb topping makes them really special!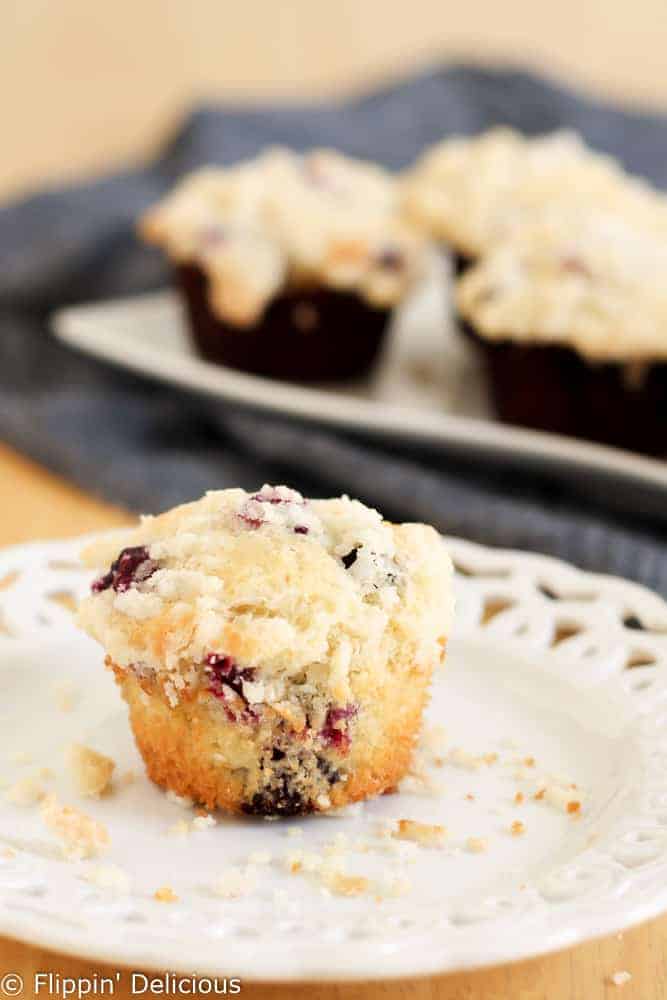 I have had a love affair with blueberries for ages. When I was a teenager, every so often I'd have what I called a "blueberry mood." I was not sad, but instead just was really craving blueberries and felt like wearing a skirt instead of a pair of jeans.
I know, totally random.
I'd make a chocolate blueberry crisp (I've got to get that recipe on Flippin' Delicious soon. That is a great oversight!) and then sit on a bench outside with a good book. And eat the entire crisp by myself. It was just a feel-good, skirt-wearing, blueberry-eating mood.
That crisp I'd make, was basically just gluten-free streusel crumb topping baked on some blueberries tossed in sugar. Super simple!
(If cherries are more your style, I think you'll like these GF Cherry Muffins. The recipe is from my friend Sandi at Fearless Dining, and they are next on my baking list.)
Well I love putting a gluten free streusel crumb topping on all sort of things, like these blueberry muffins. The streusel crumb topping is sweet, buttery and crisp. I just love the texture that it brings to blueberry muffins. It makes them special.
If you are looking for a lower-carb or paleo muffin, My friend Erin of Texanerin Baking has the perfect Paleo Blueberry Muffins for you.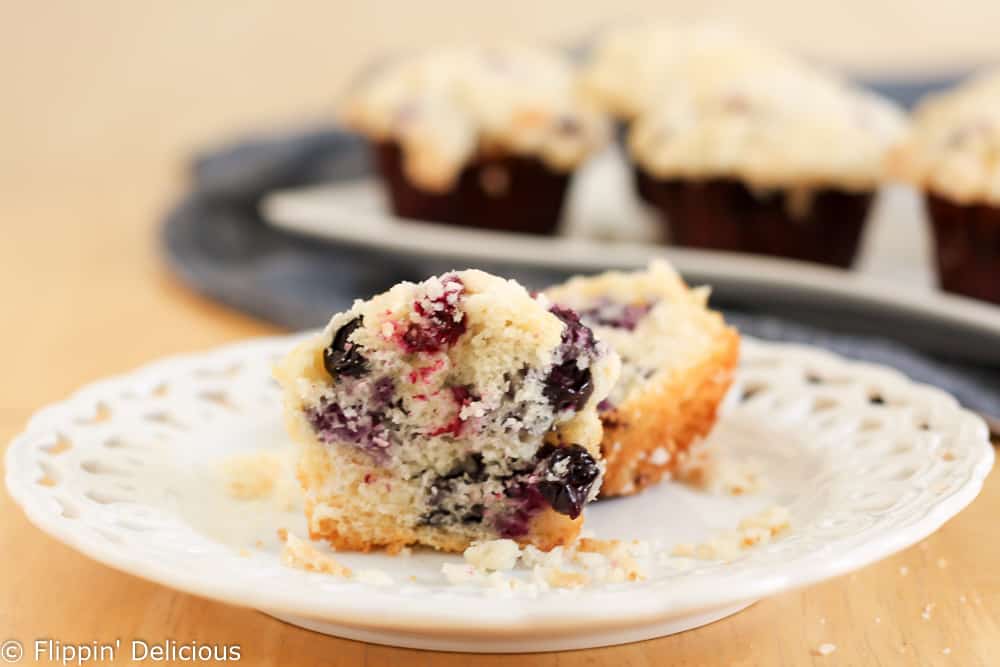 I actually made these muffins and photographed them more than a year ago. A YEAR!
When I had just finished taking the pictures Miss E, my then 2-year-old, helped herself to a muffin, accidentally knocking that pretty white plate onto the flour where it broke into a dozen pieces.
I cried.
It might have partly been the pregnancy hormones, because I was also 7 or so months along with Baby T.
Miss E was so sad that I was so upset. She said "I'll buy you a new plate mommy!" and helped clean it up.
I'm embarrassed to say that I stayed grumpy and mad at her for about an hour. It was not a good parenting moment for me. I think it was one of the first times that I actually got mad at my little girl.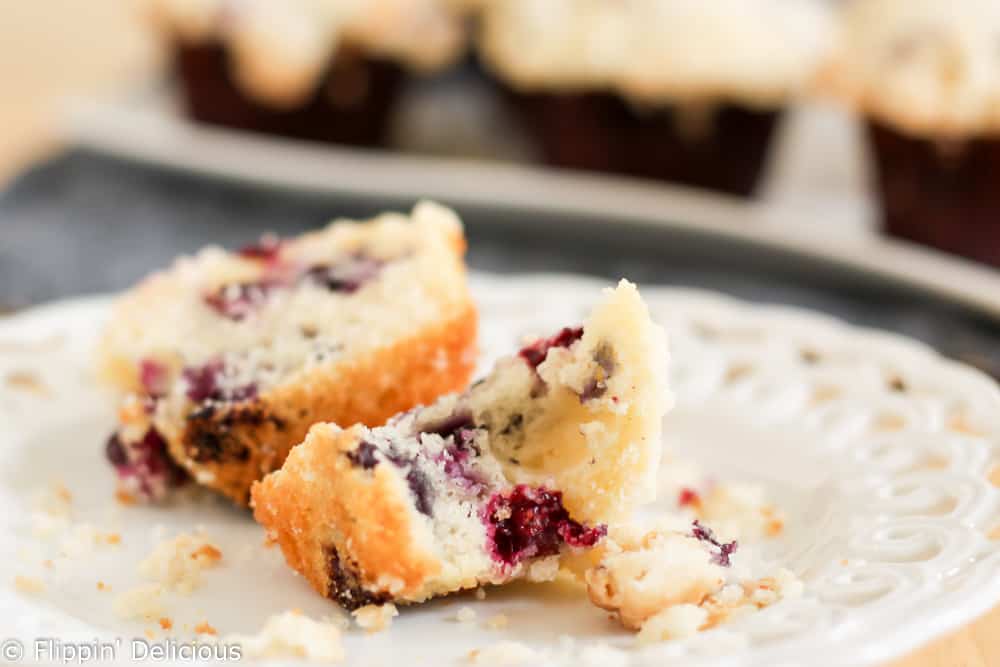 Anyways... these muffins come to you after a great delay and plate smashing adventure. They sure are tasty, I've made them several times in the past year. Winning gluten free blueberry streusel muffin recipe right here!

📖 Recipe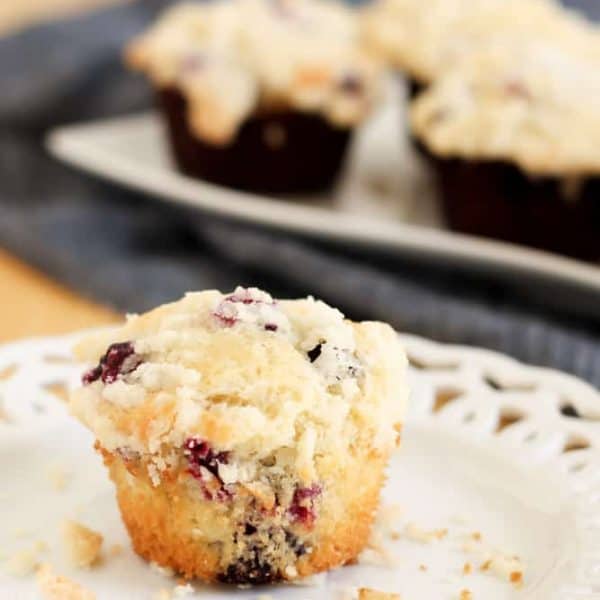 Gluten Free Blueberry Streusel Muffins
Gluten Free Blueberry Streusel Muffins are the perfect sweet start to your morning. The streusel crumb topping makes them really special!
Ingredients
For the Muffins
¼ cup white sugar
¼ teaspoon xanthan gum
¼ teaspoon salt
¾ teaspoon baking powder
¼ cup oil
¼ cup milk of your choice
1 egg
½ teaspoon vanilla
½ cup blueberries (fresh or frozen)
For the Streusel Crumb Topping
¼ cup brown sugar
3 tablespoons butter of your choice (vegan butters will work too)
Instructions
Preheat the oven to 375F.
First make the streusel topping. Mix together the flour and brown sugar. Cut in the butter until crumbly. Set aside.
In a bowl, mix together the flour, sugar, xanthan gum, salt, and baking powder.
Make a "well" in the dry mixture and pour the oil, milk, egg, and vanilla into it. Whisk the wet ingredients together, and then mix it all together.
Stir in the blueberries.
Fill muffin cups lined with paper liners about ½ full of the batter. Top with the streusel crumb topping.
Bake for 22-28 minutes, or until a toothpick comes out mostly clean, with maybe a few little crumbs.
Nutrition Information
Yield

12
Serving Size

1
Amount Per Serving
Calories

197
Total Fat

10g
Saturated Fat

3g
Trans Fat

0g
Unsaturated Fat

7g
Cholesterol

32mg
Sodium

137mg
Carbohydrates

24g
Fiber

1g
Sugar

13g
Protein

2g
All nutrition info is a guestimate and will vary depending on the ingredients you use.