Gluten free cheddar cheese soup with ham is just what you need to warm you up. The days are turning cooler, and we're ready! There's nothing more comforting.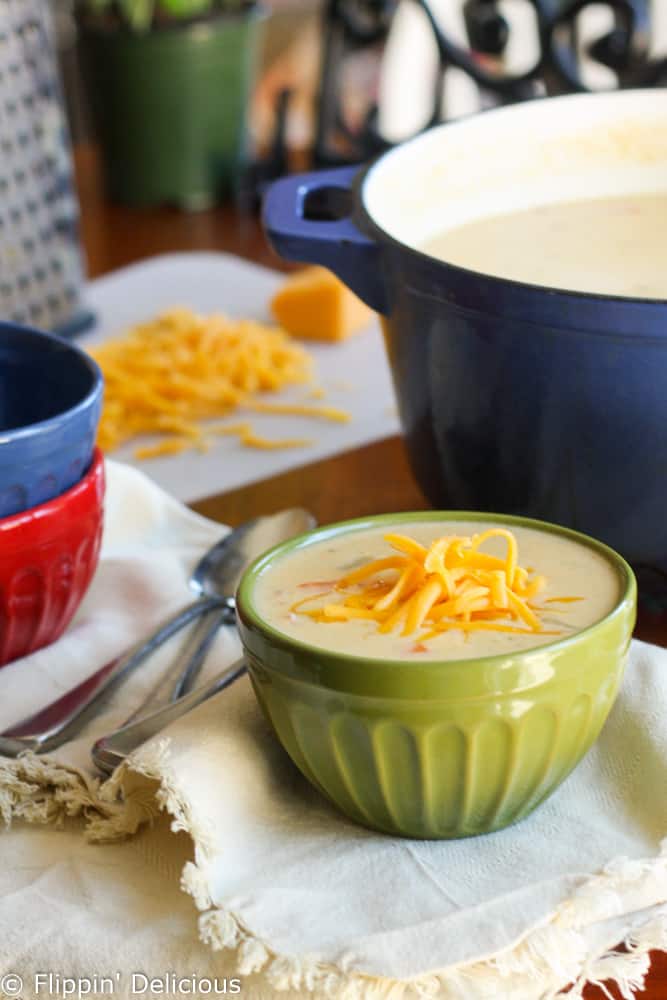 As it is getting closer to fall, I've got soup on my mind. Warm, hearty, cheesy soup!
Thick and creamy and loaded with potatoes, carrots, ham, and my favorite: cheddar cheese.
How to make gluten free cheddar cheese soup with ham?
One tricky gluten free food is soup. It may surprise you, but wheat flour is often used as a thickener in soups.
Especially cream based soups. Often, if you want a nice hot bowl of creamy soup, you have to make it yourself.
I've already tackled gluten-free cream of chicken soup to sub in all of your favorite casseroles.
I've also baked up a warm and bubbly gluten free chicken pot pie with flaky crust.
The next childhood memory I wanted to re-create was a hearty bowl of gluten free cheddar cheese soup with ham.
How do you thicken gluten free soup?
To make creamy soups gluten-free, you simply need to swap the flour for gluten-free flour, rice flour, or cornstarch.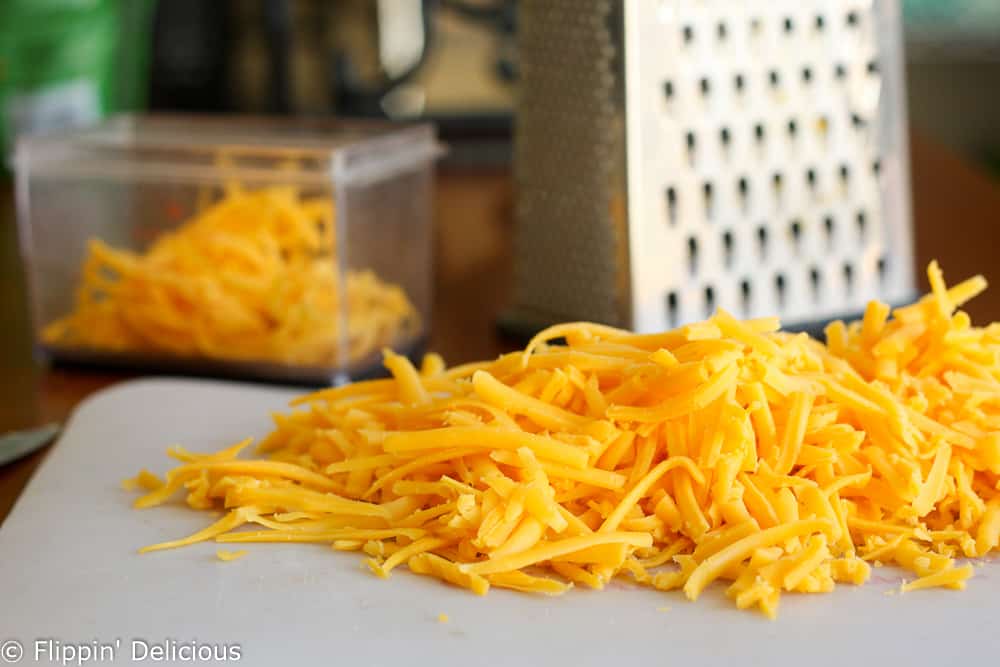 What do you need to make gluten free cheese soup?
To make gluten free cheddar cheese soup with ham you'll need:
Oil, Or butter
Diced Onion- I love using frozen diced onion to save time
Diced potatoes- you can leave the skins on, or peel the potatoes. It is a person reference. I like to use frozen southern style cued hash browns to save time.
Diced carrots- Can use frozen carrots to save time
Cornstarch, Or rice flour- this is how you'll thicken your soup
Gluten Free Ham, Diced- not all ham is gluten-free, but many are. Just red the label closely. This is a great recipe to use leftover Easter or holiday ham.
Salt
Dried Parsley
Chicken Stock, Or vegetable stock
Milk- You can use unsweetened dairy free milk if you'd like.
Half & Half - You can use a dairy free half and half like ripple to make it dairy free.
Grated Cheddar Cheese- You can use vegan/dairy free cheddar style cheese to make dairy free cheese soup.
How do you make gluten free ham and cheese soup?
I like to cook the onions, potatoes, and carrots BEFORE I add the liquid to the soup because then the vegetables can get a little golden brown color on them.
That also gives me a chance to add some cornstarch to thicken the soup up just a tad.
If you prefer to toss it all together and let it simmer to cook your root vegetables, go right ahead.
(I'm thinking about doing this next time I want to make soup in my slow cooker.)
You'll need to whisk the cornstarch in a little cold water and then whisk it into the soup just before you add the cheese and half & half.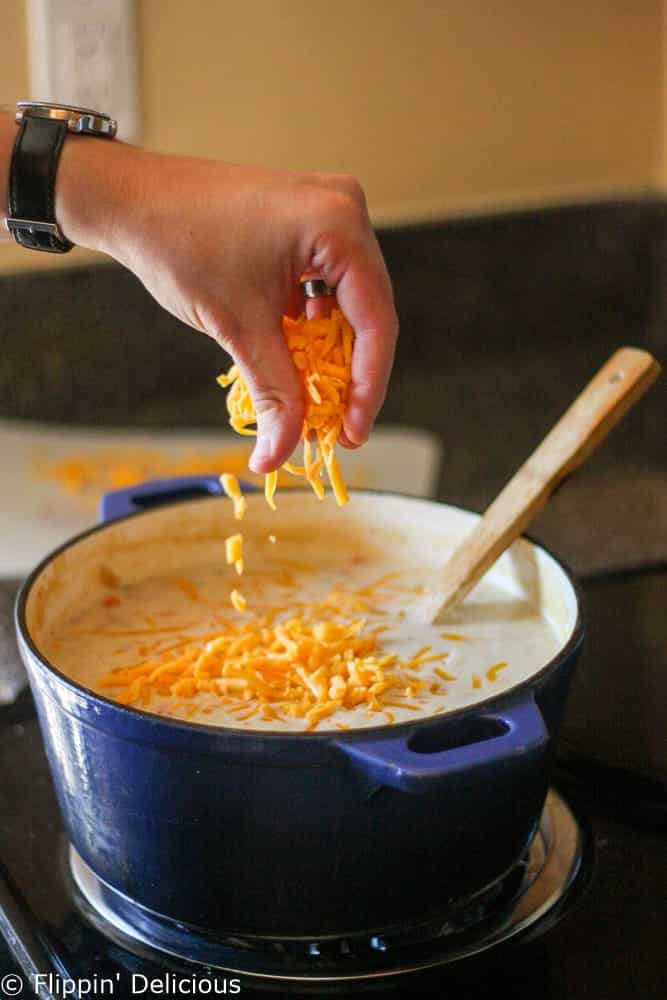 This gluten free cheddar cheese soup with ham recipe makes a huge pot of soup.
It's great if you are serving a crowd or love leftovers. You can also freeze some of it to thaw and reheat later.
If you don't want as much soup just halve the recipe. You'll still have plenty for dinner.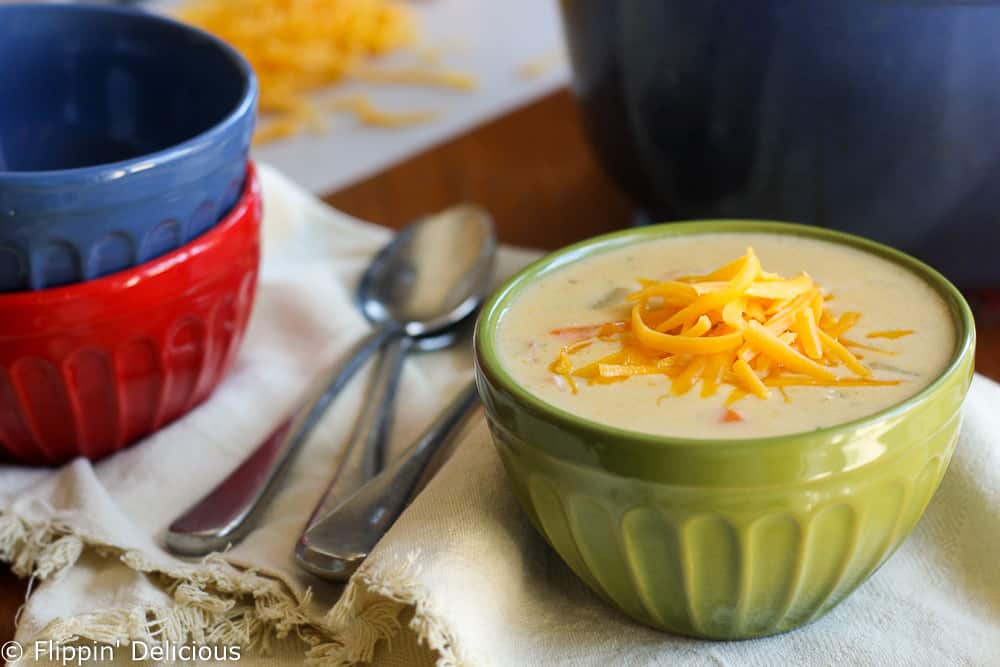 How to make broccoli cheddar soup gluten free?
To make broccoli cheddar soup gluten free, add broccoli with the potatoes and carrots. You can use frozen broccoli or fresh raw broccoli.
Alternatively, add the broccoli closer to the end of cooking time, before adding the cheddar cheese, so it stays more crisp and green.
How to make dairy free ham and cheese soup?
To make dairy free cheese soup, use a few easy recipe substitutions.
Use olive oil instead of butter.
Use unsweetened dairy free milk instead of the milk.
Add dairy free half and half like Ripple, or an unsweetened plain plant based coffee creamer to make it dairy free.
Use plant based Cheddar style Cheese. My favorite brands are Follow Your Heart, Miyokos, and Diaya.
I think most people have had some version of this soup as a child. My first memory of eating cheese soup was for my dad's birthday when I was about 5.
One of my younger sisters was probably about 1 ½ years old. She had a hard time saying her "S"s. Instead of the "S" sound at the beginning of words she would use the "P" sound.
We spent the entire meal trying to get her to say "Cheese Soup" and get it on video. She used the "P" instead of the "S" in soup every time, until she got too embarrassed and wouldn't say anything.
I don't remember what else we did that evening, I'm sure we had some chocolate birthday cake, but I'll always remember that cheese soup.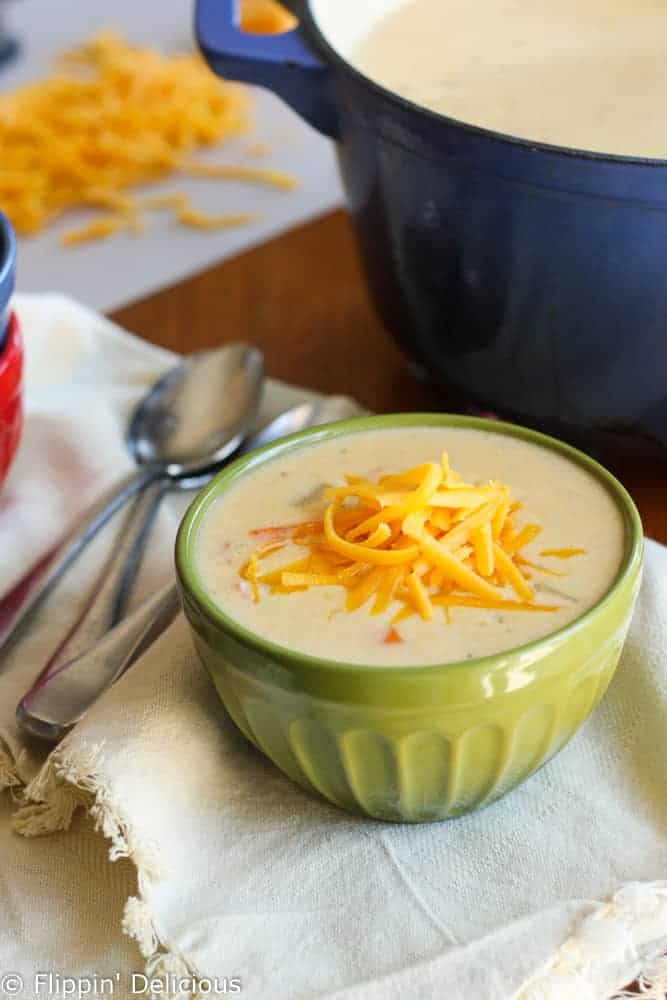 Today, with every spoon of this gluten free ham and cheddar soup, I smile and think of my sister.
📖 Recipe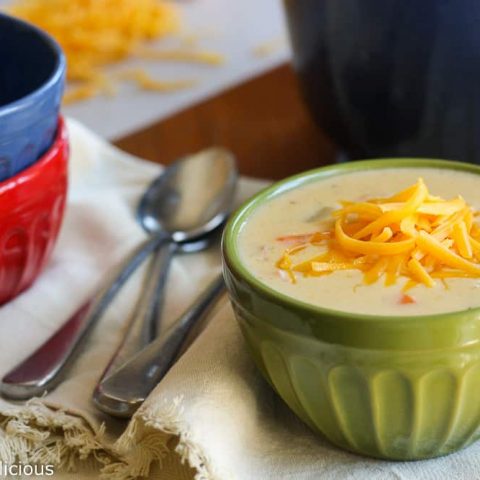 Gluten Free Cheddar Cheese Soup with Ham
Easy gluten free cheddar cheese soup with ham is the perfect comfort food recipe to use up leftover ham. Thickened with cornstarch, this gluten free cheese soup is thick and creamy, and is the perfect gluten free soup for chilly weather.
Ingredients
2-4 tablespoons Oil, Or butter
1 large Onion, Diced, approximately 2 cups
4 Russet Potatoes, Diced, medium to large, approximately 6-8 cups
½ pound Carrot, Diced, about 2-4 small-medium carrots
2 tablespoons Cornstarch, Or 4 tablespoons rice flour
1 pound Gluten Free Ham, Diced
1 ½ teaspoons Salt
1 ½ teaspoons Dried Parsley
4 cups Chicken Stock, Or vegetable stock
2 cups Milk
1 pound Cheddar Cheese, Grated, divided
Instructions
Heat a large heavy bottomed pot over medium. Add enough oil or butter just to cover the bottom of the pan.
Add the onion and cook until it starts to turn translucent.
Add the potatoes and carrots and cook until almost tender, stirring occasionally.
Add the cornstarch and stir and cook for 3-5 minutes. (This cooks the starchy, floury taste out.)
Add the ham, salt, parsley, milk, and chicken broth and bring to a simmer.
Let simmer until thickened, about 2-4 minutes
Removed from heat and add ¾ of the cheese and stir until the cheese is melted.
Stir in the half and half, then serve with the remaining cheddar cheese.
Notes
To make dairy free, use a dairy free/vegan cheese and use Ripple Hal & half or an unsweetened vegan creamer.
Nutrition Information
Yield

12
Serving Size

1
Amount Per Serving
Calories

407
Total Fat

22g
Saturated Fat

9g
Trans Fat

0g
Unsaturated Fat

10g
Cholesterol

70mg
Sodium

1109mg
Carbohydrates

29g
Fiber

3g
Sugar

6g
Protein

23g
All nutrition info is a guestimate and will vary depending on the ingredients you use.