This BIG gluten free club sandwich will definitely satisfy your stomach. With three layers, it makes an epic lunch.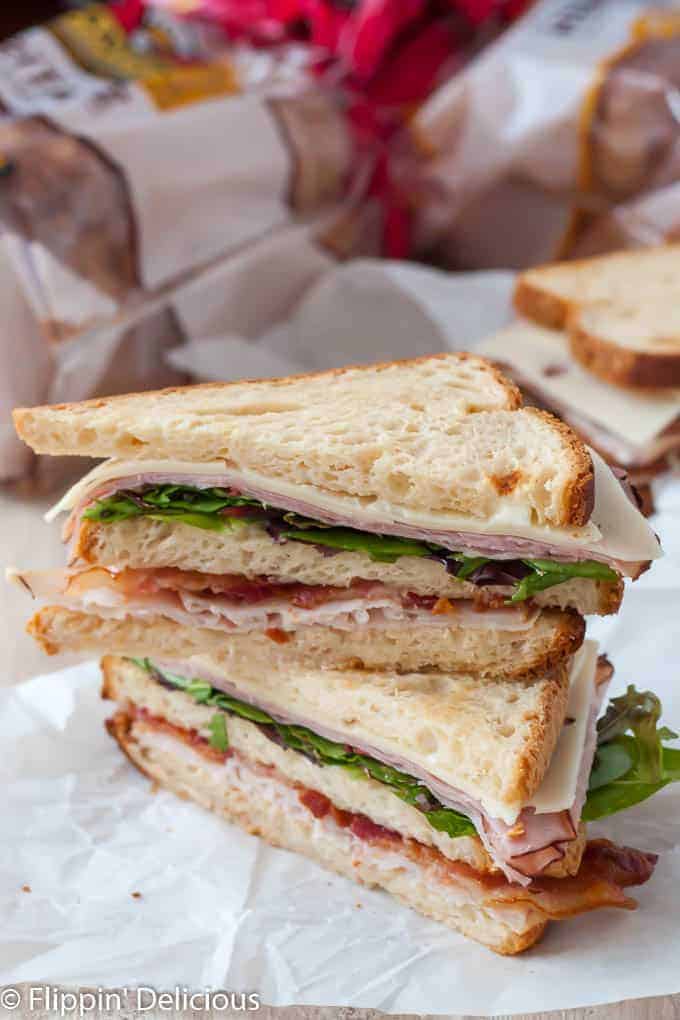 This post is sponsored by Canyon Bakehouse. As always, all opinions are entirely my own. Thanks for supporting Flippin' Delicious™ and the companies that I work with!
There are many woes that come with adjusting to a gluten-free lifestyle. One of them is small bread. Slices of gluten-free bread loaves are often small (almost half the size of its gluten-filled carbilicious counterpart.) Baking gluten free bread that is "normal" sized is very tricky to do without the bread collapsing on itself. Big bread just needs that gluten structure to stay up!
As many of you know, I am a big fan of Canyon Bakehouse. I love their bread (and brownie bites) and often sing its praise from the rooftops of my little piece of the internet. Well, I'm singing even louder now because they have a #WideLoaf!
No more puny sandwiches. No more tiny toasts. Big. Bread.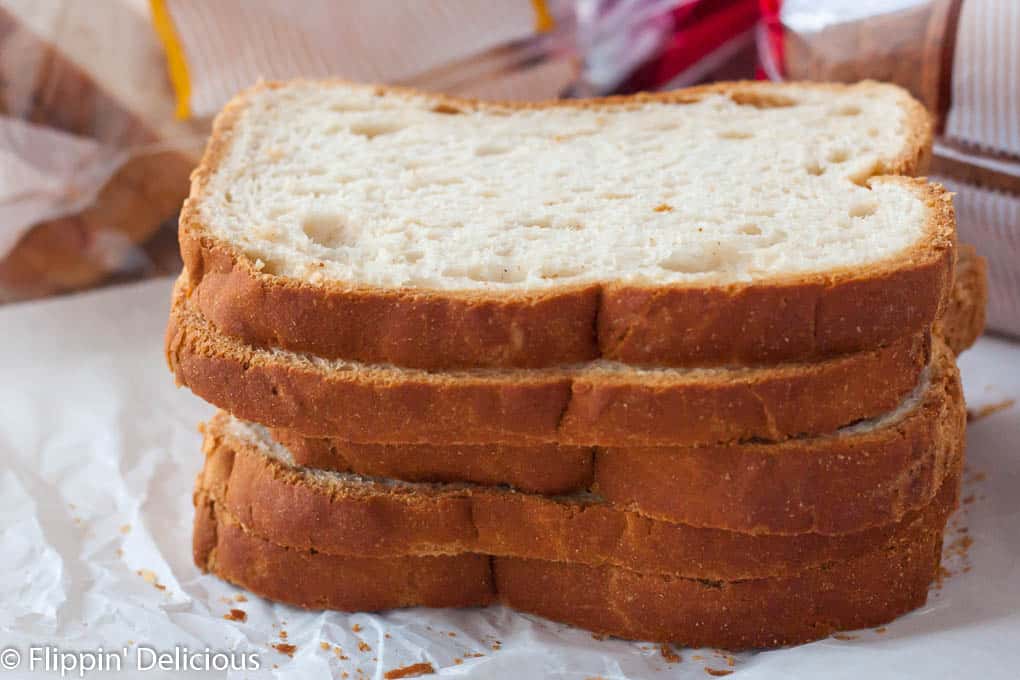 So that you can eat just one sandwich again.
...you would make yourself 2 sandwiches for lunch too....right?
The first thing I wanted to do when I got Canyon Bakehouse's new Gluten Free Heritage Style loaves in the mail was to make a gluten free club sandwich. A club sandwich was one of my favorites to order when I worked at Jason's deli (and ate gluten.) Why? Because the simple flavors just shine when the sandwich is made well.
I figured if I had my hands on epic big gluten free bread, I needed to make a epic big gluten free club sandwich.
So I made the biggest sandwich that I could!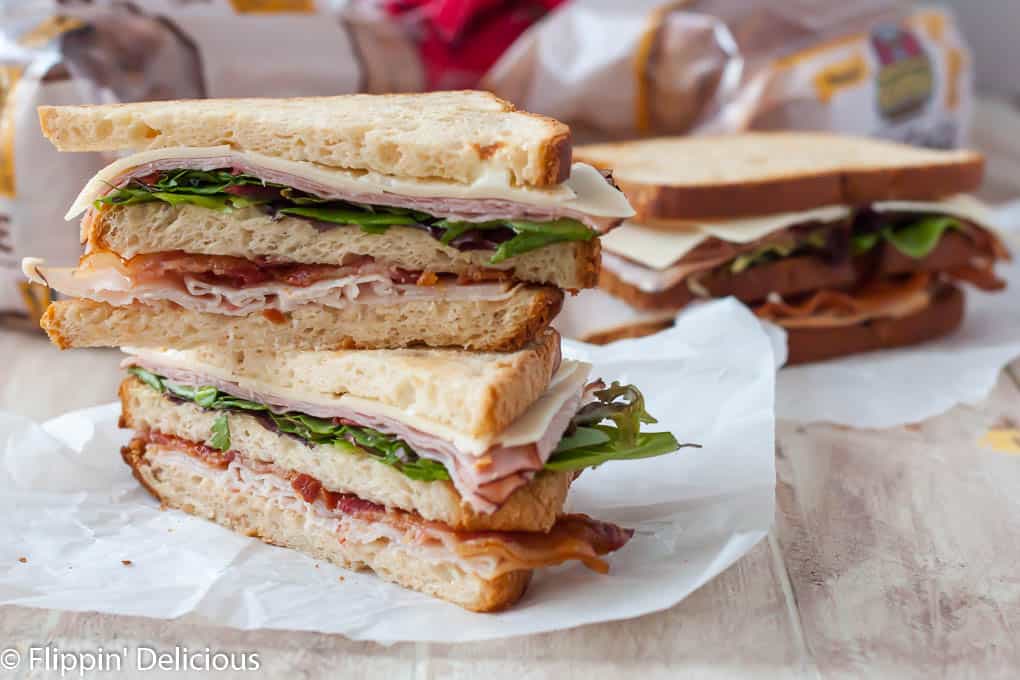 What do you need to make a gluten free club sandwich?
Gluten free Bread
Mayo (or mustard or another dressing if you prefer)
Crisp bacon (you could even use turkey bacon, if you like)
Sliced turkey deli meat (I prefer mesquite smoked, but any gluten free turkey deli meat will work)
Sliced ham (I like black forest, but feel free to use your favorite sliced ham)
Greens (I used Spring Mix but you could also use spinach, arugula, or romaine)
Sliced Cheese (I love swiss, and it is the classic club sandwich cheese, but you can use your favorite)
This gluten free club sandwich was a meal in a way that it couldn't be on small bread.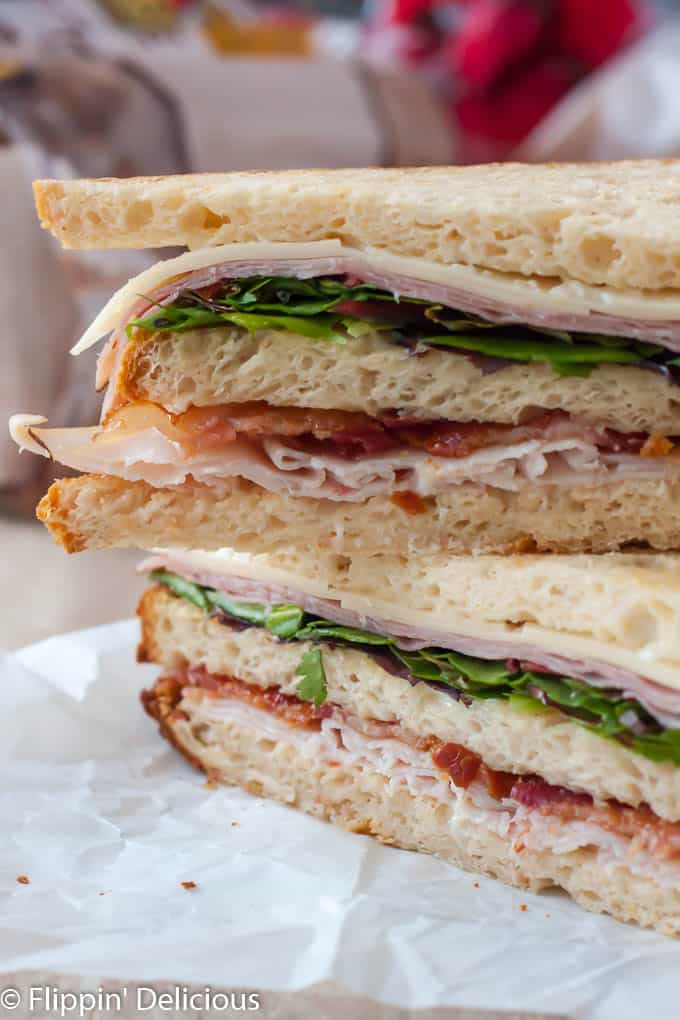 The new wide loaf was thoroughly enjoyed by my hubby and little girls but was also noticed by our daycare provider. I sent the girls with sandwiches on the Heritage Style Honey White for lunch and she was surprised to see gluten free bread that looked "normal.""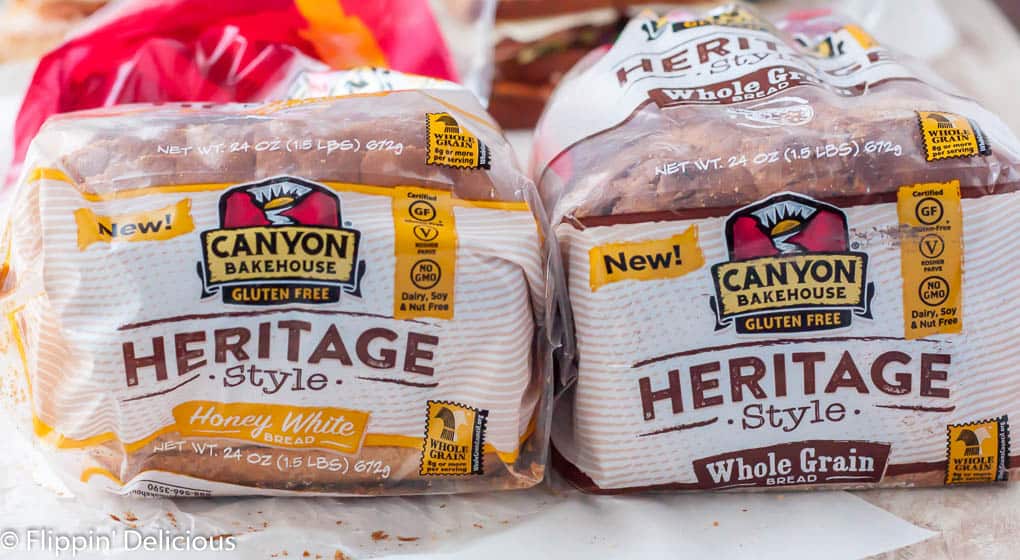 Canyon Bakehouse's Heritage Style Bread is available now in Target nationwide, and will soon be available to order online. It will also be in Whole Foods and Sprouts very soon (around February). In addition to being huge, it is also certified Gluten Free, whole grain, non-GMO, free from dairy, nuts, soy, sesame. I can't wait to use it to make gluten free sandwich sushi, gluten free pizza grilled cheese, and gluten free buffalo chicken grilled cheese dippers.
📖 Recipe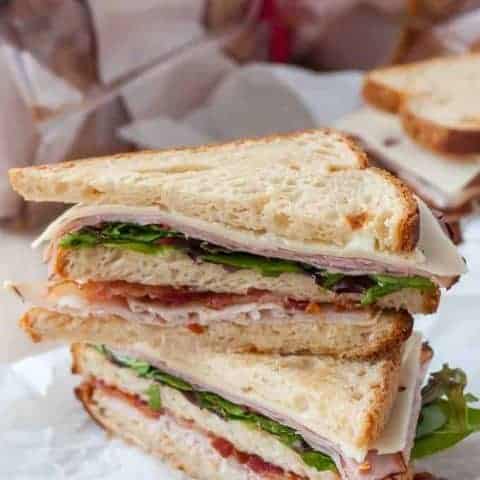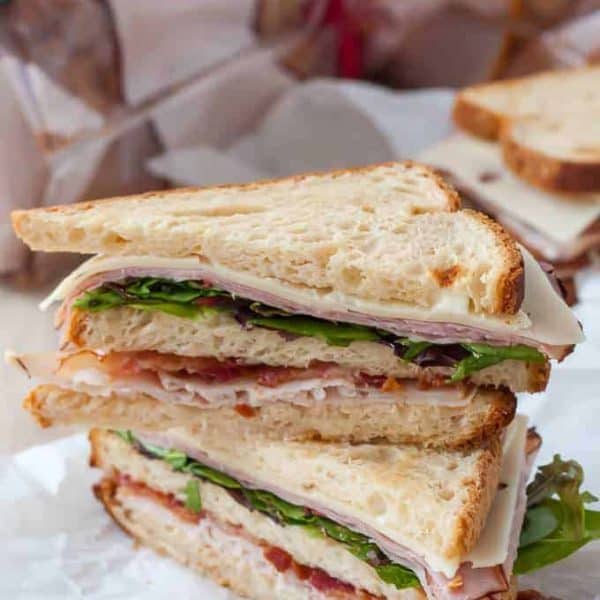 Gluten Free Club Sandwich
This BIG gluten free club sandwich will definitely satisfy your stomach. With three layers, it makes an epic lunch.
Ingredients
3 slices Canyon Bakehouse Heritage Style Gluten Free Bread
1 tablespoon Mayo
2 slices smoked turkey deli meat
2 slices bacon, cooked
2 slices black forest ham deli meat
handful spring mix or other lettuce/greens
2 slices swiss cheese
Instructions
Lightly toast the bread.
Lightly spread one side of the toasted bread with mayo and top with turkey and bacon. Top it with another piece of bread with mayo spread on BOTH sides.
Layer spring mix, ham, and swiss followed by another piece of bread spread with mayo.
Cut in half on the diagonal and take a big bite.
Nutrition Information
Yield

1
Serving Size

1
Amount Per Serving
Calories

718
Total Fat

45g
Saturated Fat

17g
Trans Fat

1g
Unsaturated Fat

24g
Cholesterol

145mg
Sodium

2375mg
Carbohydrates

28g
Fiber

3g
Sugar

7g
Protein

49g