Gluten-Free Peppermint Snowball Cookies are buttery, crisp peppermint cookies with crushed candy canes inside all rolled in sweet powdered sugar. Perfect for the Holidays!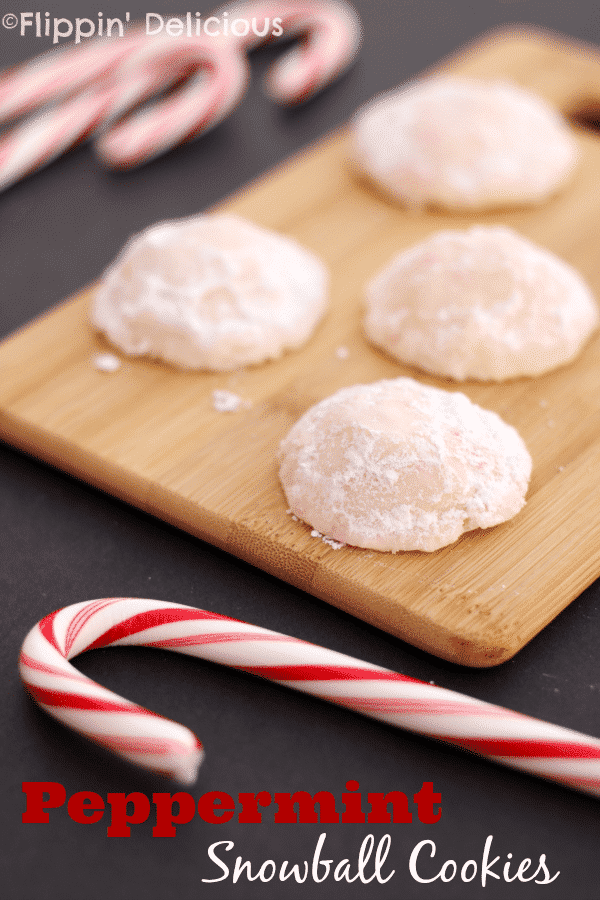 I have a special place for Snowball Cookies in my stomach. Whatever you call them, Snowball Cookies, Mexican Wedding Cookies, Russian Teacakes. I remember making them with my mom, just like she made them with her mom. I still remember standing on a a chair in our tiny kitchen in our town house, the first home that I remember. I remember my mom helping me to roll the still hot cookies in powdered sugar, being careful to not burn our fingers.
I took my mom's traditional Snowball Cookie recipe, but instead of adding chopped nuts like I normally do, crushed some candy canes and mixed them in. The results are buttery sweet cookies with a bright peppermint flavor. The crushed candy canes soften when they are baked into the cookies and they add a pleasant chewy-crunch to each bite.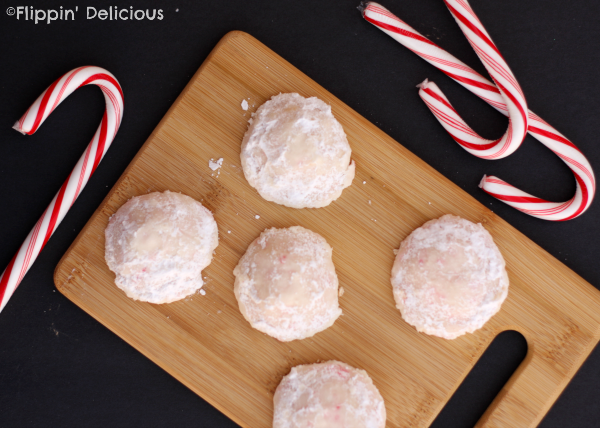 I originally made these cookies to mail to some food blogging friends as a part of the Food Blogger Cookie Swap, but when they first came out of the oven I was afraid they would crumble during shipment, so I made Gingerbread Chocolate Chip Cookies instead. I should have just sent the Peppermint Snowballs as I had planned. I think they held up much better over the week. They are still just a soft and buttery as right after I made them and haven't dried out at all. And they didn't get crumbly like I thought they would.
These gluten-free peppermint snowball cookies are really kinda amazing! I wouldn't lie to you, but you don't have to take my word for it. I shared some with my mom and got a text from her after she had tried them. "Your cookies were SO good! Your version of snowball cookies are a new favorite!" So, listen to my mom and bake up a batch. Gluten-Free Peppermint Snowball Cookies just might be your new favorite too!
My gluten-free rice flour blend is HERE.
📖 Recipe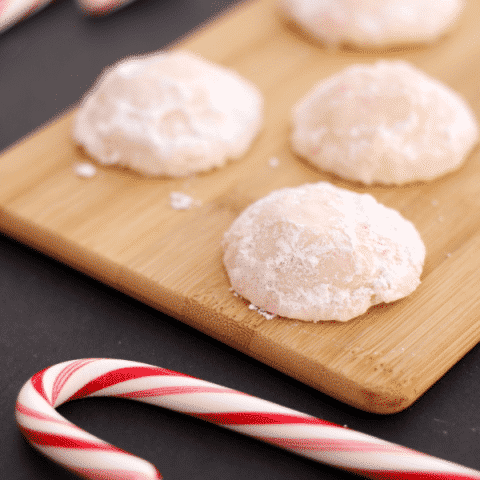 Gluten-Free Peppermint Snowball Cookies
Yield:
3 dozen gluten free snowball cookies
Gluten-Free Peppermint Snowball Cookies are buttery, crisp peppermint cookies with crushed candy canes inside all rolled in sweet powdered sugar. Perfect for the Holidays!
Ingredients
1 ½ cups (12 oz) butter, softened
1 cup plus 2 tablespoons (5.5 oz) powdered sugar
¾ teaspoon salt
½-3/4 teaspoon peppermint extract
¾ teaspoon xanthan gum
3 cups (16.5 oz) my gluten-free rice flour blend
8 gluten-free candy canes, crushed (about ½ cup)
Instructions
Cream together the butter and sugar.
Add the salt, xanthan gum, and peppermint extract. Add the peppermint extract a ¼ teaspoon at a time and then taste, it is strong stuff and you don't want to end up with toothpaste flavored cookies. Mix in the flour and the crushed candy canes.
Scoop the dough into 1 ½ tablespoon portions (I used my medium-sized cookie scoop.) Roll each portion into a smooth ball and chill in the freezer until solid. approx 1 hour.
Line a baking sheet with a silicone baking mat or parchment paper, and preheat the oven to 350F.
Place the chilled balls of dough 2-3 inches apart and bake for 12 minutes, or until the cookies lose their doughy shine and spread slightly.They will be very soft if you touch them but will set as they cool.
While the cookies are still warm, but have cooled enough to set, roll them in the additional powdered sugar and then let them cool completely.
Notes
Store in an airtight container at room temperature, placing wax paper or parchment paper between the layers of cookies.
Nutrition Information
Yield

36
Serving Size

1
Amount Per Serving
Calories

30
Total Fat

0g
Saturated Fat

0g
Trans Fat

0g
Unsaturated Fat

0g
Cholesterol

0mg
Sodium

45mg
Carbohydrates

7g
Fiber

0g
Sugar

2g
Protein

0g
All nutrition info is a guestimate and will vary depending on the ingredients you use.