Gluten free pulled pork with green chile slaw is a flavor bomb in your mouth! Use it for tacos, sandwiches, salads… anything!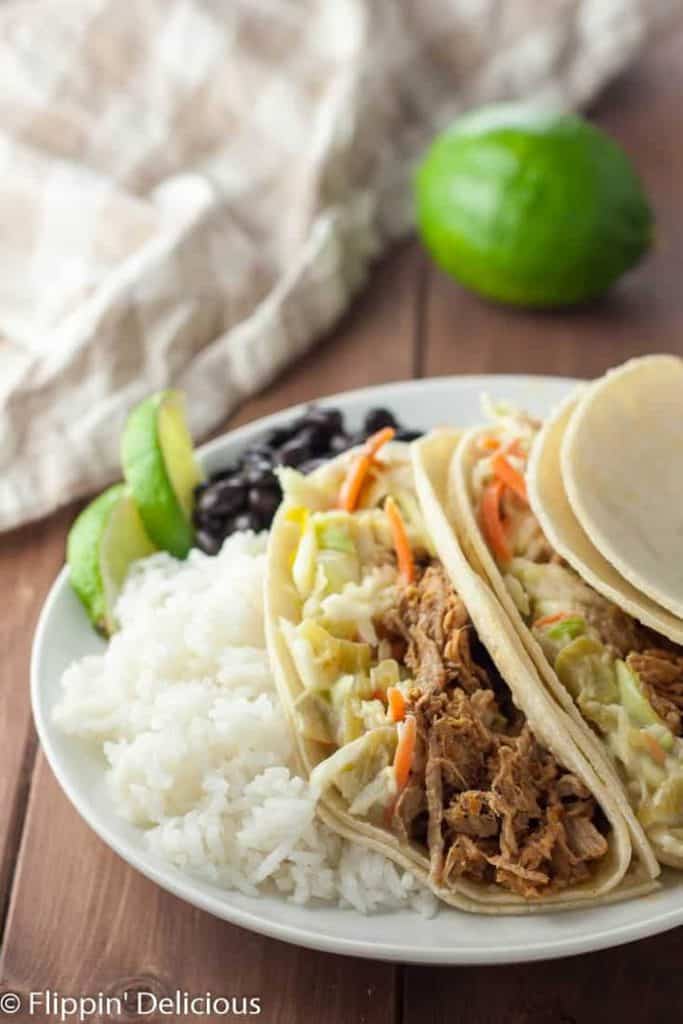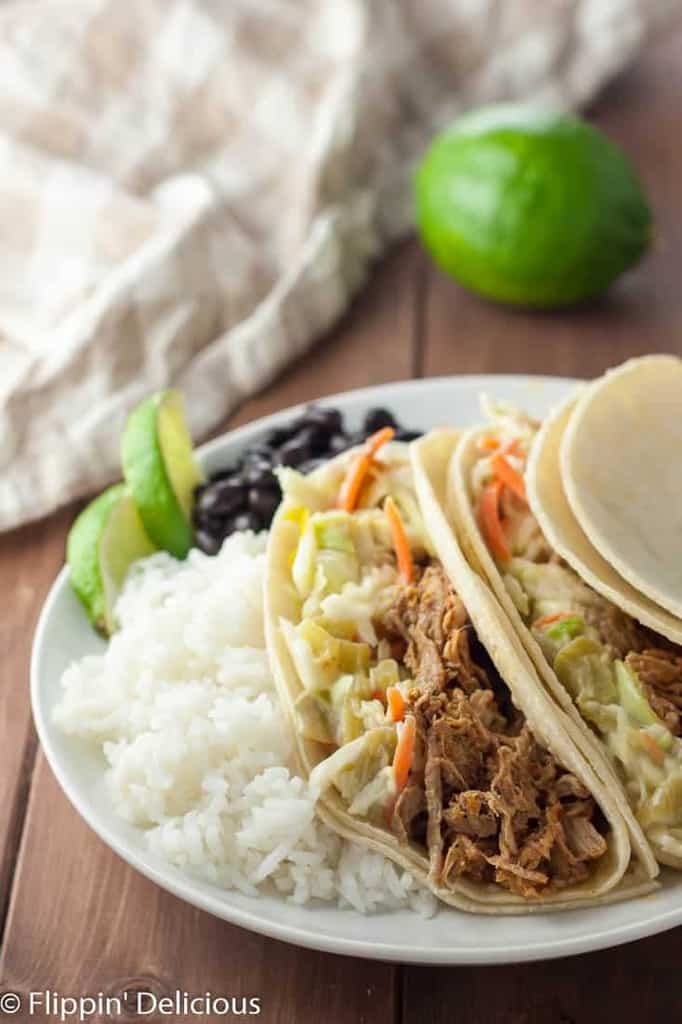 A few weeks ago I saw a recipe for slow cooker pulled pork tacos braised with beer. How had I never tried this? It sounded amazing, and I guess is something that is pretty common. Beer is great for braising!
Of course I wasn't going to braise pork in traditional beer because it has gluten. There are several gluten free beers on the market BUT I started thinking.... If beer braised pulled pork is good then I bet that hard cider braised pulled pork would be even better! (We are big hard cider fans.)
So that is what I did. Next time pork was on sale at my grocery store I picked up a few pounds and created this gluten free pulled pork with green chile slaw recipe.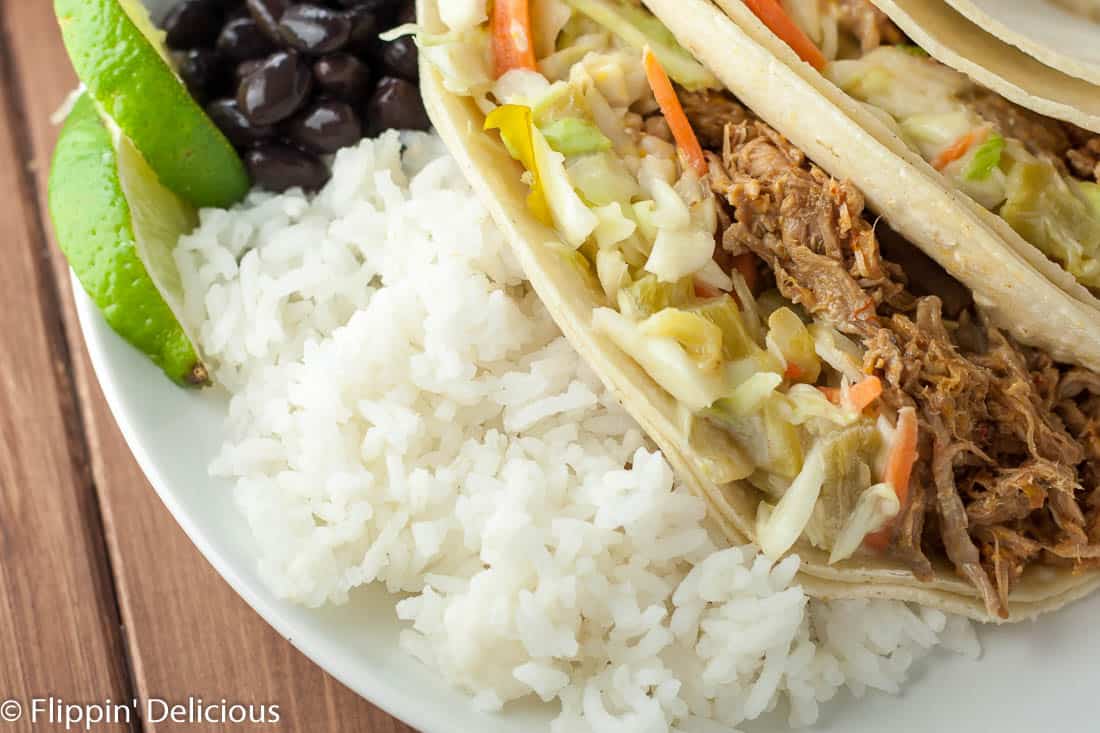 This is an easy, throw-everything-in-the-slow-cooker kind of meal. Those are my favorite (like this gluten free one-pot chicken taco pasta)! There is minimal prep, no chopping or dicing. Everything goes in the slow cooker in the morning and then it is done by dinner.
I used dried guajillo peppers, which I discovered this last year. They add a great subtle smoky flavor! When the pork was done I pureed the peppers with the cooking liquid which made a savory sauce for the pulled pork. The peppers brought just a little smokiness and the hard cider cooking liquid brought a little sweetness. I used a granny smith hard cider so it wasn't very sweet and it brought a great balance of flavors to the tacos I made with my gluten free pulled pork with green chile slaw!
I only used 2 guajillo peppers and the flavor was very mild and subtle. If you love heat and smoke I would add 4 or more!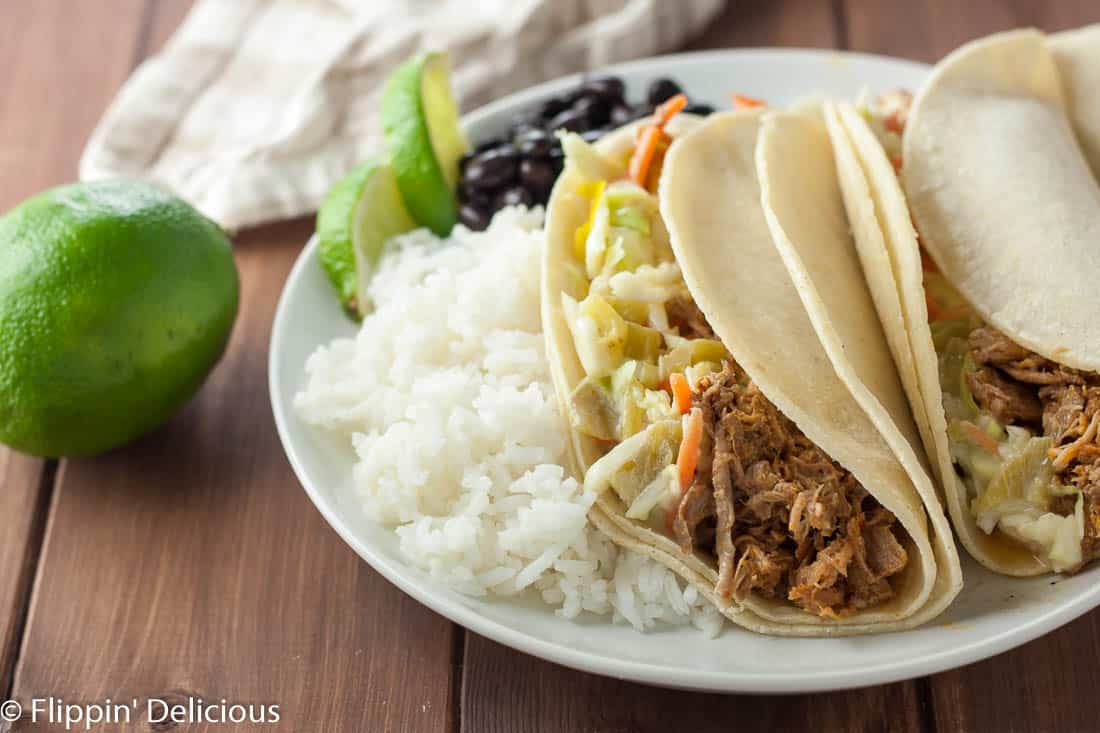 Now on to the slaw! You could skip the slaw, or use cheese or sautéed veggies on your tacos instead if you really want. I, however, love the creamy and crunchy texture that the green chile slaw adds to the tacos. BONUS, it is dairy free too.
If you are a big green chile fan, just like yours truly, I think you need to add this Paleo Tuna Green Chile Zoodle Casserole from my friend Lindsay of Cotter Crunch to your menu. Who knew zoodles could be so pretty?
I think a fresh fruit salsa like this pineapple kiwi salsa would be spectacular too!
I used mild green chile in my slaw. Being a New Mexico girl I didn't feel like it had any heat at all, but you can adjust the amount of green chile to your liking.
Together the slow cooker hard cider pulled pork and the green chile slaw making a winning street taco to switch up your Taco Tuesday!