Red chile pecan pie brings together 2 of my favorite things. The red chile adds a subtle heat and depth, and keeps that pie from being cloyingly sweet.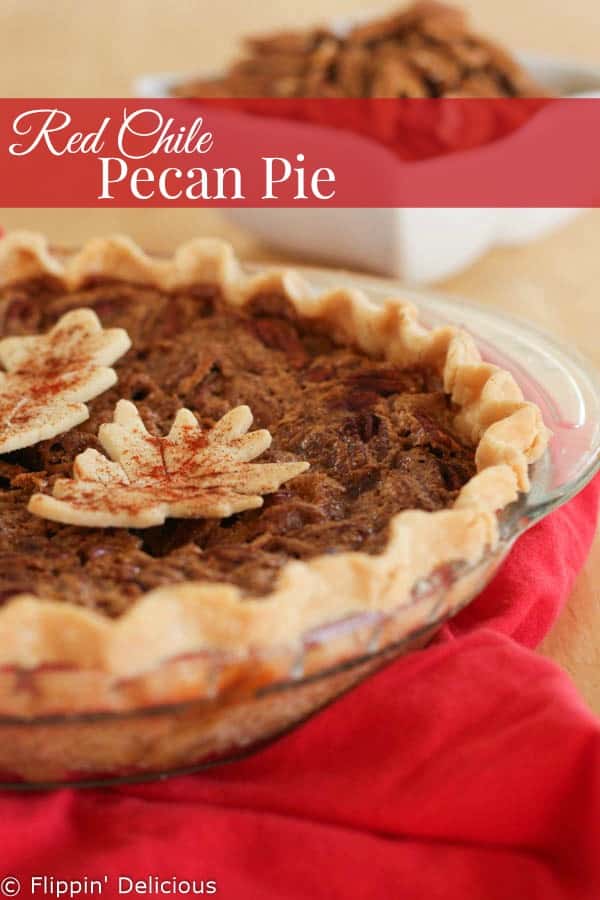 I love living in New Mexico! My family moved here when I was a teenager and we all fell in love with the land of enchantment. I later met my hubby here, and we stuck around with our cute kiddos.
I love the Sandia Mountains, especially when the sun starts to set and they turn pink (which is where they got their name, Sandia means "watermelon".)
I love the beautiful arroyos. I love that we don't have humidity. I don't love sand all over my house, but I loved playing outside in it when I was a kid. The whole yard is a sandbox! And I really love chile.
Down here whenever you go out to eat at a New Mexican restaurant they ask you "red or green?" As in red or green chile.
(Visiting New Mexico soon? I've put together all of my favorite gluten free restaurants in Albuquerque for you!)
And we put it on EVERYTHING! You have not lived until you have had green chile pepperoni pizza. (Even better, make a hatch green chile chopped salad to go with it!)
My favorite from my gluten-eating days is Dion's. So good! we actually had Dion's for our wedding reception.
My family is all hooked on green chile, and while I do really love green chile I have a special place in my stomach for red chile. I always ordered red chile when I was a teenager to be different from the rest of my family.
I may not be from the south, but I also really love pecan pie.
I never had it until I was a teenager because my dad has a nut allergy so we never had nuts in our home. As soon as I tried it it instantly became my favorite. Nutty pecans, and that sweet buttery filling that just melts over your tongue. So rich and sweet, I love it!
To me it just made sense that these 2 loves of mine, red chile and pecan pie, should come together. A little bit of red chile really adds depth to pecan pie and keeps it from being too sweet. Pecan pie is all sugar and can very easily become cloyingly sweet. Red chile keeps that from happening.
There is no corn-syrup in my Red Chile Pecan Pie. Just lots of brown sugar and melted butter!
I used my gluten-free all-butter pie crust, but feel free to use your favorite recipe if you want.
📖 Recipe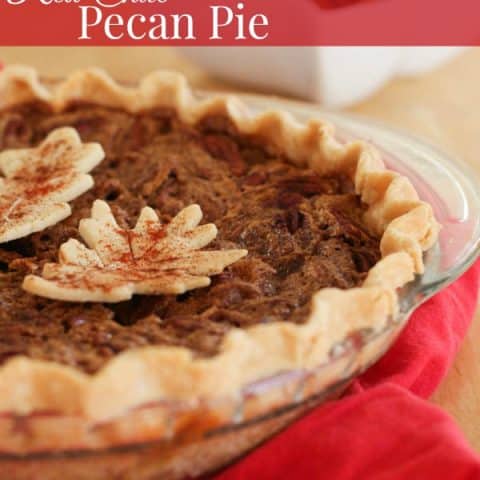 Red Chile Spiced Pecan Pie
Additional Time:
40 minutes
Red chile spiced pecan pie brings together 2 of my favorite things. The red chile adds a subtle heat and and keeps the pie from being cloyingly sweet.
Ingredients
2 cups pecan halves
2 tablespoons red chile powder
1 ½ cups brown sugar
¾ cup butter, melted (can use vegan buttery spread to make it dairy-free)
3 eggs
1 teaspoon ground cinnamon
1 teaspoon vanilla extract
½ teaspoon almond extract
3 Tablespoons milk
1 gluten-free pie crust (I used my gluten-free all-butter pie crust, use dairy free vegan butter spread/lard/palm shortening to make it dairy free)
Instructions
Preheat your oven to 350F.
Roll out your pie crust and line your deep dish pie pan with it and crimp the edges. Roll out the scraps and cut into leaf (or other) shapes.
In a skillet over medium heat toss the pecans and red chile powder and 1 Tablespoon of the melted butter until the pecans just start to become fragrant. Remove from the heat immediately and dump the pecans into the prepared pie pan so that they don't burn.
Mix together all remaining ingredients together until combined and pour over the pecans.
Bake for 50-60 minutes or until the edges are set and the very center jiggles just a tiny bit when you shake it. Allow it to cool before serving so that it will set.
Bake the pie crust leaves for 10-12 minutes, or until they are crisp and are just starting to turn golden brown. Dust the crust leaves with additional red chile powder and ground cinnamon.
Notes
Red chile powder is normally found in the ethnic food section of the grocery store and is normally in a little plastic bag with the other Hispanic/Mexican ingredients.
Nutrition Information
Yield

8
Serving Size

1
Amount Per Serving
Calories

594
Total Fat

43g
Saturated Fat

15g
Trans Fat

1g
Unsaturated Fat

26g
Cholesterol

116mg
Sodium

266mg
Carbohydrates

49g
Fiber

3g
Sugar

35g
Protein

6g
All nutrition info is a guestimate and will vary depending on the ingredients you use.