Easy vegan gluten free s'mores pie with a buttery gluten free graham-style crust, vegan fudge filling, and golden vegan marshmallows.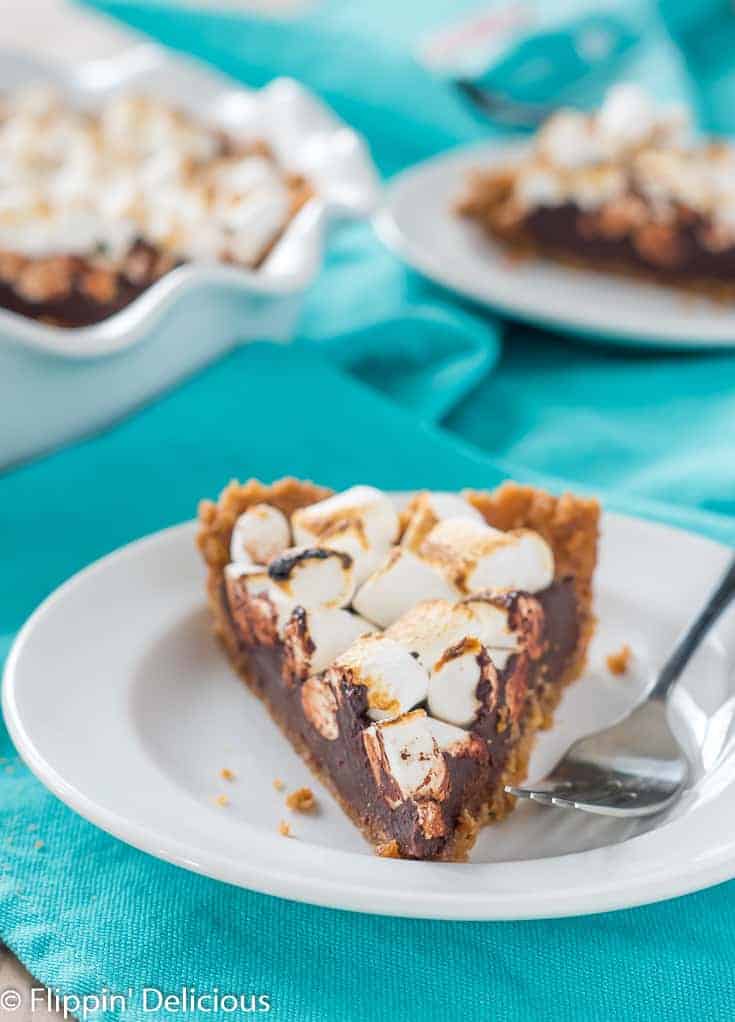 This post is sponsored by Enjoy Life Foods. I love Enjoy Life, and keep their products stocked in my kitchen, which is why I love working with them. As always, all opinions are entirely my own.
I look forward to Pi Day every year!
"What is Pi Day?" you ask.
Go way, way, way back.
Either to middle school when you learned how to calculate the circumference of a circle, or even farther back to 212 b.c. when Archimedes discovered how to calculate it.
With the number π (pi) you can calculate the radius, diameter, and circumference of circles.
Pi is ~3.14, so each day nerds and foodies all over the world celebrate π day on 3/14 (or March 14th) by making and/or eating pie of all kinds!
Gluten Free Vegan S'mores Pie for Pi Day
While I'm planning to make gluten free quiche with my kids, so we can eat pie for dinner, I needed to create a sweet pie for us to enjoy for pi day.
I knew I wanted to make a pie for pi day that was:
really easy
no-bake
gluten free
vegan
used the fewest ingredients possible
And maybe even make it an easy enough recipe that kids could make their own vegan gluten free pies with just a little help.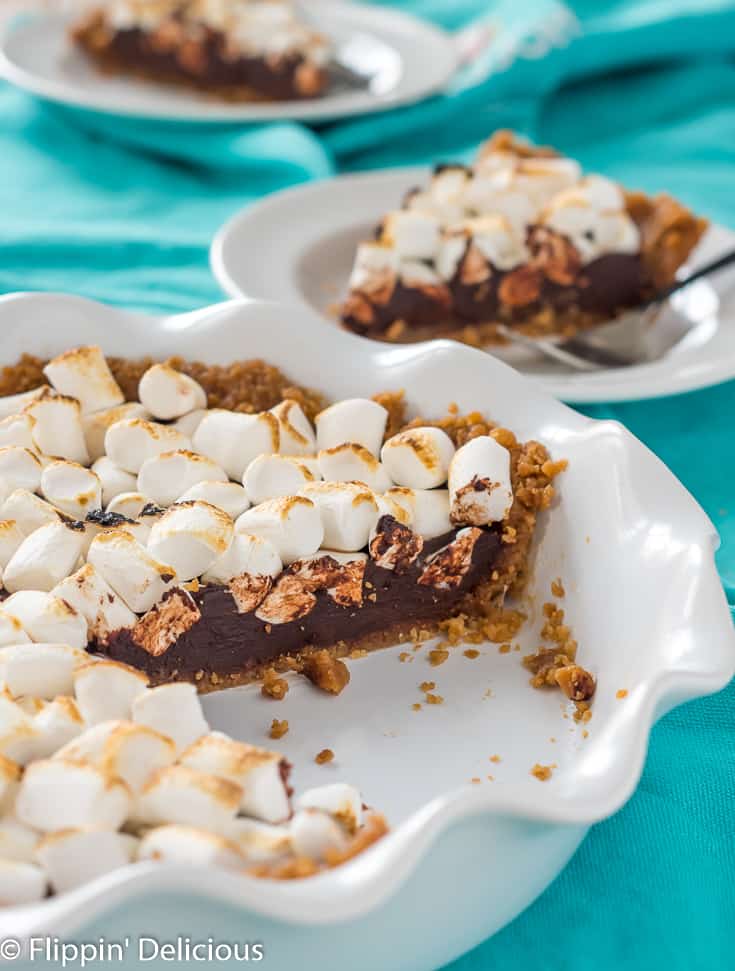 This vegan gluten free s'mores pie checks all of those boxes.
How to make a s'more pie allergy friendly?
I feel very lucky to live in a time and place where there are many easily-accessible gluten free and allergy friendly products to substitute in recipes.
One company that I trust and rely on is Enjoy Life! They may be sponsoring this post, but I work with them because they help my family, and many others. Because of Enjoy Life we have access to things like dairy free chocolate chips, delicious bars, crunchy cookies. I enjoy their newest Breakfast Ovals with my morning latte several days a week.
Enjoy Life's products are not just gluten free and dairy free. All of Enjoy Life's products are free of the top 8 food allergens (wheat, milk, eggs, soy, fish, shellfish, peanuts, and tree nuts) as well as free of sesame and sulfites.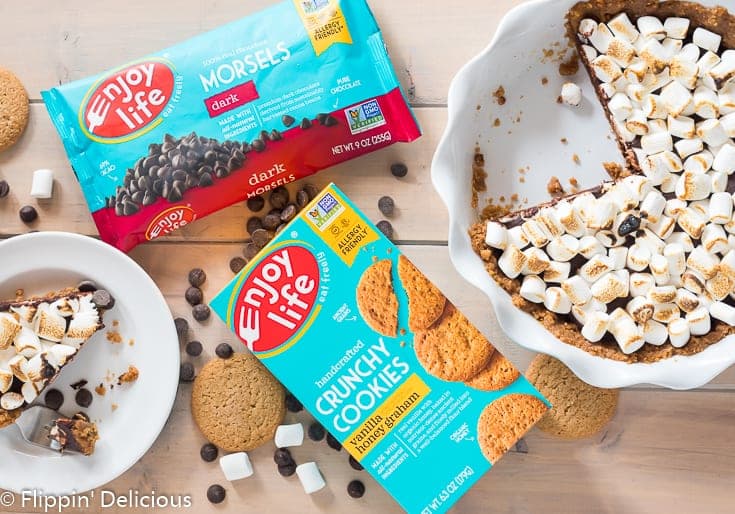 Between myself, my kids, my parents, and my siblings we have 4/8 allergens covered so having Enjoy Life's products make a huge difference because everyone can enjoy them.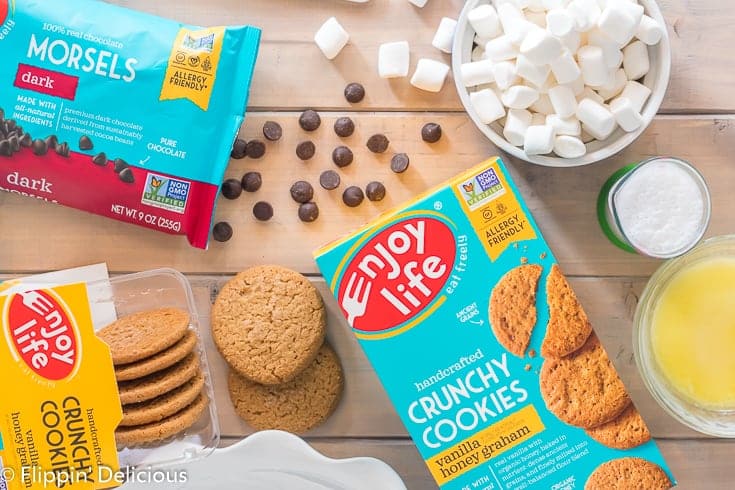 To make this dairy free gluten free s'mores pie I used Enjoy Life's Crunchy Cookies (for the crust), Baking Chocolate (for the fudge filling). You'll also need a few allergy-friendly pantry staples like vegan buttery spread (or sticks), allergy-friendly dairy free milk, and some vegan marshmallows.
How do you make a gluten free vegan graham cracker crust?
Obviously you can't make a gluten free graham cracker crust with graham crackers. But you can use a gluten free cookie or cracker with a similar flavor profile.
I used 1 ½ boxes of Enjoy Life's Vanilla Honey Graham Crunchy Cookies, crushed up.
(The Honey Graham Cookies are egg and dairy free, but do contain honey. If you don't eat honey, use their Sugar Cookies instead and add a pinch of cinnamon.)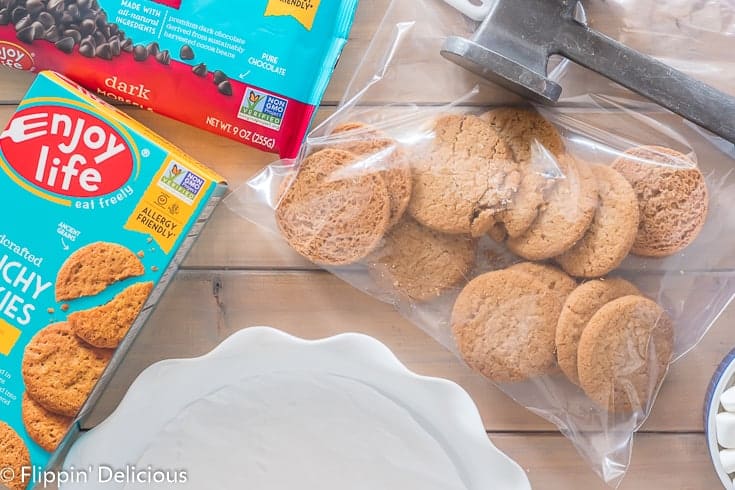 To easily crush the Crunchy Cookies, place them in a resealable plastic bag. Then smash the cookies using a meat mallet, bottom of a pan, or the back of a ladle or spoon.
I lined my pie plate with a circle of parchment paper to keep the bottom from sticking to the pan. Totally optional, it should come out fine without.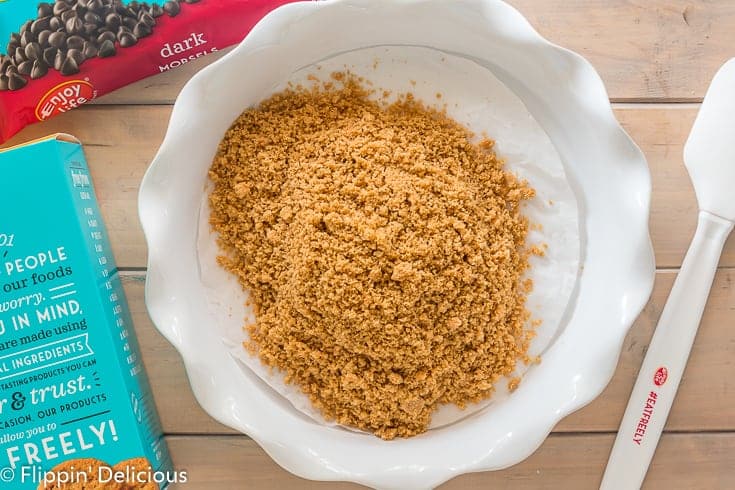 Add a little melted vegan butter. Any brand of vegan buttery spread or sticks should work fine.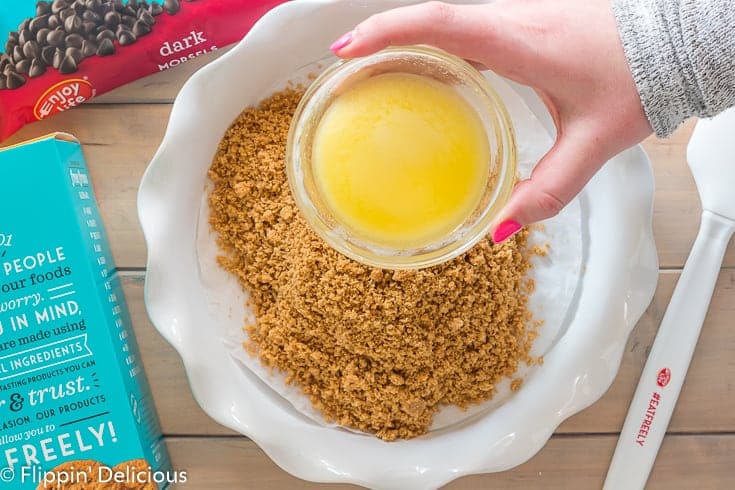 Mix it together, and then press up the sides and over the bottom of the pie pan.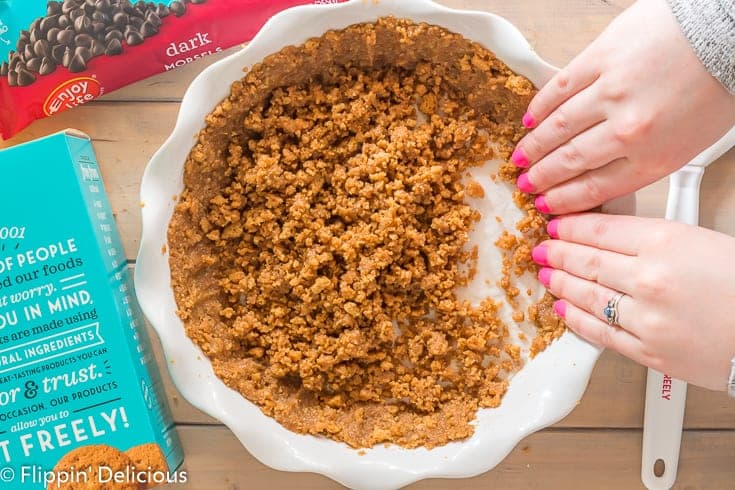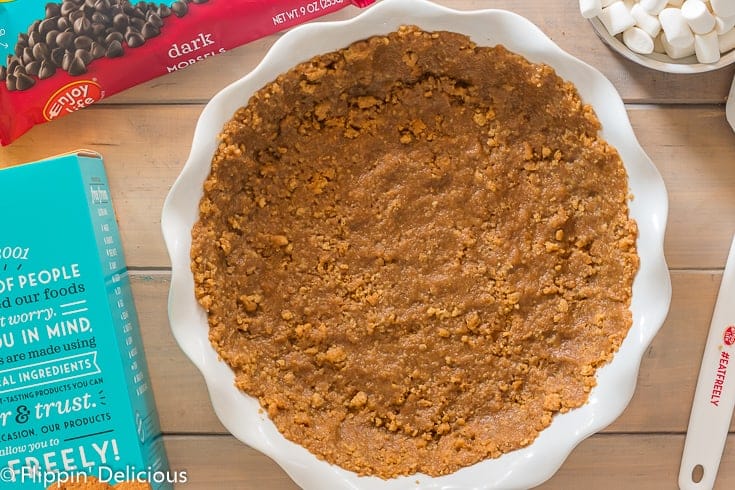 How do you make the vegan fudge filling?
The vegan fudge filling for your gluten free vegan s'mores pie has just three ingredients, and takes less than five minutes to make.
First, pour a bag of Enjoy Life's Dark Chocolate Morsels into a microwave safe bowl.
Add the vegan buttery spread, and a dairy free milk that works with your food allergies.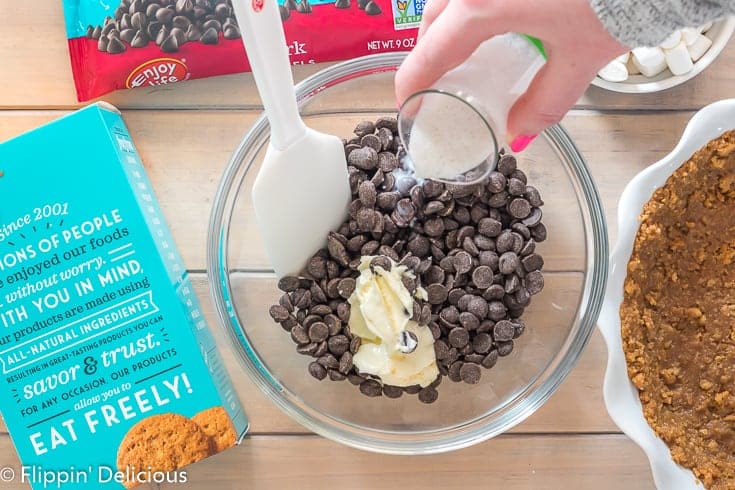 Heat in 30 second increments, and stir until smooth and shiny. It took me just 60 seconds total!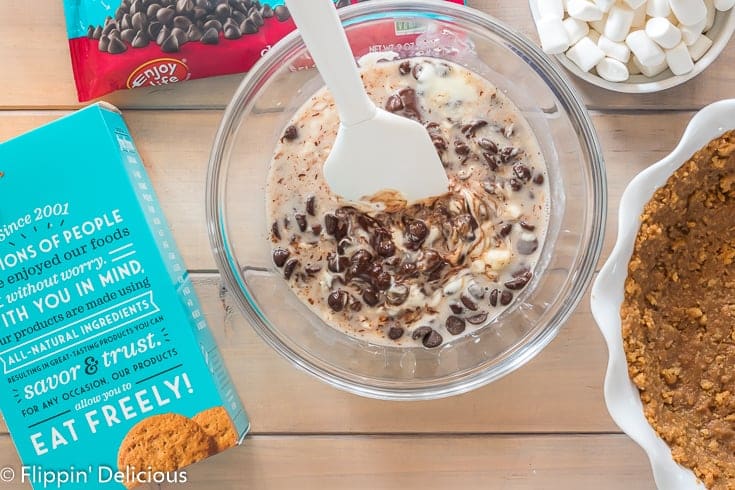 The vegan fudge pie filling sets up almost like actual fudge! Super creamy and rich.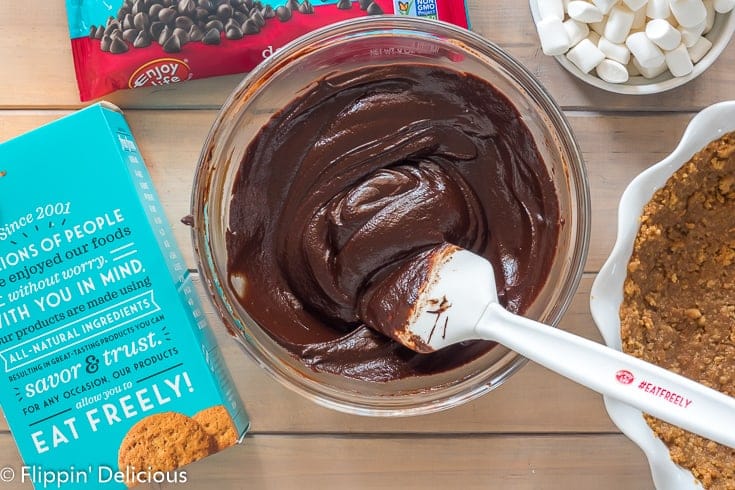 I kind of want to try making dairy free s'mores fudge using this fudge filling and sprinkling it with crushed Vanilla Honey Graham Crunchy Cookies and mini marshmallows.
How do you make a s'mores pie?
Pour your vegan fudge filling into your gluten free graham cracker crust and spread evenly.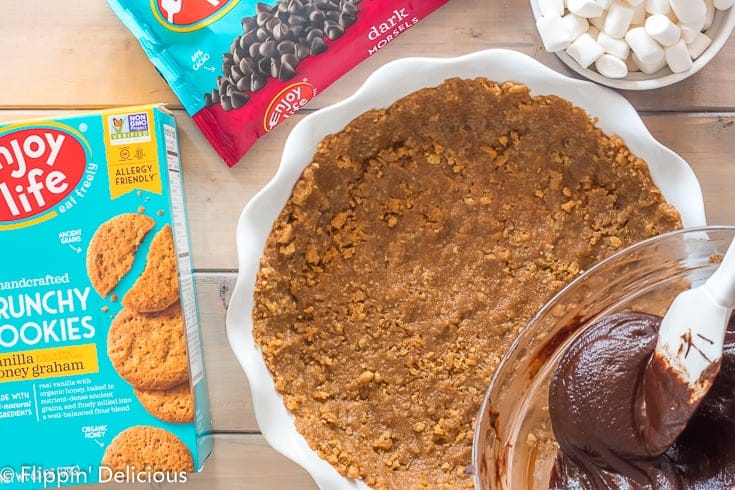 Top with marshmallows, and gently press them into the chocolate fudge filling.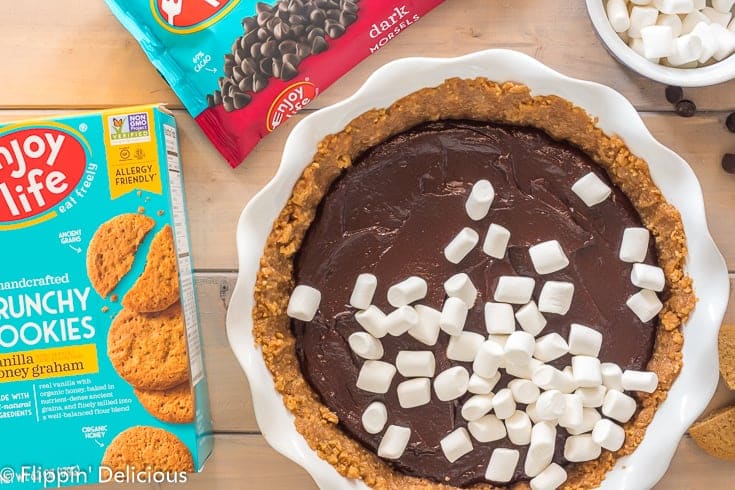 I used vegan marshmallows made by Dandies to keep the gluten free s'mores pie vegan.
Chill your pie until the vegan fudge and the gluten free crust are set. This should take about an hour in the freezer, or 2-4 hours in the fridge.
Just before serving, you can toast the marshmallows on the top of your vegan s'mores pie with a kitchen torch. I wouldn't recommend trying to toast them under a broiler, because you'll melt the pie.
If you don't have a kitchen torch, you can toast your marshmallows in the oven BEFORE adding them to your pie.
Place your marshmallows on a baking sheet with either a silicone baking sheet or a piece of parchment paper.
Toast your marshmallows under a broiler until golden.
Let them cool before adding them, so that it isn't a super gooey mess.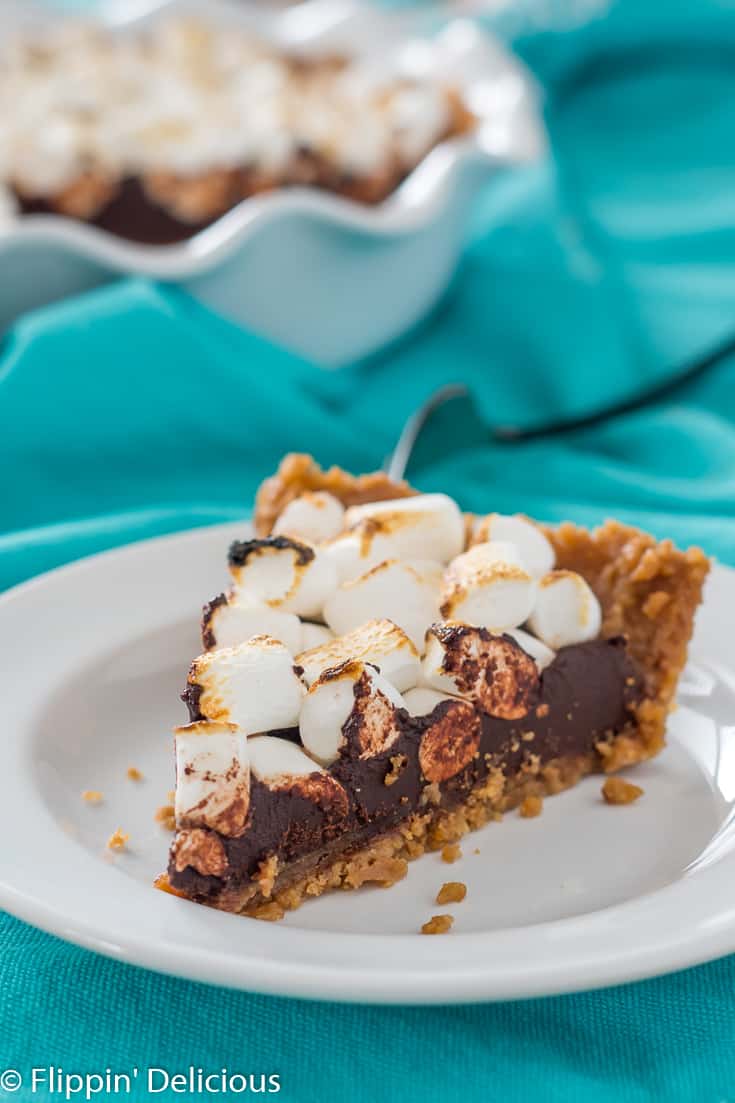 If you'd like, you can garnish your vegan gluten free s'mores pie with more Vanilla Honey Graham Crunchy Cookies, and more Dark Chocolate Morsels.
I was going to garnish my s'mores pie, and then decided it would be too "extra".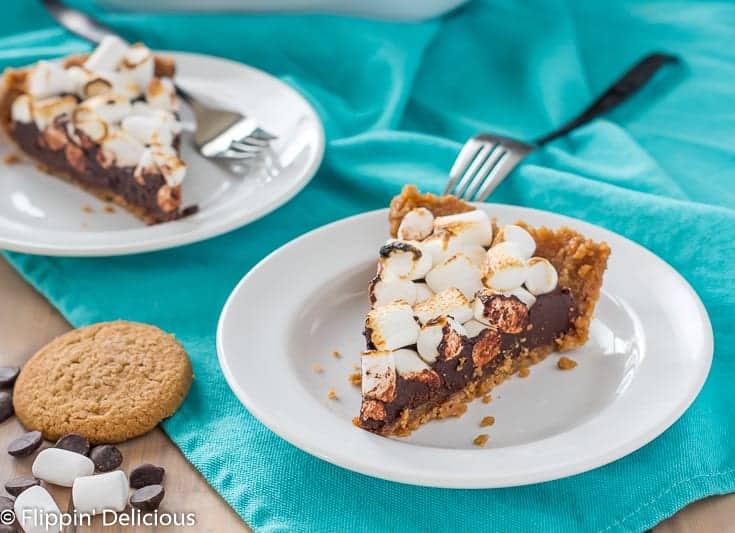 I am already day dreaming about going camping this summer, and making campfire s'mores and enjoying gooey gluten free s'mores cookies.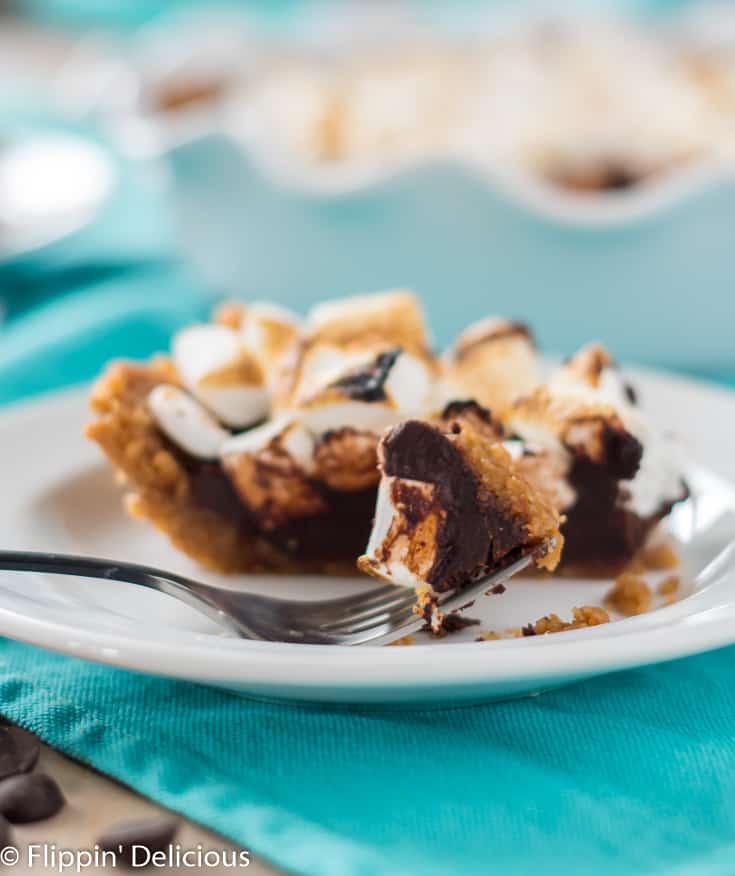 Until then, this gluten free vegan S'mores Pie will have to satisfy my cravings.
Maybe next year I'll make my friend Amanda's Frozen Key Lime Pie (gluten/dairy free) for Pi Day. It looks so creamy and is easy to make!
Hope you have a happy Pi Day!
📖 Recipe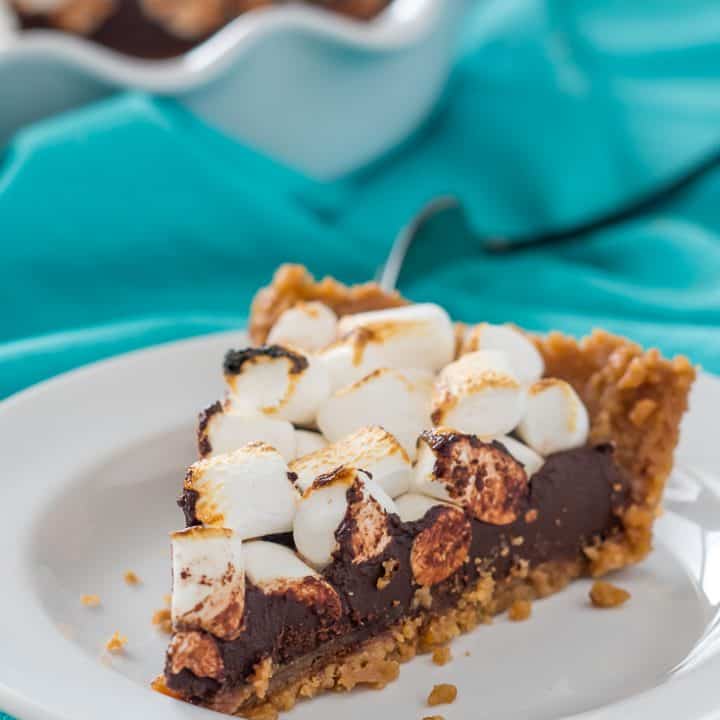 Vegan Gluten Free S'Mores Pie
Yield:
1 9 inch gluten free s'mores pie, serving 8-12 people
Total Time:
2 hours
35 minutes
Easy vegan gluten free s'mores pie with a buttery gluten free graham-style crust, vegan fudge filling, and golden vegan marshmallows.
Ingredients
Gluten Free Graham-style Crust
3 tablespoons vegan butter, melted
Vegan Fudge Pie Filling
2 tablespoons vegan butter
Instructions
Place the Vanilla Honey Grahams in a large resealable plastic bag. Crush into crumbs using a meat mallet, bottom of a pan, or the back of a ladle or spoon.
Mix the cookie crumbs with the melted butter and press up the side and on the bottom of a pie pan, tart pan, or even a casserole dish.
In a microwave safe bowl, combine the Dark Chocolate Morsels, vegan butter, and dairy free milk.
Heat in the microwave in 30 second increments, stirring in between, until the fudge is smooth and shiny.
Pour into the crust, and spread evenly.
Gently press the marshmallows into the fudge, and chill until set (1-2 hours in the freezer, 2-4 in the fridge).
Before serving, toast the marshmallows using a kitchen torch.
To slice more easily, heat the knife under hot water or using the kitchen torch and wipe the blade between slices.
Notes
If you don't have a kitchen torch and still want to toast your marshmallows, you can place them on a parchment or silicone baking mat lined baking sheet and toast under the broiler BEFORE placing on your pie.
Recommended Products
As an Amazon Associate and member of other affiliate programs, I earn from qualifying purchases.
Nutrition Information
Yield

8
Serving Size

1 slice of gluten free s'mores pie
Amount Per Serving
Calories

155
Total Fat

10g
Saturated Fat

6g
Trans Fat

0g
Unsaturated Fat

3g
Cholesterol

20mg
Sodium

92mg
Carbohydrates

17g
Fiber

0g
Sugar

11g
Protein

1g
This is just an estimate and may vary.