The best of gluten free Albuquerque, from a celiac. Gluten free breakfast , gluten free bakeries, Gluten Free Dinner, and gluten free pizza in Albuquerque New Mexico!
If you are ever in Albuquerque, either passing through, moving, or planning a vacation, here is the best gluten free Albuquerque has to offer, from a local.
I've been writing this post in my head for at least three years.
As someone who is very sensitive to cross contact, I'm very careful and choosy about where I eat.
I also love eating out and am a self-labeled "foodie".
It is about time I tell you…
the best places to eat gluten free in Albuquerque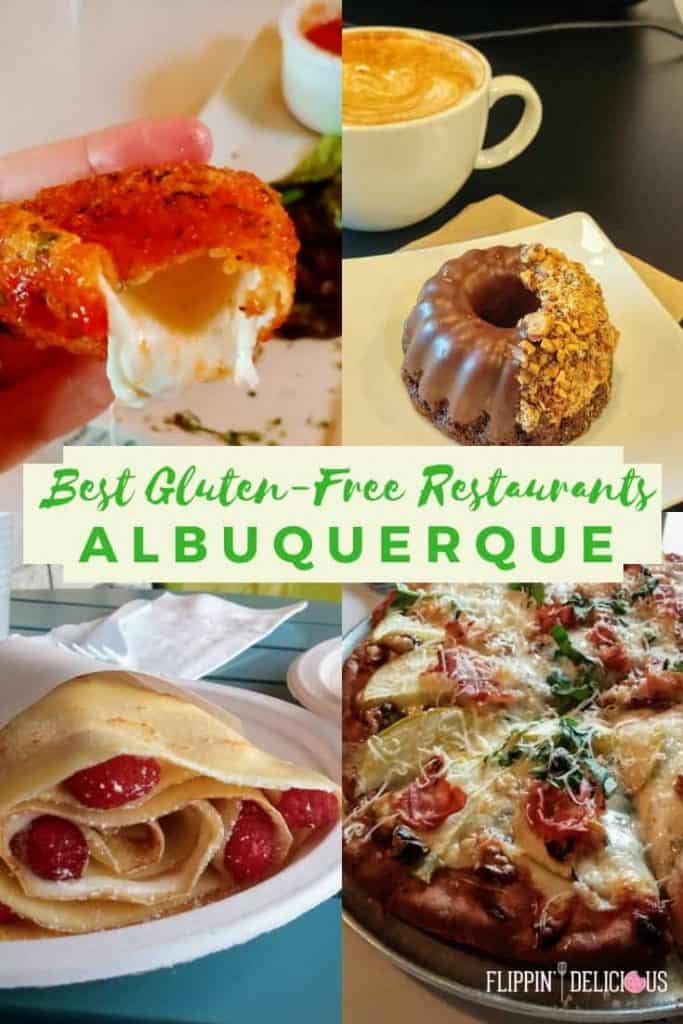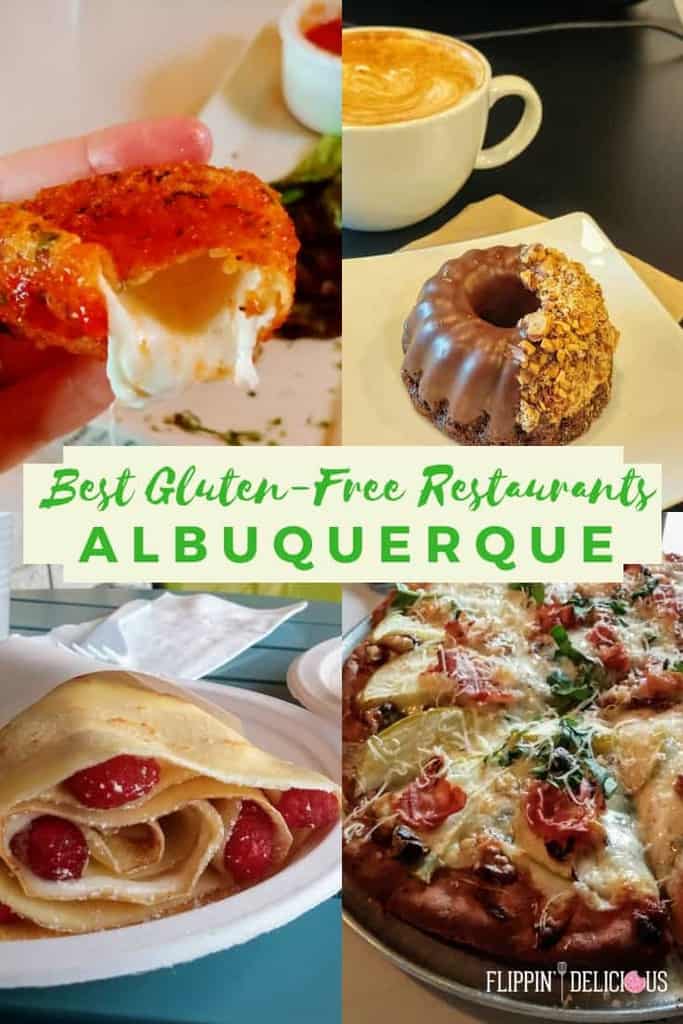 Be sure to use your best judgement when eating out. These are my experiences, and just because I dined safely doesn't necessary mean that you will. Ingredients change, and employees are different. Ask questions to help avoid cross contact. I've shared only the best of the best of gluten free albuquerque in the post, and all of the places listed below I have had fabulous experiences at.
You might also find my post about Eating Gluten Free at the Hyatt Tamaya Resort helpful. Just a little bit outside of Albuquerque, they have great gluten free options for both those staying as guests, and also those who just love good food.
gluten free bakery- Albuquerque
Believe it or not, even Albuquerque has a few dedicated bakeries! Most of them can be found at a few of the local growers markets on the weekends, and some also have storefronts or are available at local coffee shops.
Sweet Nothings- dedicated gluten free bakery in Albuquerque
Run by a cute mother-daughter duo, Sweet Nothings is one of my favorite spots in Albuquerque! Previously located in the Promenade shopping center at Spain and Eubank, it is simple and unassuming.
CURRENTLY SWEET NOTHINGS IS ONLY DOING CUSTOM ORDERS AND IS AT THE LOS RANCHOS GROWERS MARKET THROUGH NOVEMBER 2018. I'LL UPDATE WHEN THEY HAVE A NEW LOCATION.
You won't find a more affordable gluten-free option anywhere in Albuquerque!
They offer gluten-free cookies, bars, bread, and quiche. Their waffles at the Los Ranchos Growers Market are amazing!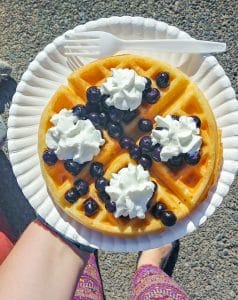 They make their bread in english-muffin-style slices that are great for sandwiches, avocado toast, or as burger buns.
(I made this sandwich at home using their Green Chile Cheddar Bread, it is amazing!)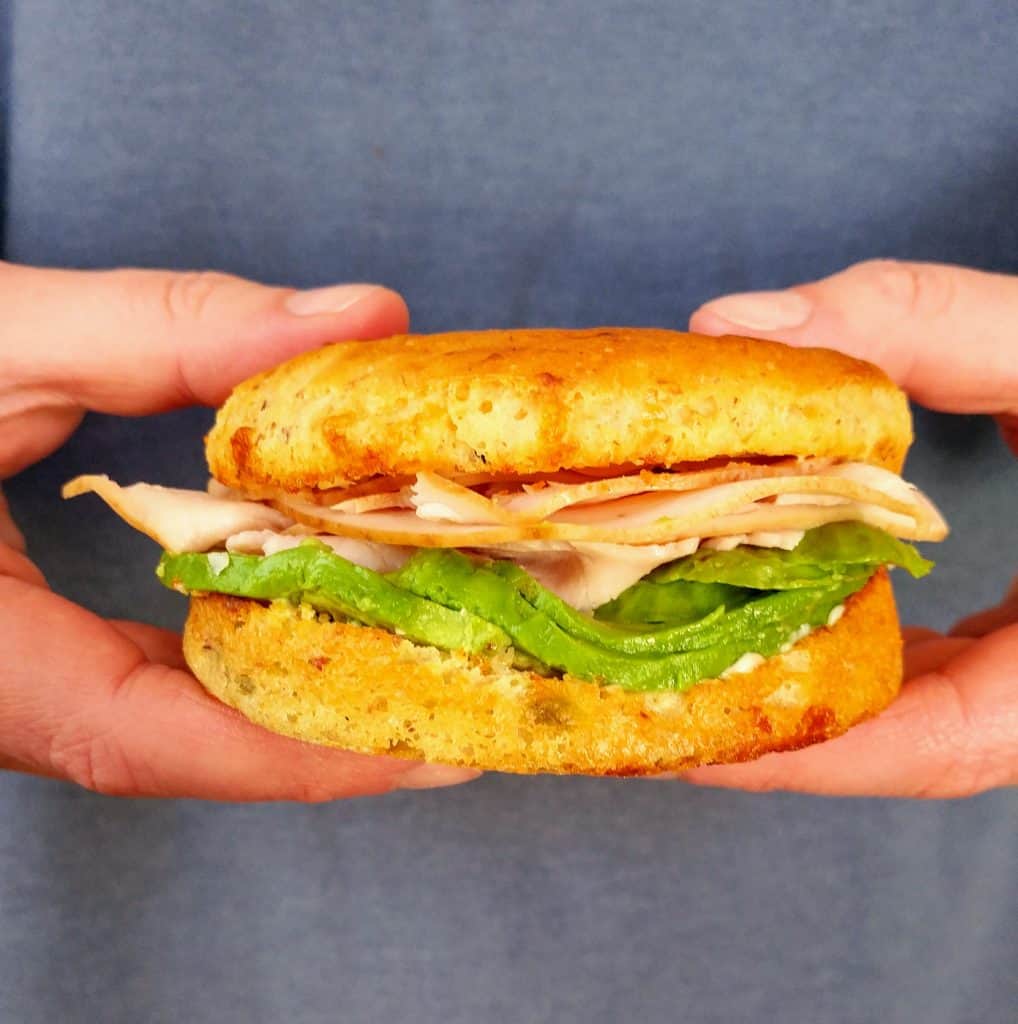 I love their rolls, but you have to order them ahead of time.
The best part of Sweet Nothings is their gluten free waffles! They make their gluten free waffles every Saturday Morning at the Los Ranchos Growers Market (during the market season) and in store Saturday mornings the rest of the year.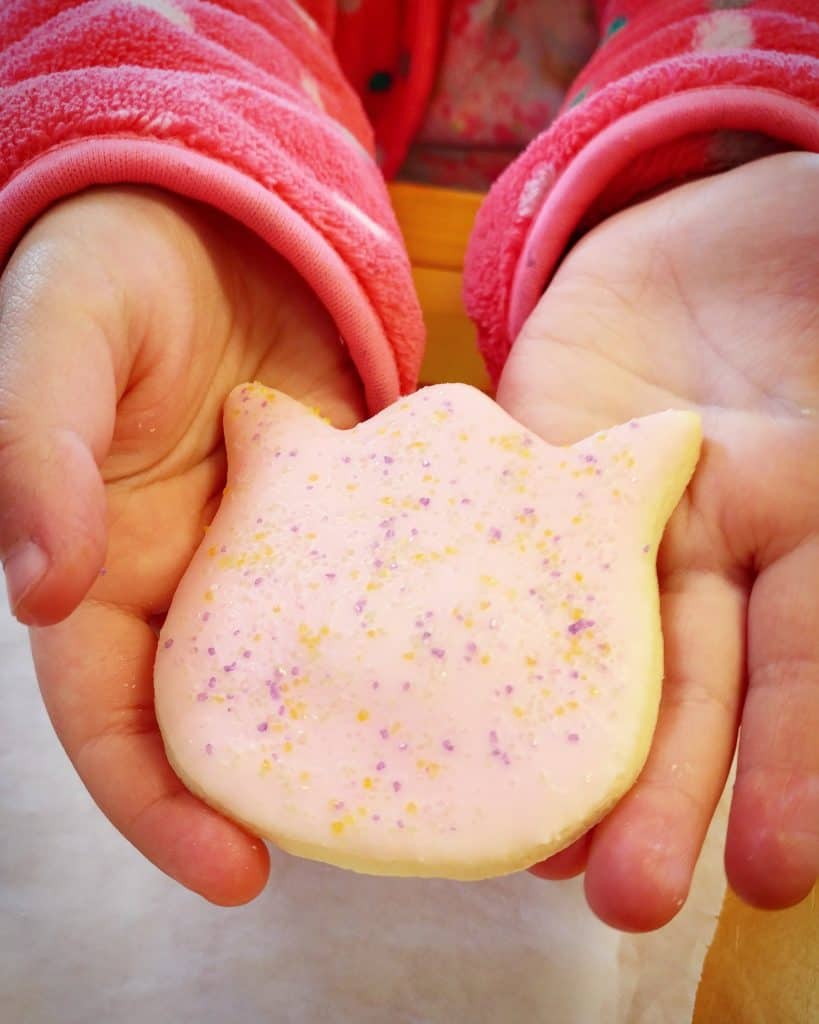 Make sure you buy:
Green Chile Cheddar Bread (Gluten Free)
Raspberry Crumb Bars (or whatever crumb bar they have)
Gluten Free Gingernaps (I also love their toffee cookies, and Dalmation shortbread. You really can't go wrong with any of their cookies!)
Quiche (Gluten Free)
If you want to order anything before the holidays CALL EARLY! Like, very early. Last year they were sold out of holiday pies 3 WEEKS before Thanksgiving.
Planty Sweet- Gluten Free and Vegan plant-based custom cakes, gluten free donuts, and mini bundts
If you like looking at beautiful cakes, follow Planty Sweet on Instagram. I love that she only uses all natural food-based colors and still makes cakes and donuts that look like the rainbow!
Planty Sweet has a booth at the Railyard Market on Sunday (check the schedule, she isn't there every week) but don't worry if you miss the market. Her gluten free donuts and gluten free mini bundt cakes are available at several local coffee shops in Albuquerque. Be sure to use your best judgement as some of the shops do serve them from a shared case (most are on a dedicated shelf or plate). I always ask for my gluten free donut to be selected with fresh tongs to prevent any cross contact.
If you are planning ahead, Planty Sweet makes custom gluten free cakes that look amazing! I've been waiting for a special occasion to order one.
Where to find Planty Sweet's Donuts and mini bundts:
I got this mini bundt to go with my latte at Whispering Bean. If you haven't stopped by yet, do it!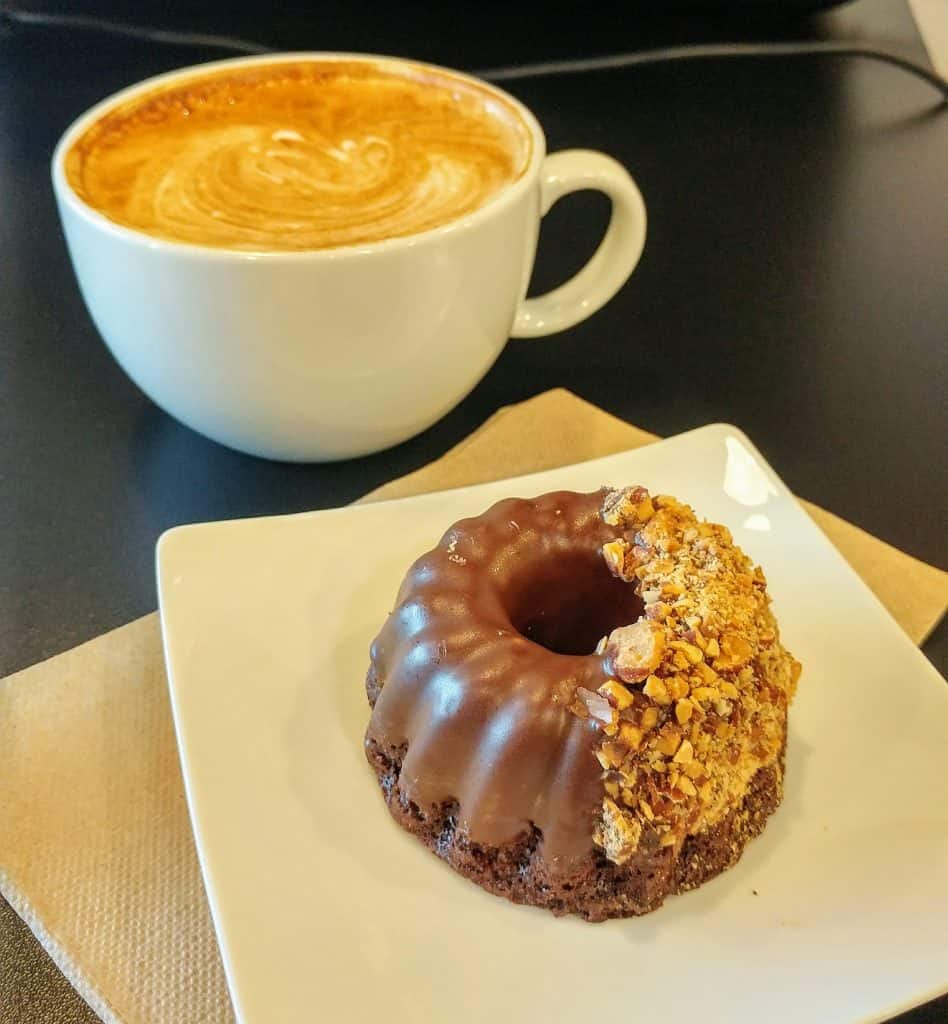 If you are going just for the donuts and other Planty Sweet goodies, call ahead. They are popular and often sell out.
Check Planty Sweet on Instagram for updates.
Best Gluten Free Breakfast- Albuquerque
If I'm in the mood for just coffee and a donut or something light and sweet, there are lots of coffee shops that serve Planty Sweet's gluten free vegan donuts and mini bundts. (see above)
It is is Saturday morning, head to the Los Ranchos Growers Market for a gluten free waffle from Sweet Nothings. (see above)
I'll occasionally try Flying Star, but I've found that their kitchen practices create lots of opportunities for cross contact and I've gotten an upset stomach after eating there a few times. Never violently ill, but enough that I dine cautiously and always ask lots of questions. I do enjoy their Spanish frittata and they have gluten free pancakes, be sure to ask them to cook on a clean surface to reduce the risk of cross contact. DO NOT eat their "gluten-friendly" baked goods or cakes from the case if you have celiac or are sensitive.
Crepe Crepe- Gluten Free Crepes for gluten free breakfast in Albuquerque
If you haven't visited Crepe Crepe yet, you are in for a special treat!
Their crepe batter, that they use for all of their crepes, is gluten free!!!!
This means that the risk for cross contact is greatly reduced. They do offer some toppings that are not gluten free, but I haven't had any issues. Be sure to advise them of your allergy needs so they take precautions to reduce the risk of cross contact. They always grab a fresh surface and swap their gloves.
I have eaten at Crepe Crepe at least a dozen times with no issues, I keep on going back.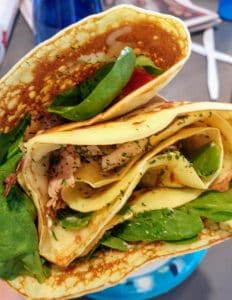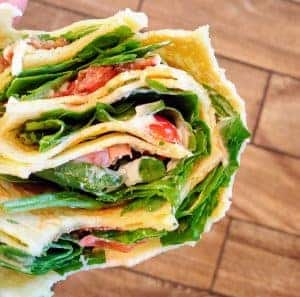 I forgot to take a picture until after I started eating my gluten free black forest crepe from Crepe Crepe
There are dozens and dozens of gluten free breakfast options, and more savory gluten free crepes for lunch or dinner. My favorite is the Black Forest Turkey and the Pulled Pork. Add the green chile, it is worth it! (You can't go wrong with any of their flavors! All the gluten free savory crepes are all clearly labeled.)
As far as dessert options go, I like to get a build-my own gluten free crepe. My favorites are cheesecake cream filling with raspberries, nutella with a scoop of ice cream, and their green tea cream with a scoop of green tea ice cream.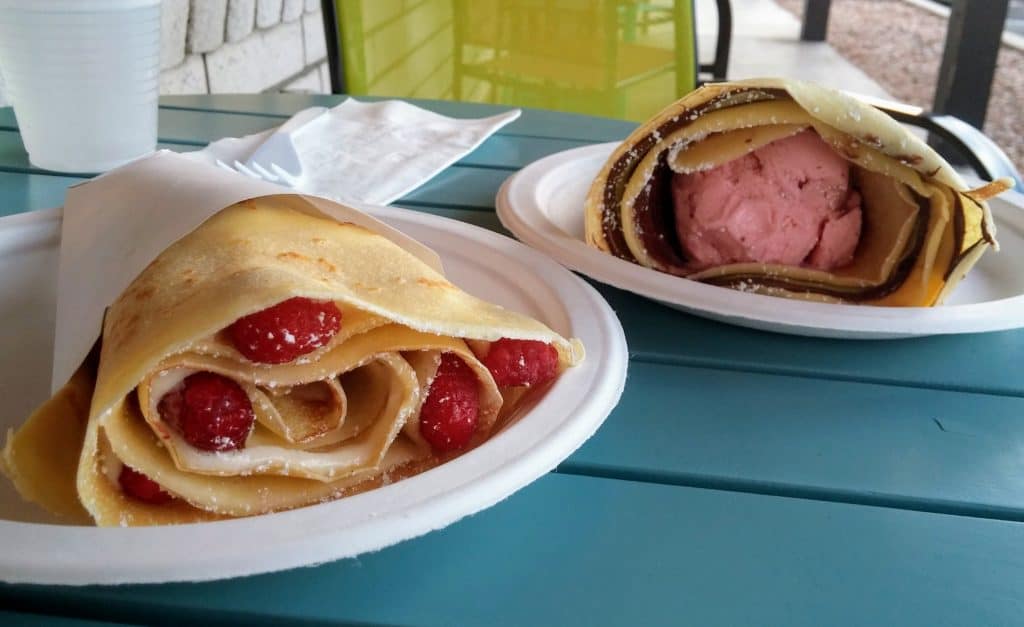 My kids love their gluten free pb & j crepe, and their cinnamon sugar crepe. They are smaller and perfect for their little hands. Plus, Crepe Crepe has a lot of board games which makes it a fun and relaxing outing for everyone.
Perk Ranger-gluten free breakfast Albuquerque
Perk Ranger recently opened up in the village of Corrales. Corrales alone is worth a trip, there are tons of cute boutiques, galleries, and shops. I'm a bit partial to Corrales, I had my wedding reception there.
Per Ranger will soon have a dedicated gluten free kitchen. They serve regular wheat-filled items on their menu, but all their gluten-free food will be prepared in a separate kitchen.
Perk Ranger occasionally does pop-up dinners, and is regularly open for breakfast and lunch.
I haven't had a chance to visit Perk Ranger yet, but it is on my list! I'll update when I do. Judging from their menu, their gluten free offerings are limited while they get their dedicated kitchen up and running.
albuquerque gluten free restaurants
Best dinner gluten free restaurants-Albuquerque
Paisanos.
Hands down Paisanos is a must visit restaurant for those who eat gluten free. I make my husband take me to Paisanos every year for my birthday. And our Anniversary. And for date night.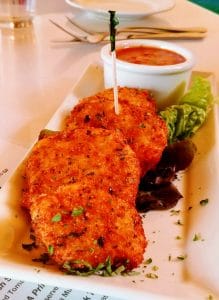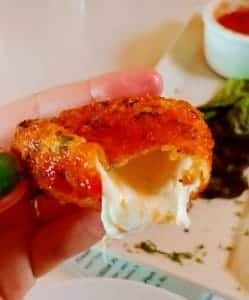 Just check out their gluten free Italian menu!
Let me tell you why Paisanos is a must visit gluten free restaurant in Albuquerque:
The best gluten free bread I think I've ever had
Homemade gluten free pasta
Dedicated gluten free fryer
gluten free pizza
FRIED gluten free calimari
ALL the desserts are gluten free (my go to is the tiramisu but you also can't go wrong with the gluten free cannoli…or any of them. I think I've almost tried the entire dessert menu.)
I take forever ordering whenever I go to Paisanos, it is so hard to choose! At this point, I'm used to choosing between their homemade gluten free pasta, and their gluten free pizzas. Usually we end up splitting their gluten free signature pizza of the week and then getting dessert. I've tried almost everything on Pasisanos gluten free dessert menu, and they are all winners. Our favorites are definitely their gluten free cannoli and gluten free Tiramisu.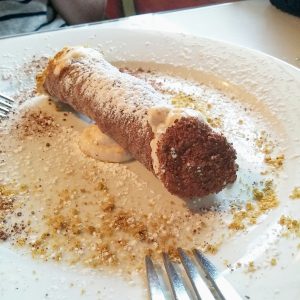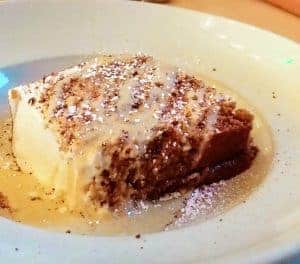 Best gluten free pizza- Albuquerque
Paisanos- the best gluten free pizza in Albuquerque
There are lots of places that serve "gluten free" pizza, but not many that serve a pizza I would feel safe eating. Paisanos is at the very tippy top of that very short list. If you missed it, read above where I sang their praises.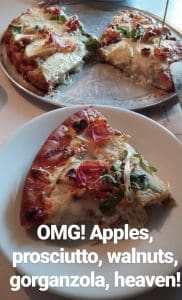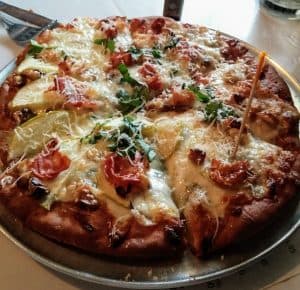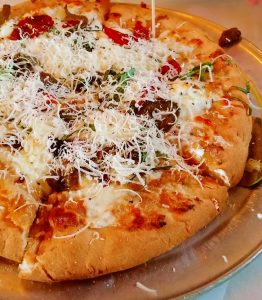 I almost always order whatever their signature gluten free pizza of the day. One time it had granny smith apples, blue cheese, and proscuitto and it was amazing!
The crust is thick and crispy, with a good chew without being too bready. I order the gluten free pizza about 50% of the time I eat at Paisanos.
Other places to get gluten free pizza in Albuquerque
I also feel comfortable eating the gluten free pizza at California Pizza Kitchen and at BJ's when I ask lots and lots of questions.
I do not feel comfortable eating gluten free pizza from Pizza Nine, Papa Johns, or any other Albuquerque Pizza place.
Did I catch your favorite Gluten free Albuquerque restaurant? If you have one to add, please leave a comment and I'll check it out!