Easy gluten free vegan pudding pie made with vegan instant pudding mix!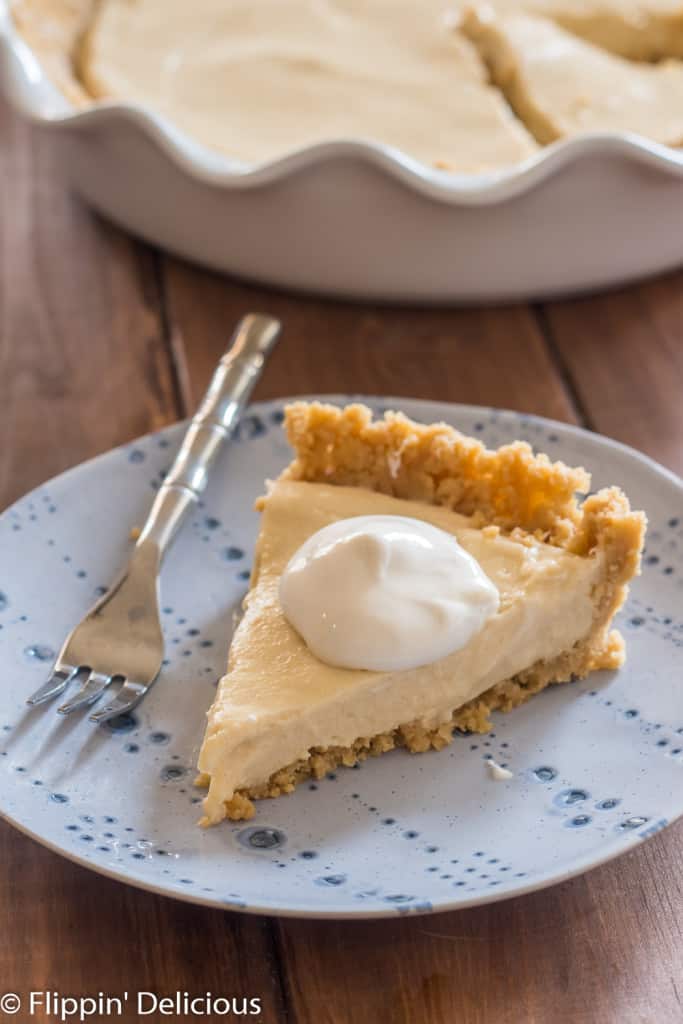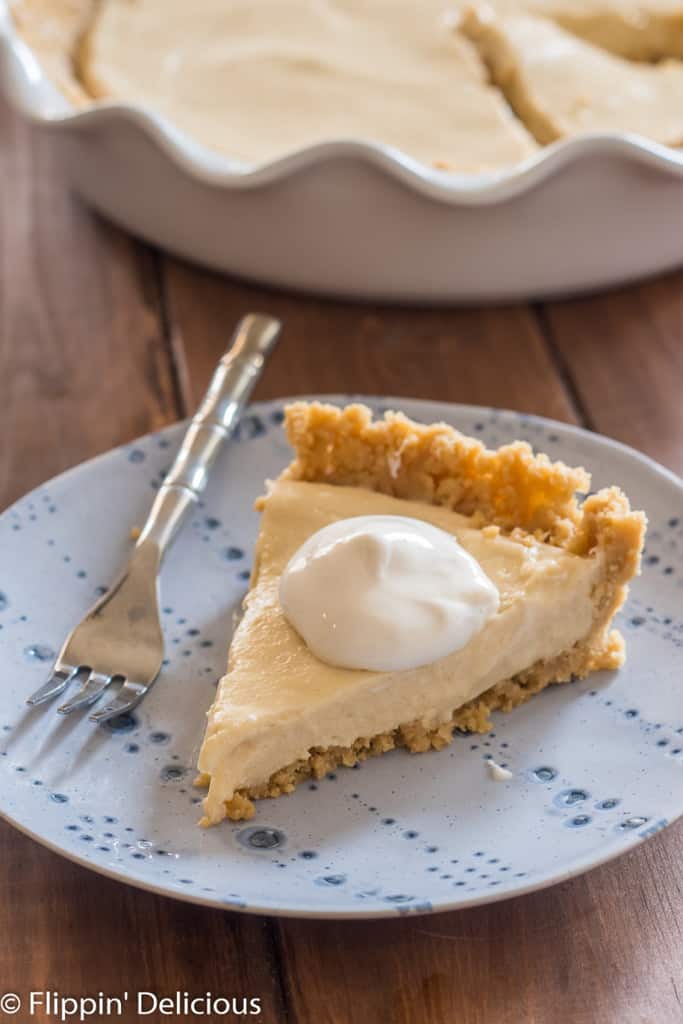 This post is sponsored by Vivian's Live Again. I've been using their products for years, and my family loves their Vegan Pudding Mix. As always, all opinions are entirely my on. I work with Vivian's Live Again because I love their products.
How do you make vegan pudding pie?
If you are anything like me, you used to have a favorite pudding pie recipe, and now you can't use it.
Maybe you can't use it because you have celiac disease and have to eat gluten-free. Or you have a dairy allergy. Or you choose a plant-based or vegan lifestyle.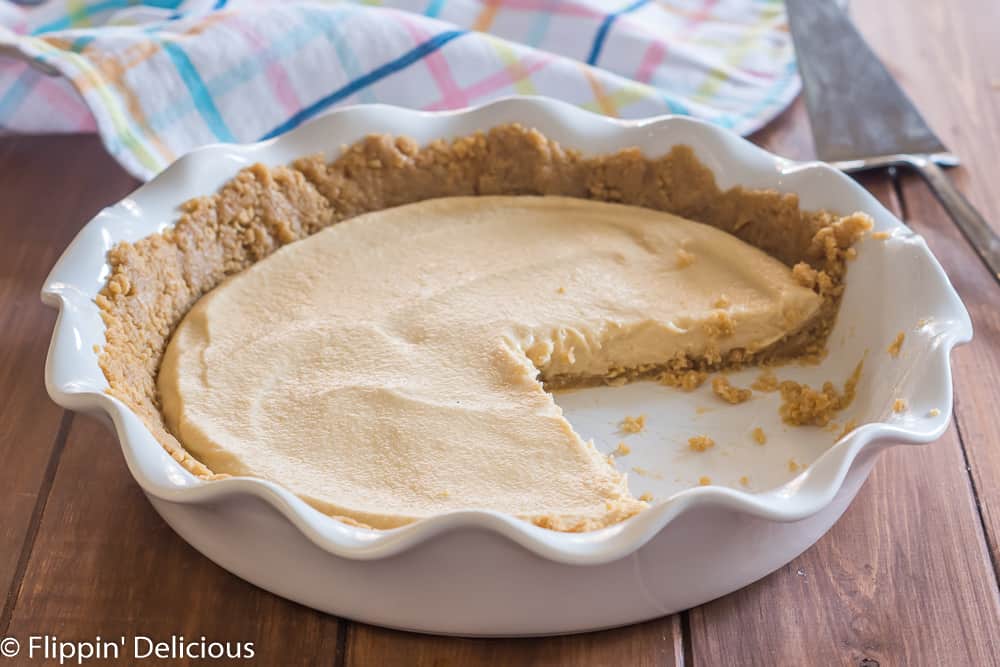 whatever the reason, you miss the ease and convenience of your old favorite pudding pie recipe. And you crave it!
This vegan pudding pie recipe solves all your problems. It has a gluten free crust (or you can use regular cookie crumbs), and is made with a vegan instant pudding mix. 2 ingredients for the crust, and 2 ingredients for the filling and that is it.
And no tofu, or avocados or mashed banana to be seen (unless of course, you are going for a banana cream pie.)
How do you make vegan cookie crumb pie crust?
Your favorite store-bought crust, or graham-style crust will work great for making a vegan pudding pie!
I like making my own gluten free cookie crumb crust by mixing crushed gluten free vegan cookies and mixing them with melted vegan butter, or even shortening, and pressing it into a pie dish.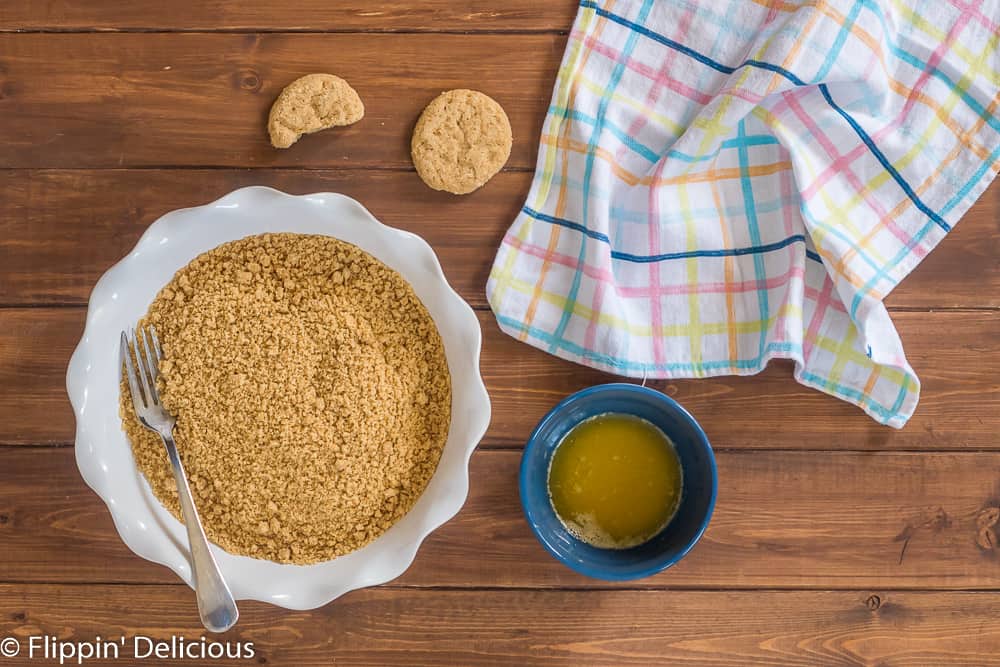 I crush my cookies by placing them in a gallon-sized plastic bag and then whacking them with either a meat mallet or a rolling pin.
You need about 2 cups of gluten free vegan cookie crumbs to make one gluten free crumb crust.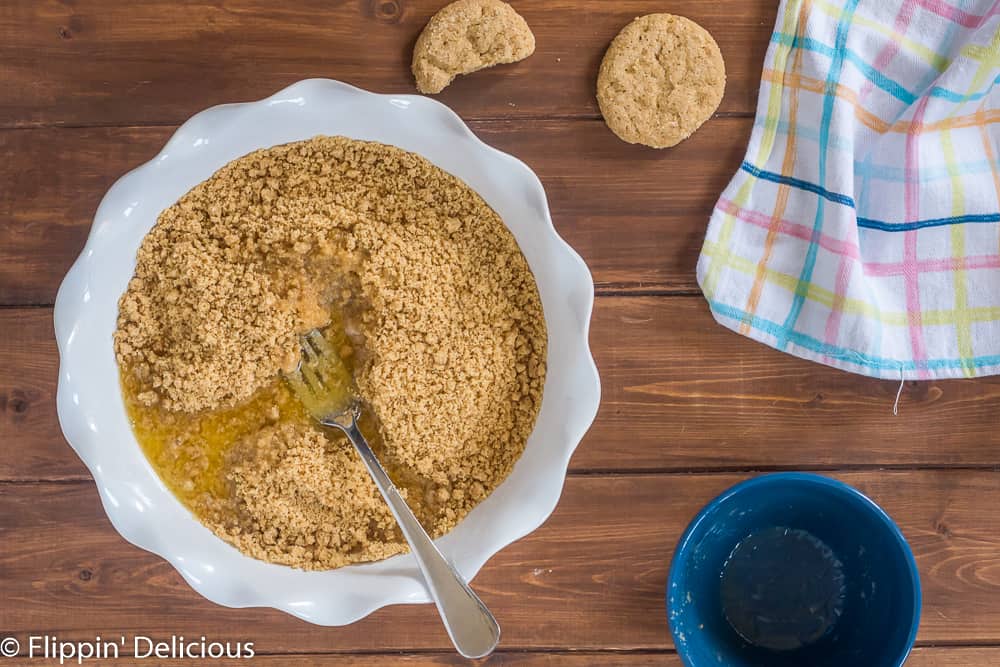 How much vegan butter you need will depend on the cookies you use. Some cookies need a little more and some a little less, but they always need around 2-4 tablespoons. I usually melt ¼ cup of vegan butter and then add it a little at a time until I have a sandy texture that will hold its shape when squeezed in your hand.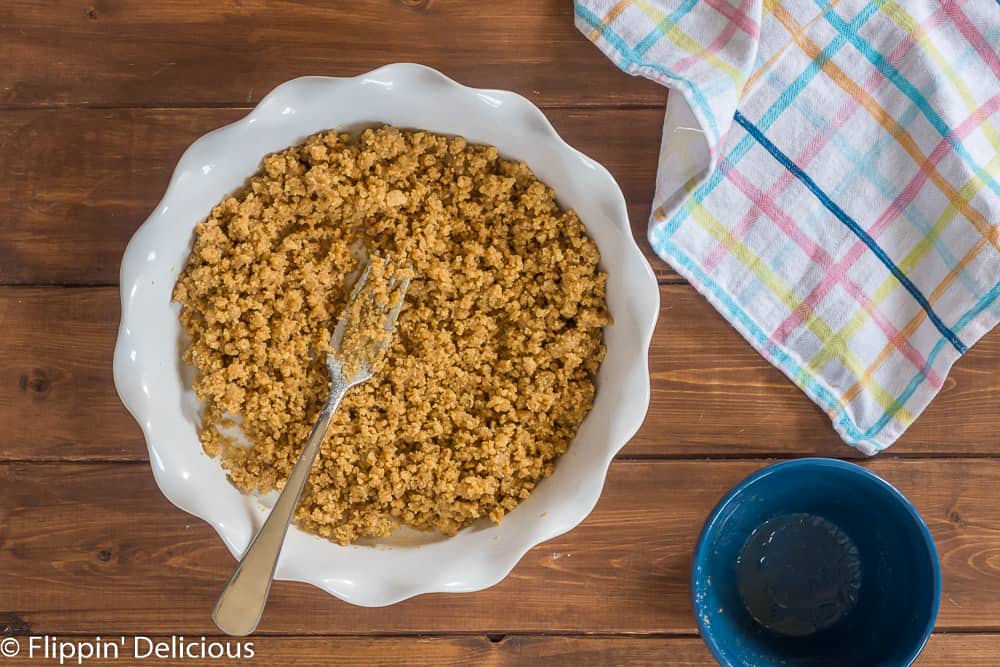 Using a glass makes pressing the crust out evenly in your pie pan makes it super easy. You can also press the crust out with your fingertips, but when I do I always end up with uneven spots.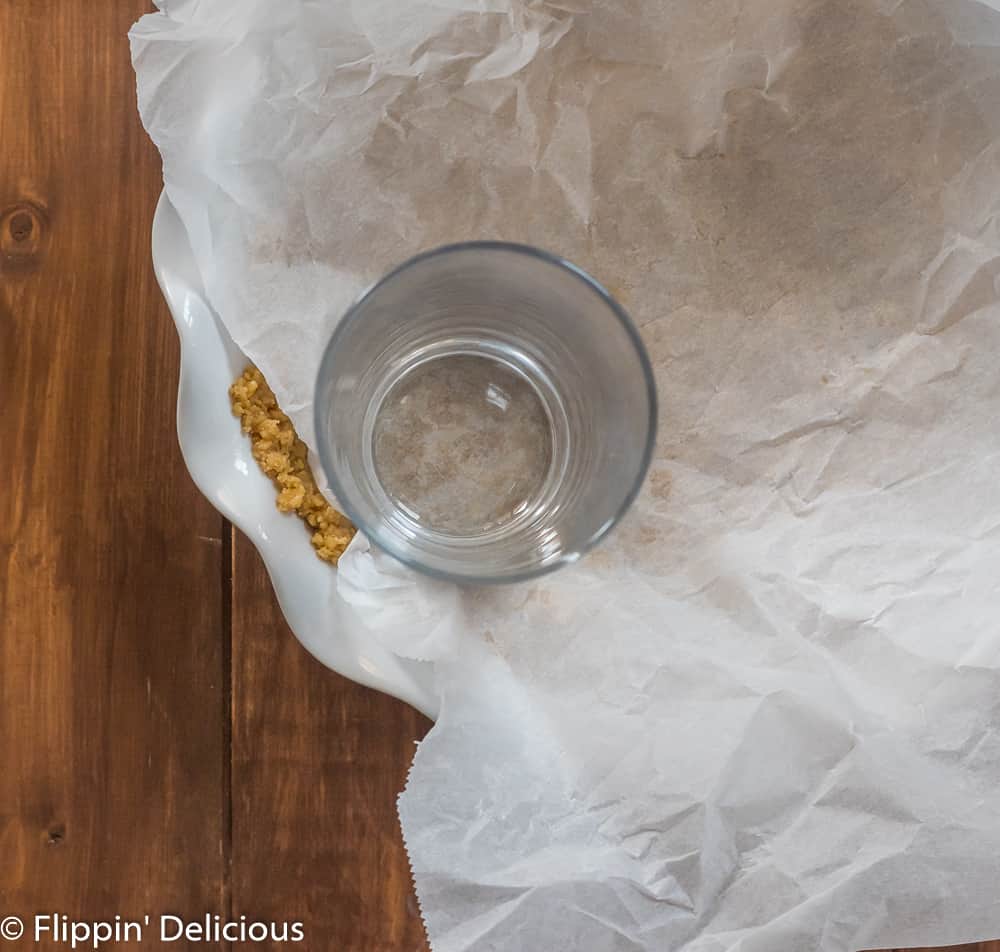 If you don't have gluten free graham-style crackers or cookies on hand, you may ant to try my friend Chrystal's gluten free graham cracker crust that doesn't use graham crackers!
How to make vegan pudding?
There are many different ways to make pudding.
I like using instant pudding mix to make my vegan pudding pie, because it is quick, easy and predictable.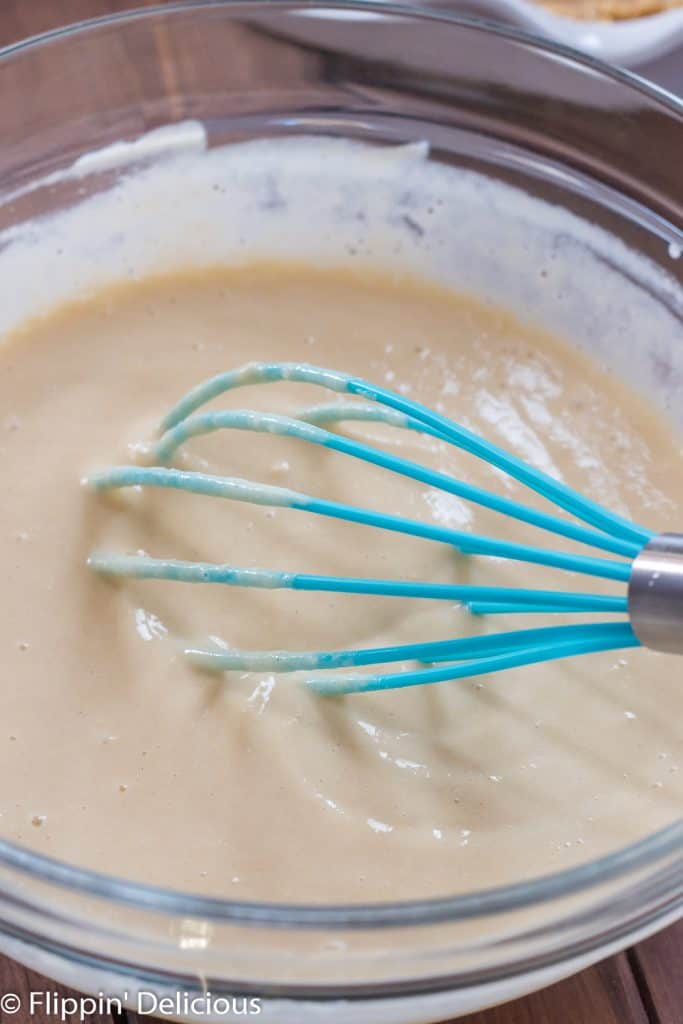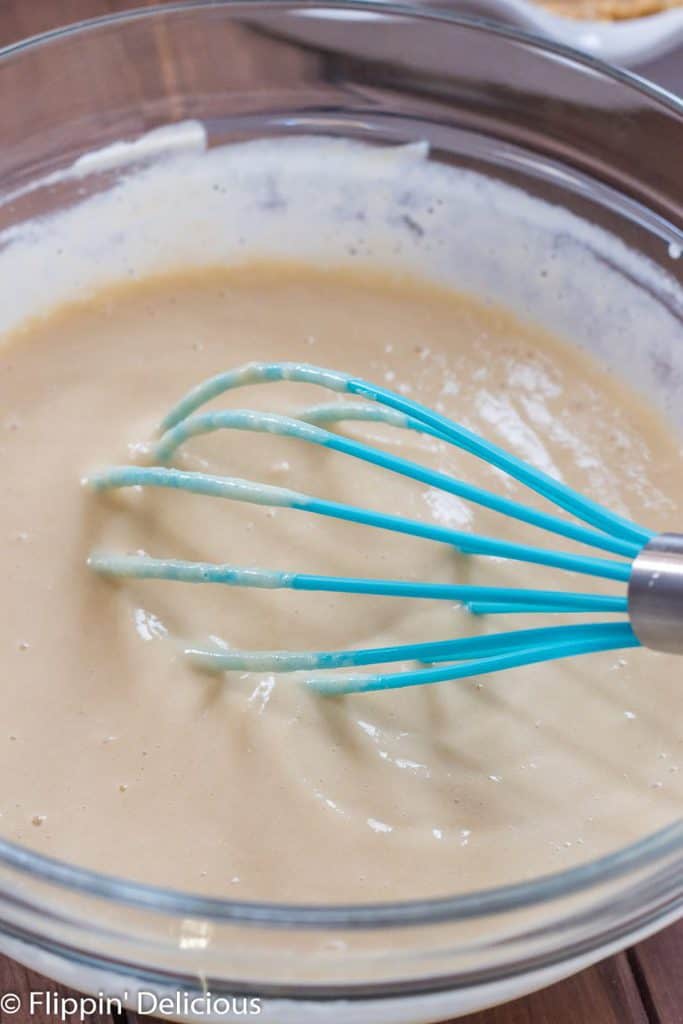 However, most of the instant pudding you'll find at your local grocery store won't set in dairy free milk, or ill only set it you use a lot less milk which overall effects the taste and texture. I like using Vivian's Live Again Chocolate, or Banana and Vegan Pudding Mix because
I know all the ingredients are vegan.
I know exactly how much dairy free milk to use.
It sets up quickly and reliably, and tastes great!
I've been using Vivian's Live Again's pudding mix for years, and have used it in my Gluten Free Vegan Chocolate Pie, Vegan Cheesecake Pudding Pops, Unicorn Pudding Pops, and Gluten Free Strawberry Poke Cake.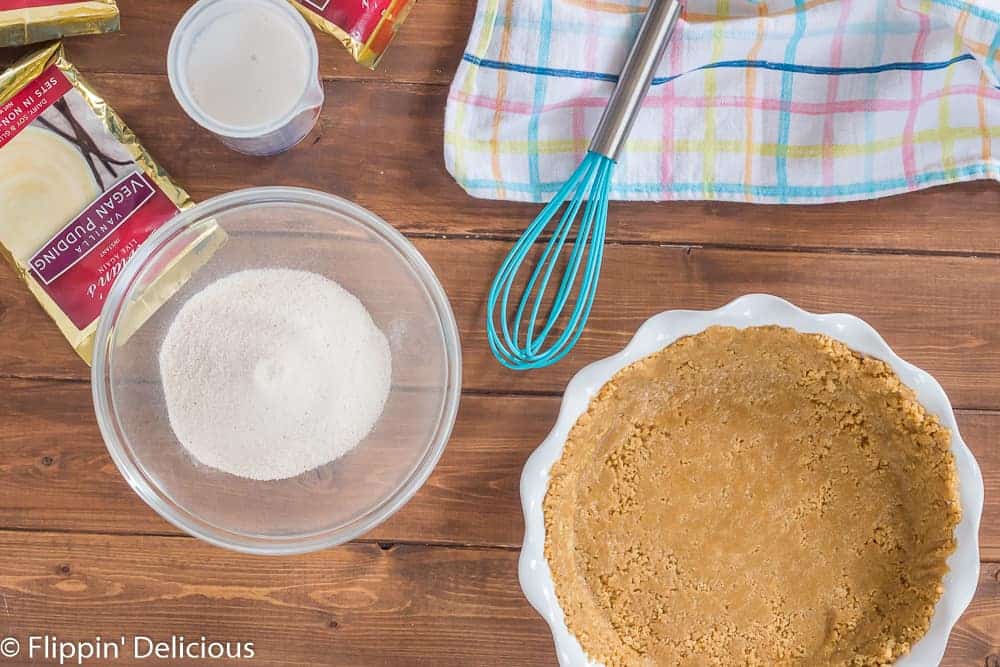 To make your vegan pudding for your pie you only need the vegan pudding mix and some dairy free milk. That is is!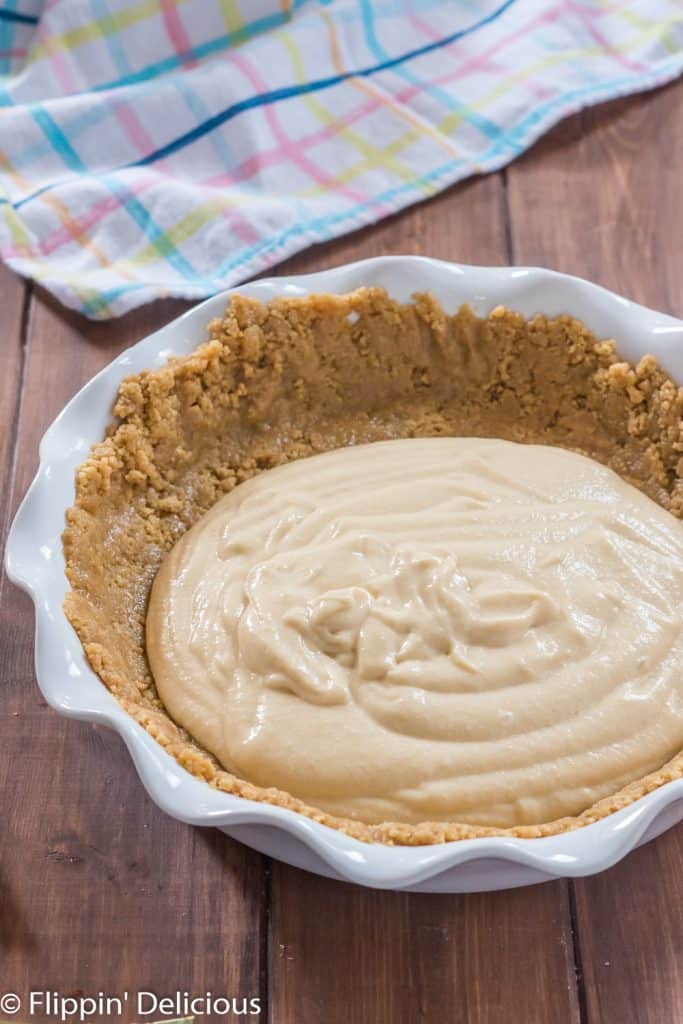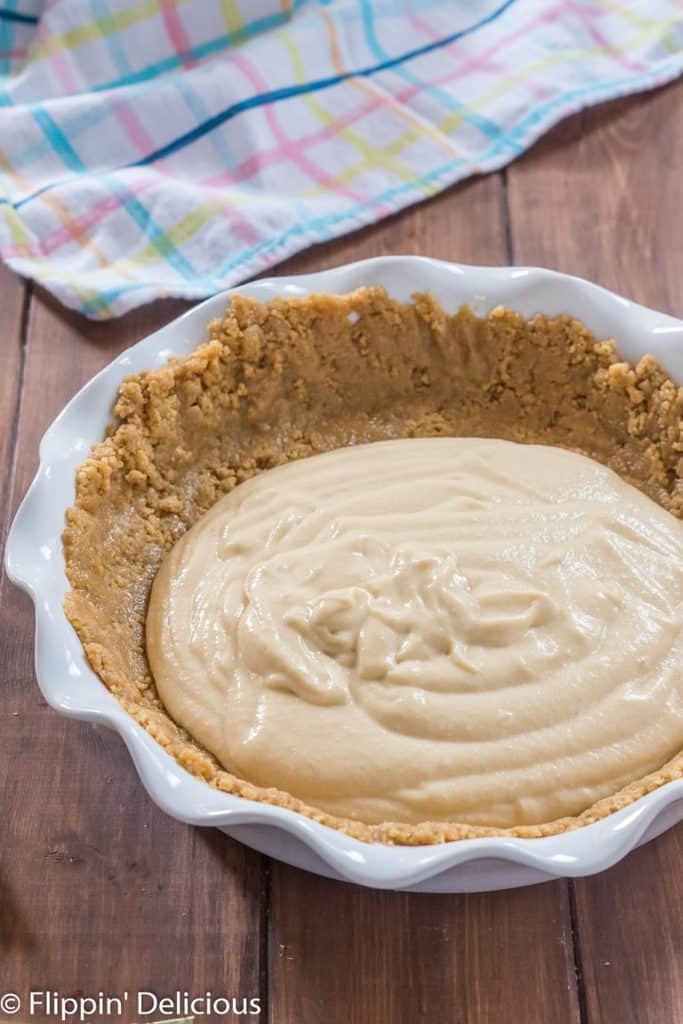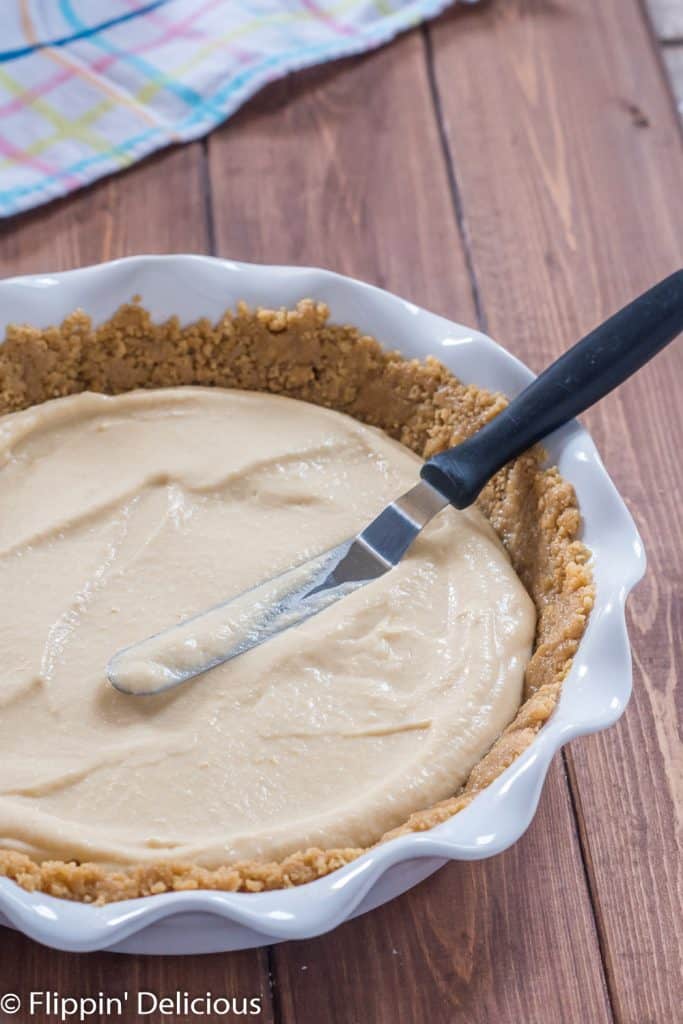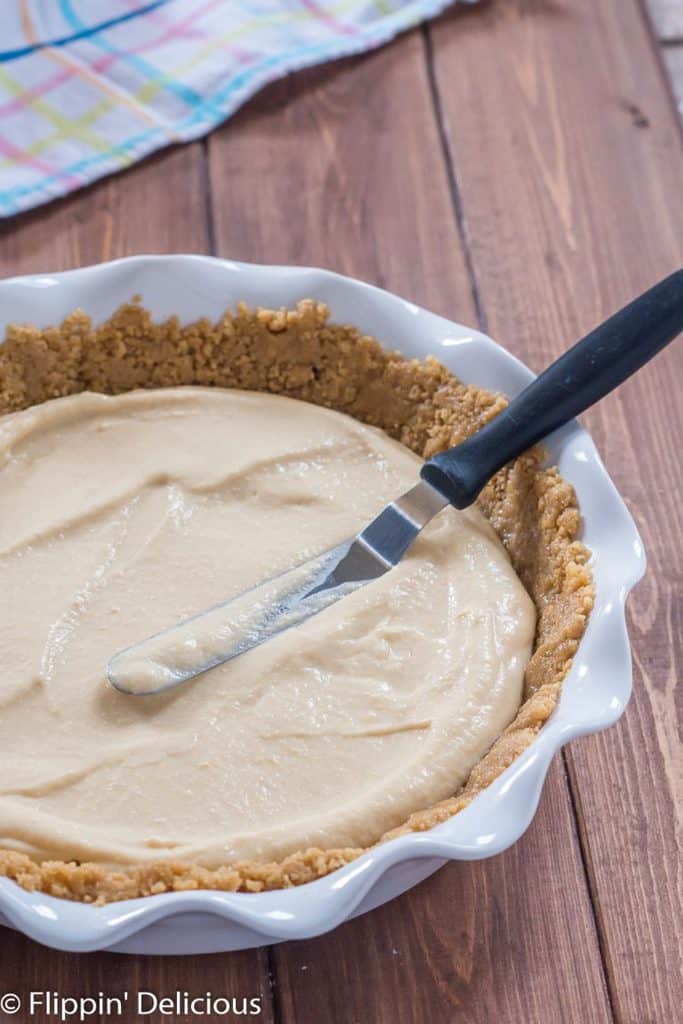 It also makes a great gluten free vegan coconut cream pie!
You can make vegan pudding over the stove-top but it can take longer, has to cool, and sometimes won't set firm enough for a pie.
How to make vegan vanilla pudding pie?
It is super easy to make vanilla pudding pie if you use Vivian's Live Again's Vanilla Pudding Mix. All you have to add is your favorite dairy free milk!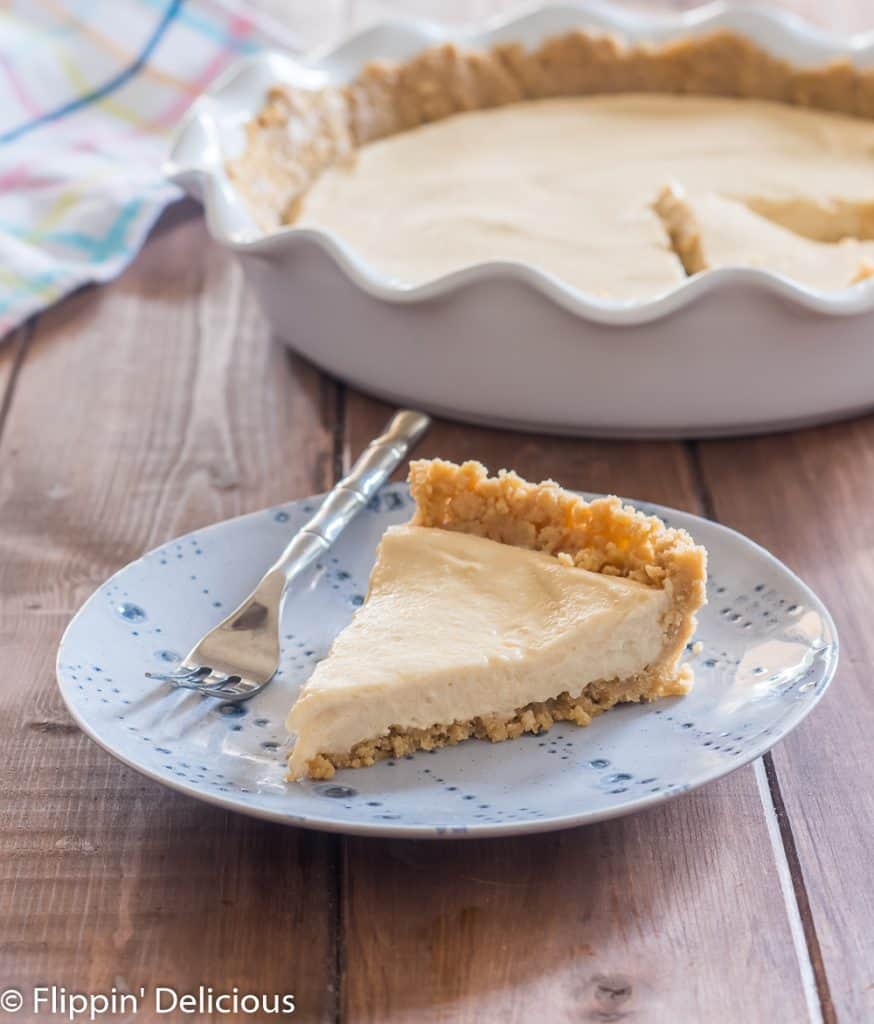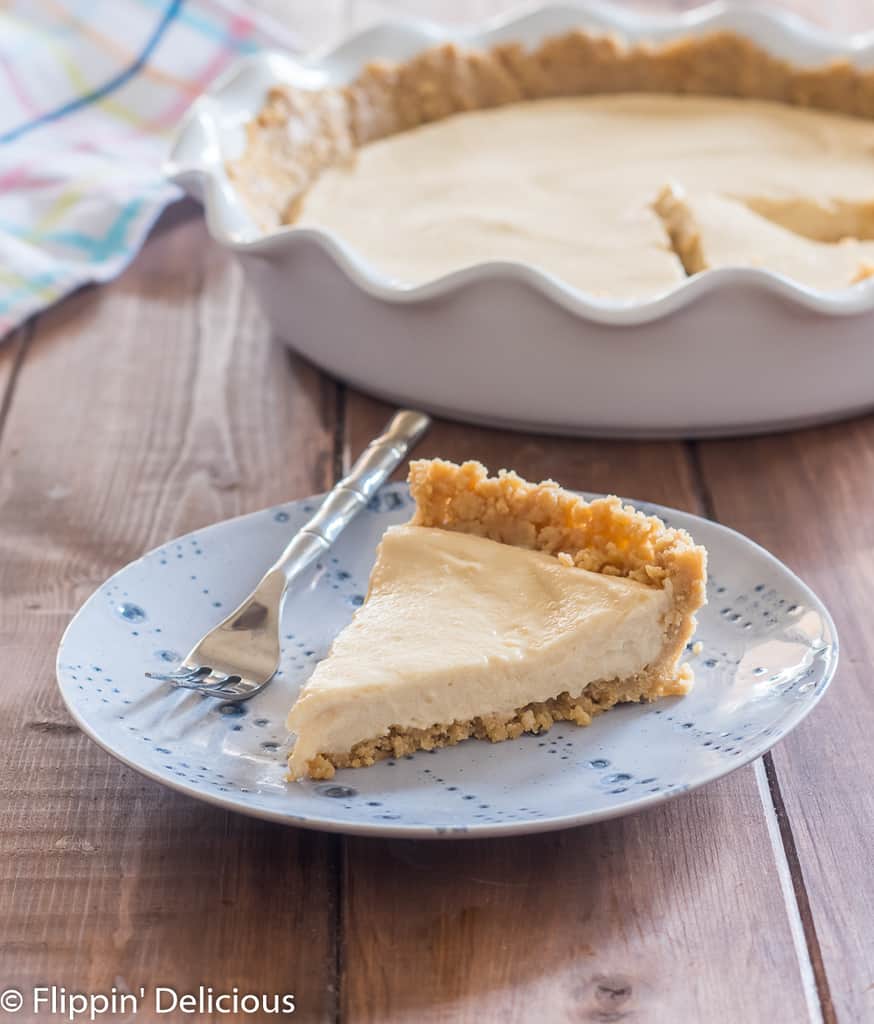 How to make vegan chocolate pudding pie?
I have made gluten free chocolate pudding pie more times than I can count using Vivian's Chocolate Pudding Mix. You can also stir some melted and cooled vegan chocolate into the vanilla pudding mix before pouring it into your crust.
You can also make my fluffy vegan dream whip chocolate pie.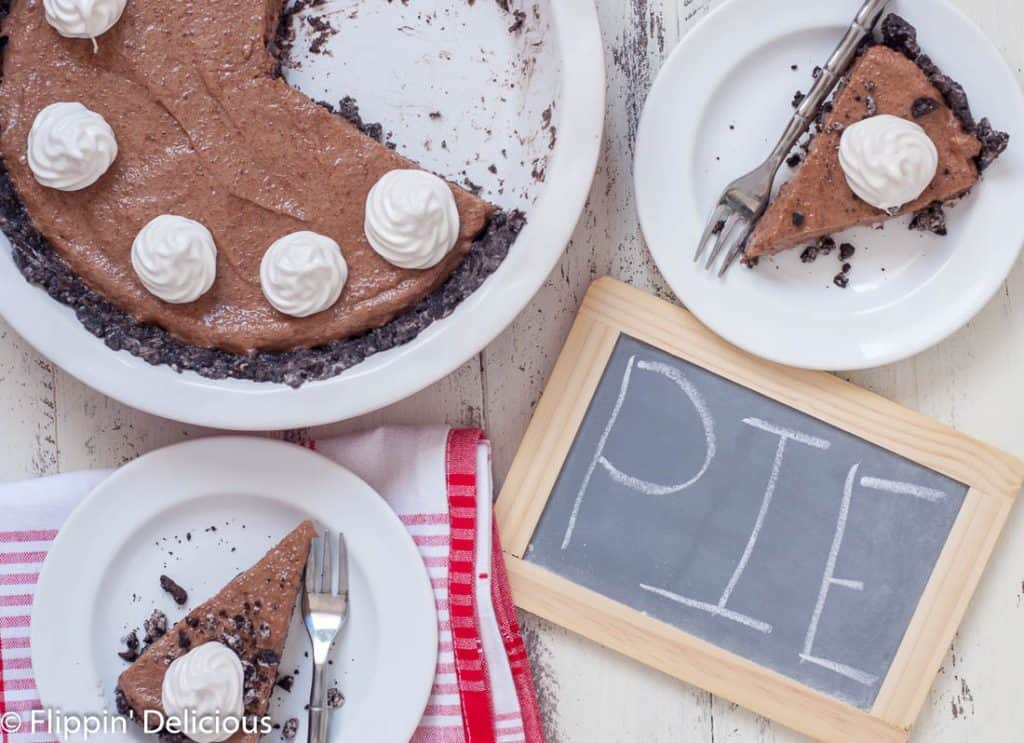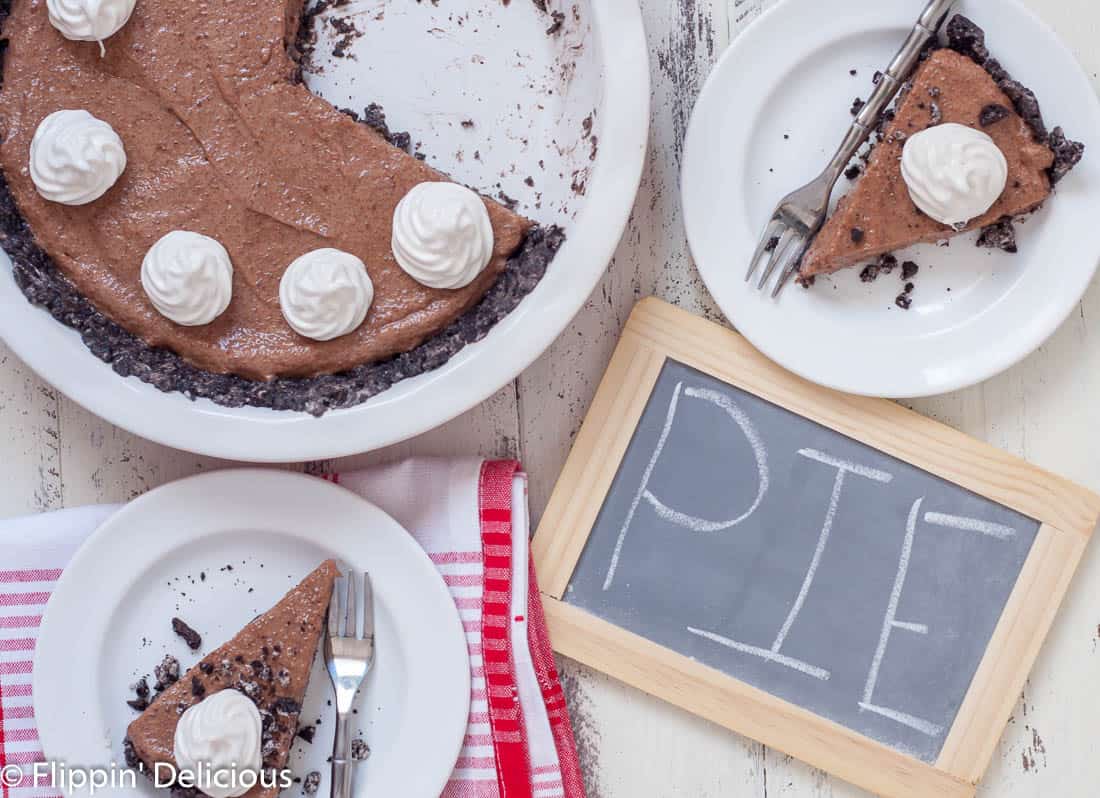 How to make vegan banana pudding pie?
One of the "secrets" in Vivian's Live Again's Vegan Pudding Mix is banana flour. I don't know how or why it works, but it does. You don't taste the banana in the vanilla pudding mix, but Vivian's made a Banana Pudding mix which makes an incredible vegan banana cream pie.
Before pouring your pudding mix into your crust, add some sliced bananas. Then top your chilled banana pudding pie with some creamy whipped topping and more sliced bananas.
Is instant vanilla pudding vegan?
Most instant vanilla pudding mixes are not vegan, or on't set up in vegan or plant-based milks. I use Vivian's Live Again's Vegan Instant Pudding Mix, because it is made to be used with dairy free milk and set up great!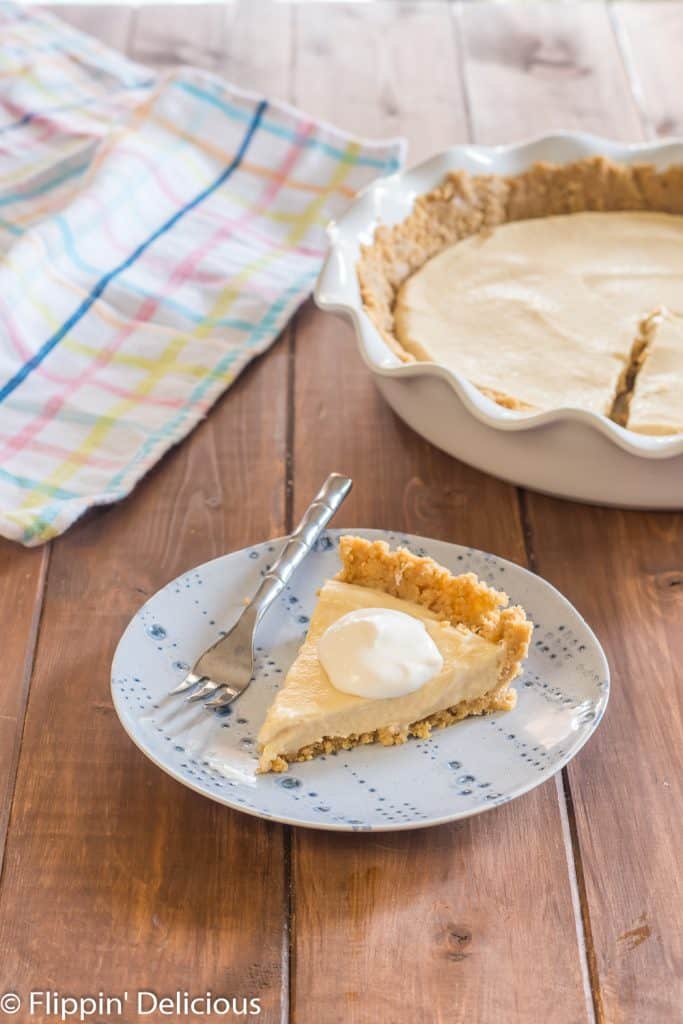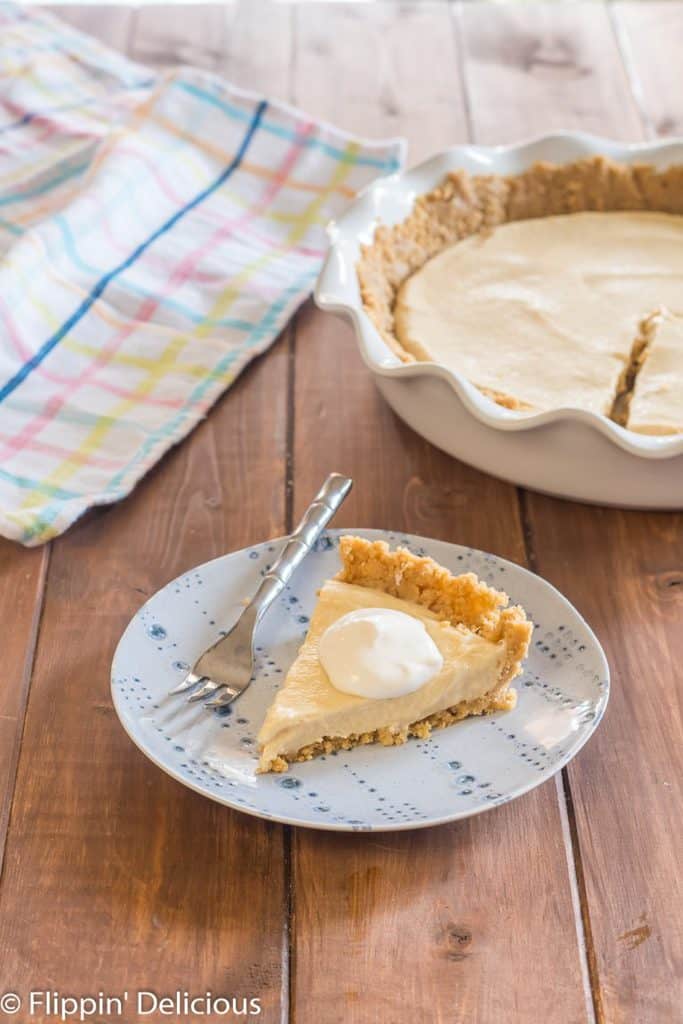 what dairy free milk will work with instant pudding mix?
Most instant pudding mixes won't set when mixed with dairy free milk, or they will only set if you use almost half as much as the directions call for (which can really skew your recipes.)
Vivian's Live Again's Instant Pudding Mix is the exception.
I've tried almond milk, cashew milk, and coconut milk with Vivian's Instant Pudding mix, and they all have worked great. Rice milk will work too, but it has to be boiled first or it won't set correctly.
📖 Recipe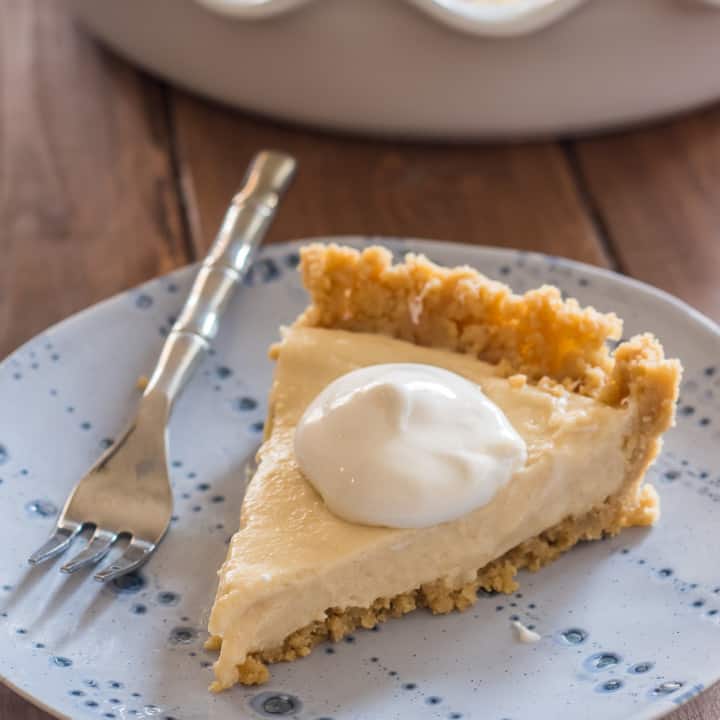 Vegan Pudding Pie
Yield:
8 slices of vegan pudding pie
Total Time:
4 hours
20 minutes
Easy gluten free vegan pudding pie, easily customized to make a chocolate or banana pudding pie.
Ingredients
2 cups vegan cookie crumbs
¼ cup vegan butter
1 ½ cups dairy free milk
Instructions
First, mix your cookie crumbs with about half of the melted vegan butter in the bottom of your pie pan. Add the remaining butter, 1 tablespoon at a time, until you have a sandy mixture that holds its shape when you squeeze it in your hand, or will stay in place if you gently press it on the sides of the pie pan.
Using your fingertips or the bottom of a drinking glass or metal measuring cup, gently press the crumb crust out in an even layer.
In a medium mixing bowl, whisk the pudding mix with the milk until smooth. Pour immediately into the prepared cookie crust and place in the fridge to chill.
Chill for 3-4 hours, and then slice and serve with creamy whipped topping.
Notes
To make chocolate pudding pie, use instant chocolate pudding mix or add some melted cooled chocolate to the pudding before adding it to the pie crust.
To make banana cream pie, use vegan banana pudding mix,. Before adding it to your pie crust, line the bottom of your crust with sliced bananas. Garnish your finished vegan banana pudding pie with creamy whipped topping and more sliced bananas You can also make a banana cream pie using vanilla pudding.
I used some crushed sugar cookies to make my gluten free vegan cookie crumb crust. You can use any crushed cookies or graham crackers you would like. I used Melt as my vegan butter, but I've also used Earth Balance, and Country Crock Plant Butter Sticks with similar results.
Nutrition Information
Yield

8
Serving Size

1 slice of pie
Amount Per Serving
Calories

400
Total Fat

21g
Saturated Fat

9g
Trans Fat

1g
Unsaturated Fat

10g
Cholesterol

19mg
Sodium

465mg
Carbohydrates

50g
Fiber

2g
Sugar

27g
Protein

5g
All nutrition info is a guestimate and will vary depending on the ingredients you use.