Gluten free slow cooker meatloaf is moist and tender, with a delicious crusty glaze. This is comfort food at its very finest!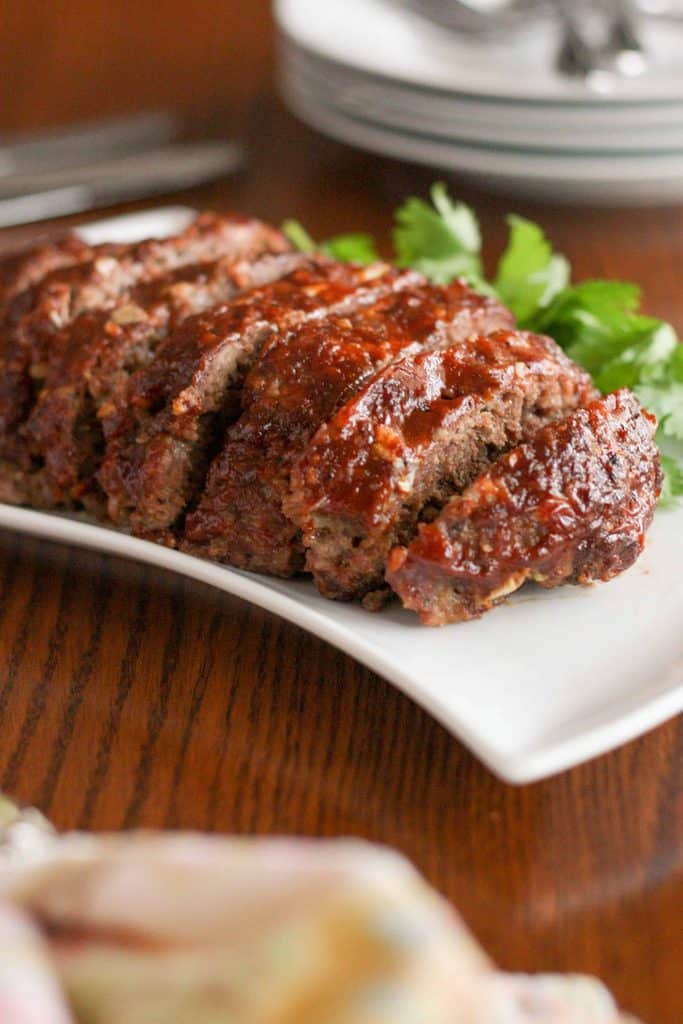 What is for dinner? It is a question that I'm always asking myself. And my 3-year-old is asking me too. Normally while pulling on my shirt and whining and asking for chocolate.
Dinnertime is such an important family time, but it is something that I often struggle with. That is one of the reasons that I'm a gluten-free dinner fanatic. I know the importance of eating well as a family, despite how difficult it can sometimes be to pull it off. I am always striving to get better at getting a healthy dinner on the table. Even if it is gluten free macaroni and cheese.
I created this recipe just with that in mind!
I've discovered that one of the reasons that dinnertime is so difficult is that the kids are cranky, which makes me cranky. Then it takes about 500% longer than it should to make dinner because of the crying baby and whining 3-year-old pulling on my leg. Most of my time in the kitchen is spent fielding kiddos instead of actually making dinner!
One solution is to prep dinner earlier in the day, so that when cranky-o'clock rolls around you can focus on your little ones.
By cooking your gluten free meatloaf in the slow cooker you can prep it earlier in the day (like maybe during nap time?) when everybody is slightly less cranky.
If you are running late and don't have time for the slow cooker, that is ok too. Just toss it in the oven.
This gluten free slow cooker meatloaf is really easy to mix together; the hardest thing to do is to dice the onion. I hate those onion tears!
Once you mix all the ingredients together you just divide the mixture in half and pat it into 2 little "loaves" a little bigger than your hand. (Doing 2 slightly smaller loaves helps them to cook faster and more evenly.)
I already told you how easy this meatloaf is to make, but I haven't mentioned how delicious is it! It is so savory, and just packed with flavor. Salt and pepper make the world go 'round, people! A little steak sauce brings it to the next level. The flavors in the gluten free slow cooker meatloaf recipe are simple, but they really shine through. You can use homemade gluten free breadcrumbs or store-bought gluten free breadcrumbs. Either work.
This is easily the best meatloaf that I've ever made!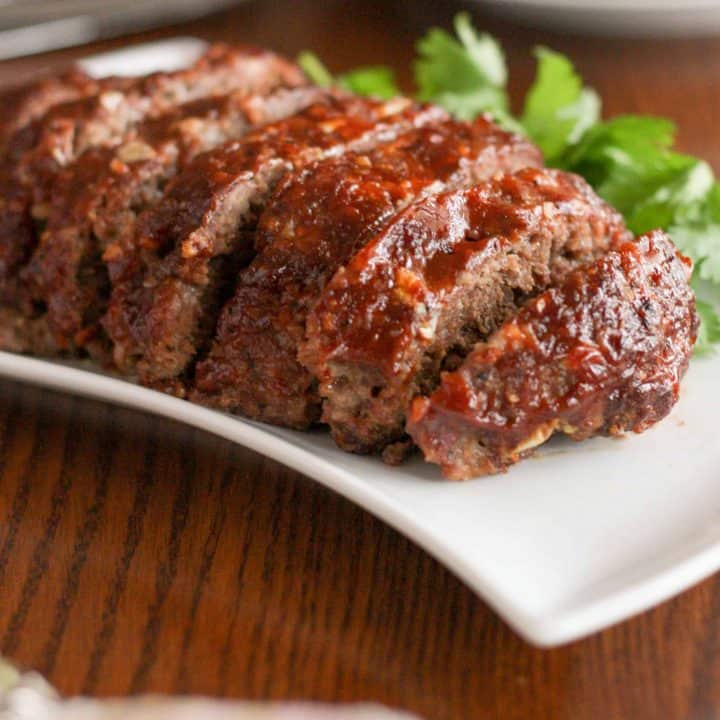 Gluten Free Slow Cooker Meatloaf
Gluten Free Slow Cooker Meatloaf easily made in your crock pot or an Instant Pot on the slow cooker setting
Ingredients
2 pounds Ground Beef
1 Egg
½ cup Gluten Free Breadcrumbs
1 cup Diced Onion, About ½ a large onion
1 teaspoon Minced Garlic
1 teaspoon Italian Seasoning
1 teaspoon Ground Black Pepper
1 ½ teaspoons Salt
2 tablespoons Milk
2 tablespoons Ketchup
2 tablespoons A1 Steak Sauce, Use any gluten free steak sauce you like
For the Glaze
3 tablespoons Ketchup
3 tablespoons A1 Steak Sauce
Instructions
Lightly mix all the bread crumbs, onion, garlic, Italian seasoning, ground pepper, salt, milk, 2 tablespoons ketchup and 2 tablespoons steak sauce together in a large mixing bowl.
Divide the mixture in half, form each half into a loaf, and place onto a sheet of aluminum foil.
If you are doing the slow cooker method, move the meatloaf on the aluminum foil to your slow cooker and cook on high for approximately 2 hours, or on low for about 4. The times will vary based on your slow cooker.
If you are baking in the oven, move your meatloaf on the aluminum foil to a baking sheet and bake at 375°F for 50-60 minutes, or until done.
About 10 minutes before your meatloaf is finished cooking, mix together the remaining ketchup and steak sauce for the glaze and brush over the meatloaf.
Let cool slightly before cutting to let the juices settle.
Nutrition Information
Yield

6
Serving Size

1
Amount Per Serving
Calories

517
Total Fat

28g
Saturated Fat

10g
Trans Fat

1g
Unsaturated Fat

13g
Cholesterol

166mg
Sodium

1196mg
Carbohydrates

20g
Fiber

2g
Sugar

8g
Protein

44g
All nutrition info is a guestimate and will vary depending on the ingredients you use.