These buttery crisp gluten free spritz cookies are simple, yet classic. Dairy free, and perfect for holiday gift giving.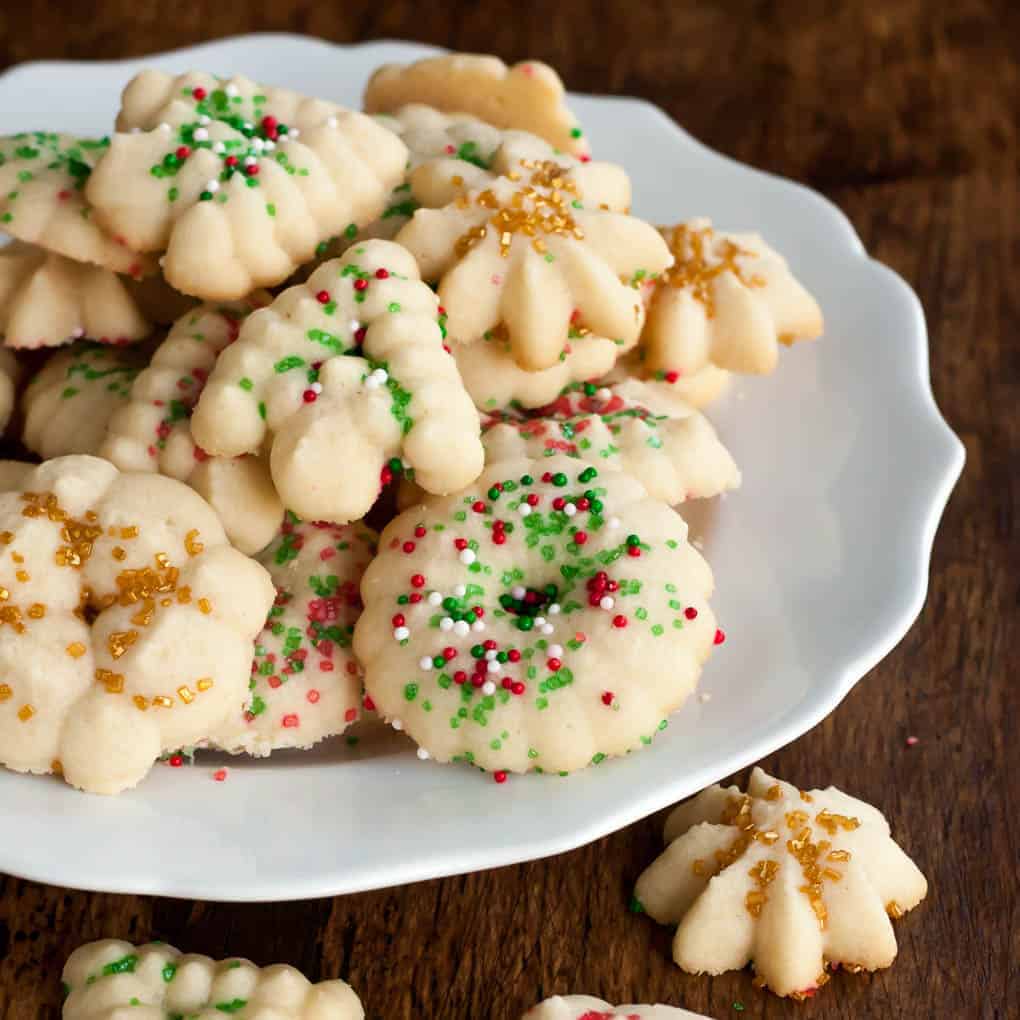 How to make Gluten Free Spritz Cookies
If you've spent much time on my blog, you may have heard about my passion for gluten free cookies. While I love all cookies, gluten free holiday cookies have a very special place in my heart.
I've written several cookbooks in the six years that I've been blogging here at Flippin' Delicious, and my new Gluten-Free Holiday Cookies cookbook is the one that I am most proud of!
I actually wrote all of these gluten free Christmas cookie recipes a few years ago and released the cookbook just before Thanksgiving. However, about the same time I started working full-time on top of my blog and the hustle and bustle of a new job + the holidays, I completely forgot to tell people about it!
Everyone on my email newsletter heard about it, but no one else really did.
I knew that this holiday season I had to remedy that because these cookies are too good to miss.
I've taken some tried and true favorites and updated them, and created new recipes that are sure to become your new favorites, like these gluten free spritz cookies.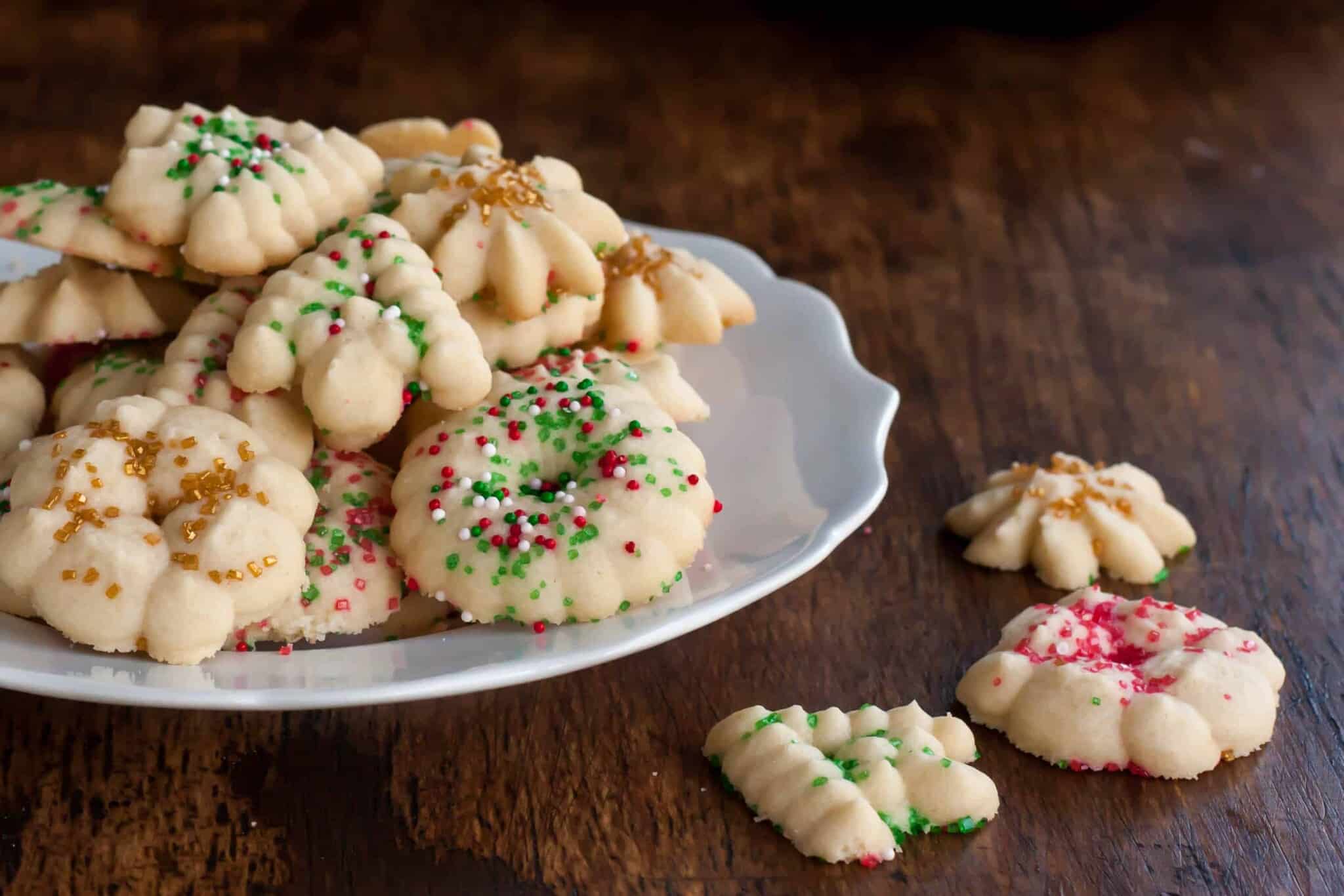 I also created recipes for Gluten Free Classic Cookies, Gluten Free Holiday Twists, and Gluten Free International Cookies like:
Gluten Free Chocolate Crinkle Cookies
Gluten Free Dairy Free Shortbread
Gluten Free Snickerdoodles
Gluten Free Peppermint Sugar Cookies
Gluten Free Eggnog Sugar Cookies
Gluten-Free Dairy Free Snowball/Mexican Wedding Cookies
Gluten Free Cream Wafers
Gluten Free Biscochitos
Gluten Free Biscotti
In all, there are 25 gluten-free, dairy-free holiday cookie recipes. You are sure to find your new favorite in Gluten-Free Holiday Cookies!
My kids and I love anything with sprinkles on it. What we love even more are the fun shapes of these allergy-friendly gluten free spritz cookies.
This recipe is best made with a cookie press.
I tried piping the dough with my frosting bag, but I didn't have much success. The cookie press is worth the small investment! I got mine on Amazon for less than $15.


The gluten free spritz cookie batter is easy to mix up.
All you have to do is scoop the batter into the cookie press and the rest is a cinch.
Because gluten free spritz cookies are small, you can easily crank out a large amount of gluten free holiday cookies, making them perfect for gift giving.
This batch makes 5-6 dozen gluten free spritz cookies.
You can easily double it and make gluten free holiday cookies for everyone you know!
These allergy-friendly spritz cookies are actually dairy free, but I've also included the adaptions to make gluten free spritz cookies with butter.
I've tried using other flours with this recipe, and one flour I tried actually didn't release from my cookie press. For this reason, I highly recommend you use my gluten-free flour blend or another blend that is very similar.
Please, don't use a blend that already has xanthan gum in it. I think that is why the other blend I tried didn't work well for me. It was too sticky.
I'm giving you this recipe "on-the-house" just because I love you guys, and I'd love for you to buy my ebook too.
Normally I sell for Gluten-Free Holiday Cookies for $8, but just for you, use code: FlippinDelish to save $3.50!
That makes it just $4.50 for 25 gluten free holiday cookie recipes!

Buy Gluten Free Holiday Cookies for $4.50
Definitely a steal, you can't buy a latte for $4.50.
Also, by buying Gluten-Free Holiday Cookies you'll help me buy Christmas presents for my cute girls.
📖 Recipe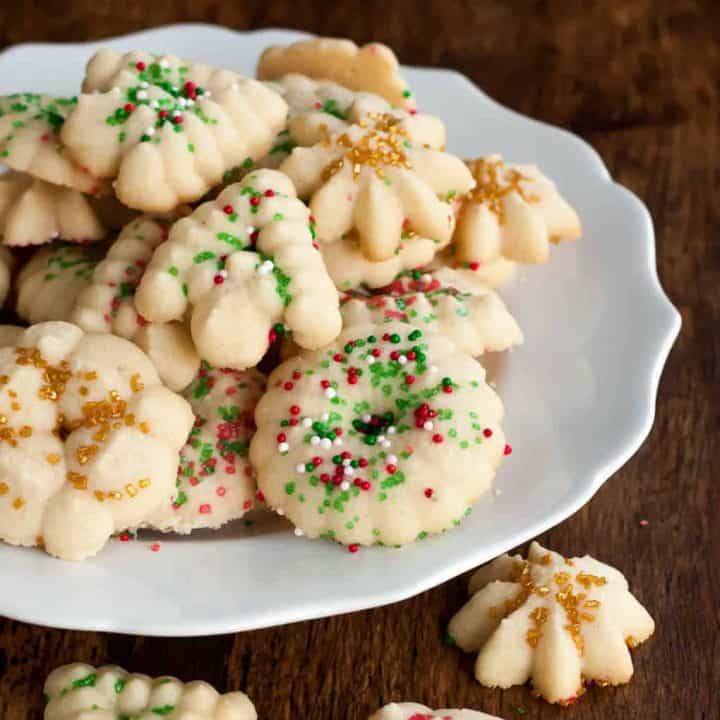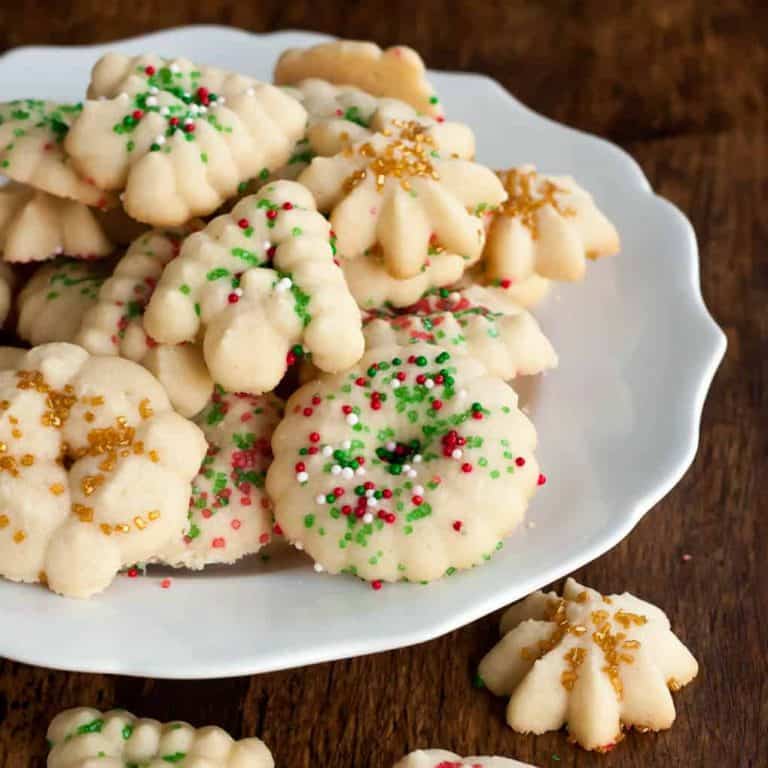 Gluten Free Spritz Cookies Recipe
Yield:
5-6 dozen gluten free spritz cookies
These buttery crisp gluten free spritz cookies are simple, yet classic. My kids and I love anything with sprinkles on it, and we loved the fun shapes that the cookie press made even more. All of our neighbors are getting these spritz cookies this year!
Ingredients
½ cup vegan butter
½ cup white sugar
1 egg
¼ teaspoon salt
Instructions
Preheat the oven to 350F. Line 2 baking sheets with parchment paper or a silicone baking mat.
Cream together the vegan butter, palm shortening, and sugar. Add the egg and vanilla extract and mix until smooth.
Add the salt, xanthan gum, and gluten-free flour and mix until you have a smooth, soft dough.
Scoop the dough into a cookie press according to the manufacturer's directions.
Press the dough into desired shapes directly onto the lined baking sheet approx. 1-1½ inches apart.
Sprinkle the cookies with sprinkles as desired then bake for 10-12 minutes or until they lose their doughy sheen. They will not be golden where you can see, but the bottom of the cookie will be. Cool until set before removing from the pan.
Notes
You can use 1 cup of butter instead of the vegan butter and palm shortening.
To make vegan or egg free, use your favorite egg substitute. I recommend Bob's Red Mill's Egg Replacer, or a flax egg made with 1 tablespoon flax meal and 3 tablespoons hot water.
Recommended Products
As an Amazon Associate and member of other affiliate programs, I earn from qualifying purchases.
Nutrition Information
Yield

72
Serving Size

1 cookie
Amount Per Serving
Calories

51
Total Fat

3g
Saturated Fat

2g
Trans Fat

0g
Unsaturated Fat

1g
Cholesterol

6mg
Sodium

19mg
Carbohydrates

5g
Fiber

0g
Sugar

1g
Protein

1g