Gluten free vegan Ninjabread Men made with an easy gluten free, dairy free, egg free, gingerbread cut out recipe are a fun treat that the whole family can enjoy during the holidays.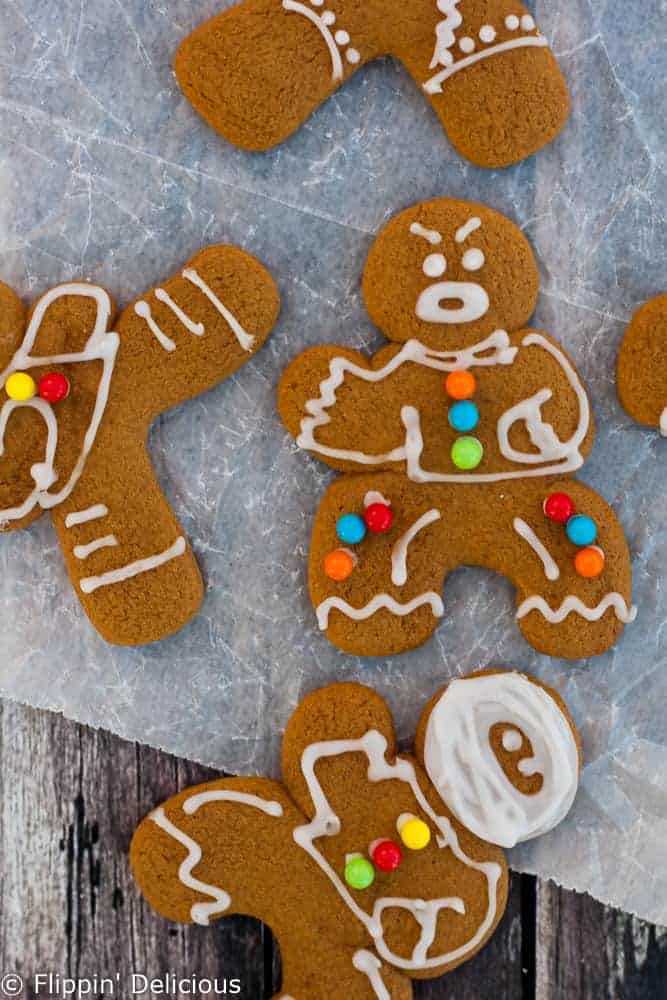 I have been DYING to make some cute little gluten free ninjabread men since I saw these cookie cutters on Amazon a year or two ago.
Plain gingerbread men are still ultra cute and definitely a family tradition, but little ninja gingerbread men?!? I have some little brothers who are all over this kind of stuff. And they are just plain fun.
I finally folded, and bought some ninjabread men cookie cutters to make these super cool gluten free vegan ninjabread men cookies as a part of this gluten free cookie exchange and giveaway (don't miss the recipes or the giveaway after the recipe in this post.) I think the cookie cutters were worth the investment!
(This photo is a clickable collage. Just click on the photo you want to get the recipe for!)
I started this baking project like I do many others. With a fussy baby on my hip, trying to finish using the mixer before I put her down for her nap. Rushed. Tired. Luckily I didn't make any mistakes EXCEPT that I was planning to make the gluten free ninjabread men cookie dough vegan also. I was just making a few changes to the gingerbread cutout recipe in The Essential Gluten-Free Cookie Guide. I was already using shortening, but I needed to use a flax egg instead of the chicken egg that I normally use. As soon as the yolk hit the bottom of the bowl I realized my mistake. So I hurried and finished making the cookie dough, put it in the fridge to chill, and then put Baby T down for her nap.
Then I made another batch of cookie dough, this time using the flax egg like I had planned too.
I can't complain too much, I just got double the gluten free ninjabread men out of it.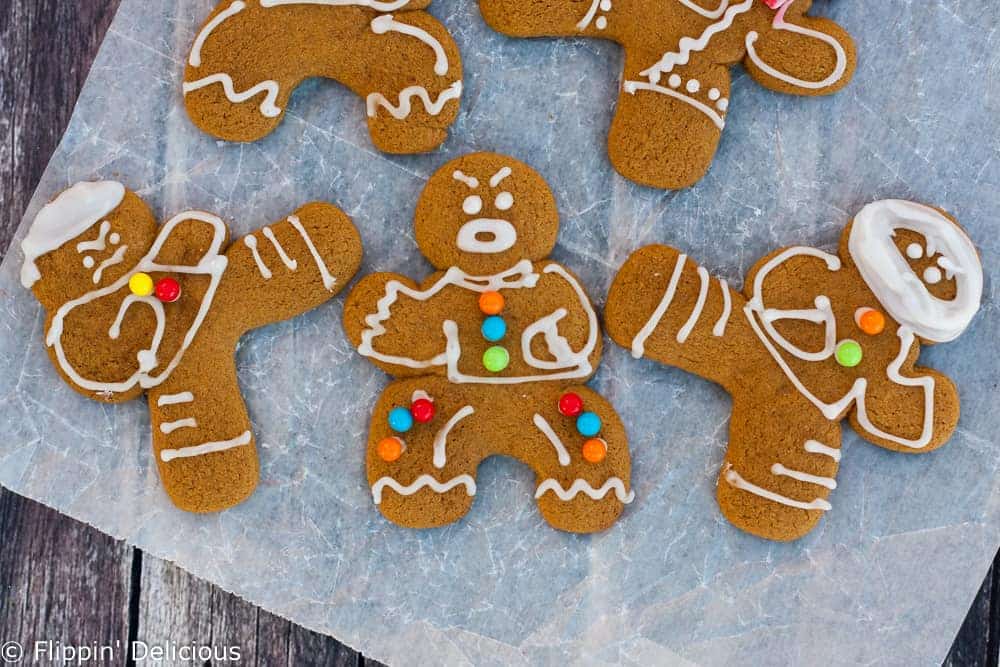 To keep my ninjabread men vegan, I used an egg-free royal icing to decorate them. It really is just powdered sugar with the tiniest bit of water mixed it. It worked perfectly! Just be careful to not add too much water. If you do the frosting will run all over the place.
When I first started decorating them I was rushed. I could tell the baby was starting to wake up from her nap, and I had to pick Miss E up from preschool very soon. The first dozen cookies looked terrible! If you follow me on snapchat (@flippindelish) you got a peek at my cookie decorating adventures. If you don't follow me on snapchat, you'll just have to take my word on it. The first cookies were ugly.
I wasn't entirely satisfied in my abilities to decorate the cookies I took pictures of either but I decided this gluten free vegan ninjabread men recipe is just about making something that the whole family can enjoy together. It was just about having fun! By the end of it I was having a blast, even decorating a few cookies in the likeness of some of my favorite Doctor Who characters.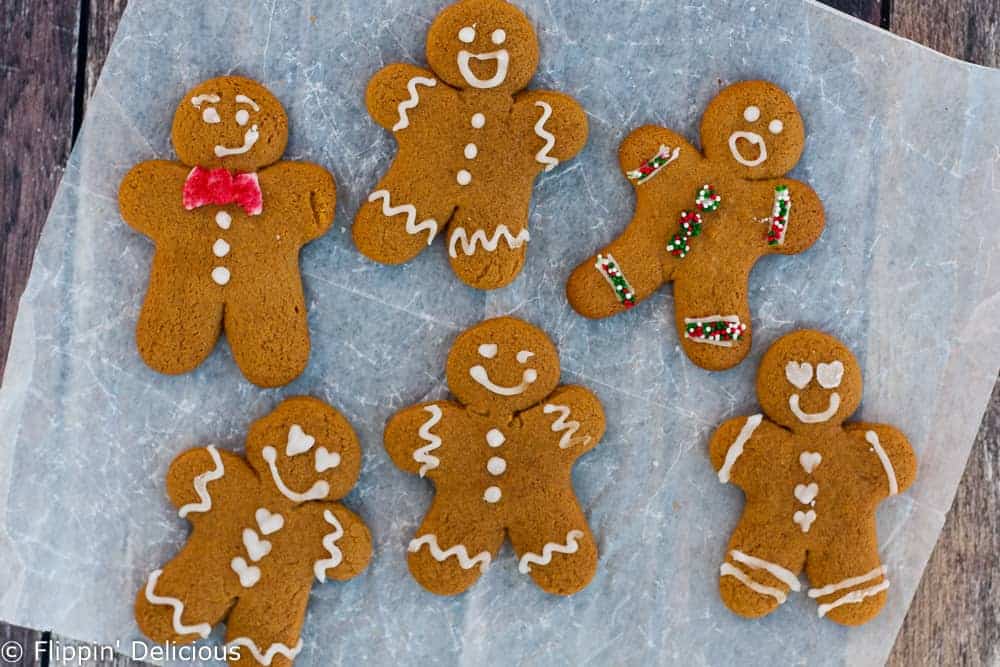 So bake up a batch of these gluten free vegan ninjabread men and decorate them with your friends and family this holiday.
Are you looking for paleo or grain free gingerbread men? Check out my friend Taylor's Paleo Healthy Gingerbread Cookies.

📖 Recipe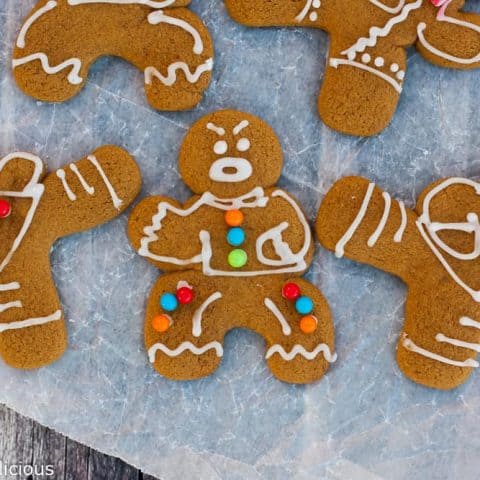 Gluten Free Vegan Gingerbread Cookies
Gluten free vegan ninjabread men made with an easy gluten free, dairy free, egg free, gingerbread cut out recipe are a fun treat that the whole family can enjoy during the holidays.
Ingredients
¾ cup plus 2 tablespoons firmly packed brown sugar
½ cup shortening (I used butter flavored vegetable shortening, but use whatever is your favorite)
1 tablespoon ground flax seed
½ cup molasses
¾ teaspoon baking powder
½ teaspoon salt
1 teaspoon xanthan gum
1 teaspoon ground ginger
¾ teaspoon ground cinnamon
¼ teaspoon ground nutmeg
¼ teaspoon ground cloves
For the egg free royal icing
1 cup powdered sugar
1 -2 tablespoons water (I used 1 ½ tablespoons)
Instructions
In a small bowl mix together the ground flax seed with 3 tablespoons of hot water. Set aside and let sit for at least 5 minutes. This is your flax egg.
Cream together the brown sugar and shortening. Add the flax egg and molasses and mix until smooth.
Add the remaining ingredients and mix until smooth.
Split the dough in half. Form each half into a disk and wrap in plastic wrap. Chill for at least an hour, up to several days.
When you are ready to bake your cookies preheat the oven to 350F. Line a baking sheet with parchment paper or a silicone baking mat.
Roll the dough about ¼ inch thick and cut out with ninjabread men cookie cutters, or gingerbread people cookie cutters.
Place the cut outs on your prepared baking sheet , about and inch apart, and bake for 8-10 minutes. (8 for a chewier cookie, 10 for a crisper cookie.) The cookies will still be very soft when you remove them from the oven but will have lost their "doughy shine". They will set up as they cool.
For the egg free royal icing
Mix the powdered sugar and water together, about a teaspoon at a time, until you get a very thick but smooth icing.
Scoop into a decorating bag or sandwich bag with a tiny bit snipped off of the corner.
Decorate your cookies as desired with icing and any desired sprinkles or candies.
Notes
If you use this cookie dough to make your gingerbread houses, bake the cookies for a few minutes longer so that they are extra crisp. The length of time will depend on how big your pieces are.
Nutrition Information
Yield

36
Serving Size

1
Amount Per Serving
Calories

68
Total Fat

3g
Saturated Fat

1g
Trans Fat

0g
Unsaturated Fat

2g
Cholesterol

2mg
Sodium

42mg
Carbohydrates

10g
Fiber

0g
Sugar

7g
Protein

0g
All nutrition info is a guestimate and will vary depending on the ingredients you use.
A few weeks ago I had the opportunity to go to the Food Allergy Blogger's Conference. While I was there I got to meet many of the awesome bloggers participating in this giveaway. I also got to meet up with some great companies, including
NoGii
. NoGii was founded by Elisabeth Hasselbeck. She designed NoGii's products to make a gluten-free lifestyle easier (and tastier) for the entire family. Since the conference I've been snacking away on the sample protein bars and shakes NoGii sent home with me. NoGii very graciously is providing the prize to the winner of this giveaway ($135 value), which includes:
1 Box of NoGii Chocolate Coconut Protein Bars
1 Bag of Chocolate Caramel Bliss D'Lites
1 Jug of Vanilla Whey & Quinoa Protein Powder
1 box of Nuts About Tropical Fruit Bars
1 NoGii shirt
The Caramel Bliss D'Lites are my favorite! I also was super impressed with the Whey & Quinoa Protein Powder. I have been looking for a safe protein powder that still tastes good, and I have finally found it. I mixed mine up with just milk, and even my sometimes picky husband really liked it. Normally I feel like I have to blend protein powder up with fruit and ice cubes to make it "palatable." That was not the case with NoGii's protein powder.
I'm also giving away a signed copy of my cookbook, The Essential Gluten-Free Cookie Guide. It is full of cookie recipes, including the not-vegan version of these cookies.
Be sure to check out the NoGii blog, it is full of information, tips, and gluten-free recipes. You can also find them on Instagram, Facebook, and Twitter!
Check out all 18 recipes in our virtual gluten-free cookie exchange, listed in the order they appear in the photo, left to right, row by row:

Linked up at Gluten-Free Recipe Fix: Holiday Edition