Warm and hearty green chile white bean chicken chili comes together in just minutes for an easy gluten free dinner.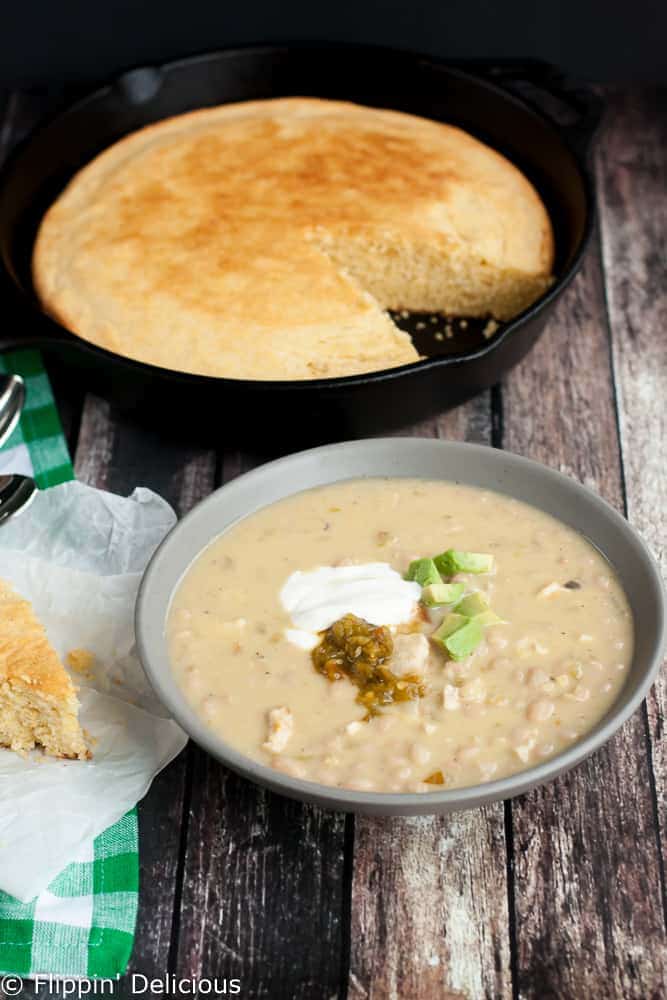 Green Chile White Bean Chicken Chili is one of my favorite quick and easy gluten free dinners. It is savory with just enough roasted green chile to give it a little kick. Nothing hits the spot more on a cool day than a steaming hearty bowl of white bean chicken chili.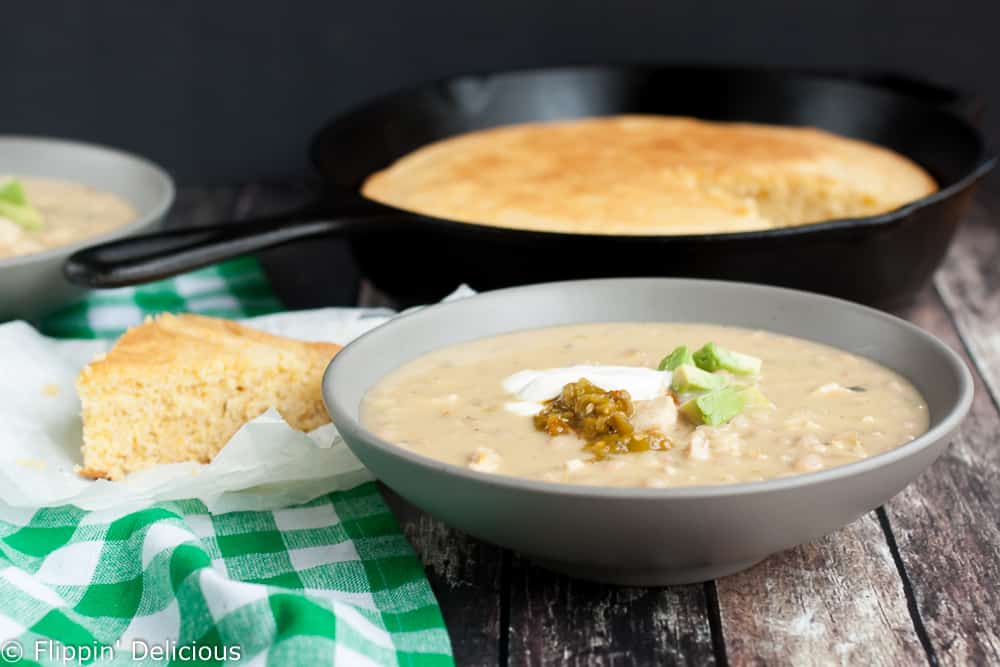 I have spent most of my life in the sunny land of enchantment. AKA, New Mexico, the land of chile. Our state question is "Red or Green?" Red or green chile, that is. We put it on everything around here. And I mean everything. I love the stuff!
Every fall you can smell green chile roasting all over town. Most of the grocery stores will fire roast green chile for you in their parking lot. They have these big rotating mesh metal cylinders that roast green chile fresh for you. The smell of roasting green chile is one of my favorite things, second only to gluten free pumpkin chocolate chip muffins and pumpkin spice lattes. And all of my other favorite gluten free pumpkin recipes.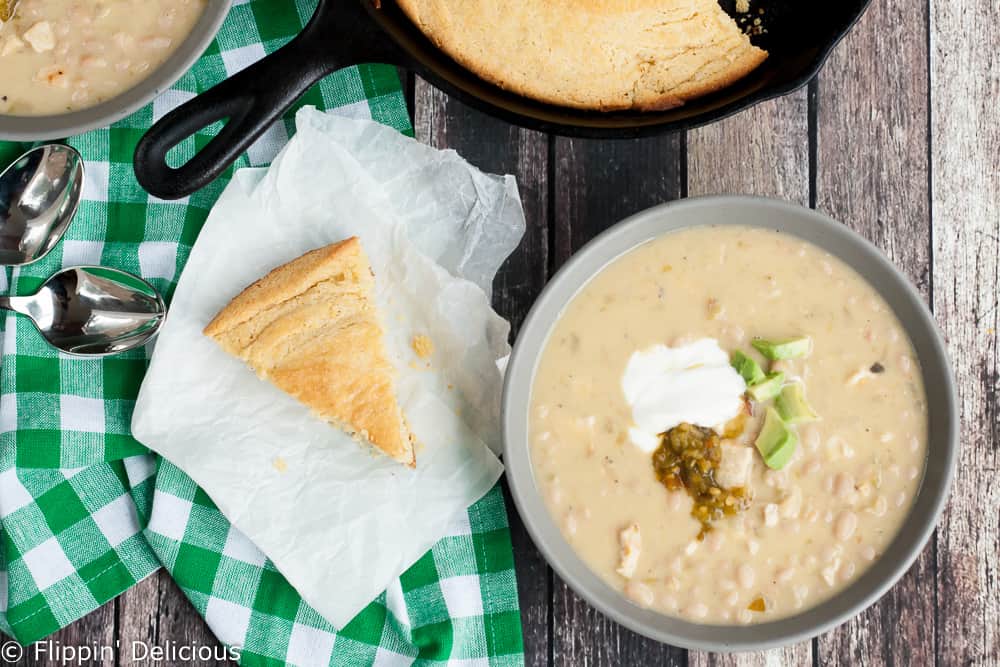 One reason that I LOVE this green chile white bean chicken chili recipe is that it is so easy to make! This time I started off by also sauteing some chopped onion and garlic. If you are in a rush you can skip that and use some onion powder and garlic powder instead. I always have some canned white beans in my pantry, so all I have to do is open a few cans, dice up some leftover chicken, and stir in some green chile and chicken broth. Bring the chili up to a simmer to let all the flavors bubble together and get yummy. I love to finish it off with a swirl of half & half or cream to give that extra creamy touch.
A steaming hot bowl of green chile white chili is only made better when you have a big wedge of gluten free honey cornbread or some easy gluten free biscuits to go along with it.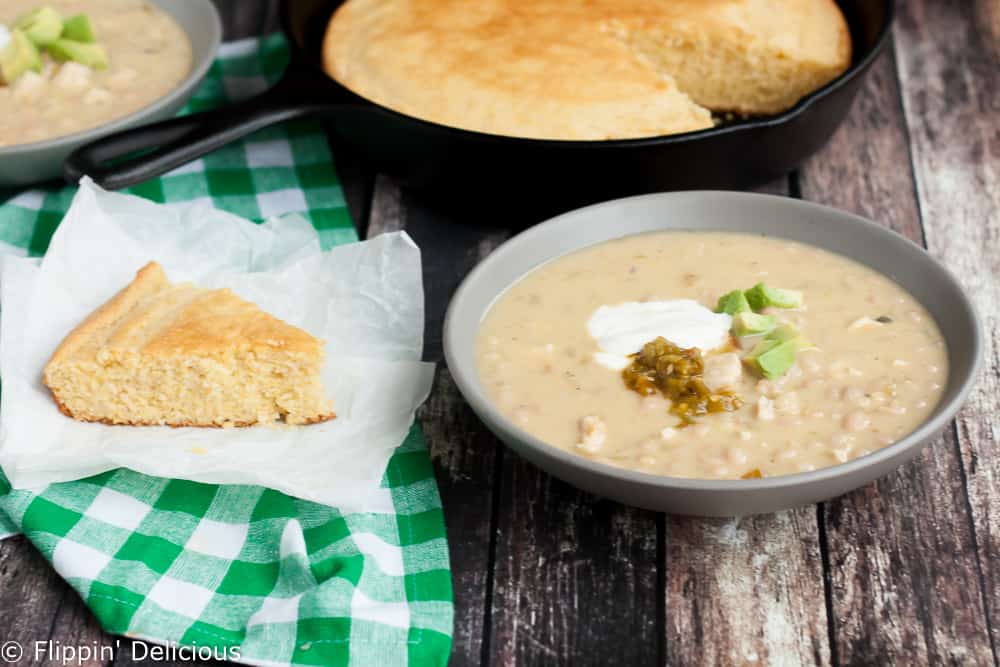 Top off your bowl with some diced avocado and a dollop of sour cream or greek yogurt to cool things down a bit and you have the perfect spicy warm bowl.
If you need a vegan soup with spicy flair, try this Vegan Tortilla Soup from my friend Meg. I love the fall twist she added to the recipe!