This Homemade Gluten Free White Cake Mix is perfect to keep on hand for whenever a cake emergency arises. Only 5 ingredients, and it makes a great DIY gluten free gift too!
If you are anything like me, you probably really love the convenience of gluten free mixes. I mean, mixes get rid of much of the gluten free baking guess work. Plus, it is just easy. I USED to think that there really wasn't a difference between using a mix or baking something from scratch... and then I had kids. It is so hard to not get lost in a recipe now. "Did I add ¼ cup of sugar, or ½ cup?" "Did I remember to add the xanthan gum?" "What about the salt?" I used to be able to just focus on the task at hand, but I just am not able to do that anymore. So I think it is an acceptable fact that mixes are just easier than baking from scratch. There is just one obstacle to using mixes all the time. $$$
As is often the case, it is much less expensive to DIY a gluten free mix than to buy one from the store. There are just 5 ingredients. Yep, just 5 ingredients. Making this homemade gluten free white cake mix really just as simple as measuring out 5 ingredients and giving them a quick whisk.
This recipe makes enough for one regular cake mix, making 24 cupcakes, 2 8-9 inch round cakes, or 1 9x13 rectangle cake. To make funfetti cake, just stir in some sprinkles. You can use the recipe to bake the cake mix, or sub it into your favorite recipe that has cake mix as an ingredient, like this Gluten Free Coconut Poke Cake.
By using dairy-free milk when you bake your cake mix you can make it dairy-free too!
One recipe also fits just perfectly into a 1 quart mason jar. You might have to pack it in just a little bit, but it will fit. Just tie a little bakers twine around it, and put a cute label or chalkboard sticker on the front so that you don't forget what it is.
If you are giving it as a gift, don't forget to include the ingredients to finish the cake and directions for baking it. You can use my handy printable recipe card, if you'd like. Or handwrite it for a personal touch.
I developed this recipe specifically for my gluten-free cake rice flour blend. Use it in this recipe for best results.

📖 Recipe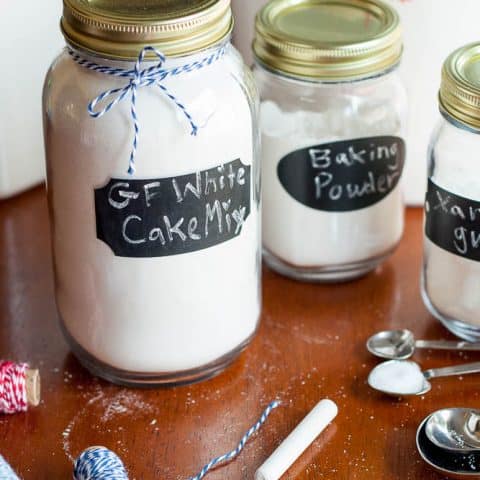 Homemade Gluten Free White Cake Mix
Yield:
1 gluten free cake mix
This Homemade Gluten Free White Cake Mix is perfect to keep on hand for whenever a cake emergency arises. Only 5 ingredients, and it makes a great DIY gluten free gift too!
Ingredients
2 ½ cup my gluten-free cake flour blend
1 ¾ cup white sugar
1 ½ teaspoons xanthan gum
2 teaspoons baking powder
1 teaspoon salt
To prepare gluten free cupcakes with mix
1 cup milk
¾ cup oil
2 teaspoons vanilla extract
4 egg whites
Instructions
To make gluten free cake mix:
Measure all ingredients into a bowl and whisk to combine.
To make gluten free cake with cake mix:
Add 1 cup of milk of choice, ¾ cup oil, 2 teaspoons vanilla extract, and 4 egg whites to the gluten free white cake mix, and stir until smooth.
Bake in a preheated 350F oven until a toothpick comes out clean. Be sure to butter and flour your pans (using gf flour), or use cupcake liners.
(24) cupcakes bake for 20-25 minutes (fill only ½ full.), (2) 8-9 inch round cake bakes 28-32 minutes., (1)9x13 inch rectangle pan bakes 40-45 minutes.
Notes
This recipe can be prepared with 3 whole eggs instead of the 4 egg whites if you are making a gluten free vanilla cake instead of a gluten free white cake.
To make dairy free cake mix, use your favorite dairy-free milk. We've use almond and coconut milk in this recipe regularly (more often than dairy milk.
To make vegan cake mix, use egg substitute equalling 3 eggs. I have tested Bob's Red Mill Egg Replacer several times and it works great!
Recommended Products
As an Amazon Associate and member of other affiliate programs, I earn from qualifying purchases.
Nutrition Information
Yield

24
Serving Size

1
Amount Per Serving
Calories

78
Total Fat

0g
Saturated Fat

0g
Trans Fat

0g
Unsaturated Fat

0g
Cholesterol

0mg
Sodium

129mg
Carbohydrates

19g
Fiber

0g
Sugar

15g
Protein

0g
All nutrition info is a guestimate and will vary depending on the ingredients you use.
This post contains affiliate links. When you purchase anything from these links a small portion goes to Flippin' Delicious, at no extra cost to you. Thank you for supporting us, and making it possible to maintain Flippin' Delicious!
Linked up at What to Read Wednesday Allergy Free Wednesday Welcome Home Wednesdays A Little R&R Country Fair Blog Hop Tell it to Me Tuesday Family Fun Ideas Inspiration Thursday Joy Hope Live Friday Favorites