Sweet and creamy Orange Creamsicle Italian Soda tastes just like your favorite childhood popsicle but in a refreshing drink.
This recipe has been compensated by Collective Bias, Inc. and its advertiser. As always, all opinions are mine alone.#wateronlybetter #CollectiveBias
Even though I love popsicles, I feel like I'm rarely together enough to make them, I never remember to pick some up at the store, and then I just dread pulling them out and giving them to my kiddos.
Yes I want them and we love sharing them together, but my 3 year old gets so sticky.
Most of the popsicle melts before she gets to it. Melts all down her hand, all over her pretty shirt, and all over her sweet face. In comes the Orange Creamsicle Italian Soda to the rescue! It has all of those creamsicle popsicle flavors that I love, and it is cool and icy, BUT all the mess is contained in the cup.
I used Canada Dry Sparkling Seltzer Water in Mandarin Orange to make my Italian Sodas. It is all natural and has 0 calories and 0 sodium.
I simply poured some Mandarin Orange Sparkling Seltzer Water over some orange juice ice cubes.
I'm telling you, this is what makes this drink really special! As it melts, it just gets better! I used my pretty star shaped ice cube tray, it is so fun!
I topped each drink with just a little half & half (for the "cream" part of the creamsicle,) and just a little squeeze of liquid stevia to make it a little sweeter. The stevia is totally optional, I think it is great without it. I'll leave the stevia up to your personal preference, try it with and without and then come back and tell me which one you like better.
We've spent the last 7 months moving. It has been really stressful, and absolutely crazy. I spent the whole month of January getting our house ready to go on the market. I spent all of February, March, April, and May really struggling to keep the house clean.
I was definitely having some problems with OCD during that time too. I couldn't do anything unless the house was perfectly spotless. I spent all of June and half of July living with my parents.
It has only been 3 weeks since we've moved in, and I've spent more than half that time sitting on the couch with a broken toe. Needless to say, I haven't been able to do the thing for my family and for myself the past 7 month.
I disappeared into the kitchen for just a moment, poured a couple Orange Creamsicle Italian Sodas, and then we all got to sit together and sip them as a family.
While the baby threw cereal on the floor. Life as a mom, am I right? It is so nice to be able to finally relax as a family. Kick our feet up, and sip a special orange creamsicle Italian soda.
Since then my 3-year-old asks for a "special drink" about every five minutes. In fact, she is asking me right now.
📖 Recipe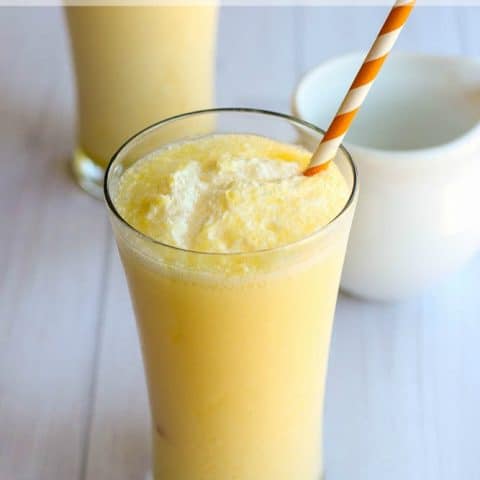 Orange Italian Soda- Creamsicle
Sweet and creamy Orange Creamsicle Italian Soda tastes just like your favorite childhood popsicle but in a refreshing drink.
Ingredients
¼ cup orange juice, frozen in an ice cube tray
1 can Canada Dry Sparkling Seltzer Water in Mandarin Orange
1 tablespoon half & half
liquid stevia, to taste
Instructions
Fill each glass about half full with orange juice cubes.
Pour the flavored sparkling water over the top of the orange juice cubes, leaving about an inch at the top of the glass.
Add a squeeze of stevia, if you are using it.
Pour in a little half & half (just a tablespoon or 2.)
Drink through a pretty straw and put your feet up for a minute.
Notes
If you want to turn your Orange Creamsicle Italian Soda into a cocktail just add a shot of your favorite spirit over the orange juice cubes before you add the flavored sparkling water.
Nutrition Information
Yield

1
Serving Size

1
Amount Per Serving
Calories

295
Total Fat

2g
Saturated Fat

1g
Trans Fat

0g
Unsaturated Fat

1g
Cholesterol

5mg
Sodium

46mg
Carbohydrates

73g
Fiber

4g
Sugar

64g
Protein

2g
All nutrition info is a guestimate and will vary depending on the ingredients you use.

So far I've also tried making a hazelnut chocolate cream soda with Canada Dry Original Seltzer Water. I just used a little bit of hazelnut syrup and a squeeze of my homemade chocolate syrup with ice cubes and a little half and half. What drink ideas do you have for using seltzer water?