Fudgy gluten-free chocolate brownie cookies dipped in a sweet cinnamon spiced pumpkin glaze.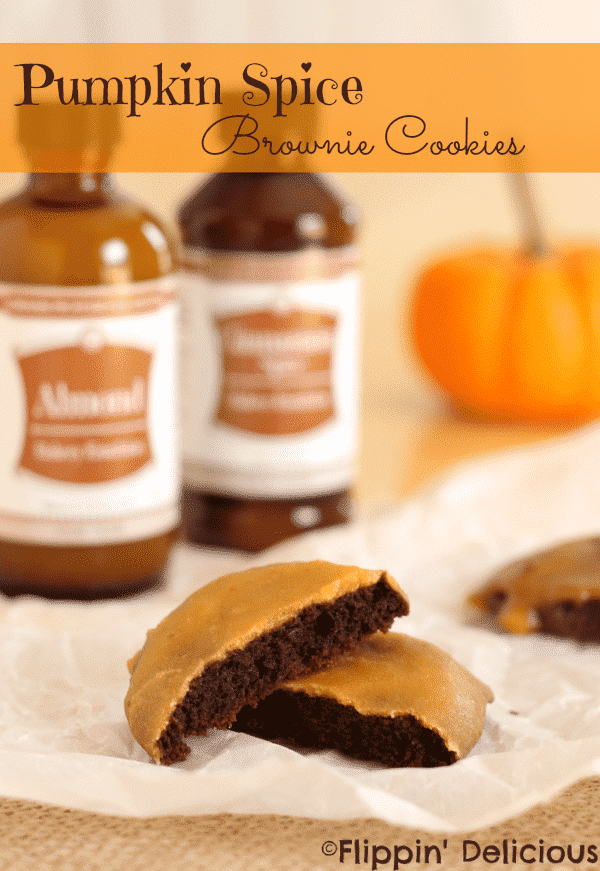 Sometimes flavors that you don't think will really jive are actually best friends. Like these gluten-free pumpkin spice brownie cookies. Maybe you are just smarter than me, and maybe you think pumpkin and brownie are best friends. I don't know why I thought they wouldn't get along; I grew up on pumpkin chocolate chip muffins, so I don't know why it didn't make sense to me.
Well, in case you haven't guessed, pumpkin and brownie ARE best friends.
Especially in these cookies.
Soft, chewy, and fudgy. The cookies taste exactly like a brownie, but they are a drop cookie. Being a drop cookie they are super easy to make. Mix up the brownie cookie batter, scoop using your 1 ½ tablespoon cookie scoop (medium), and bake. Tada!
So much rich, chocolate flavor. I added just a bit of LorAnn Almond Baking Emulsion to help round out the flavors in my brownie cookies. LorAnn's baking emulsions and flavoring oils are gluten-free, which got me super excited.
There are so many fun flavors to play with! In the cookies the almond isn't over-powering, instead it is subtle. If you didn't know that it was almond, you might not be able to put your finger on what the flavor it. But it is just plain tasty!
And now the frosting. Or glaze, whichever term you prefer. I used LorAnn Cinnamon Spice Baking Emulsion. I loved the "spice" part of the flavor, it really adds dimension to the flavor of the glaze.
The secret to getting a glaze to set up so that it will crack when you bite in (like on those yeast-raised gluten-filled doughnuts of days past) is to heat up your glaze. Heating up the glaze allows you to have a dip-able, pourable glaze that is easy to work with, without adding too much moisture. Less moisture helps the glaze to set up faster too! Because there is so much moisture in the pumpkin puree, the glaze doesn't have any extra liquid.
📖 Recipe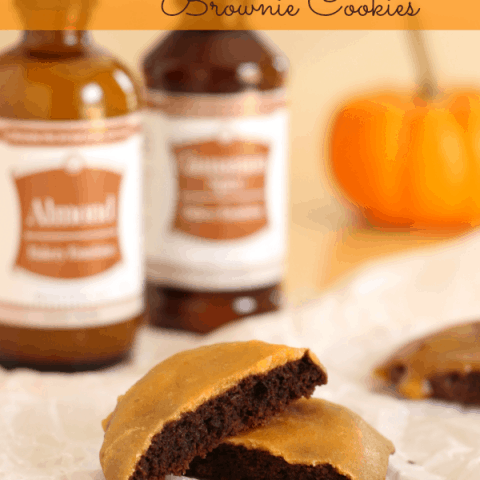 Gluten-Free Pumpkin Spice Brownie Cookies
Additional Time:
2 minutes
Fudgy gluten-free chocolate brownie cookies dipped in a sweet cinnamon spiced pumpkin glaze.
Ingredients
For the Brownie Cookies
6 tablespoons butter, softened
1 cup plus 2tablespoons, sugar
3 eggs
½ teaspoon LorAnn Almond Baking Emulsion
¾ cup cocoa
1 ½ teaspoon baking powder
¾ teaspoon salt
½ teaspoon xanthan gum
For the Pumpkin Spice Glaze
2 cups powdered sugar
2 tablespoons pumpkin puree
½ teaspoon Cinnamon Spice Baking Emulsion
¼ teaspoon LorAnn Almond Baking Emulsion
Instructions
For the Brownie Cookies

Preheat the oven to 350. Line a baking sheet with parchment paper or a silicone baking mat.

In a stand mixer cream together the butter and sugar on medium-low speed. Add the eggs and mix until combined. Add the cocoa, baking powder, salt, and xanthan gum, and mix until combined.

Add the flour, and mix until incorporated.

Scoop using a 1 ½ Tbs cookie scoop and place cookies 3 inches apart on the prepared baking sheet.

Bake for 8-10 minutes until the cookies lose their doughy shine. The cookies will still be soft. Let them cool for a few minutes on the sheet before moving to a cooling rack to finish cooling.

Once cooled, dip the top of each cookie in the warm glaze and set on wax paper until the glaze is set. (I dropped the cookie top side down in the glaze and then I used a fork to scoop each cookie out and flip it onto the wax paper.)

For the Pumpkin Spice Glaze

Mix all the ingredients together in a microwave safe bowl.

Heat in 20-30 second intervals until the icing begins to bubble, 1-2 minutes. Use while still warm.

Nutrition Information
Yield

18
Serving Size

1
Amount Per Serving
Calories

177
Total Fat

5g
Saturated Fat

3g
Trans Fat

0g
Unsaturated Fat

2g
Cholesterol

41mg
Sodium

181mg
Carbohydrates

31g
Fiber

1g
Sugar

23g
Protein

3g
All nutrition info is a guestimate and will vary depending on the ingredients you use.