This Gluten Free Raspberry Cream Cheese Coffee Cake is one of my favorite recipes from my mom, made gluten-free.
I know, I haven't posted any new recipes for a long time. I'm sorry, but I had very good reasons.
I was puking my guts out.
The head is on the left, and the toes on the right. Nice little profile view.
This ultrasound is actually from the very beginning of April, we waited a long time to even announce on our personal FB pages. I had a miscarriage last October when I was 11 weeks pregnant and it has been one of the hardest things I've ever experienced. My Angel Baby would have been due the first part of May around Mother's Day. We waited to announce this pregnancy until then because I really needed some positive thoughts that week, even if they were about this new little blessing in our lives and no one remembered that I was originally going to be giving birth that weekend. And it was Mother's day too...

How we announced on Facebook, Miss E is going to be a BIG SISTER (11/14)
A little miracle happened that weekend.
The week after we lost our second child I planted 2 rose bushes my our front door. One for Miss E, and one for our Angel Baby. That weekend I went out to water it and we our first blossom, one little white roseon one of the rose bushes. It was almost as if our Angel Baby sent me that little rose to make my terribly hard weekend just a little better.
I took this today and we have a few more blossoms now than we did Mother's Day weekend.
I also went back to working at my parent's chiropractic office for a few months. I used to work full time for them before Miss E was born April of 2012 so I was familiar with how things run so when they suddenly became short-handed I swooped in to "save the day" as Miss E would say. I don't know where she gets these phrases, but she says them all the time. I went back to working the week after I found out I was pregnant. I was already starting to feel sick. I got a few posts out the first month that I went back to work and then I got sicker and a lot more tired. On my days off it was all I could do to get up and dressed before noon. I didn't even clean my house for almost 2 months. Really gross. Good thing my hubby was so sweet and would pick up after us.
I also have been living off of frozen meals. I couldn't even make dinner for our family most nights.
I remember one Saturday my hubby was out and texted me that he was going to get ingredients for dinner and make me some real food. That was seriously the best meal I ever ate! He bought chicken, capers, artichokes and made chicken piccata following a recipe he found on food network. He almost never cooks so that made it extra special. I didn't even have to help. I just got to lay nauseated on the couch watching TV while he made me dinner!
Just yesterday and today I've started feeling like a human being. Yesterday I went 5 hours without eating and I didn't throw up! I also successfully brushed my teeth this morning without gagging or puking even a little bit (TMI?)
So I decided that since I'm finally back home, and also feeling more like myself I should probably share one of my favorite childhood recipes.
This is a really marvelous coffee cake. I remember making it with my mom. When I was a kid I thought it took FOREVER to cut the butter into the flour and sugar but the results are well worth it.

📖 Recipe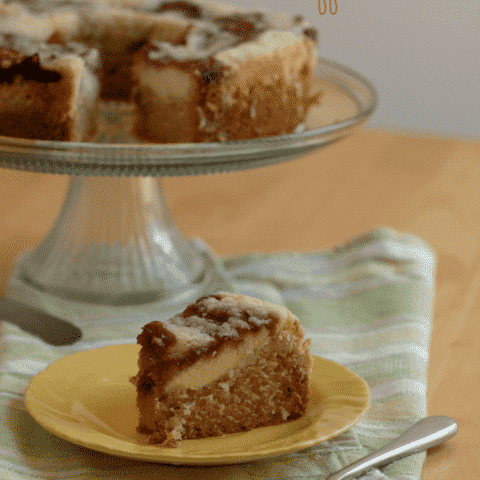 Gluten free Raspberry Cream Cheese Coffee Cake
Additional Time:
40 minutes
Total Time:
2 hours
10 minutes
This Gluten Free Raspberry Cream Cheese Coffee Cake is one of my favorite recipes from my mom, made gluten-free.
Ingredients
For the coffee Cake Batter
¾ c. white sugar
¾ c. butter
¾ tsp. xanthan gum (omit if you are using a different GF flour blend that already has xanthan gum in it.)
½ tsp. baking powder
½ tsp. baking soda
¼ tsp. salt
¾ c. sour cream
1 egg
1 tsp. almond extract
For the Filling
2 (8 oz. pkg) cream cheese, softened
½ c. white sugar
2 egg
½ - ¾ c. raspberry jam
Instructions
Preheat oven to 350F
Lightly grease a round springform pan (the one with the hole in the middle.)
In a large bowl combine the flour and sugar. Cut in the butter until crumbly and reserve 1 c of the mixture and set aside.
To the remaining crumb mix add baking powder, baking soda, salt, sourcream, egg, and almond extract.
Spoon the batter into the springform pan and smooth is out.
Cream together the cream cheese, sugar, and egg for the cream cheese filling. Spoon the filling on top of the batter.
Spoon the jam on top of the cream cheese filling.
Top with the reserved crumb mix.
Bake for 55-60 minutes or until a toothpick inserted in the center of the ring comes our clean with just a few crumbs (it was really tricky to hit a spot where the toothpick didn't come up with the cream cheese and jam which will definitely still be gooey, so just look closely to see if there is wet batter stuck on it too. After 60 minutes it should be just fine.)
Cool slightly before slicing.
Notes
Notes:
We often made this cake into muffins, by filling our lined or greased muffin tins about ⅔ full and baking for about 20 minutes.
I doubled up on the cream cheese layer, because it is my favorite part and I never felt like there was enough when I was a kid. If you want you can use half of the amount of cream cheese filling (8 oz cream cheese, 1 egg, ¼ c. sugar.)
My springform pan didn't have the hole in the middle to make the ring, so I improvised and used a drinking glass wrapped in parchment paper, which I lightly greased, and stuck in the middle of the pan before adding the batter. Be sure to remove the glass while the cake is still slightly warm so that you don't crack the cake. Worked like a charm!
Nutrition Information
Yield

10
Serving Size

1 slice
Amount Per Serving
Calories

449
Total Fat

20g
Saturated Fat

11g
Trans Fat

1g
Unsaturated Fat

6g
Cholesterol

105mg
Sodium

304mg
Carbohydrates

63g
Fiber

1g
Sugar

32g
Protein

5g
All nutrition info is a guestimate and will vary depending on the ingredients you use.
If you need some more gluten-free breakfast ideas...
GF Orange Rolls