Juicy New York strip steaks marinated in red wine, rosemary, garlic and shallots with garlic and herb baked fries make a perfect at-home date! Naturally gluten-free.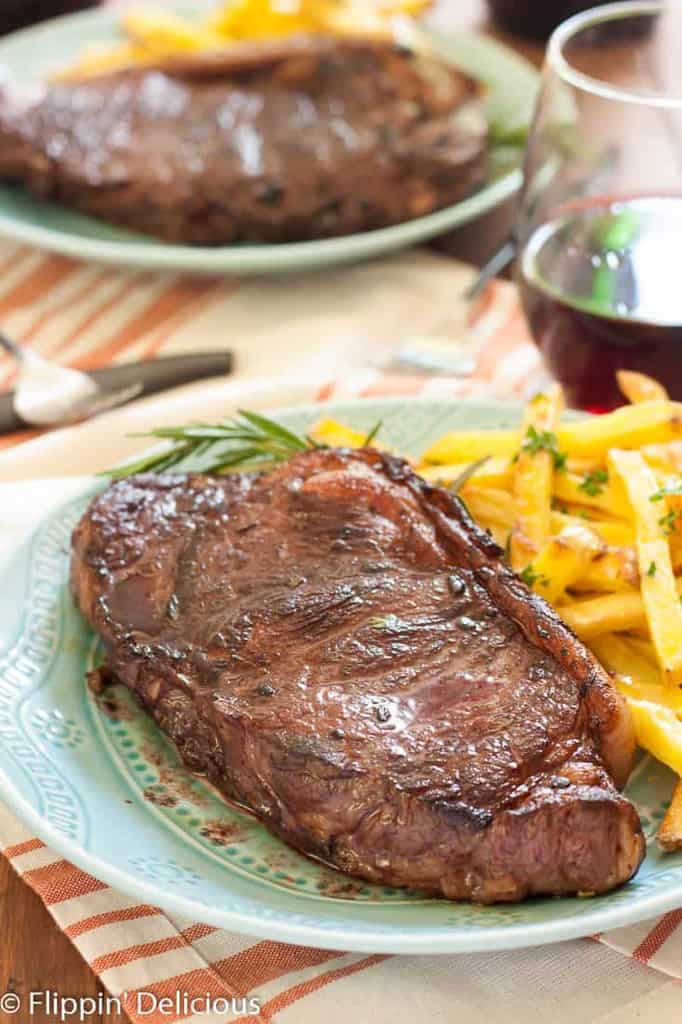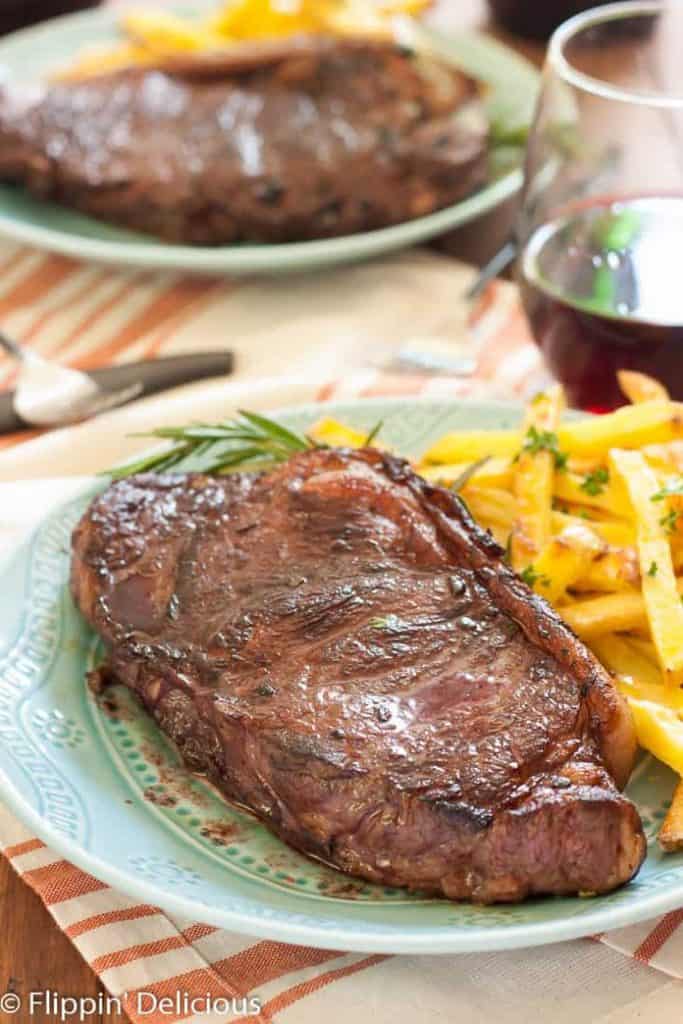 I wrote this recipe in partnership with Smith's and Kroger. As always, all opinions are mine alone. Thanks for supporting Flippin' Delicious™ and the brands that I love.
Being a parent of small children is hard. It always seems that my husband and I are craving time alone together (or even just time to be alone myself). Does that get better as they get older?
My husband has been doing a masters program and working full time, so any time that we have together is precious. If he is home, he is doing homework. Almost every night!
With us trying to pay for tuition, we are very budget conscious, which means that we don't go out as often as we would like. Arranging a sitter and then going out to eat or to see a movie gets very expensive very quickly. It's a struggle to get it all coordinated!
But that doesn't mean we skip date night altogether. One of our favorite things to do is an at-home date after the kids go to bed!
My sweet husband will take the lead on bedtime stories while I head to the kitchen and sear off his favorite ahi tuna steaks or these naturally gluten free red wine marinated new york strip steaks.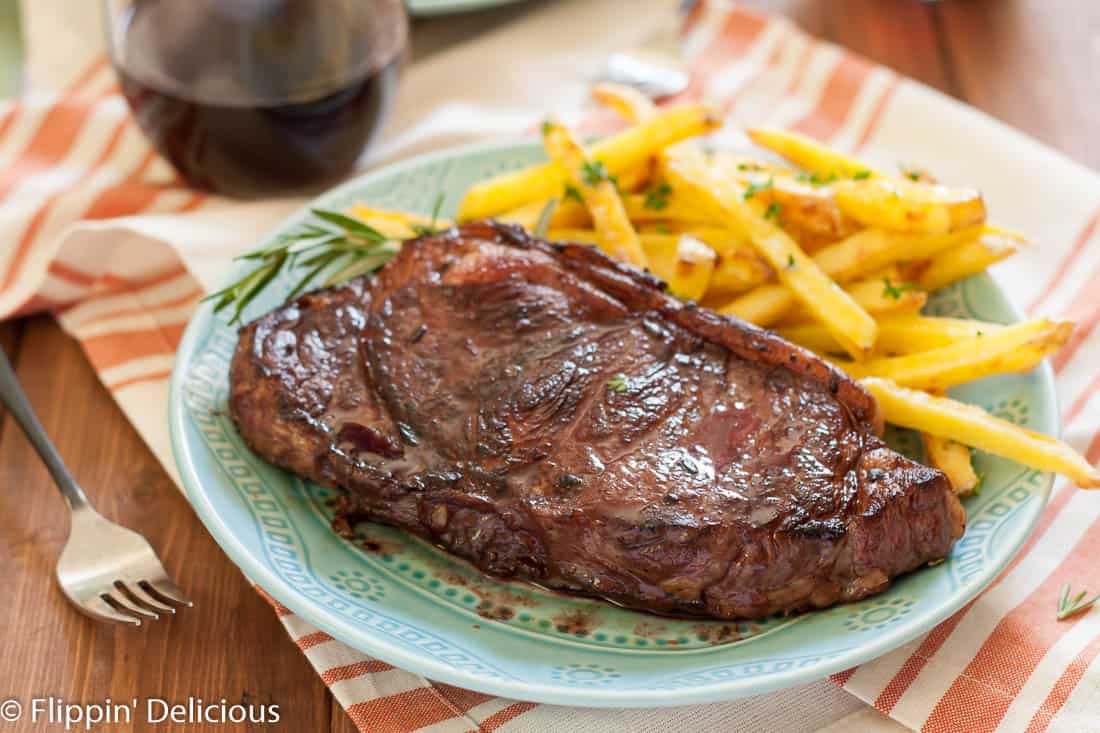 We save money on a sitter and on a restaurant, but we are still able to make the night special and spend time together.
Our anniversary a few months ago we were in just that situation. It was in the middle of a busy semester, and we didn't have a sitter. We hadn't been on a date for a month and wouldn't be able to go out until the next week (when we celebrated in style and sipped lavender honey margaritas.) I made these red wine steaks and we ate them by candlelight. Then we slow-danced in the living room.
That totally counts as a great anniversary in my book!
My husband's birthday was last week, so while Miss E was in school I stopped at my local Smith's (my Kroger family store) to get everything I needed to create an at-home date to celebrate. I was very excited when I learned that all of the beef in my Smith's store was USDA Certified so that I knew it was good quality. I picked out a three-pack of beautiful New York strip steaks (one for each of us for dinner, and an extra for lunch the next day), fresh garlic and shallots, white potatoes, fresh Simple Truth rosemary, parsley, a bottle of Private Selection Spanish extra virgin olive oil, and a bottle of red wine.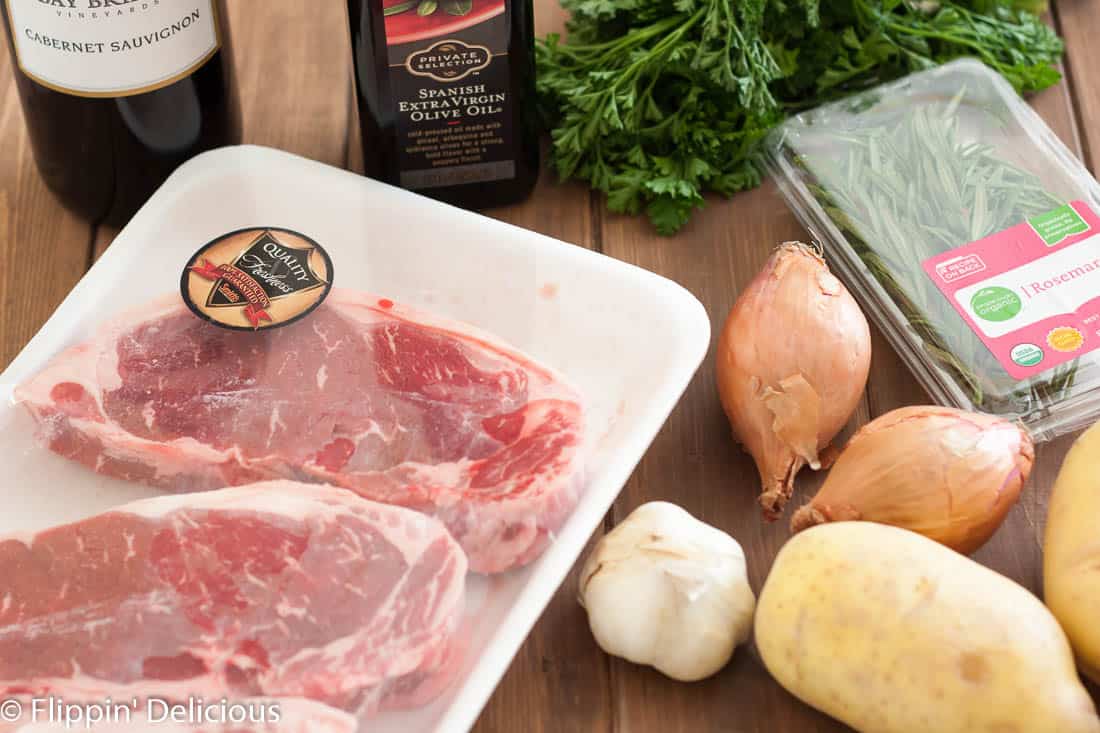 While my kids ate microwave taquitos for dinner, I started marinating the steaks.
It is so easy! I minced a shallot, a sprig of rosemary, and crushed a few cloves of garlic. I added them to a gallon zipper-top back with the steaks and some red wine and then set them aside while I made the fries.
The secret to getting crisp oven-baked fries is to cut them a little thinner, about as thin as the fries from that one restaurant. (You know, the one with the golden arches?) As I cut them, I put them in a bowl of clean water to keep them from turning brown and to pull out the excess starch. Once they are all cut, I lay them out on a dish towel to dry. Then I toss them with a tiny bit of cornstarch, drizzle them with extra virgin olive oil, and toss them again with some crushed garlic.
I baked the fries at a high temperature until they were nice and crispy, and meanwhile I seared the steaks and reduced some wine to create a rich, luscious sauce. Simple clean flavors all came together into the perfect at-home date night, for far less than a steakhouse dinner.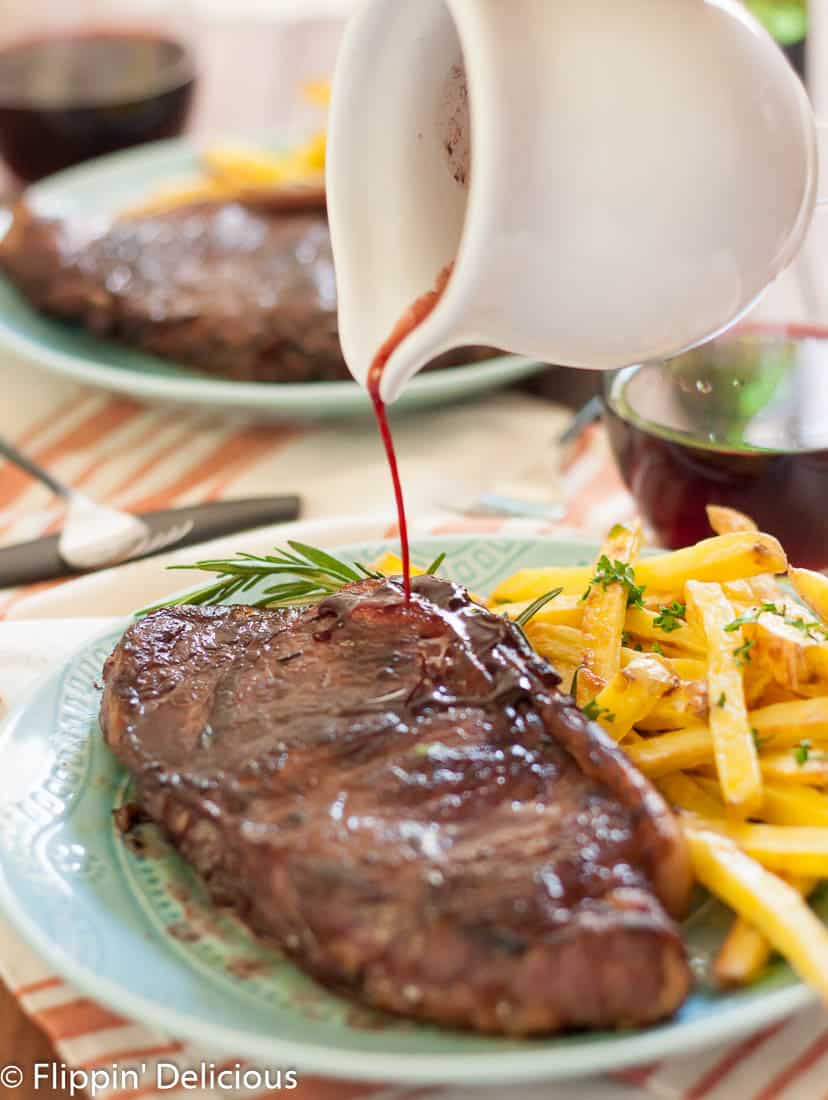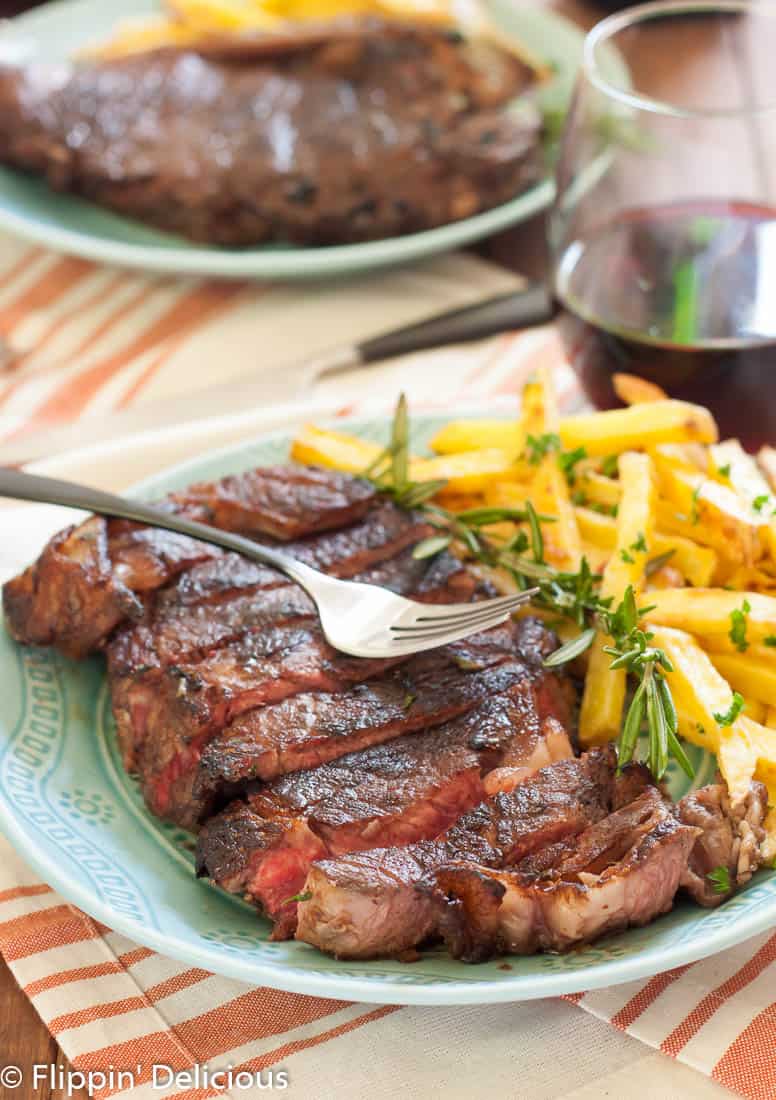 📖 Recipe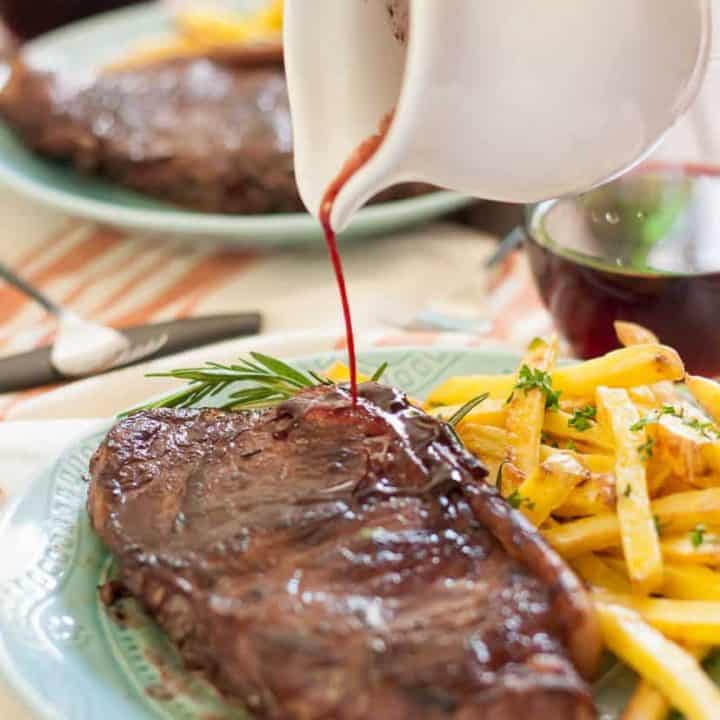 Red Wine Marinated Steak with Baked Garlic and Herb Fries
Juicy new york strip steaks marinated in red wine, rosemary, garlic and shallots with garlic and herb baked fries make a perfect at home date!
Ingredients
For the Steak
2 USDA Certified New York Strip Steaks (or your favorite beef cut)
1 shallot
2-3 cloves garlic
1 sprig rosemary
½ teaspoon fresh ground black pepper
2 tablespoons extra virgin olive oil
1 ½ cups red wine (I used Cabernet Sauvignon)
salt
For the sauce
1 cup red wine (I used Cabernet Sauvignon)
For the Garlic and Herb Fries
4 white potatoes
2 teaspoons cornstarch
2 tablespoons extra virgin olive oil
2-3 garlic cloves
1 teaspoon sea salt
2 tablespoons fresh parsley, chopped
Instructions
Mince the shallots, rosemary, and garlic and place them in a gallon-sized zipper bag. Add the steaks and pour in the red wine and olive oil. Tightly seal, squeezing out any air, and move around to evenly distribute the seasonings around the steaks. Place in a bowl (in case it leaks) and let it at room temperature for 30-60 minutes while you start the fries.
Heat a cast iron skillet over medium-high heat. Remove a steak from the marinade and light sprinkle with salt. Sear for 4-6 minutes on each side for medium, or until desired doneness. Repeat with remaining steaks.
For the Sauce
Pour the red wine into the skillet after cooking the steaks. Simmer and bubble away until it is reduced by ¾.
For the Fries
Wash and cut the potatoes into french fries, placing them in a bowl of water as you cut them.
Spread the potatoes out in a single layer on a dish towel to dry for 10-15 minutes. Preheat the oven to 425F.
Place the potatoes in bowl and toss with the cornstarch. Drizzle with olive oil and add the garlic and toss to evenly coat.
Place the fries on 2 baking sheets in a single layer, with a little space inbetween them. Sprinkle each pan with ½ teaspoon of salt.
Bake for 15 minutes, Flip the fries with a spatula, and cook for another 10-15 minutes or until crispy and golden.
Let cool slightly and then toss with the parsley.
Notes
You can use the wine with the shallots from the marinade for the sauce instead of fresh wine. Just strain the shallots out before serving. The sauce was browner when made with the marinade, so I made a sauce using fresh wine as a personal preference. Both work! Just make sure you buy enough wine that you have enough to drink too.
Nutrition Information
Yield

2
Serving Size

1
Amount Per Serving
Calories

1117
Total Fat

46g
Saturated Fat

11g
Trans Fat

0g
Unsaturated Fat

32g
Cholesterol

67mg
Sodium

1456mg
Carbohydrates

91g
Fiber

9g
Sugar

8g
Protein

32g
All nutrition info is a guestimate and will vary depending on the ingredients you use.