These Sweet Potato Black Bean Vegetarian Tacos make a quick and easy filling meal. The fire roasted poblano peppers add a great smoky flavor!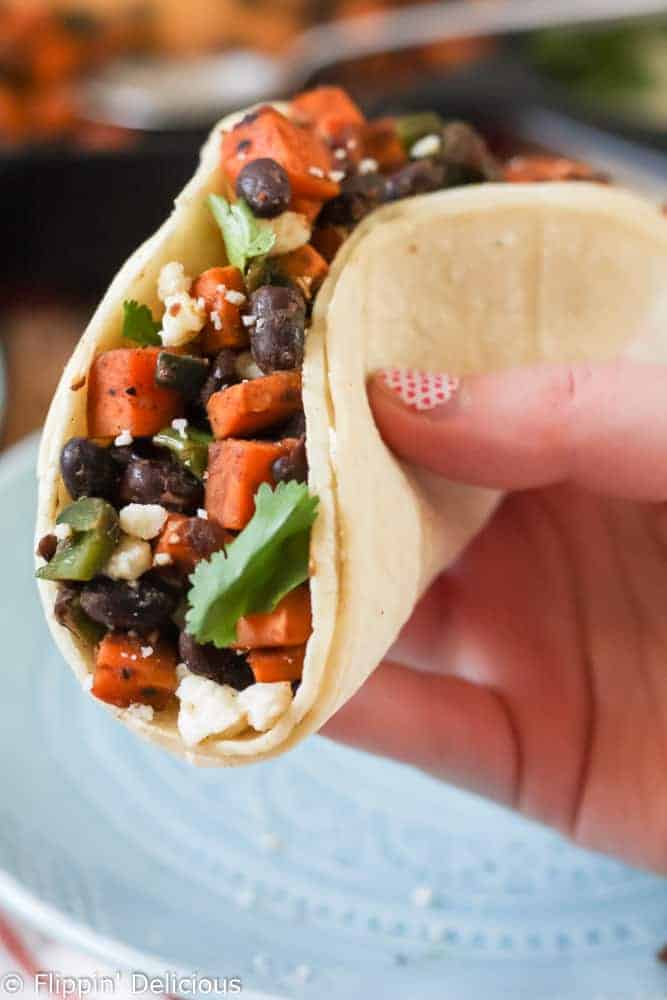 Tacos for everyone!
I love tacos. Carnitas tacos are one of my favorites. But what if you don't eat meat? You shouldn't miss out on tacos?
Sweet Potato Black Bean Tacos
A few weeks ago my husband and I had some friends over for dinner. They are vegetarian and I have to eat gluten free, so at first we didn't know what to eat. I was tasked with creating a dessert (I made flourless molten chocolate lava cakes!) and our friends brought these Sweet Potato Black Bean Vegetarian Tacos for dinner.
I also made some fruity and fresh raspberry mojitos.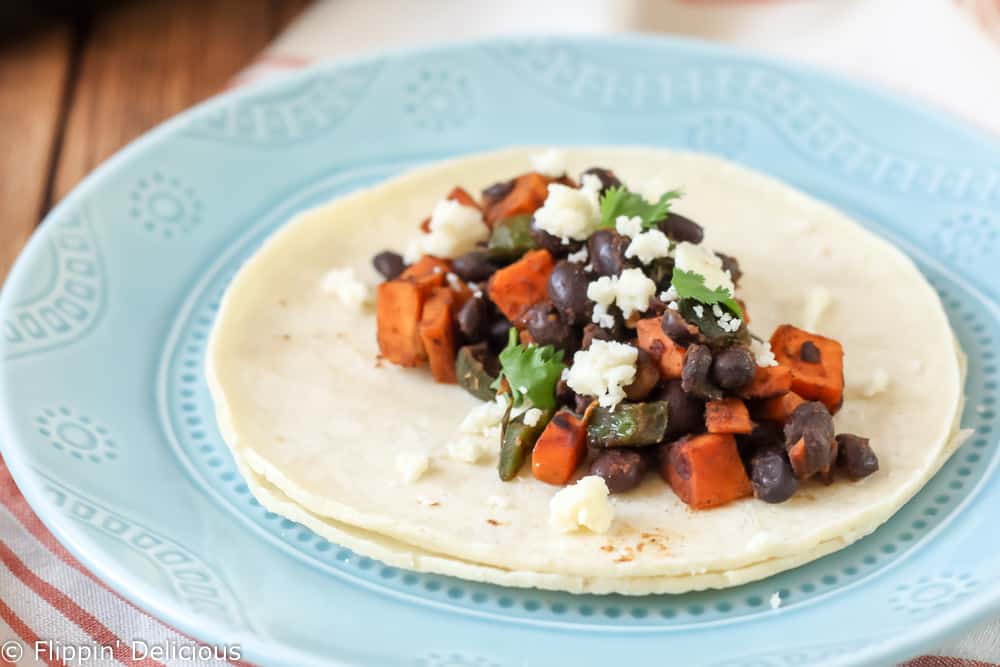 It is safe to say that the sweet potato black bean vegetarian tacos that our friends brought over were a big hit. Such a big hit that I have made them several times since then for dinner.
Planning a gluten-free pescetarian meal? (Pescetarians are people who don't eat meat, but eat some fish. Several of the vegetarians I know eat some fish as long as it is sustainably sourced! ) I think that these chile-lime fish tacos bowls would be a hit! A similar recipe is always in my family's dinner rotation.
I think what really makes these tacos special is the fire-roasted poblano pepper.A poblano pepper is milk like a bell pepper, but it has a bit more zing. When you broil/grill the pepper to "fire-roast" it before adding it to the taco filling it adds another layer of smoky flavor to the dish.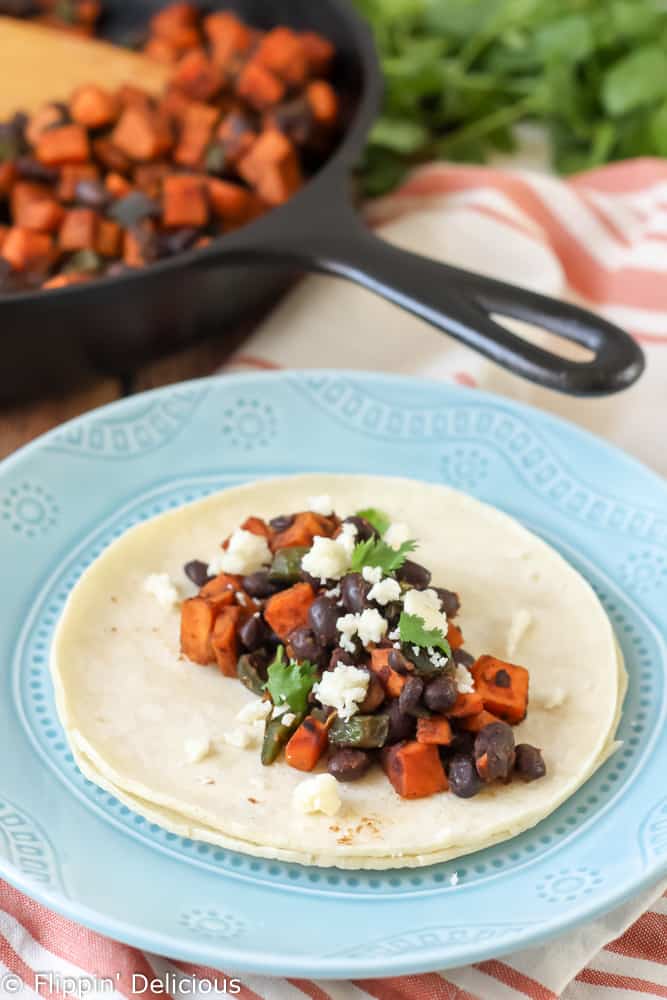 It is really easy to fire-roast a poblano pepper.
When I had a gas stovetop I would place the pepper straight on the flame of the burner.
I don't have a gas stovetop anymore (I miss it soooo much!) so I used my little kitchen torch. You can also use the broiler in your oven. The key is to get as much of the poblano pepper's skin blackened as you can.
No matter which device you use to roast your pepper, turn it frequently so that it is blackened evenly all over. It smells so good while you roast it!
Immediately after you roast it, seal your poblano pepper in an airtight container (or a bowl sealed tightly with plastic-wrap.) As the poblano pepper "sweats" as it cools it makes the skin very easy to scrape off. I let it "sweat" for about 10 minutes or so, and then I just scrape the pepper with the back of my chef knife to take off most of the skin.
It takes a few extra minutes of effort to fire-roast your poblano pepper, but I think the smoky flavor it adds to these sweet potato black bean vegetarian tacos recipe is well worth it!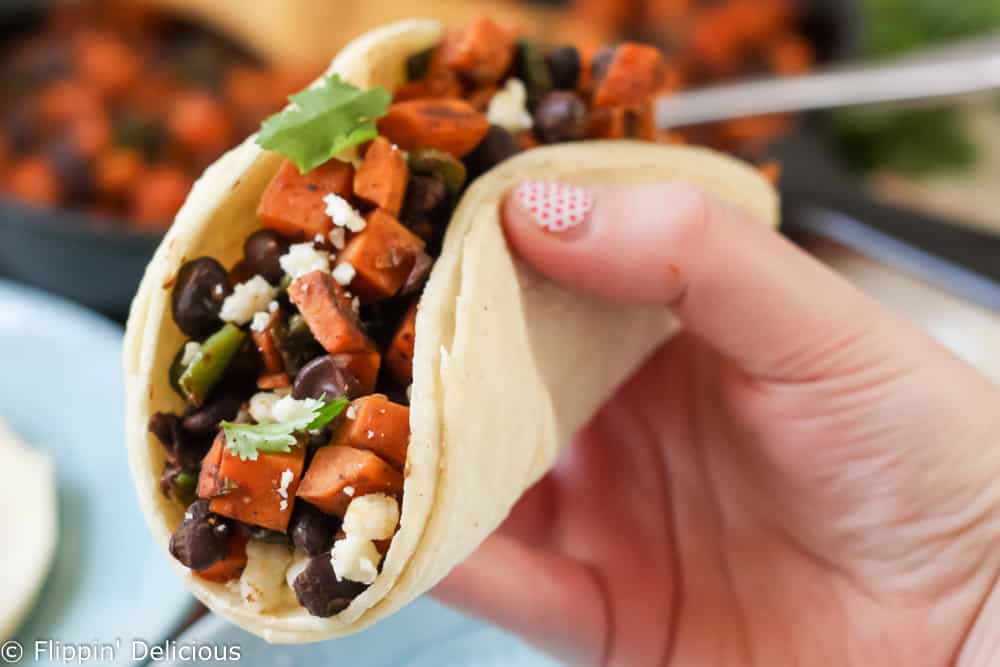 Looking for another fun vegetarian taco recipe? I love these Cheese Crisp Tacos with Pineapple Kiwi Fruit Salsa.