Giant gluten free chocolate chip cookies don't get any better than this! My favorite go-to soft baked, bakery-style gluten free chocolate chip cookie recipe. Easily made dairy free.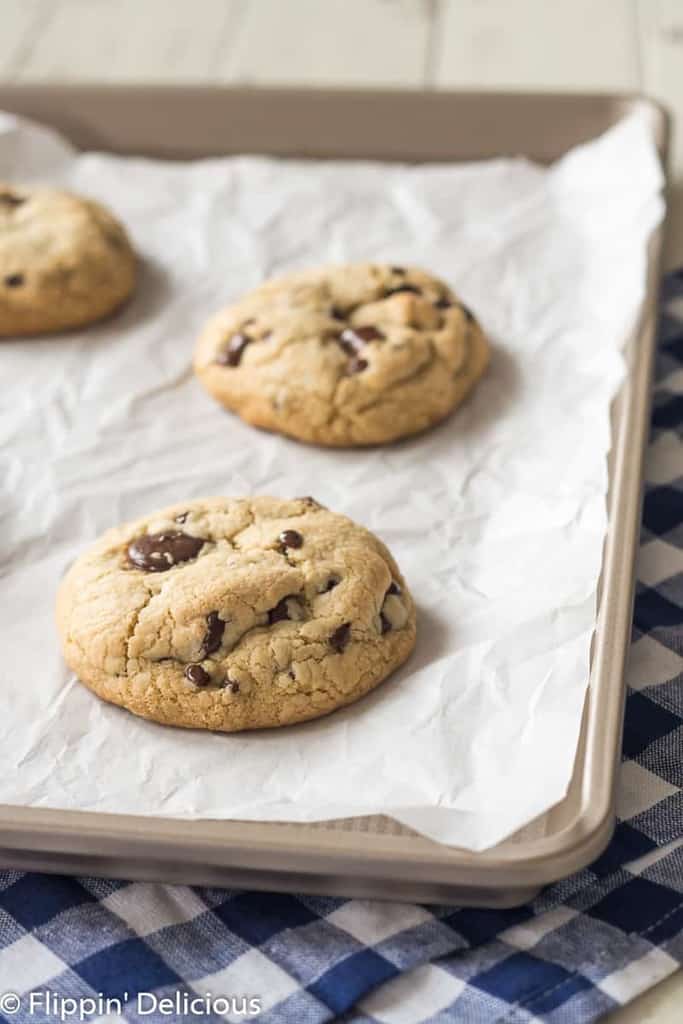 Updated 3/8/2018 (originally shared by my dear friend, Sandi from Fearless Dining. She helped me enjoy maternity leave when I had my second daughter by sharing one of my favorite recipes from my cookbook here with you.)
Giant Gluten-Free Chocolate Chip Cookies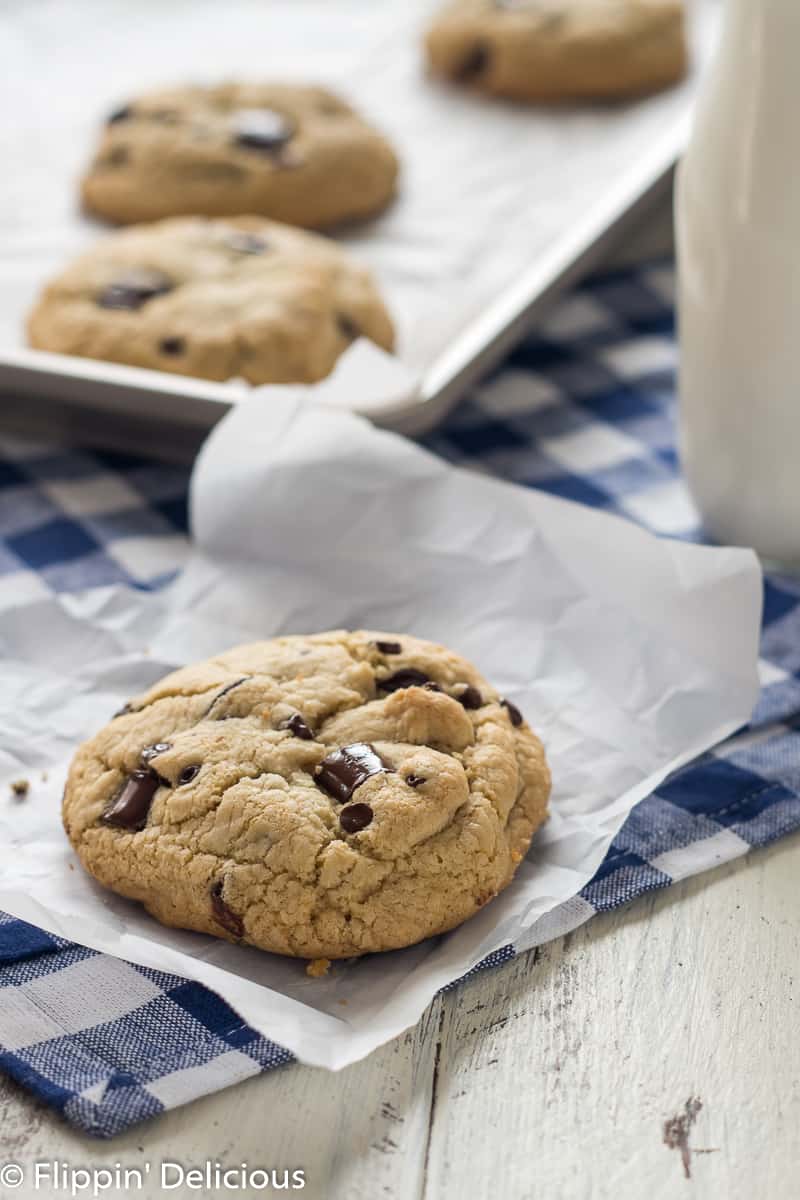 This really is one of my favorite cookie recipes, hands down! I often use it as a base when I head into the kitchen to create a new cookie recipe.
These cookies inspired both my gluten free s'mores cookies, and my gluten free cake batter cookies from my cookbook, The Essential Gluten-Free Cookie Guide.
They stay soft for days!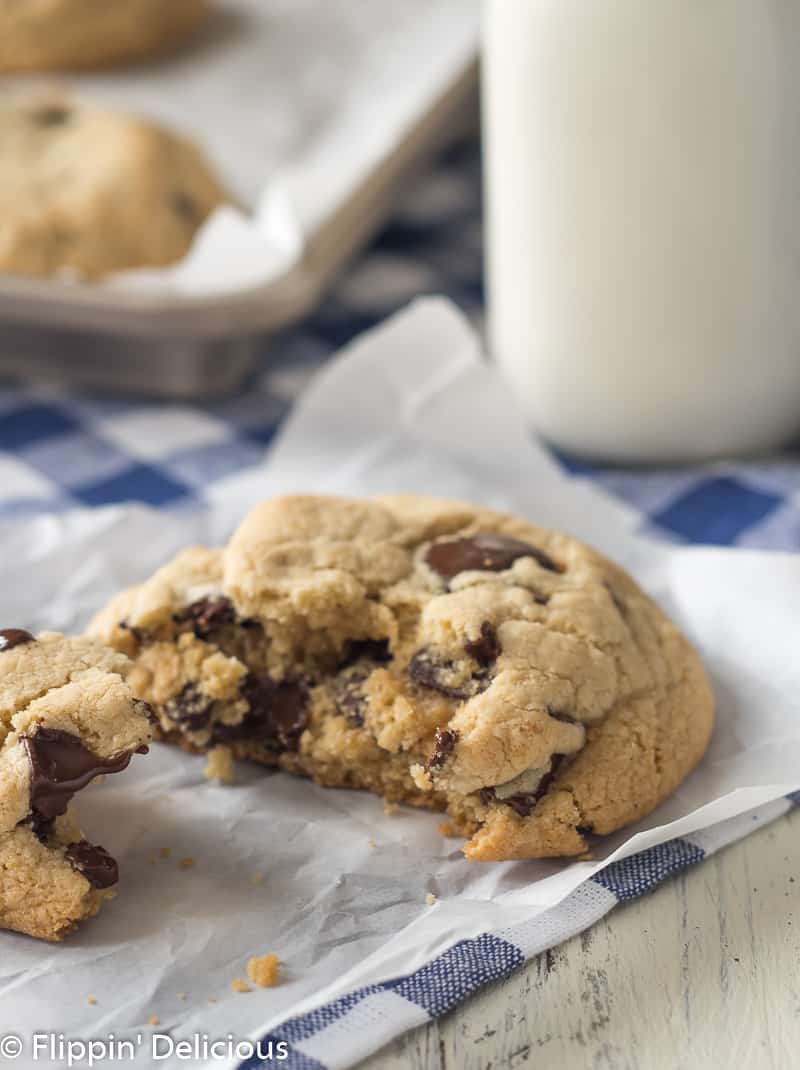 Plus, who doesn't love a giant chocolate chip cookie?
I first developed this recipe when I ran a gluten-free baking company when my oldest was only a year old. Every week I would bake dozens of these giant gluten-free chocolate chip cookies and sell them at local farmer's markets. I quickly became very popular with the other vendors, because I would trade any leftover cookies with them for their fresh garden veggies. It was a win win!
This is what my friend Sandi from Fearless Dining wrote about this recipe:
I have been drooling over Brianna's new cookbook, The Essential Gluten-Free Cookie Guide. If you have ever wanted to try to make your own gluten free cookies, this is the book for you.

I decided to let my kids help me pick which recipe to try from this cookbook. For kids, size matters in all things. Who is taller than whom, or in our family's case, who is now taller than Mom…sigh. My "teen" daughter surpassed me in height last year and my "tween" son is about two inches from this goal as well. He actually walks by me on his tippy toes now, just to let me know he is almost there.

When my kids saw Brianna's photos for the Giant Chocolate Chip Cookie, the choice was made.
Bigger cookies are always better, right?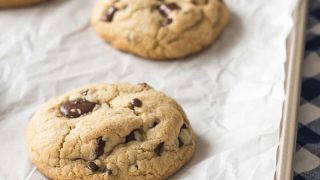 Yield:

7 GIANT chocolate chip cookies
Giant Gluten Free Chocolate Chip Cookies
Giant and chewy, gluten-free chocolate chip cookies don't get any better than this!
Ingredients
1/2 cup butter, melted (use vegan butter to make dairy free)
1/2 cup brown sugar
2 egg yolks
1/2 teaspoon xanthan gum
1/2 teaspoon salt
1/2 teaspoon baking soda
1 teaspoon vanilla
Instructions
Preheat the oven to 350 degrees F.
Line a baking sheet with parchment paper or a silicone baking mat.
Cream together the melted butter and brown sugar.
Add the eggs and mix until combined.
Add the baking soda, salt, xanthan gum, and vanilla and
mix until combined.
Add the flour, and mix until incorporated. Then mix in
the chocolate chips
Scoop using a 1/4 cup cookie scoop, or measuring cup, scoop the dough and place cookies 4 inches apart on the prepared baking sheet. (5 or 6 to a sheet.)
Bake for 15 minutes.
The cookies should spread and will lose their doughy shine, but will still be very soft.
Allow to cool on the baking sheet for a few minutes before moving to a cooling rack to finish cooling.
Nutrition Information:
Yield:
7
Serving Size:
1
Amount Per Serving:
Calories:

430
Total Fat:

24g
Saturated Fat:

14g
Trans Fat:

1g
Unsaturated Fat:

8g
Cholesterol:

88mg
Sodium:

355mg
Carbohydrates:

53g
Fiber:

3g
Sugar:

30g
Protein:

5g
All nutrition info is a guestimate and will vary depending on the ingredients you use.
About Sandi at Fearless Dining:
Our family has been gluten free for over five years. I started my blog because I was tired of getting sick when I dined out.
I didn't know much about cross contamination when we first went gluten free. Most doctor's offices just don't give you much detail about how to live gluten free. I had no idea how dangerous cross contamination could be. I started to call around to Bay Area restaurants and asked lots of questions about how they handle gluten free orders, and if they even can adapt menu items. Within just a few months, I had built up a database of over 645 Bay Area restaurants' safe gluten handling procedures. Someday I hope to expand this database to other cities so it can help even more people.
Feel free to come and visit my blog. There are tons of delicious recipes to try :-).
I would love to connect via Facebook, Pinterest, Twitter, Instagram, and Google+
Pin it: