This red velvet fudge has a cream cheese frosting layer and is so easy to make! Naturally gluten-free. 
I love cream cheese, and cream cheese frosting. That is probably the biggest reason that I like red velvet cake. It has cream cheese frosting (or at least it always should.)
For valentines day this past year I slaved away in the kitchen making these delicious gluten-free red velvet cakes. It was my first valentines day as a married woman and I wanted to impress my husband. I was 7 months pregnant then, and we had an itty bitty kitchen in an itty bitty studio apartment.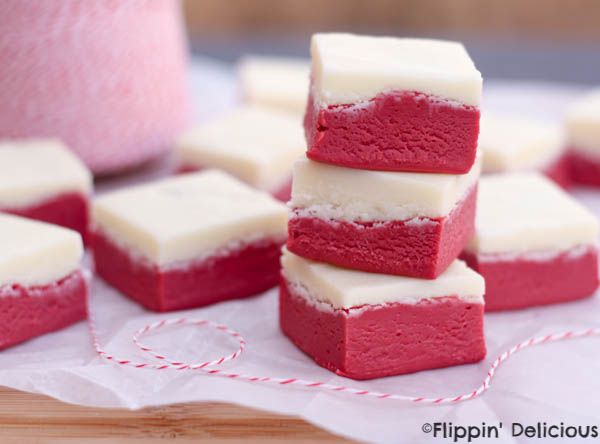 Despite my working conditions the cakes turned out beautifully. I was very proud of my work. That night, after our romantic fondue dinner, I discovered that my husband does not like cream cheese frosting. I just couldn't understand why he didn't love it, because I do. He was really sweet about it though, I don't think he told me until after he had eaten half of his cake.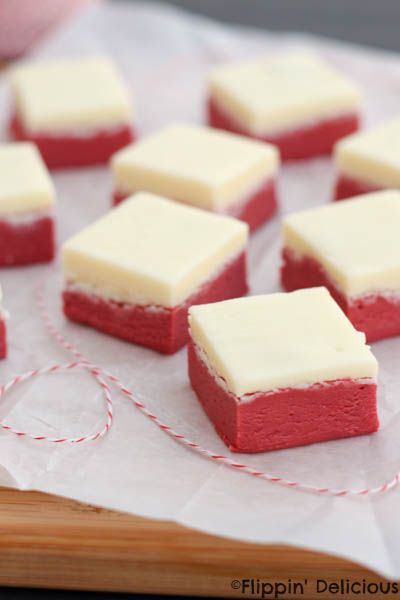 Since then I have tried over and over to convert him to my love of cream cheese frosting. My attempts have only turned him away from it more. He liked this fudge, but he gave me the cream cheese frosting layer.
If you are like my husband and believe that cream cheese only belongs on bagels, you can make it without the cream cheese frosting layer. If an 8×8 pan is too much fudge for you, the recipe can easily be halved and made in a loaf pan.
Red Velvet Fudge
Red velvet fudge with a cream cheese frosting fudge layer. Naturally gluten-free!
Serves:
25 1.5 inch squares
Ingredients
2½ cups white chocolate chips
½ cups milk chocolate chips
1, 14 oz can sweetened condensed milk
1-2 teaspoons liquid red food coloring
1½ c. white chocolate chips
2 oz cream cheese, softened
Instructions
First, line a 8x8 pan with wax paper or aluminum foil, and then grease it lightly with butter.
Pour 2½ cups white chocolate chip, the milk chocolate chips and sweetened condensed milk into a microwave-safe bowl and microwave for 30 seconds. Stir, and microwave in 15 second increments, stirring in-between, until the chocolate chips are melted. Add the red food coloring starting with 1 teaspoon and adding more a little at a time until you get the color that you desire.
Pour the fudge into your prepared pan, and place it in the fridge while you make the cream cheese frosting layer.
Melt the remaining 1½ cups of white chocolate chips in a microwave safe bowl. Start by microwaving them for 30 seconds, stirring them, and then microwave in 15 second increments, stirring in-between, until they are melted.
Stir in the softened cream cheese.
Pour the cream cheese frosting layer on top of your red velvet fudge and put in the fridge to chill until set.
When you are ready to enjoy your fridge pull it out of the pan using the waxed paper/aluminum foil and place it on a cutting board. Cut the fudge into squares using a sharp knife. You'll get even cleaner cuts if you heat your knife blade up first by running hot water over it. Wipe your knife blade occasionally to keep the colors from rubbing into each other.
Click
HERE
to see where we linked up to.
Linked up at Savoring Saturday