This no churn gluten free blueberry cheesecake ice cream is creamy and indulgent but so easy to make!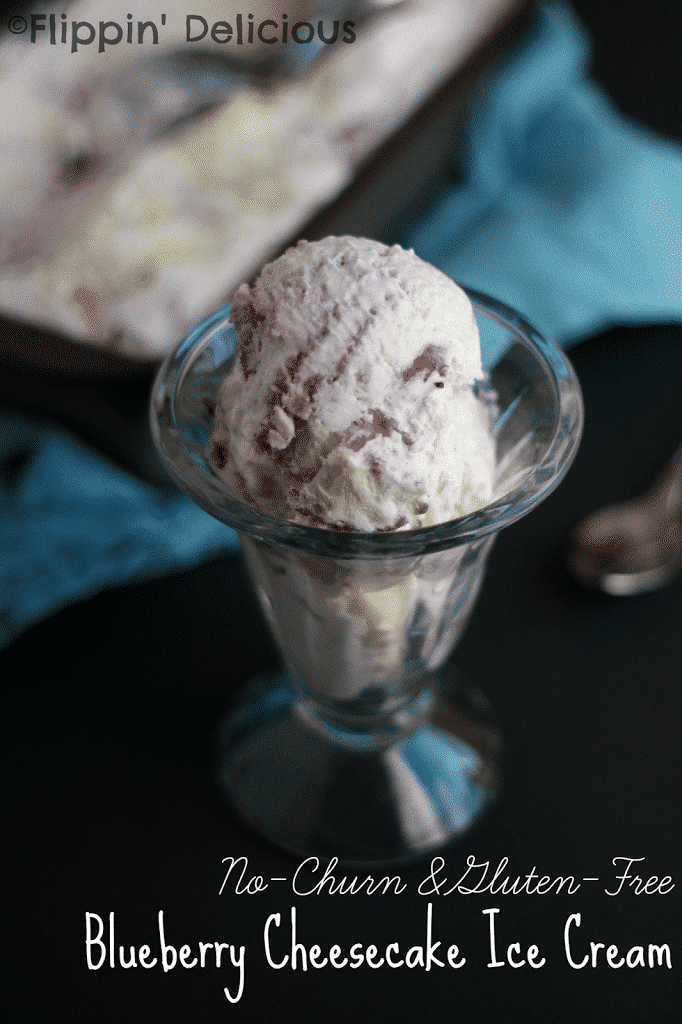 I just finished up the last of this ice-cream last night. It tastes just like cheesecake with swirls of homemade blueberry sauce and a little swirl of crust. It was the indulgent bite that I needed last night.

The next indulgent cheesecake-inspired bite I'm craving are these Raspberry Cheesecake Cookies from Wholesome Yum. I'm craving them big-time!
We've been working on potty training Miss E. Tuesday she did AMAZING! She wore 1 pair of big girl underwear all day and didn't have a single accident. Not even a tiny a bit. She even made it through her nap with no accidents. We were ecastic! And so proud!
For everything, there is an equal and opposite force… or day. As wonderful as Tuesday was, Wednesday was that much of a disaster. Accident after accident. And not just on the floor, on books, the couch (which my 4 month pregnant self threw backwards to make sure nothing had leaked through the couch onto the floor. Bad idea.) She even peed while running down our hallway to the bathroom, peed on the tile as soon as she entered the bathroom and slipped and hurt herself (which is kind of funny now. Yesterday it wasn't.) I couldn't understand what had happened! When my hubby came home from work needless to say I was exhausted and dinner wasn't ready (I had spent the last 1/2 hour cleaning up after yet another accident.)
I heated up some leftovers and he played with Miss E to give me a break. They were laying on our bed watching some cartoons on our tablet and she was being really cute. Then she bumped her head… and when she started crying she peed all over my bed. Did I mention she was sitting on my pillow? Yup. I think I'm going to have to get a new one. I'm afraid that my super-prego-sense-of-smell will ruin that pillow forever.
Anyways that was the last straw. Miss E was super cranky because she had missed her nap and so she went straight to bed as soon as we cleaned her up, at 6:45. She was so mad, screaming and throwing a fit. And I was just done! I threw my own little temper-tantrum while trying to clean up the mess in our room.
Ice Cream to the rescue!
I ate the last bit of that ice cream straight out of the pan and I don't regret it one bit.

 Notes:
You can use 1/2 cup of blueberry jam or pie filling instead of the homemade blueberry sauce to save a few minutes.
I used Kix for the crust swirl because that is what we had on hand and I love the subtle crunch and light sweetness of it. You could also use Chex cereal, or another gluten-free cereal. Or you could use sugar cookies or GF graham crackers instead. Or if none of that is on hand, just skip it. I'm all about using what you have and making life easy. No way am I buying a box of specific cereal just to use 1 cup.