These gluten free blueberry banana pancakes are sweet and tender. Perfect for a lazy weekend morning!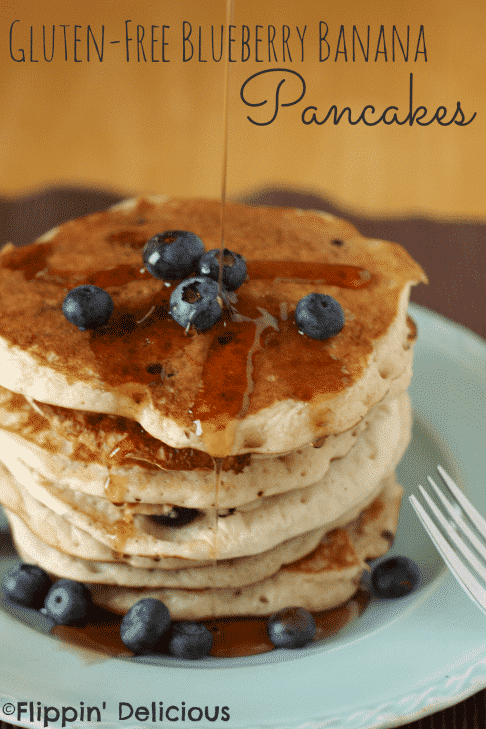 Pancakes have always been a sort of family tradition for me. Growing up every Saturday morning we made pancakes. Every Saturday. We made pancakes because that was what my grandma was doing, even though she lived across the country. So every Saturday was pancake day, at my grandma's house and at home with my parents. Without fail!

So I have a great love for pancakes. My mom and dad would often "sneak" a banana into our pancakes for breakfast. When I was a kid I didn't always like the banana addition, I didn't like bananas and I still don't like bananas, but I love banana pancakes and banana bread. Banana in anything else and I'll pass but I love the subtle sweetness that banana adds to the pancake batter.
If you in the mood for banana bread instead of pancakes, my friend Sharon from What the Fork has the best Gluten Free Banana Bread recipe. It is chock-full of nuts and looks scrumptious!
And of course I love blueberries, and blueberry pancakes are da bomb so it just made sense to put them all together. So here is a gluten-free adaption of my Aunt's recipe that I followed ever Saturday as a young girl, with mashed banana and fresh blueberries added. A generous drizzle of maple syrup is the finishing touch. With all the ingredients working together, these pancakes are perfect!
If you are looking for a lower-carb pancake recipe I think you'll love Maya from Wholesome Yum's Coconut Flour Pancakes. It is hard to believe that they only have 4 net grams of carbs!
If these pancakes look yummy check out these other recipes:
Paleo Blueberry Almond Pancakes (GF,DF)