These gluten free blueberry banana pancakes are sweet and tender. Perfect for a lazy weekend morning!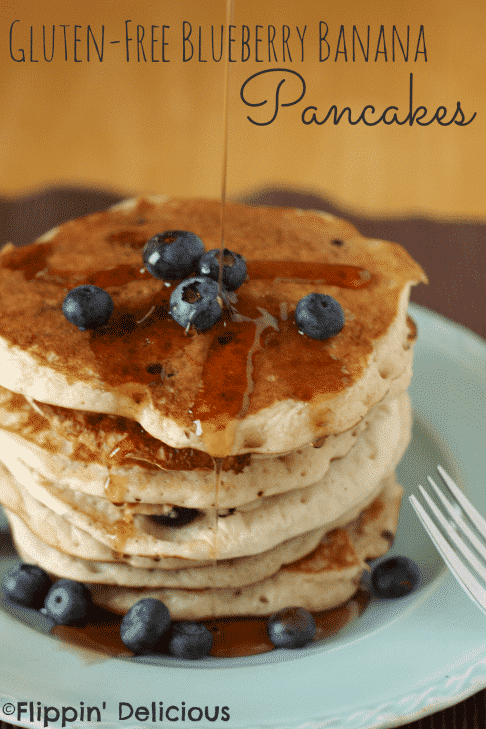 Pancakes have always been a sort of family tradition for me. Growing up every Saturday morning we made pancakes. Every Saturday. We made pancakes because that was what my grandma was doing, even though she lived across the country. So every Saturday was pancake day, at my grandma's house and at home with my parents. Without fail!

Pancakes were one of the first things that I learned to make all by myself. Not the very first thing, mind you, but one of the first things that I made consistently. I remember following a recipe from my Aunt every Saturday for Buttermilk Pancakes.
So I have a great love for pancakes. My mom and dad would often "sneak" a banana into our pancakes for breakfast. When I was a kid I didn't always like the banana addition, I didn't like bananas and I still don't like bananas, but I love banana pancakes and banana bread. Banana in anything else and I'll pass but I love the subtle sweetness that banana adds to the pancake batter.
If you in the mood for banana bread instead of pancakes, my friend Sharon from What the Fork has the best Gluten Free Banana Bread recipe. It is chock-full of nuts and looks scrumptious!
And of course I love blueberries, and blueberry pancakes are da bomb so it just made sense to put them all together. So here is a gluten-free adaption of my Aunt's recipe that I followed ever Saturday as a young girl, with mashed banana and fresh blueberries added. A generous drizzle of maple syrup is the finishing touch. With all the ingredients working together, these pancakes are perfect!
If you are looking for a lower-carb pancake recipe I think you'll love Maya from Wholesome Yum's Coconut Flour Pancakes. It is hard to believe that they only have 4 net grams of carbs!
📖 Recipe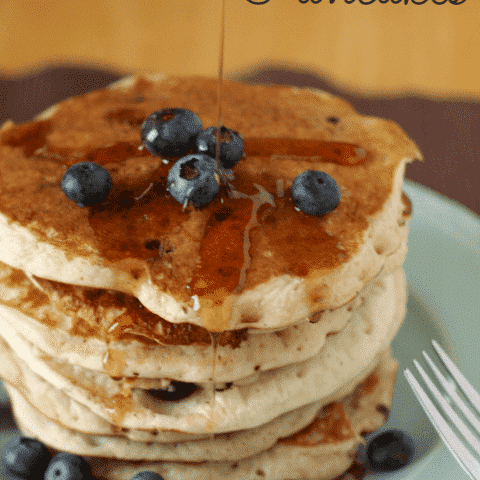 Gluten Free Blueberry Banana Pancakes
Gluten free blueberry banana pancakes are sweet and tender. Perfect for a lazy weekend morning! Dairy free option.
Ingredients
¾ teaspoon xanthan gum
2 ½ teaspoons baking powder
½ teaspoon salt
3 Tablespoons brown sugar (or 2 Tablespoons honey)
1 banana, mashed
2 eggs
1 ¾ cup milk (dairy or non-dairy)
1 cup fresh blueberries, washed and patted dry
Instructions
In a mixing bowl whisk the flour, baking powder, xanthan gum, brown sugar, and salt until combined.
Make a small "well" in the middle of the flour mixture and add the eggs, (honey, if using), mashed banana, and milk.
Whisk until combined. If the batter seems a little thick for your taste you can thin it out with 1-2 additional Tablespoons of milk.
Heat up a heavy bottomed skillet (I used my cast iron, it is the BEST!) over medium heat until a drop of water "dances" across the hot surface.
Lightly grease the hot surface of your skillet with a small amount of butter or oil. Spoon the pancake batter onto the hot surface and immediately sprinkle with several of the berries (alternatively you could stir the berries into the batter.) Cook for a few minutes, until the edges don't look as wet and some of the bubbles that have risen to the top have popped. The pancake should release from the pan easily if it is ready to flip. Flip the pancake and cook for another minute.
If desired, you can keep your pancakes warm on a baking sheet lined with wax or parchment paper in a 200F oven while you cook the remaining batter.
Nutrition Information
Yield

16
Serving Size

1
Amount Per Serving
Calories

100
Total Fat

1g
Saturated Fat

1g
Trans Fat

0g
Unsaturated Fat

1g
Cholesterol

25mg
Sodium

166mg
Carbohydrates

19g
Fiber

1g
Sugar

4g
Protein

3g
All nutrition info is a guestimate and will vary depending on the ingredients you use.
If these pancakes look yummy check out these other recipes:
Blueberry & Yogurt Parfait (GF)
Paleo Blueberry Almond Pancakes (GF,DF)