Christmas Caramel Popcorn with peanuts and coconut all drizzled in chocolate. Perfect for holiday gift-giving! Naturally gluten-free.
This shop has been compensated by Collective Bias, Inc. and its advertiser. All opinions are mine alone. #TasteTheSeason #CollectiveBias
With the holidays upon us everyone is searching for the perfect gifts for their loved ones. Santa might check his list twice, but I know I have to check my gift giving list way more than that. It seems like every time I check it, it gets longer; there is another friend or family member that gets added to my list every other day. As much as I love giving gifts for Christmas it tends to get very expensive, very quickly.
To make the holidays a little easier on our budget I like to make as many of my gifts as I can. Not only is it less expensive to give hand-made gifts, but I think it is also more meaningful.
If you need some great gluten free christmas cookies for gifting, I've got you covered. Check out my newest cookbook, Gluten-Free Holiday Cookies. It has 25 gluten free holiday cookie recipes, with full color photos and detailed instructions.
There are a lot of crafty pinterest boards with gift ideas, but I love giving food gifts. I have a great love for food, which is why I have a food blog. Nothing brings me joy quite the same way that sharing food with others does. Last year I was testing recipes for my cookbook, so I gave cookies as gifts. The year before I made some amazing salted caramel hot chocolate.
This year I think I'll make this Christmas Caramel Corn.
Update: It was a hit. The next year, I made gluten free peppermint brownie popcorn. It was a big hit, too!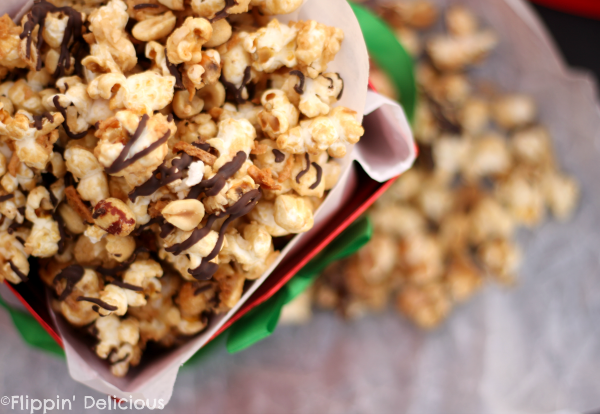 This popcorn has it all! Nutty roasted peanuts, sweet flaked coconut, crunchy popcorn covered in sweet buttery caramel, with a drizzle of chocolate on top. No corn syrup, too! It is also easy to mix up a large batch, which is great when your gift list is ever growing. This Christmas caramel popcorn really is perfect for giving as gifts. It is inexpensive to make, and tastes amazing!
If you'd like you can pack your popcorn in little cute boxes like I used. It is so easy, just line each box it with a little waxed paper,fill it with popcorn, and then wrap the whole thing in cellaphane. Or put the popcorn in a cellophane bag before popping it into the box for delivery. You could also use little Chinese-take-out style boxes. I found my boxes at Wal-mart, along with all of the ingredients for the Christmas Caramel Corn. The boxes were in the Christmas seasonal area and I was able to get most of the other ingredients in the baking and popcorn/chips aisles.
Making your own Christmas gifts is an inexpensive gift solution and can be a very meaningful tradition. You should give my Christmas Caramel Corn a try, it is so cute, festive, and most importantly- easy. The holidays are already crazy busy so easy is a must!
If you need more inspiration for holiday recipes, check out the Cooking Up Good website. It has recipes, sweepstakes, loyalty programs, coupons and more! What's not to love? Check it out and #TasteTheSeason !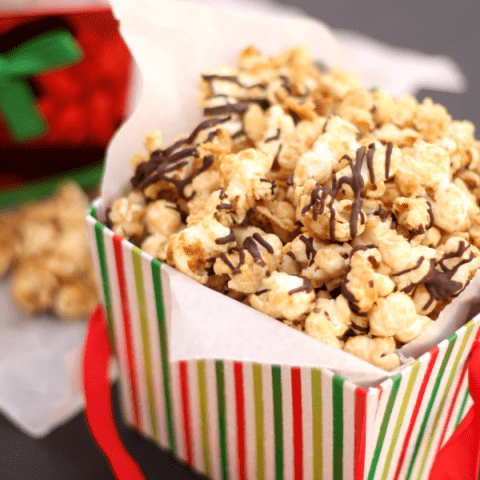 Christmas Caramel Popcorn
Yield: 10 cups

Prep Time: 10 minutes

Cook Time: 20 minutes

Total Time: 30 minutes

Sweet, buttery, crunchy Christmas Caramel Popcorn with peanuts, coconut, and chocolate. Perfect for gift giving!
Ingredients
10 cups popped popcorn
1 ½ cups Baker's Angel Flake Sweetened Coconut
1 cup Planter's Dry Roasted Peanuts
6 Tablespoons butter
1 cup unpacked brown sugar
¼ teaspoon salt
3 Tablespoons water
3 oz Baker's Semisweet Chocolate
Instructions
Preheat the oven to 300F. Line a baking sheet with a silicone baking mat or parchment paper (or grease it very well.) Place the popped popcorn in a large mixing bowl and dump the Baker's Coconut and Planter's Peanuts on top of it. DO NOT STIR YET.
Over medium heat melt the butter. Add the brown sugar, salt, and water and heat until it becomes a smooth syrup and starts to bubble and boil. Let boil for 3 minutes.
Pour the syrup over the popcorn and mix until evenly coated. Spread the popcorn on the baking sheet and bake for 10 minutes, stir, and bake for another 10 minutes. Let it cool.
Melt the Baker's chocolate according to the package directions and drizzle it over the top of the cooled popcorn (I put the melted chocolate into a sandwich bag and snipped off the corner for easy drizzling.) Let the chocolate cool and set and then package it for gifts, or eat it yourself.
Notes
Kraft (Baker's & Planter's)is great at allergy labeling, so if there is any allergen in one of their products it will list it on the label. Hurrah for no hidden ingredients!
Nutrition Information
Yield 20 Serving Size 1
Amount Per Serving Calories 170Total Fat 11gSaturated Fat 5gTrans Fat 1gUnsaturated Fat 5gCholesterol 9mgSodium 129mgCarbohydrates 18gFiber 2gSugar 13gProtein 2g

All nutrition info is a guestimate and will vary depending on the ingredients you use.


Recipe adapted from Cook Snap Savour
Linked up at Gluten-Free Wednesdays