Is popcorn gluten free? How do you make gluten free popcorn? What microwave popcorn is gluten-free? All your gluten-free popcorn questions are answered here!
Is popcorn gluten free?
Popcorn is naturally gluten-free, however there are cross contact concerns if your popcorn is contaminated with gluten-containing grains.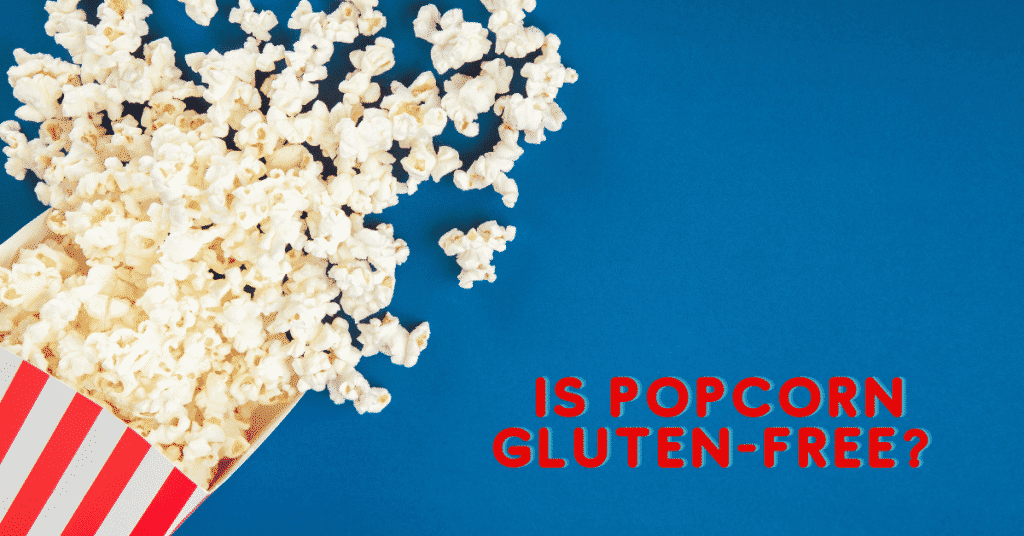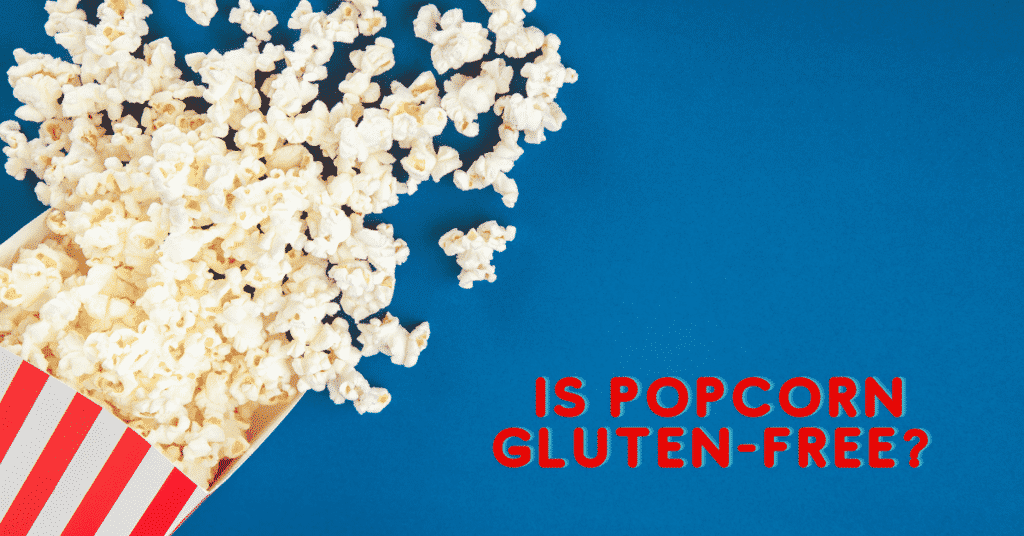 To be sure your popcorn is gluten-free, choose popcorn that is certified gluten-free.
Many popcorns are gluten-free by ingredients, which is good enough for me. Some companies or restaurants state that corn can not be gluten-free due to co-mingling in the fields, but I personally haven't had any problems with this and regularly eat corn products.
Not all corn products are gluten-free, things like cornbread contain flour. If you are a cornbread fan, try my gluten free cornbread recipe that is made with gluten free flour and honey, it is delicious!
How do you make gluten free popcorn?
You can easily make your own gluten free popcorn at home, to eliminate any risk of cross contact with gluten that may happen in a production facility.
My favorite ways to make popcorn are: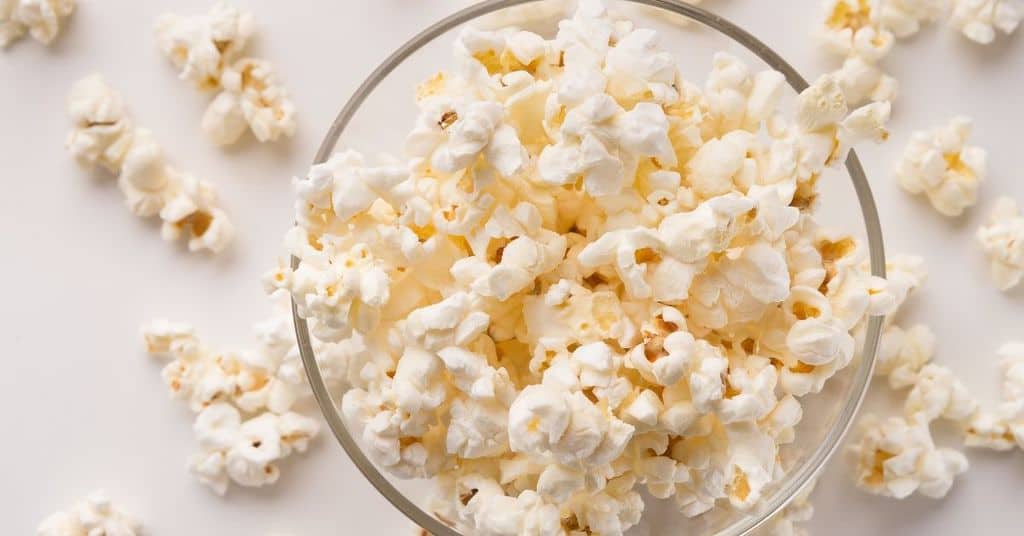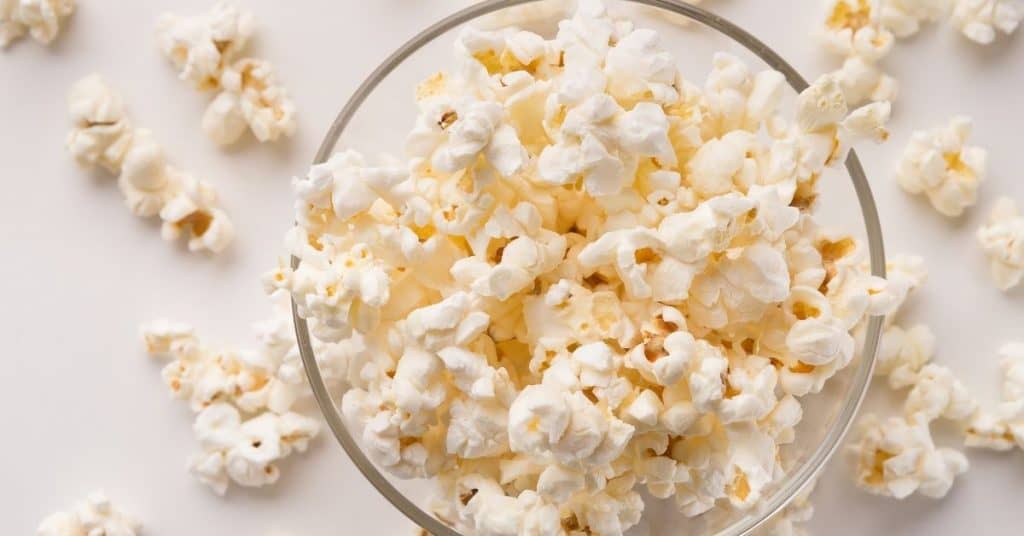 How do you make popcorn in an air popper?
My air popper is my favorite because it is quick, easy, and doesn't need to be babysat.
Simply pour the popcorn kernels into the hot air compartment and turn it on. Use the amount of kernels specified by your air popper, usually ⅓ cup or ½ cup.
As the popcorn pops, it will rise to the top and lands (mostly) in a bowl placed below the air popper spout.
How do you pop popcorn on the stovetop:
Popping popcorn on the stovetop is easy, but requires a bit of babysitting.
Heat a dry heavy-bottomed saucepan with a lid over medium/high heat with 2 or 3 popcorn kernels.
When the popcorn kernels pop, remove them from the pan, and add 2-3 tablespoons of oil and ½ cup of popcorn kernels to the pan, and cover with the lid.
Continuously shake and move the pan, while keeping it on the heat, until the popcorn popping slows down to at least 2 seconds between pops.
Let cool slightly, and then drizzle with butter and season with salt.
How to pop popcorn with a countertop popcorn popper?
My family has one of these models, because they make large amounts of homemade popcorn for movie nights and countertop models and quickly make a large quantity of popcorn.
Add oil (coconut is my go-to) and popcorn kernels to the countertop popcorn poorer according to manufacturer directions. When it has finished popping, turn it off and transfer into a bowl.
What microwave popcorn is gluten-free?
Many store-bought microwave popcorns are naturally gluten-free. Some are even labeled gluten free, or certified gluten free. Read the ingredient label carefully.
I've also discovered that there are many dairy free microwave popcorn or vegan microwave popcorn. Orville Redenbacher Simply Salted is one of my favorites.
How to make homemade gluten free popcorn in the microwave:
Place ⅓ cup of popcorn kernels in a brown paper bag (with no staples) or place it in a large microwave safe bowl covered with a microwave safe plate. Heat on high for 2 ½ - 3 minutes, or until the popcorn popping slows to about 2 seconds between pops.
Season with melted butter or olive oil and a generous sprinkle of salt.
Is caramel popcorn gluten-free?
When you are lucky, you can find gluten-free caramel popcorn at local stores. There are definitely cross-contact concerns in shared facilities so be sure to ask questions about how it was prepared, and their production processes and only eat the gluten free caramel popcorn if you feel like it is a good option for you.
How to make gluten free caramel popcorn
I love making my own classic gluten free caramel popcorn with all the mix-ins. Pick your favorite, or enjoy it in its pure form, popcorn recipe is always a hit, and it is great for gifting too.
📖 Recipe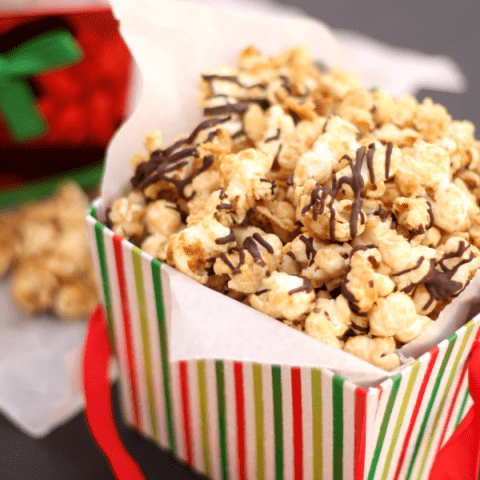 Gluten Free Caramel Popcorn
Sweet, buttery, crunchy Christmas Caramel Popcorn with peanuts, coconut, and chocolate. Perfect for gift giving!
Ingredients
10 cups popped popcorn
1 ½ cups Sweetened Coconut
1 cup Dry Roasted Peanuts
6 Tablespoons butter
1 cup unpacked brown sugar
¼ teaspoon salt
3 Tablespoons water
3 oz Semisweet Chocolate
Instructions
Preheat the oven to 300F. Line a baking sheet with a silicone baking mat or parchment paper (or grease it very well.) Place the popped popcorn in a large mixing bowl and dump the Baker's Coconut and Planter's Peanuts on top of it. DO NOT STIR YET.
Over medium heat melt the butter. Add the brown sugar, salt, and water and heat until it becomes a smooth syrup and starts to bubble and boil. Let boil for 3 minutes.
Pour the syrup over the popcorn and mix until evenly coated. Spread the popcorn on the baking sheet and bake for 10 minutes, stir, and bake for another 10 minutes. Let it cool.
Melt the Baker's chocolate according to the package directions and drizzle it over the top of the cooled popcorn (I put the melted chocolate into a sandwich bag and snipped off the corner for easy drizzling.) Let the chocolate cool and set and then package it for gifts, or eat it yourself.
Notes
Kraft (Baker's & Planter's)is great at allergy labeling, so if there is any allergen in one of their products it will list it on the label. Hurrah for no hidden ingredients!
Nutrition Information
Yield

20
Serving Size

1
Amount Per Serving
Calories

180
Total Fat

11g
Saturated Fat

5g
Trans Fat

1g
Unsaturated Fat

5g
Cholesterol

9mg
Sodium

106mg
Carbohydrates

19g
Fiber

2g
Sugar

14g
Protein

3g
All nutrition info is a guestimate and will vary depending on the ingredients you use.
Gluten free popcorn recipes:
Dr Pepper Popcorn
If you are a doctor pepper fan, you'll love this Dr. Pepper Caramel Popcorn. It is a creamy caramel corn, made with marshmallows, and just a hint of doctor pepper.
📖 Recipe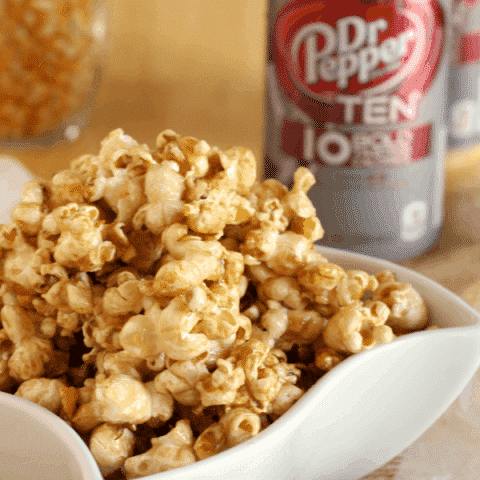 Dr. Pepper TEN Caramel Popcorn
Yield:
Serves 4 (8 cups popcorn total)
Additional Time:
1 minute
Dr. Pepper TEN Skinny Caramel Popcorn, lighter on calories but not on flavor! Only 198 calories for a hefty 2 cup serving. #drinkTEN #shop
Ingredients
2 cups mini marshmallows
¾ cup Dr. Pepper TEN
5 tablespoons sugar
8 cups popped popcorn
Instructions
In a microwave safe bowl combine the mini marshmallows, Dr. Pepper TEN, and sugar. Microwave on high for 5-6 minutes, stirring every minute. The coating is finished when it is thick and a bit gooey. (In this recipe I prefer to err on the side of cooking it too long, instead of not long enough. No one likes soggy popcorn!)
Pour the coating over your popped popcorn and stir to coat.
Best if enjoyed while still warm.
Notes
This recipe is for a creamy and sticky caramel corn. If you are looking for more of a crunchy caramel corn just bake the popcorn at 250F for 20 minutes on a parchment or silicone-baking-mat lined baking sheet. Stir it halfway through the cooking time.
Nutrition Information
Yield

4
Serving Size

2 cups
Amount Per Serving
Calories

247
Total Fat

5g
Saturated Fat

1g
Trans Fat

2g
Unsaturated Fat

4g
Cholesterol

0mg
Sodium

145mg
Carbohydrates

50g
Fiber

2g
Sugar

30g
Protein

2g
All nutrition info is a guestimate and will vary depending on the ingredients you use.
Gluten Free Peppermint Chocolate Brownie Popcorn
Popcorn coated in dark chocolate tossed with gluten free brownies and peppermint candy cane bits, this gluten free popcorn is perfect for gifting or for curling up with a holiday movie.
📖 Recipe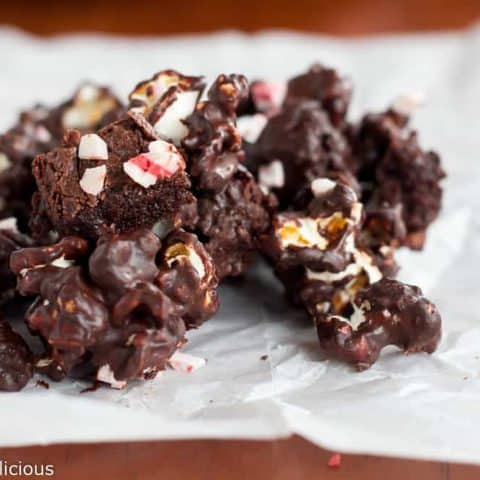 Peppermint Brownie Popcorn
This easy-to-make Gluten-Free Peppermint Brownie Popcorn is full of holiday flavors. Perfect for gifting or sharing at your next holiday party.
Ingredients
1 gluten-free brownie mix, with ingredients to bake (I used Bob's Red Mill)
1 cup peppermint candy crunch bits (I used Andes, they come from a gluten free, peanut free facility)
6 cups popped popcorn
2 cups chocolate chips
1 tablespoon coconut oil (optional)
Instructions
Prepare the brownie batter, stirring in ¼ cup of the peppermint bits. Spread the batter into a prepared pan and sprinkle with another ¼ cup of peppermint bits. Bake according to directions. (I used a larger 9x13 pan and baked less time so that I'd have thinner brownies.)
Cut cooled brownies into small pieces and set aside.
Line a baking sheet with parchment paper.
Fill a large mixing bowl with the popcorn. Add 2 cups of brownie chunks on top.
Melt 1 ¾ cups of chocolate chips in a microwave safe bowl, heating in 30 second increments until just barely melted. Once melted stir in the remaining ¼ cup of chips and the coconut oil until smooth.
Pour the chocolate over the popcorn, add 1/ cup of peppermint bits, stir to coat evenly. Immediately spread on a prepared baking sheet and sprinkle with the remaining peppermint bits.
Cool, and then break into pieces.
Notes
The coconut oil helps the chocolate to set up firm and shiny. It also helps it to be thin enough to coat the popcorn without clumping together. Use refined coconut oil for less of a coconut taste. You can omit the coconut oil if you'd like. I just found it made the chocolate easier to work with.
Nutrition Information
Yield

16
Serving Size

1
Amount Per Serving
Calories

192
Total Fat

9g
Saturated Fat

5g
Trans Fat

0g
Unsaturated Fat

3g
Cholesterol

0mg
Sodium

35mg
Carbohydrates

31g
Fiber

2g
Sugar

21g
Protein

1g
All nutrition info is a guestimate and will vary depending on the ingredients you use.
Gooey gluten-free microwave caramel popcorn
Full of the sweet fall flavors of molasses and cinnamon, this microwave caramel popcorn is sweet, sticky, chewy, and crunchy. Only a few ingredients, including marshmallows, brown sugar, and butter, a microwave, a bowl, and in five minutes you could be eating this.
📖 Recipe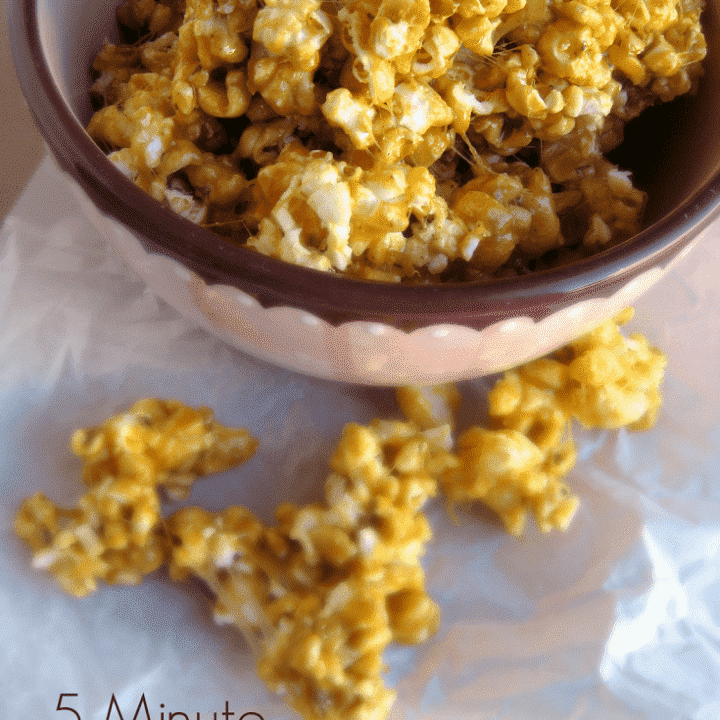 5 -Minute Molasses Spice Caramel Popcorn
This easy 5 minute molasses spice caramel popcorn is made in the microwave!
Ingredients
4 cups POPPED popcorn
1 c. mini marshmallows
¼ c. sugar
3 Tbs. molasses
2 Tbs. butter
¼ tsp. cinnamon
Instructions
Put all the ingredients, EXCEPT the popcorn into a microwave bowl. Microwave on high for 1 minute, stir and then microwave for an additional 30 seconds- 1 ½ minutes, stirring every 30 seconds until the sugar is entirely dissolved and the mixture has began to bubble.
Add the popcorn and stir to coat.