Gluten free deep fried oreos (and gluten free deep fried cookie dough), with a sweet and easy to make batter. The classic state fair treat, now safe to eat.
One of the most memorable dates I went on with my husband was a trip to the New Mexico State Fair. It was just a few months before we got engaged. We were both students on a tight budget but the State Fair had a day where it was just $2 to get in, so we went for it. To avoid paying for parking we parked several blocks away and walked in. It was already dark when we got to the fair grounds, so we tried to look at the live stock but there wasn't much to see. We did however look at an art exhibit, and there was a huge sandcastle that we got to see. We decided to splurge and buy some food, something that we rarely did at that time in our lives. (I mean, we got married and stopped at taco bell before our wedding reception!) We ordered from the deep fried oreo stand! I don't think we actually got a deep fried oreo, maybe we got a deep fried moon pie? But we did get some deep fried cookie dough and it was like a deep fried gooey piece of heaven. I was in love and have been dreaming of making gluten-free deep fried oreos ever since. But I haven't, because life happens. Well a few weeks ago I got a preview copy of April Peveteaux's new book The Gluten-Free Cheat Sheet: Go G-Free in 30 Days or Less. As I started thumbing through it one recipe stood out.
Gluten Free Deep Fried Oreos
I didn't need to ponder any longer what recipe I wanted to share in my review of The Gluten-Free Cheat Sheet. The decision had already been made 5 years ago. There are a lot of other recipes in April's book that I want to try (I have an eye on her coconut flour tortillas!), and a lot of them are really easy to make. They are written for real people, not people who have hours and hours to burn in the kitchen.
One thing I really loved about The Gluten-Free Cheat Sheet is how down to earth and frank April is. I feel like I'm just sitting with her and having a talk over, I don't know, maybe some gluten free deep fried oreos. April know how life is. She knows how tough it is to eat gluten-free. And the way she talks about it just brings a smile to my face. Anyone who eats gluten-free, or is even just curious, should read The Gluten-Free Cheat Sheet. April doesn't judge, she just tells it like it is. After reading The Gluten-Free Cheat Sheet, gluten can't hide from you! Now let me tell you, this gluten free deep fried oreo recipe doesn't disappoint! The batter is really easy to make, you simply whisk together a few ingredients and let it sit for a few minutes while you heat up the oil. The batter is the perfect thickness for coating the gluten-free sandwich cookies, and the second it hits the hot oil the batter puffs around the g-free oreos creating a crisp, light pillow around that chocolate cookie middle. The frosting in the oreo sandwich cookie gets a bit melty and the cookie gets warm. With a touch of whipped cream and some homemade chocolate syrup to dip it in, it is the perfect indulgent treat.
And the cookie dough, ooooh the cookie dough! The cookie dough gets warm and gooey and as you bite into the crisp doughy pillow the cookie dough just melts in your mouth. It is deep-fried heaven! You follow the recipe just the same, just instead of dipping gluten-free oreos in the batter roll some gluten free edible cookie dough (egg-less) into little "logs" and chill in the freezer before taking a dip in the batter. You fry them just the same!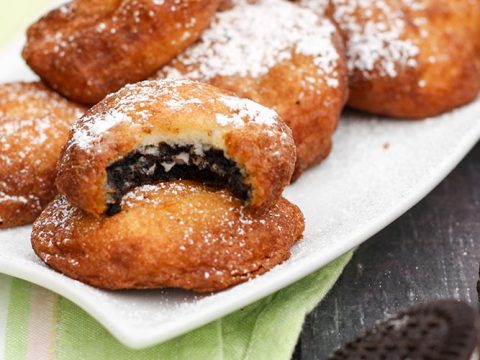 Yield:

16 deep fried gluten free sandwich cookies
Gluten Free Deep Fried Oreos
Gluten Free Deep-Fried Chocolate Cream Cookies Author: Excerpted from The Gluten-Free Cheat Sheet: Go G-Free in 30 Days or Less by April Peveteaux. © 2015 by April Peveteaux. A Perigee Book, Penguin Group USA, Penguin Random House. Prep time: 10 mins Cook time: 5 mins Total time: 15 mins Serves: 16
Ingredients
1 cup all-purpose gluten-free flour
1 teaspoon baking powder
¼ cup sugar
1 egg
1 cup milk
1 teaspoon vanilla extract
1 package gluten-free chocolate cream-filled cookies.
2 teaspoons oil, plus more for frying
Instructions
Using deep fryer or very deep skillet, heat 2 quarts vegetable oil on medium-high.
Combine flour, baking powder, sugar, egg, milk, vanilla, and 2 teaspoons vegetable oil in deep
bowl and mix well until there are no lumps. Allow to sit for 10 minutes.
Dip cookies into batter and fully cover before putting into hot oil. Cook for 3 to 5 minutes or until batter is golden brown. Remove from oil and allow to drain on paper towel-covered plate.
Dust with powdered sugar and enjoy while hot.
Nutrition Information
Yield
16
Serving Size
1
Amount Per Serving
Calories

62
Total Fat

1g
Saturated Fat

0g
Trans Fat

0g
Unsaturated Fat

1g
Cholesterol

13mg
Sodium

46mg
Carbohydrates

11g
Fiber

0g
Sugar

3g
Protein

2g
All nutrition info is a guestimate and will vary depending on the ingredients you use.
Linked up at Allergy Free Wednesday