Chewy Gluten Free Peanut Butter Bars with chocolate ganache (dairy free) are the perfect afternoon treat! Also known as lunch lady peanut butter bars, I love the extra layer of peanut butter frosting!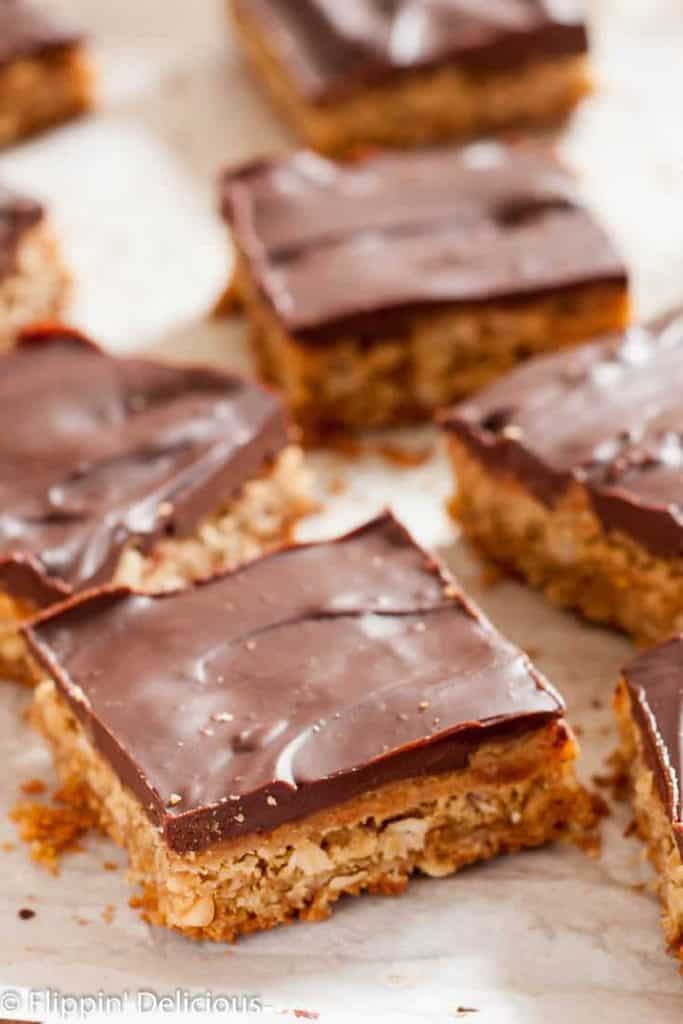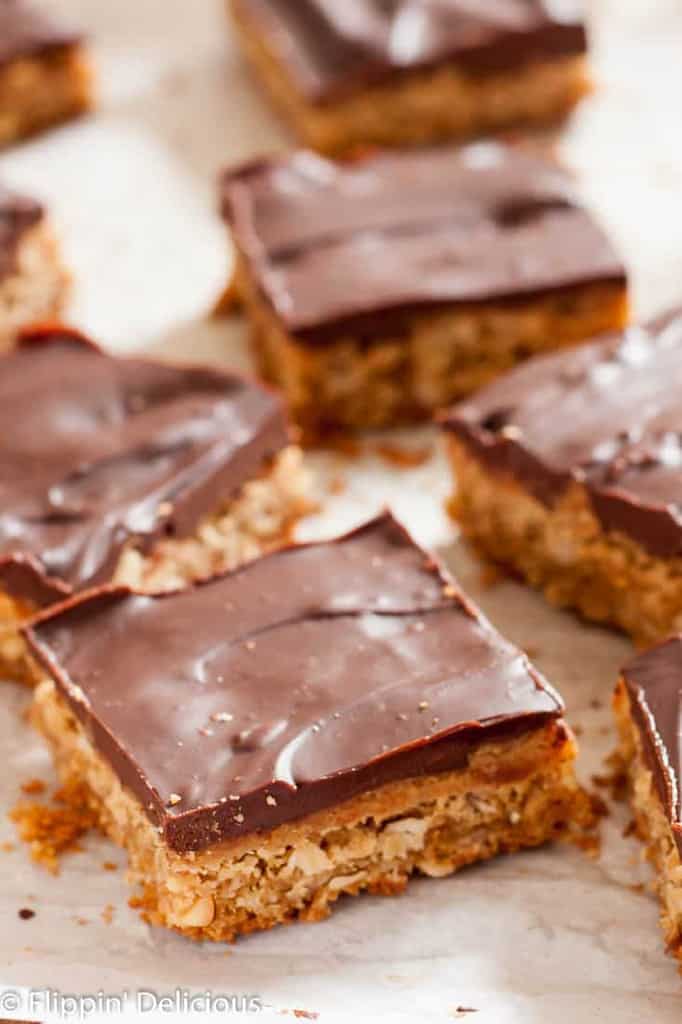 When I was a little girl, we live nearby one of my aunts. We would get together for dinner as a family almost every Sunday. My aunt loves to bake, and also is a fabulous cake decorator!
One of my favorite treats that she made were peanut butter bars (also dubbed peanut butter lunch lady bars, I have no idea why!) I remember arriving at her house one Sunday afternoon when she was in the middle of making her peanut butter bars. She had pulled baking the cookie base from the oven (she always baked her peanut butter bars on a sheet pan, making plenty for a crowd!) and was spreading peanut butter frosting on them so that it would melt all over the bar cookies. Once it cooled, she frosted them with chocolate fudge frosting and then cut them into generous squares.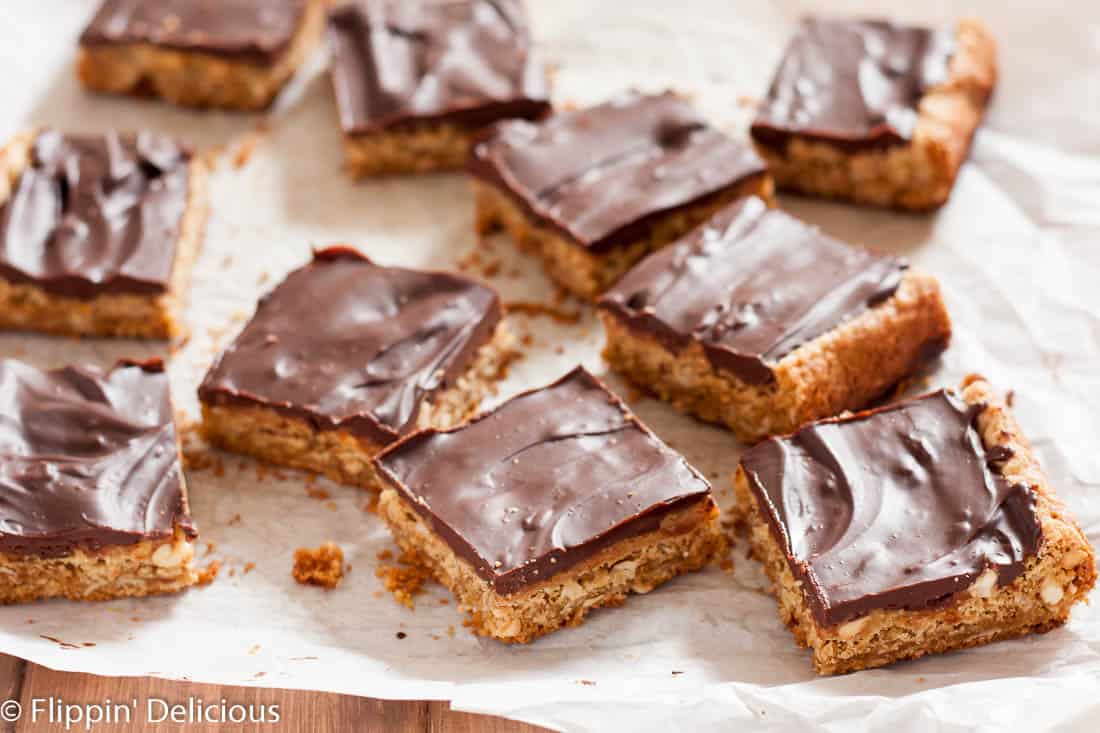 The bars were chewy (and full of peanut butter!) The cookie dough had rolled oats in it, giving it a great bite. With the peanut butter and fudge frosting it was an epic combo of peanut butter and chocolate!
I re-created my aunt's peanut butter bar recipe when I wrote my cookbook, and then I changed it up a little bit more to make it dairy free and share the recipe here with you!
If you are looking for a no-bake recipe, may I suggest my friend Demeter of Beaming Baker's No Bake Peanut Butter Bars? They look fabulous!
I used crunchy peanut butter this time, but creamy works great too. It is really just a matter of personal preference. I swapped out my favorite gluten free flour for the wheat flour, subbed out purity protocol rolled oats for conventional ones, vegan butter for the butter, and I made ganache instead of fudge frosting...because I love ganache!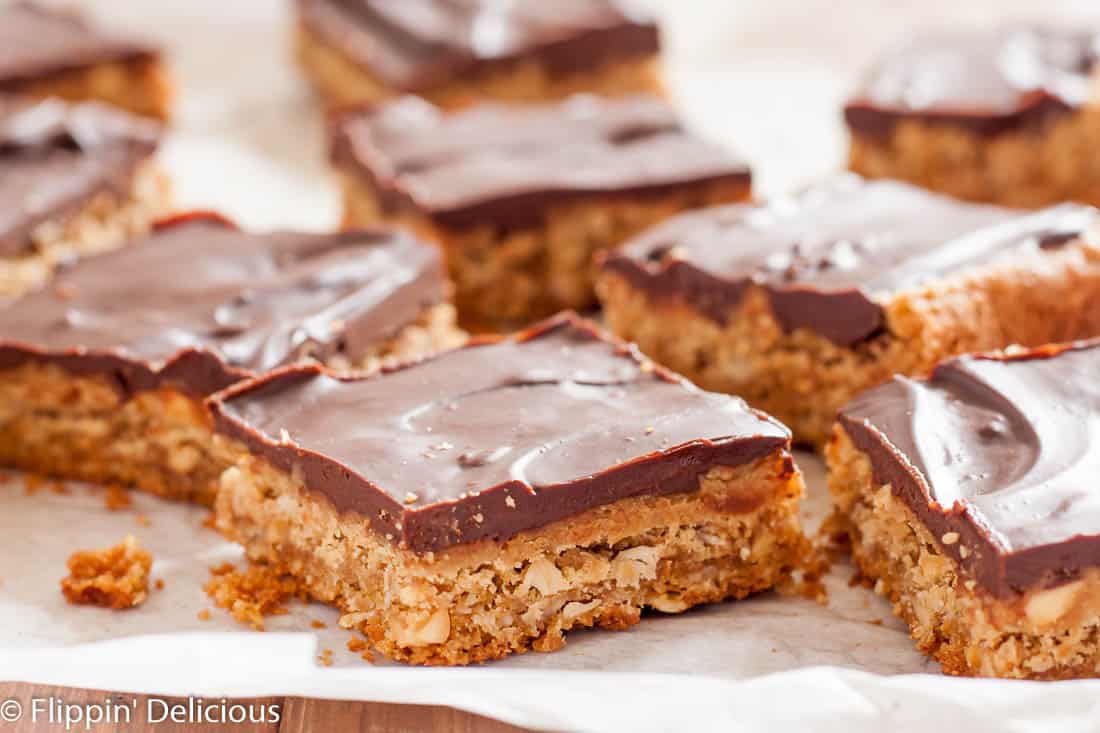 Ganache is super easy to make, so don't be intimidated! One reason I like ganache is that it is actually easier to make than frosting. I just heated some full-fat coconut milk in my microwave and poured it over dairy-free chocolate and stirred it until it was smooth. So easy!
What makes these gluten free dairy free peanut butter bars really special is that peanut butter frosting underneath the ganache. It adds another layer of peanut butter flavor (and a little crunch if you use crunchy peanut butter!)
As you can see, they were a huge hit with both of my girls. I ate more than my fair share too!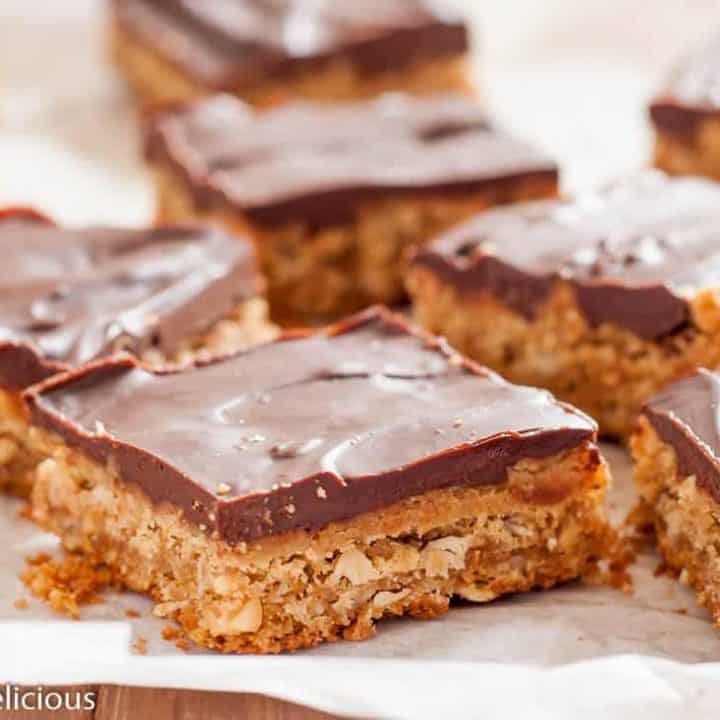 Gluten Free Peanut Butter Bars with chocolate ganache (dairy free)
Yield: 20 gluten free peanut butter cookie bars

Prep Time: 20 minutes

Cook Time: 15 minutes

Total Time: 35 minutes

Chewy Gluten Free Peanut Butter Bars with chocolate ganache (dairy free) are the perfect afternoon treat! Also known as lunch lady peanut butter bars, I love the extra layer of peanut butter frosting!
Ingredients
½ cup (4 oz) white sugar
½ cup (4 oz) packed brown sugar
4 oz (½ cup or 1 stick) vegan butter (or regular butter if you do dairy)
1 egg
½ teaspoon vanilla extract
⅓ cup peanut butter
½ teaspoon baking soda
1 cup (5 oz) my gluten free flour blend (or another high quality blend like GF Jules Gluten Free Mama's Almond blend)
¼ teaspoon xanthan gum (omit if your blend already has it)
1 cup (4 oz) gluten free rolled oats
For the Peanut Butter Frosting
½ cup (2 oz) powdered sugar
¼ cup peanut butter
1 tablespoon dairy free milk
For the Ganache
6 tablespoons full fat canned coconut milk (I used SoDelicious culinary coconut milk)
1 cup dairy free chocolate chips (I used Enjoy Life Foods)
Instructions
Preheat the oven to 350F. Line a 9x13 baking pan with parchment paper (or lightly grease it.)
With an electric mixer, cream together the vegan butter and sugars. Add the egg and vanilla and mix until smooth. Add the peanut butter and mix until combined.
Stir in the baking soda, salt, gluten free flour blend, gluten free oats, and xanthan gum.
Spread evenly in the pan, and bake for 12-15 minutes.
for the Peanut Butter Frosting
While the cookies bake, mix together the peanut butter frosting ingredients. Frost the peanut butter bars with it while still warm.
For the dairy free chocolate ganache
Heat the coconut milk in a microwave safe bowl until steaming. (30 seconds for me)
Pour it over the dairy free chocolate and let it sit for 5 minutes. Stir until smooth.
Spread the warm ganache on the cooled peanut butter bars and let set before slicing.
Recommended Products
As an Amazon Associate and member of other affiliate programs, I earn from qualifying purchases.
Nutrition Information
Yield 20 Serving Size 1
Amount Per Serving Calories 151Total Fat 10gSaturated Fat 5gTrans Fat 0gUnsaturated Fat 4gCholesterol 15mgSodium 91mgCarbohydrates 14gFiber 1gSugar 6gProtein 3g

All nutrition info is a guestimate and will vary depending on the ingredients you use.