Gluten Free Ground Turkey Fried Rice is a quick and easy weeknight meal you can put on the table in under 20 minutes. It is a great way to use up any leftover veggies hanging out in your fridge.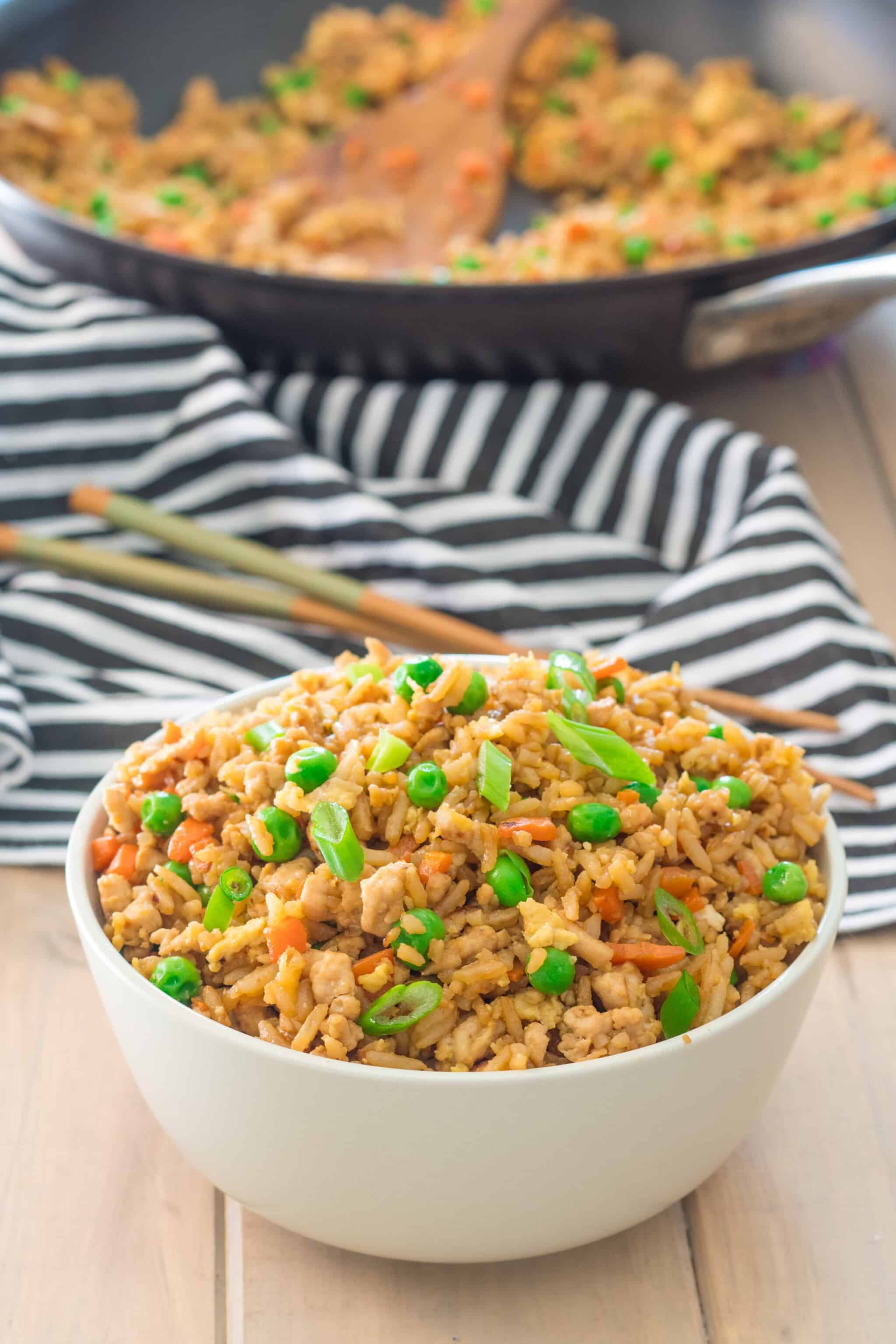 If you are a fan of easy ground turkey recipes, here is another recipe for you to bookmark (or pin, or print).
Gluten Free Ground Turkey Fried Rice makes a quick and easy weeknight gluten free meal in less than 20 minutes (if you have leftover rice).
It is not only quick and easy to make turkey fried rice, it is also all made in one skillet, meaning less time spent cleaning up and more time enjoying a meal with your family.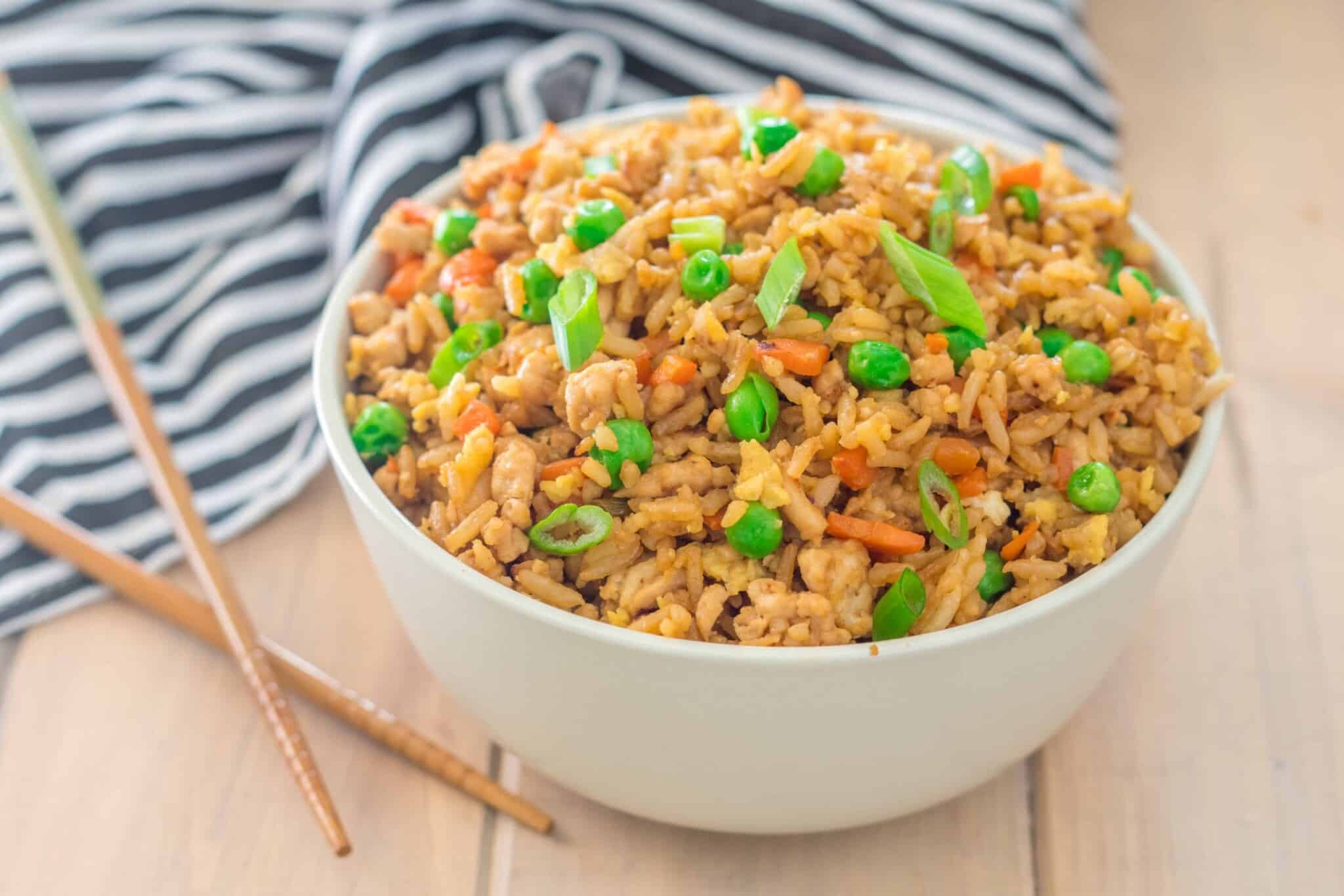 If you want more tips, tricks, and recipes for ground turkey, I've put together a collection of 20 ground turkey recipes so good you'll forget they aren't beef. My family eats a lot of ground turkey, I love tricking them!
If you like quick gluten free skillet meals, you may also want to add this gluten free stir fry and gluten free garlic noodles to your menu.
What do you need to make gluten free fried rice?
The basic ingredients to make gluten free fried rice are simple. You can easily customize what you add to fit with what your family loves, and what you have on hand in your fridge making fried rice a great last-minute-use-up-the-leftovers meal.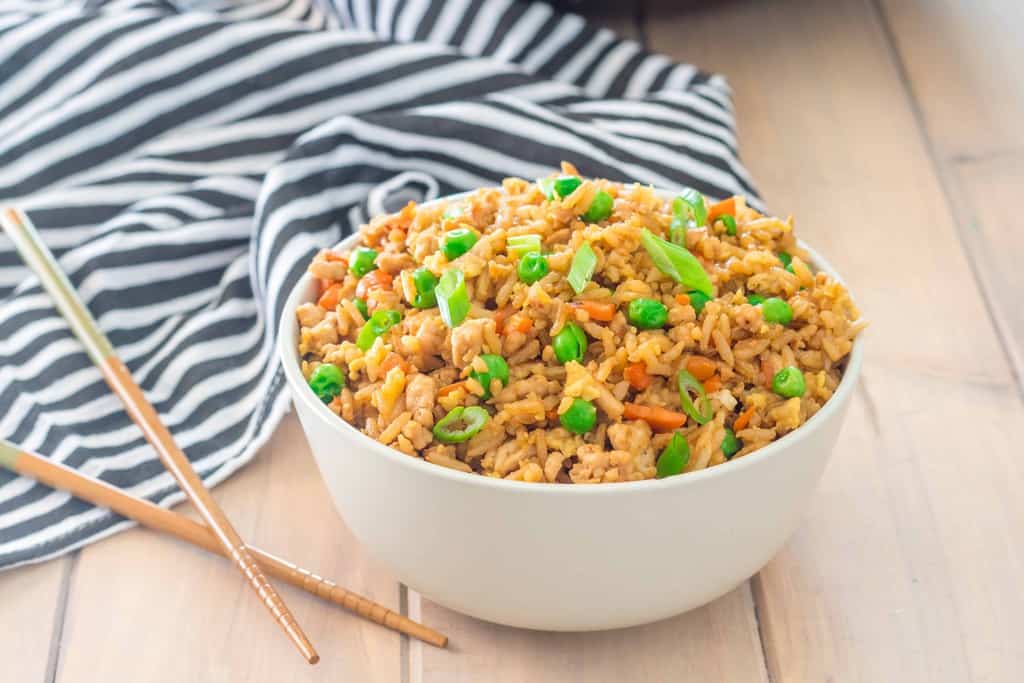 The basics ingredients needed to make gluten free fried rice are:
Oil – You just can't make fried rice without a little oil. I used a non-stick pan so I didn't need a whole lot. I used some sesame oil for flavor, and some vegetable oil too. Use any neutral oil, or sesame oil. I would stay away from olive oil, or other flavored oils that don't go with the gluten free fried rice vibe.
Seasonings – I used garlic, pepper flakes, ginger, and green onion. You can use whatever you have on hand, or whatever you love.
Ground turkey or other meat – Leftover shredded turkey or rotisserie chicken work great too. You can also omit the meat to make vegetarian fried rice.
Leftover Rice – Leftover rice will fry the best, but if you are planning ahead, you can use fresh rice. For best results make sure your rice is cooled completely.
Gluten free soy sauce or coconut
aminos – You just can't make fried rice without a soy sauce substitute. If you need to make soy free fried rice, coconut aminos are my go-to. Otherwise, I use gluten free tamari soy sauce. Traditional soy sauce is not gluten free.
Eggs – True fried rice has eggs in it. If you prefer, you can skip them but I love the extra boost of protein they provide. They really pull the dish together, and my kids didn't notice the eggs.
Veggies – I used carrots and peas, but you can use mixed frozen veggies, asparagus, broccoli, bell peppers, or whatever vegetables you want. I like to look in my fridge and say to my self "which veggies do I need to use before they spoil". If you add peas, add them at the very end when the dish is finished. This way, they'll heat through but won't turn brown and get soggy. Of course, if you are using frozen mixed veggies this doesn't make sense, but if you are adding them separately, they don't need much time. I add frozen peas AFTER I turn off the heat. They heat through from the residual heat, and then we don't have to wait for our fried rice to cool down before enjoying it.
What pan should I use to make turkey fried rice?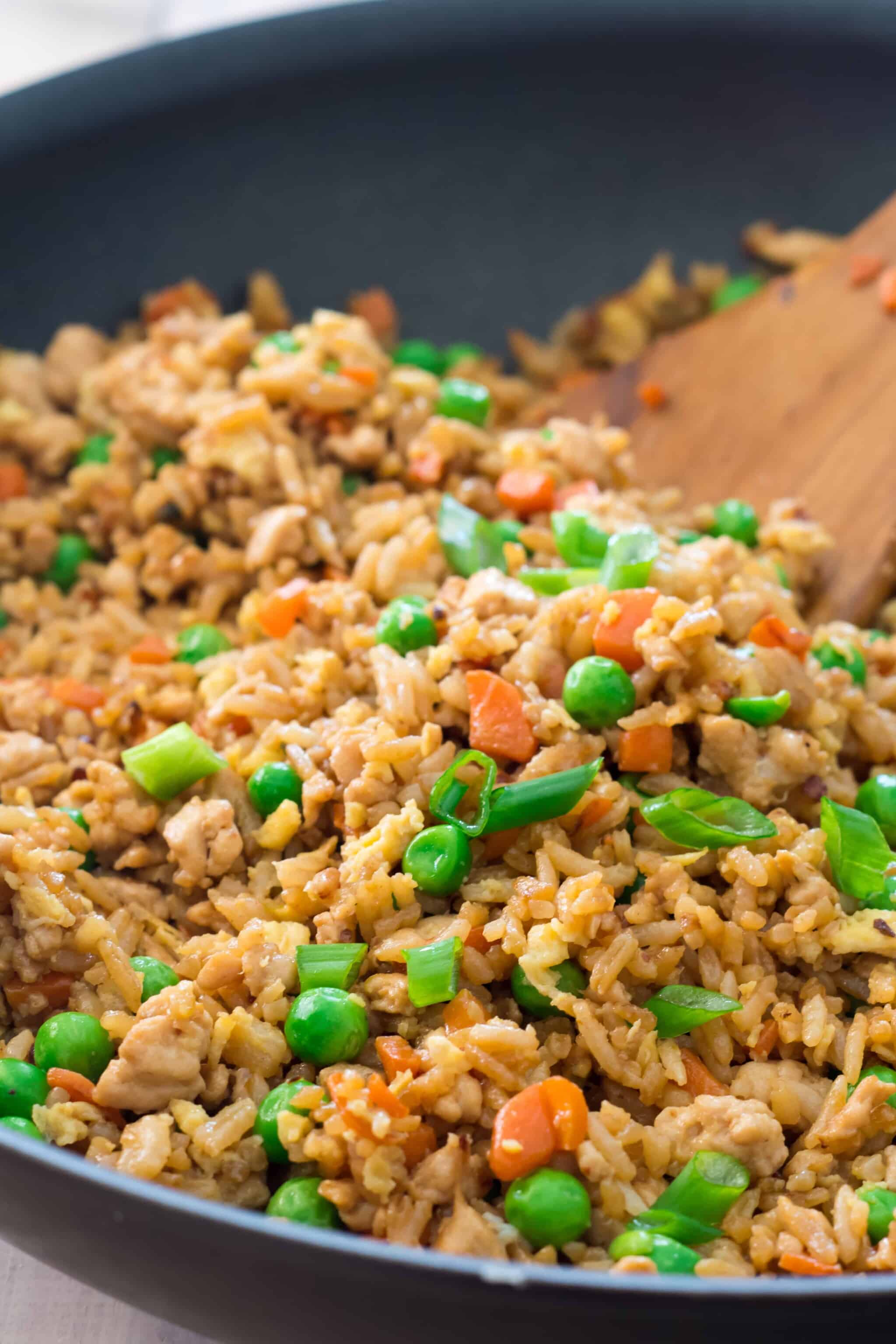 Any wide skillet will work to make turkey fried rice. If you have a wok, that is a great option. Using a wide skillet will help you have room to add and cook the ingredients without spilling.
I use a very large non-stick skillet which means I can use less oil. If you aren't using a nonstick pan, and your ingredients start to stick, just add a little more oil.
How do you make ground turkey fried rice?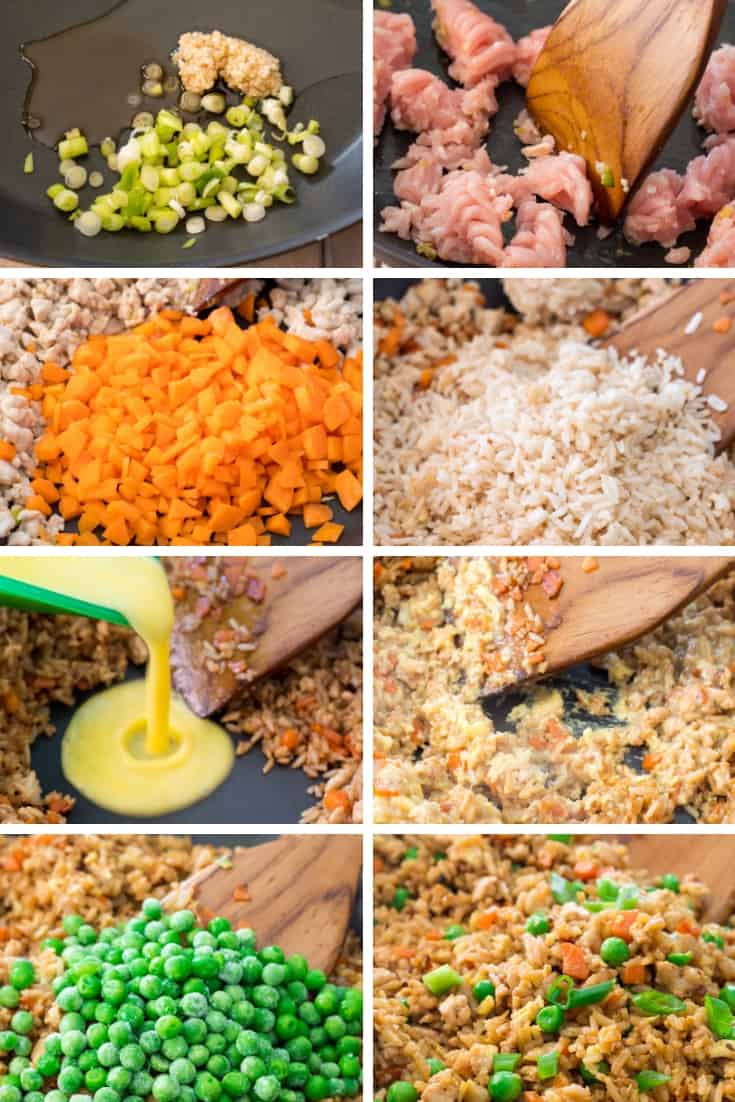 First, heat the seasonings in oil
First, heat your pan until a drop of water "dances" on the surface and quickly bubbles and evaporates.
To your hot pan, add your oil, and your seasonings. I used the white part of green onions, some ginger, garlic, and pepper flakes. Stir over medium high heat until the garlic is golden and the seasoning are fragrant.
Add the turkey
Add the ground turkey to your hot skillet and stir to break up. Try to not stir it constantly, you want the ground turkey to have a chance to brown because color equals flavor.
Veggies come next
Next add, whatever veggies you are using (except for frozen peas, save those for the end). I used some sliced and quartered carrots.
Whatever veggies you choose, you want most things cut down to about the same size (in this case, the size of peas or rice) which is why I cut my carrots pretty small. You can use larger pieces of vegetables, but they will take longer to cook and be harder to eat.
Add whatever veggies take the longest to cook first, and then add other veggies. For example, if I was adding broccoli, I'd let the carrots cook for a few minutes and then add the broccoli so that all of the veggies are perfectly tender at about the same time.
Add leftover rice and gluten free soy sauce
A few minutes before the veggies are ready (so when they are still pretty crisp, but they've had a few minutes), add your leftover rice and gluten free soy sauce.
Stir to coat and cook until the rice is heated through and golden.
Add and scramble the eggs
When all of the ingredients look about where you want them, make a "well" in the center of your skillet. Add the eggs, and scramble them in the "well", gradually pulling in the surrounding rice meat and veggies as it cooks. It only takes the egg a minute to cook.
Last, add the frozen peas
Turn off the heat, and add your frozen peas.
If you'd like, you can garnish your finished gluten free turkey fried rice with the green part of the green onions.
While the steps may seem overwhelming, just remember there are lots of steps only because you add the ingredients one at a time. Essentially, you add an ingredient, let it cook a bit, and then add the next. In all, it took me less than 20 minutes to get my gluten free ground turkey fried rice on the table.